Meat and Cheese Ravioli is a delicious dinner recipe, especially when you make the flavorful filling and homemade pasta dough from scratch!
Homemade pasta sheets filled with a simple yet flavorful spicy Italian sausage and cheese filling is SO DARN GOOD! Making homemade ravioli isn't just tasty, but it's fun! I'll explain, step by step, how to make your own homemade meat and cheese ravioli.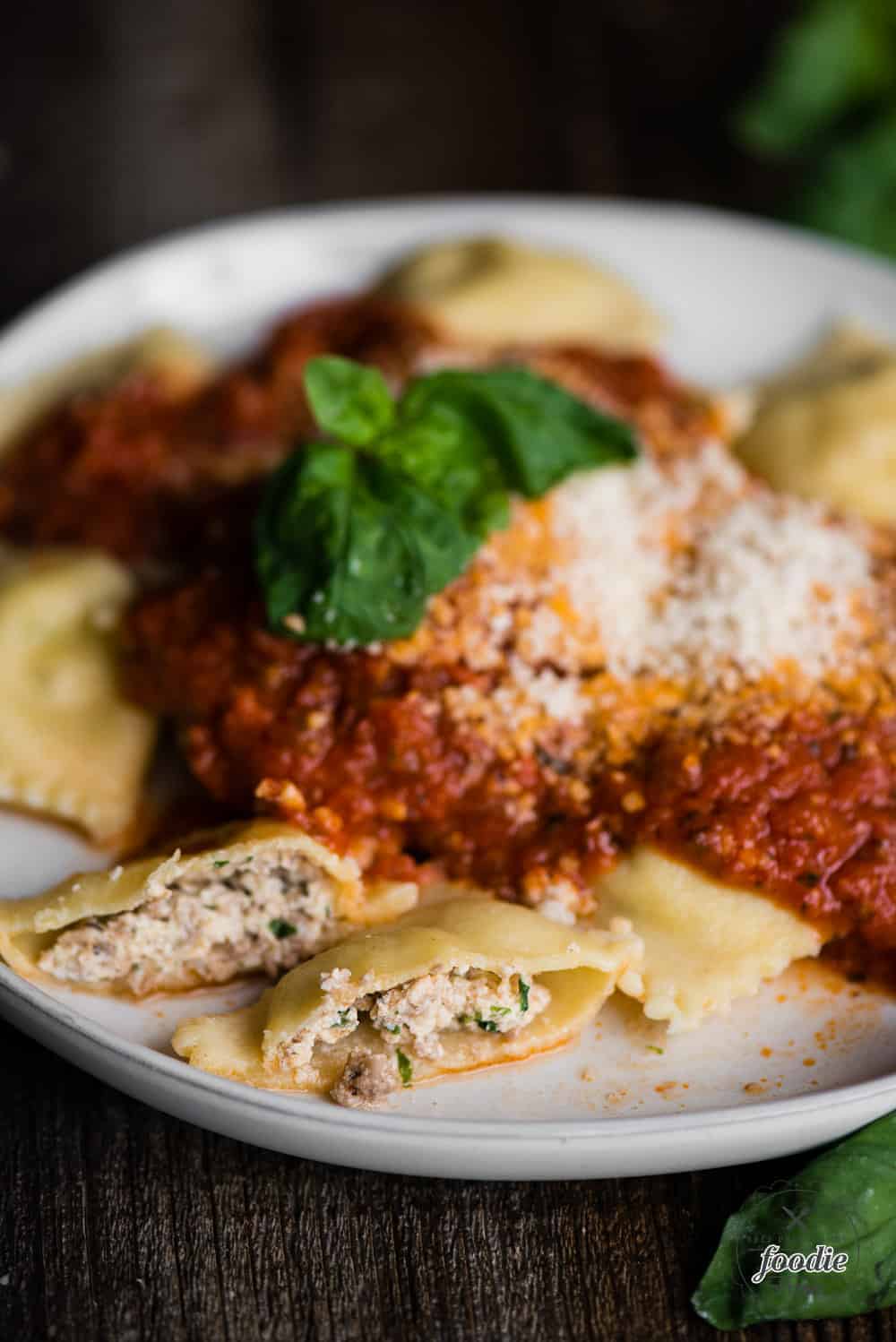 Meat and Cheese Ravioli is a recipe most people either order at a restaurant or buy in premade packages. I'll admit, the first time most everyone makes homemade pasta, they're a little overwhelmed at the thought of it. But, homemade pasta not only tastes better than anything you'll buy at the store, but it's fun to make!
Then, taking those freshly made homemade pasta sheets to the next level by stuffing them with your favorite fillings not only creates a satisfying meal that your entire family will love, but the process will leave a smile on your face.
What is ravioli?
I suppose we should start with the basics. I assume everyone knows what ravioli is, but I figured it doesn't hurt to explain it here before I jump into the recipe. Ravioli is basically an Italian dumpling (I bet you've never heard it explained that way before)  that is composed of a filling sealed in between two thin sheets of fresh pasta dough. They can be any shape, but square and circle seem to be the most common.
No special tools are required, but they certainly make the job easier.
That filling can really be anything, but it almost always contains some type of cheese.
The first homemade ravioli I ever made was my Homemade Butternut Squash Ravioli with Brown Butter Sage Sauce. Those are phenomenal. Like, so incredibly good. These Meat and Cheese Ravioli follow the same process, but the filling is completely different and much more similar to traditional ravioli that you might be used to.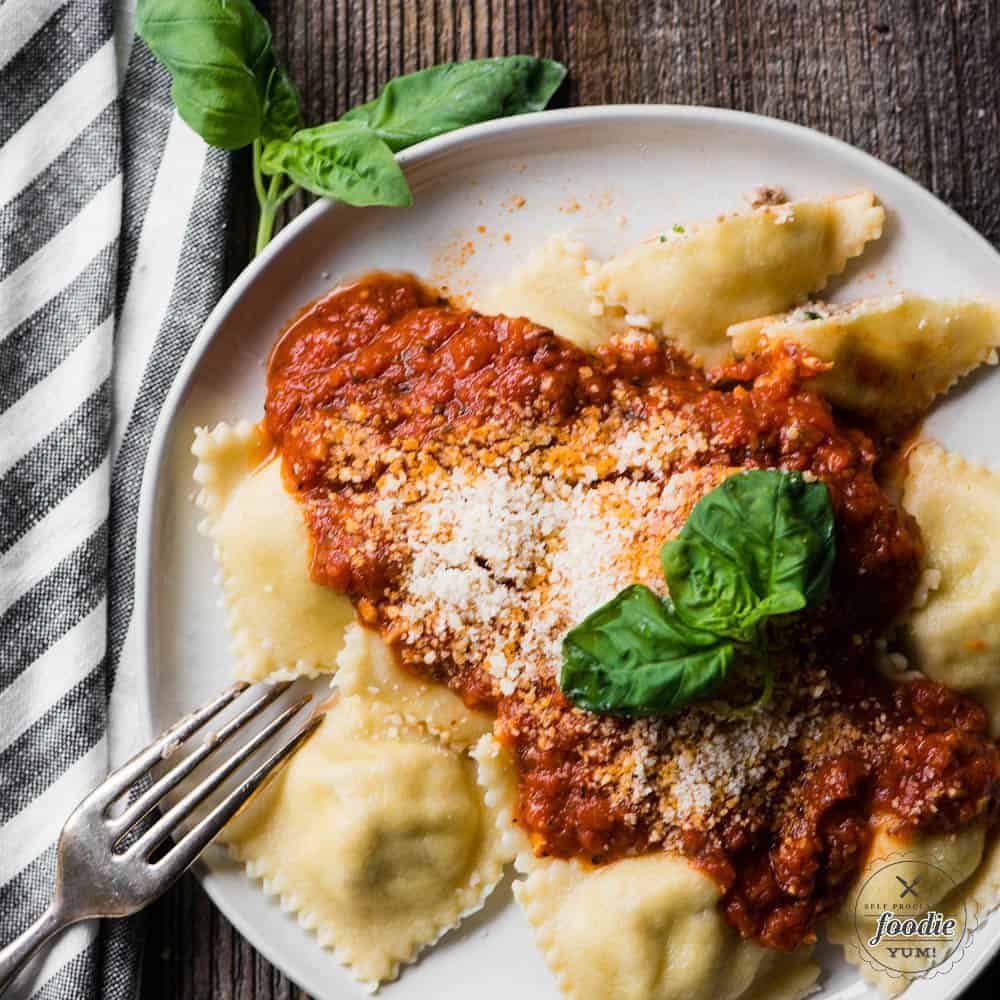 How to make these homemade sausage Ravioli:
Making homemade ravioli is a two step process. First you'll make the homemade pasta sheets, then you'll make the ravioli.
When making the pasta, keep in mind that the pasta dough will need to be kneaded for about 10 minutes and then it will need to rest at least 30 minutes to develop the gluten before rolling it out. You can knead the dough by hand or with a dough hook in a stand mixer.
To roll out the dough, you can use a hand roller or a pasta roller. For full instructions and a video on how to do this using a pasta roller, please check out my homemade pasta recipe.
To make the Meat and Cheese Ravioli filling, simply combine the cooked spicy Italian sausage, ricotta cheese, egg and basil. I prefer to pulse this mixture in the food processor not only to mix everything, but to get those sausage chunks into very small crumbles. They just fit better in the ravioli that way.
Be sure to seal the top and bottom pasta sheets to ensure the filling doesn't spill out when you boil it. To seal the ravioli, just dip your finger in water and it will act like glue.
Fresh made ravioli only takes a few minutes to cook. You'll know it's done when it floats and by the texture.
Make a lot and freeze them!
Because making homemade ravioli isn't one of those quick and easy dinner recipe options, I highly recommend making a HUGE batch and then freezing it for future dinners. Frozen ravioli cooks up just as easily as fresh ravioli, it tastes the same, and only takes a few minutes longer to cook.
To properly freeze your homemade ravioli, line a baking sheet with parchment paper and arrange your freshly made and cut raviolis in a single layer. Set in the freezer. Once the raviolis are completely frozen, you may add them to a resealable freezer bag, squeeze out all the air, and then continue to store in the freezer until you're ready to use.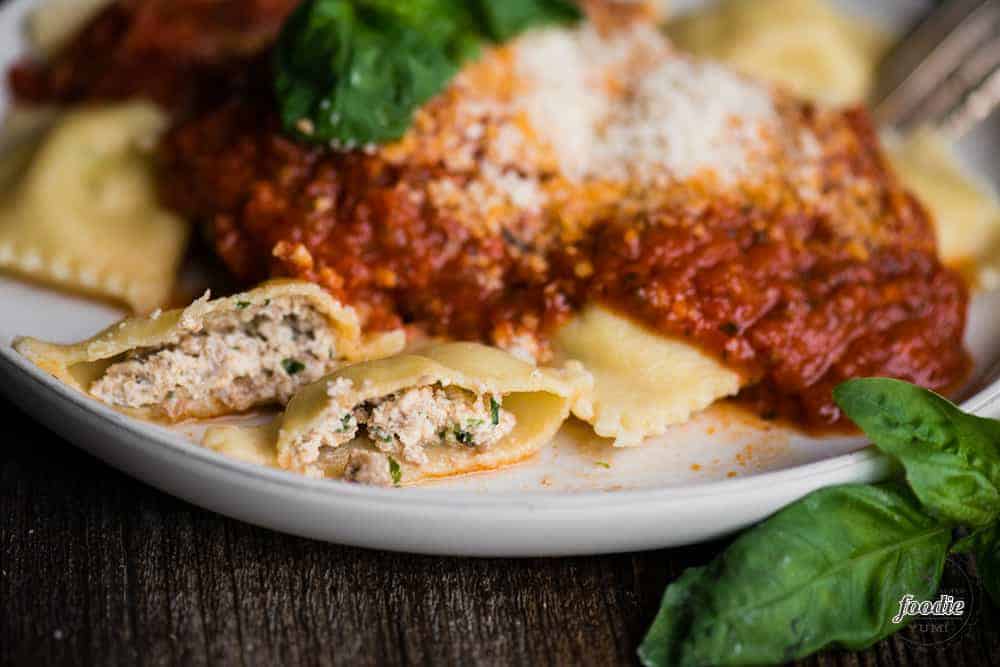 What to serve with this meal:
These homemade ravioli definitely benefit from a delicious sauce. My preference is a really high quality marinara sauce with some grated parmesan cheese on top. You can forego the pasta sauce and just toss them in olive oil with some garlic, if you prefer.
Another option is to fry, instead of boil, the ravioli in some garlic infused olive oil and then top with your favorite sauce. YUM!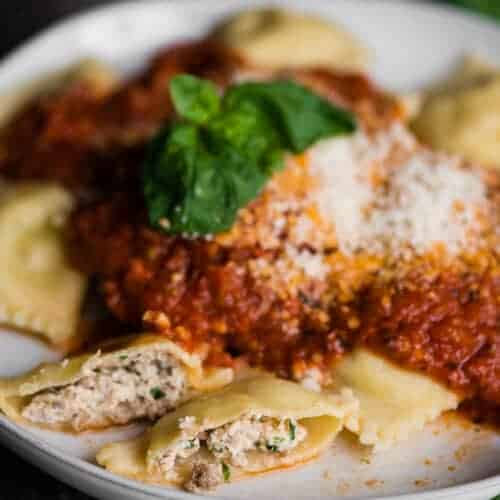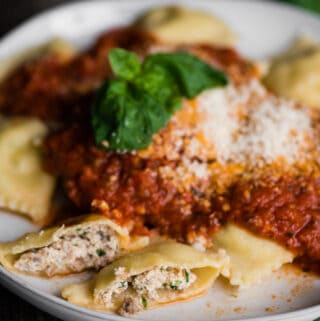 Meat and Cheese Ravioli
Meat and Cheese Ravioli is a delicious dinner recipe, especially when you make the flavorful filling and homemade pasta dough from scratch!
Print
Pin
Rate
RECIPE VIDEO WILL AUTOPLAY
Hover to scale:
12
servings
Ingredients
Pasta
1 1/2

cups

Semolina Pasta Flour

1 1/2

cups

all-purpose Flour

4

whole eggs

4

tablespoons

olive oil

4

tablespoons

water

1

teaspoon

kosher salt
Filling
1

pound

spicy Italian sausage

16

ounces

whole milk ricotta cheese

1/2

cup

fresh basil

(packed)

1

large

egg
Instructions
To make the pasta dough:
Combine all pasta ingredients and mix together to make a stiff dough. Knead by hand or in a stand mixer with the dough hook on medium low speed for 10 minutes or until dough is elastic. Wrap dough in plastic wrap and let rest for at least 20 minutes. On a lightly floured surface roll out to desired thickness and cut as desired.
To make the filling:
Cook the Italian sausage in a heavy bottom pan over medium high heat until browned and crumbly, about 20 minutes. Allow to cool slightly.

In a food processor, pulse the slightly cooled sausage with the ricotta cheese, basil and egg. You want the sausage to be small crumbles and the mixture to be fully mixed without completely losing the texture of the sausage.
To prepare:
Use a ravioli press to add and seal one teaspoon of filling in between each pasta sheet. Dip finger in water and wet edges of pasta before adding second sheet to allow for a nicely sealed ravioli. Use a roller, gently pressing down, to seal them up. Be sure to heavily flour the outside of your pasta to enable easy release.

Boil the ravioli in plenty of salted water until just done. This will only take a short time! The ravioli will float on the surface of the water when they are finished. Carefully remove and drain. Serve with warm marinara sauce and a generous amount of grated Parmesan cheese.
NUTRITION INFORMATION
Calories:
398
kcal
|
Carbohydrates:
28
g
|
Protein:
16
g
|
Fat:
23
g
|
Saturated Fat:
8
g
|
Cholesterol:
120
mg
|
Sodium:
530
mg
|
Potassium:
220
mg
|
Fiber:
1
g
|
Vitamin A:
325
IU
|
Vitamin C:
0.9
mg
|
Calcium:
104
mg
|
Iron:
2.6
mg