You're going to love this step-by-step homemade Meat and Cheese Ravioli recipe with sausage ricotta ravioli filling and homemade pasta dough from scratch! Making homemade ravioli isn't just tasty, but it's fun!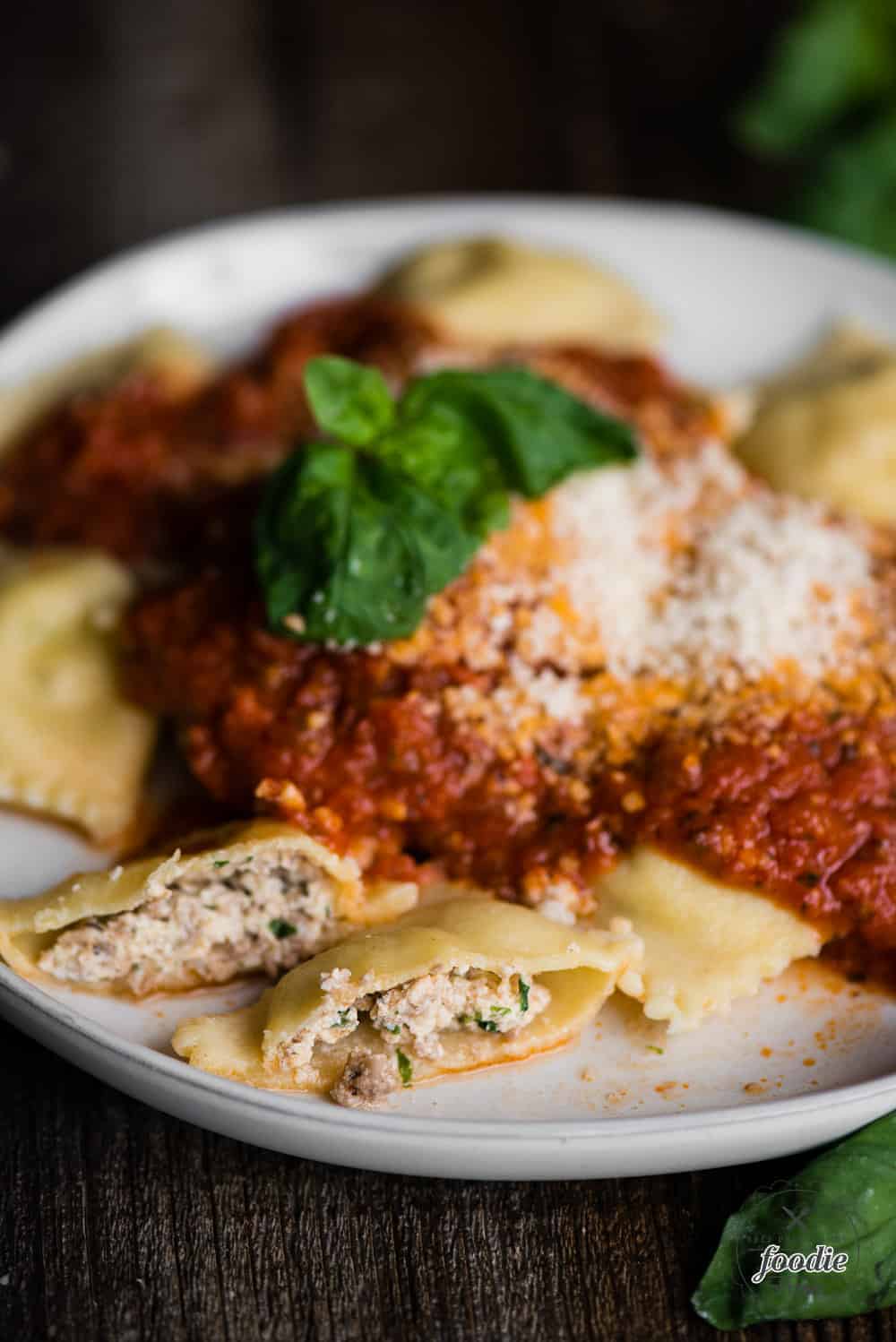 Why this recipe is so great:
Ravioli is a favorite that most people either order at a restaurant or buy in premade packages. But, this recipe for homemade ravioli not only tastes better than anything you'll buy at the store, but it's fun to make!
Homemade pasta is actually very easy to make and is perfect for making homemade ravioli.
Italian sausage is cooked, cooled, and then mixed into the ricotta cheese filling. This infuses the flavor into every bite.
They are super easy to freeze! That means future dinners can be quick and easy.
Kitchen equipment needed:
Ravioli is basically an Italian dumpling that is composed of a filling sealed in between two thin sheets of fresh pasta dough. They can be any shape, but square and circle seem to be the most common.
No special tools are required, but they certainly make the job easier.
To make the pasta:
Kitchenaid stand mixer (or you can knead by hand)
Pasta roller – I have an Atlas hand roller and have also used the Kitchenaid attachment. You can also roll the pasta dough by hand.
To make the ravioli filling:
Sauté pan to cook the sausage.
Food processor to pulse the cooked sausage with the ricotta. This isn't necessary, but is recommended.
To form the ravioli:
Ravioli press
Dough roller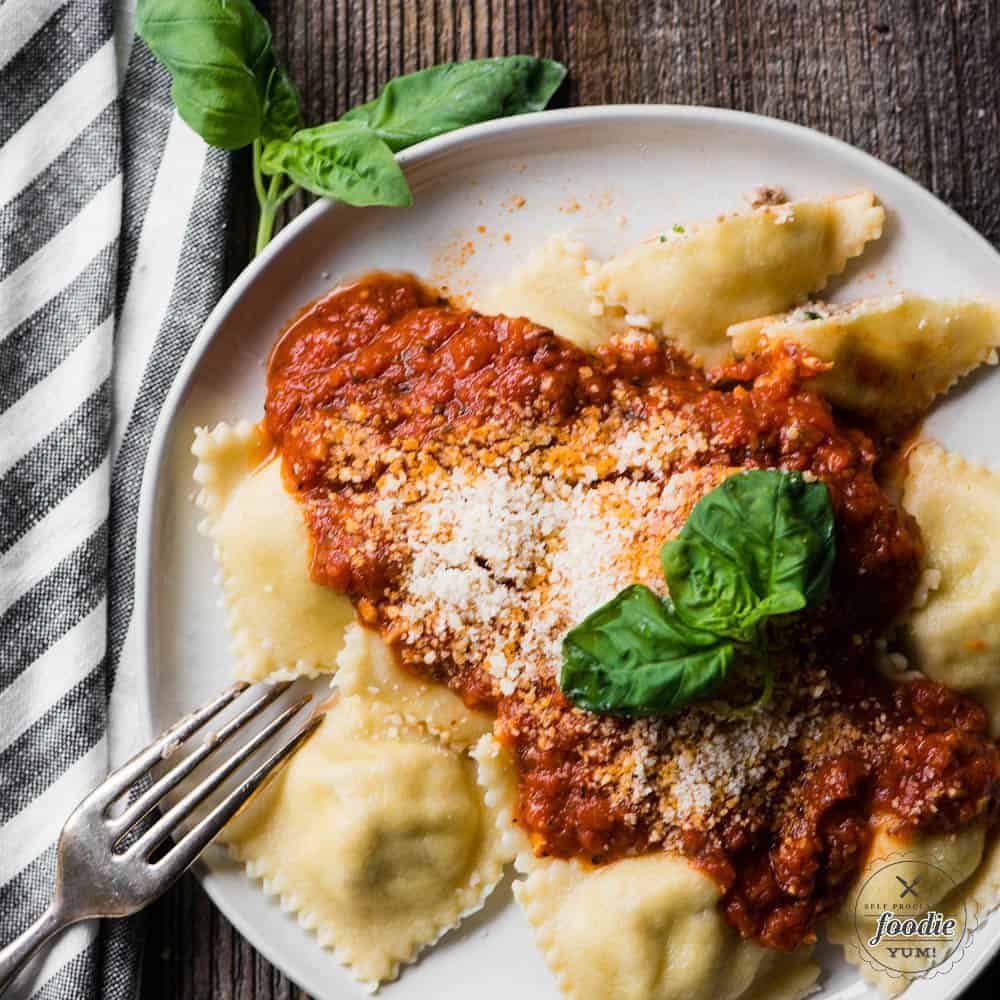 How to make these homemade sausage cheese ravioli:
Making homemade ravioli is a two step process.
First you'll make the homemade pasta sheets.
When making the pasta, keep in mind that the pasta dough will need to be kneaded for about 10 minutes and then it will need to rest at least 30 minutes to develop the gluten before rolling it out. You can knead the dough by hand or with a dough hook in a stand mixer.
To roll out the dough, you can use a hand roller or a pasta roller. For full instructions and a video on how to do this using a pasta roller, please check out my homemade pasta recipe.
Next make the ravioli filling.
Simply combine the cooked spicy Italian sausage, ricotta cheese, egg and basil. I prefer to pulse this mixture in the food processor not only to mix everything, but to get those sausage chunks into very small crumbles. They just fit better in the ravioli that way.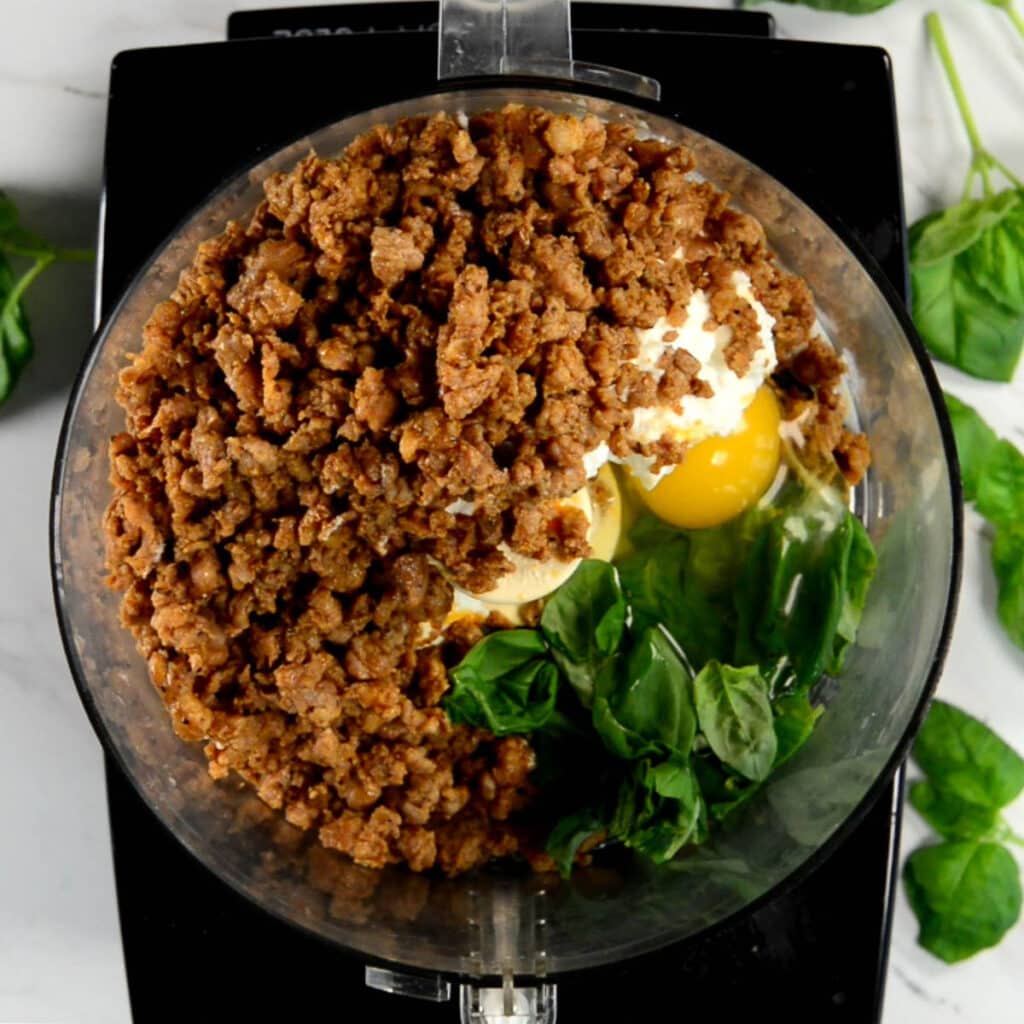 Form the ravioli:
Be sure to seal the top and bottom pasta sheets to ensure the filling doesn't spill out when you boil it. To seal the ravioli, just dip your finger in water and it will act like glue.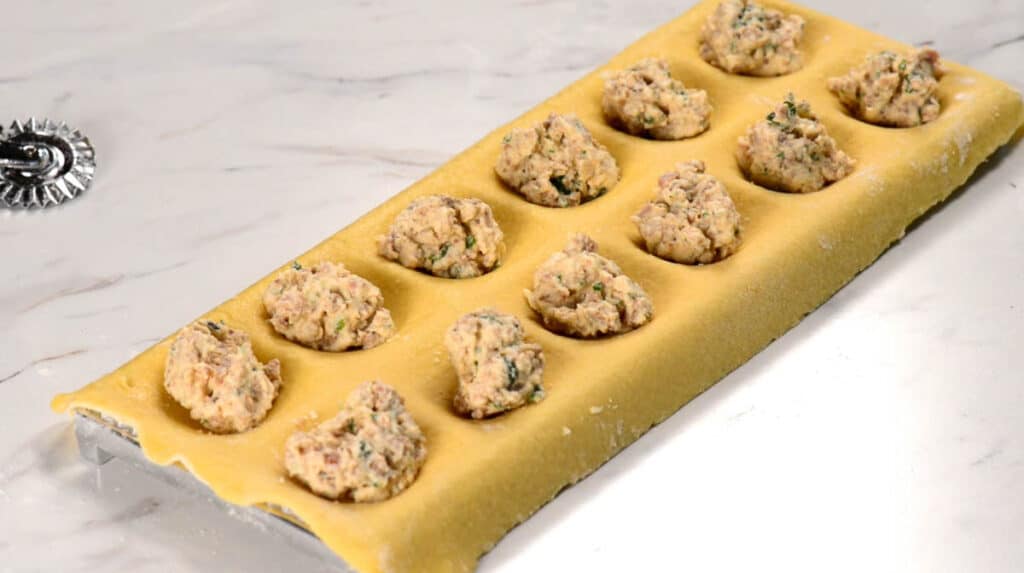 Fresh made ravioli only takes a few minutes to cook. You'll know it's done when it floats and by the texture.
Make a lot and freeze them!
Because making homemade ravioli isn't one of those quick and easy dinner recipe options, I highly recommend making a HUGE batch and then freezing it for future dinners. Frozen ravioli cooks up just as easily as fresh ravioli, it tastes the same, and only takes a few minutes longer to cook.
To properly freeze your homemade ravioli, line a baking sheet with parchment paper and arrange your freshly made and cut raviolis in a single layer. Set in the freezer. Once the raviolis are completely frozen, you may add them to a resealable freezer bag, squeeze out all the air, and then continue to store in the freezer until you're ready to use.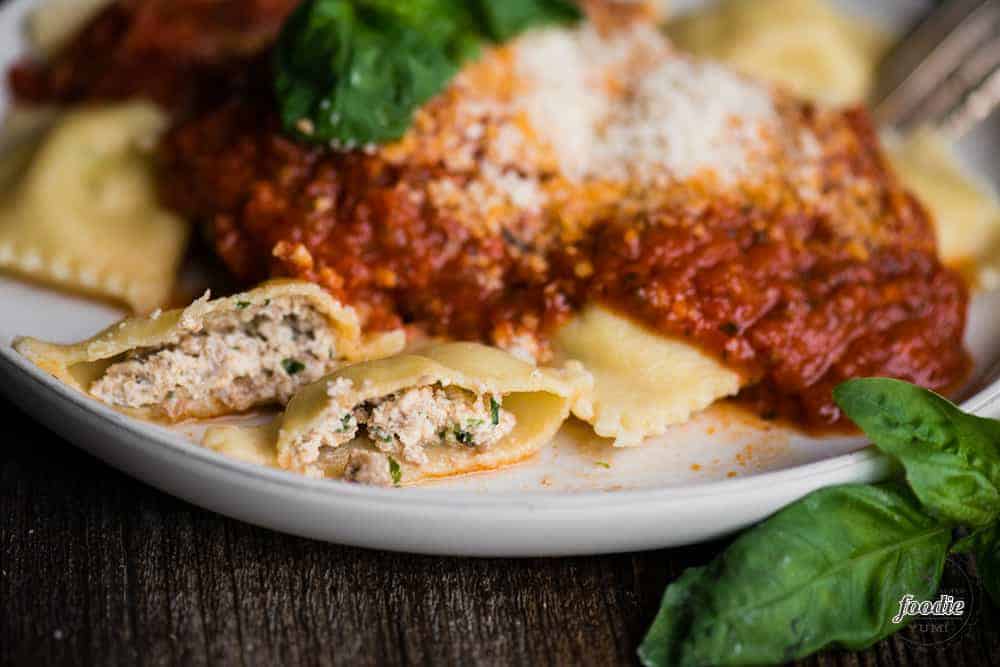 Ravioli sauce:
These homemade ravioli definitely benefit from a delicious sauce. My preference is a really high quality marinara sauce with some grated parmesan cheese on top. You can forego the pasta sauce and just toss them in olive oil with some garlic, if you prefer.
Another option is to fry, instead of boil, the ravioli in some garlic infused olive oil and then top with your favorite sauce. YUM!
If you've made this or any other recipe on my site, let me know in the comment section how it turned out. I love hearing from my readers!
You can also follow along on PINTEREST, FACEBOOK and INSTAGRAM to see more amazing recipes to satisfy any foodie craving!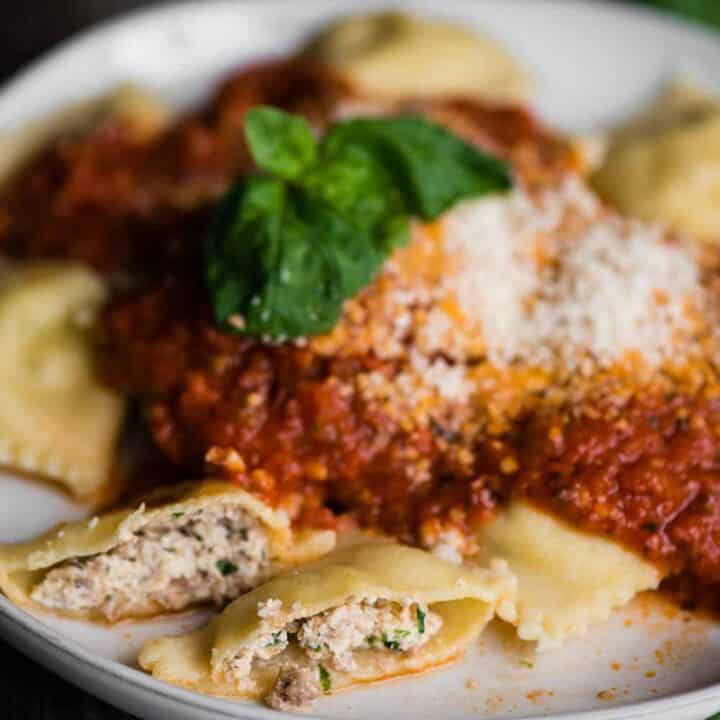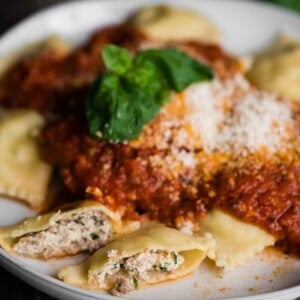 Meat and Cheese Ravioli is a delicious dinner recipe, especially when you make the flavorful filling and homemade pasta dough from scratch!
Ingredients
Filling
1

pound

spicy Italian sausage

16

ounces

whole milk ricotta cheese

1/2

cup

fresh basil

packed

1

large

egg
Instructions
To make the pasta dough:
Combine all pasta ingredients and mix together to make a stiff dough. Knead by hand or in a stand mixer with the dough hook on medium low speed for 10 minutes or until dough is elastic. Wrap dough in plastic wrap and let rest for at least 20 minutes. On a lightly floured surface roll out to desired thickness and cut as desired.
To make the filling:
Cook the Italian sausage in a heavy bottom pan over medium high heat until browned and crumbly, about 20 minutes. Allow to cool slightly.

In a food processor, pulse the slightly cooled sausage with the ricotta cheese, basil and egg. You want the sausage to be small crumbles and the mixture to be fully mixed without completely losing the texture of the sausage.
To prepare:
Use a ravioli press to add and seal one teaspoon of filling in between each pasta sheet. Dip finger in water and wet edges of pasta before adding second sheet to allow for a nicely sealed ravioli. Use a roller, gently pressing down, to seal them up. Be sure to heavily flour the outside of your pasta to enable easy release.

Boil the ravioli in plenty of salted water until just done. This will only take a short time! The ravioli will float on the surface of the water when they are finished. Carefully remove and drain. Serve with warm marinara sauce and a generous amount of grated Parmesan cheese.
Nutrition
Calories:
398
kcal
,
Carbohydrates:
28
g
,
Protein:
16
g
,
Fat:
23
g
,
Saturated Fat:
8
g
,
Cholesterol:
120
mg
,
Sodium:
530
mg
,
Potassium:
220
mg
,
Fiber:
1
g
,
Vitamin A:
325
IU
,
Vitamin C:
0.9
mg
,
Calcium:
104
mg
,
Iron:
2.6
mg
Nutrition information is automatically calculated, so should only be used as an approximation.
This recipe was originally published in October 2014 and has been updated with helpful information, ingredient and process photos, as well as recipe tips. Don't worry – the recipe hasn't changed!