Chipotle Aioli is a homemade aioli sauce recipe with a spicy kick. Chipotle peppers, garlic and lemon come together in this flavorful homemade spicy dip.
Chipotle Aioli is fast and easy to make. Made with minced Garlic, Lemon Juice, and Chipotle from adoba, it is an excellent spicy and creamy spread for hamburgers or sandwiches. Dip fries in it and you'll be in food heaven.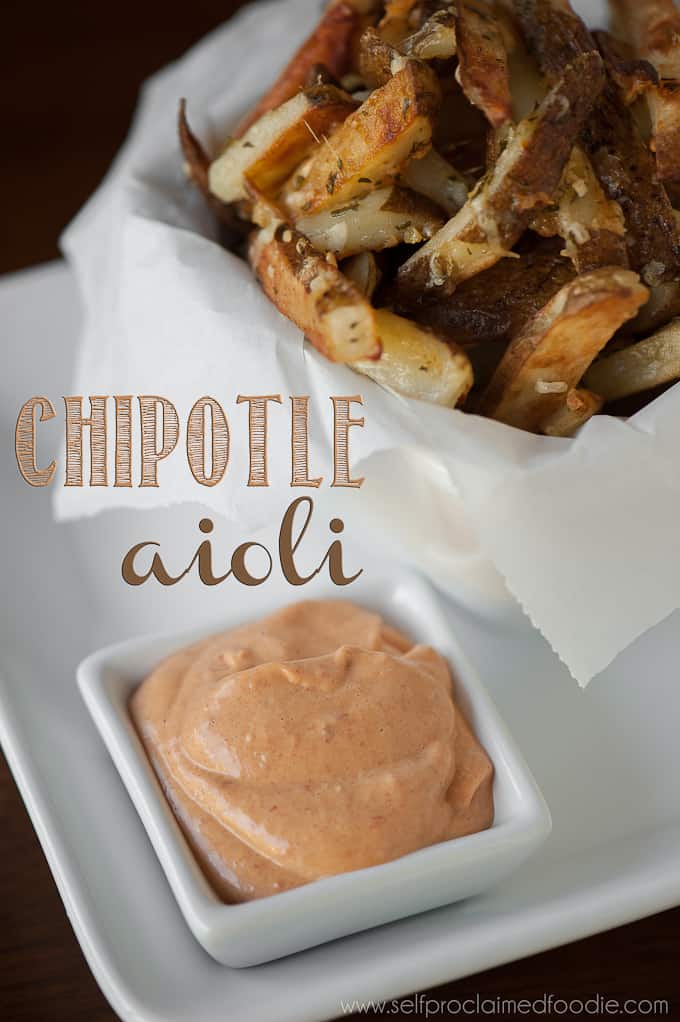 AIOLI SAUCE
Pin it to your DIPS & SPREADS BOARD to SAVE it for later!
Follow Self Proclaimed Foodie on Pinterest for more great recipes!
My husband's most favorite food in the world is a hamburger. We went to Victoria, BC, for a couple nights and both nights we ate at the same burger place because they had one of the most delicious spicy burgers we have ever had. Can you guess what it had on it? Yep, chipotle aioli.
If you've never bought a can of chipotle in adobo sauce, you should. Like now. It'll be in the same part of the store as the refried beans, taco shells, canned salsa.
Most recipes only call for a couple spoonfuls of the stuff, so be prepared to make something like huevos rancheros with the leftovers.
Is Aioli the same as Mayonnaise ?
Not quite, while they are very similar in terms of how you make them, it's the ingredients in them that distinguishes them from each other. One of the main differences, according to some people, is that Aioli only uses garlic as a seasoning in it, while you can get different flavored mayonnaise. The fact is, is that they are still very similar in the fact that you have to emulsify eggs and oil together to create the aioli sauce or mayonnaise.
Can you make Aioli with mayo?
When I made my Chipotle aioli, I figured I could just throw in some mayonnaise and some spices and call it good. Nope. This is real aioli, from scratch, and it's probably easier to make than actually scooping mayo out of a jar and mixing it up with something.
What is Aioli sauce used for?
This chipotle aioli sauce can be used for a variety of things. Like I said before, you can slather it onto a burger to make delicious spicy burgers! I slathered a thick layer on my burger and it wasn't enough so I slathered some more on every bite. YUM. I also dipped my fries in it. Best of all – I made the spicy-burger-and-fries-loving-husband happy. Bonus.
This chipotle aioli sauce also goes well with sandwiches, chicken tenders, and fish sticks if you're looking for even more ways to enjoy it!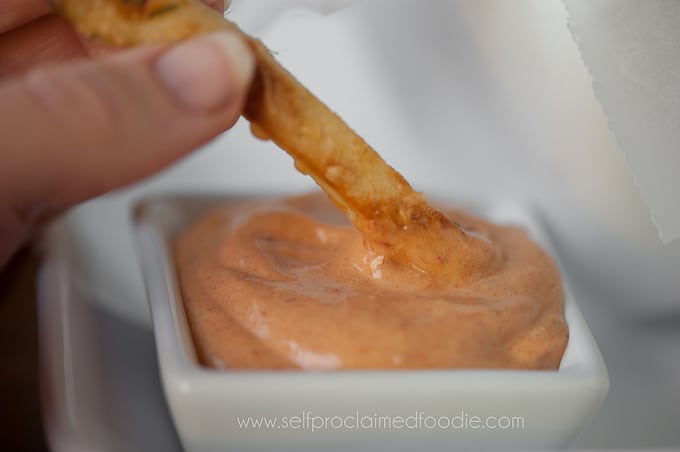 How to make Chipotle Aioli Sauce:
This chipotle aioli honestly only takes a couple minutes to whirl up in the food processor or with an immersion blender. Homemade aioli sauce is so amazingly good you'll be writing me a hand written letter thanking me for the suggestion.
You start by placing the egg yolks, lemon juice, minced garlic, sugar, salt, and chipotle in the food processor. You can also use an immersion blender if you're using a flat bottom container that's just wide enough to fit the blender. A wide mouth mason jar works really well.
After pulsing to combine all of the ingredients, slowly pour your oil in.
Then you will process it again while you pour a slow steady stream of oil until the aioli forms. You will need to scrap the sides and process again until all the ingredients have come together to form the aioli!
Watch the recipe video below of me making four different kinds of homemade aioli!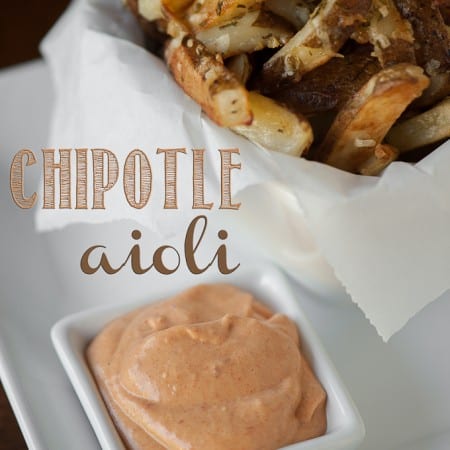 Chipotle Aioli Recipe
Chipotle Aioli is fast and easy to make. It is an excellent spicy and creamy spread for hamburgers or sandwiches. Dip fries and you'll be in food heaven.
Print
Pin
Rate
RECIPE VIDEO WILL AUTOPLAY
Hover to scale:
6
servings
Ingredients
2

Egg yolks

1

tablespoon

Lemon juice

(about a half a lemon)

1

teaspoon

Garlic

(finely minced (about 2-3 cloves))

1/4

teaspoon

sugar

1/2

teaspoon

salt

2

Tbs

Chipotle in adobo

3/4

C

Vegetable oil
Instructions
Place yolks, lemon juice, garlic, sugar, salt, and chipotle in food processor. Pulse to combine.

Turn processor on and slowly pour in oil. Process until aioli forms, about a minute. Turn processor off, scrap sides, process again until combined.

Serve immediately or store in air tight container in refrigerator until ready to use. Makes approximately one cup.
NUTRITION INFORMATION
Calories:
257
kcal
|
Protein:
1
g
|
Fat:
28
g
|
Saturated Fat:
22
g
|
Cholesterol:
65
mg
|
Sodium:
280
mg
|
Potassium:
16
mg
|
Vitamin A:
170
IU
|
Vitamin C:
1.7
mg
|
Calcium:
8
mg
|
Iron:
0.3
mg