Homemade Sausage Stuffing is the very best Thanksgiving sausage dressing recipe you can make! Made with fresh bread and tons of flavor, it won't disappoint.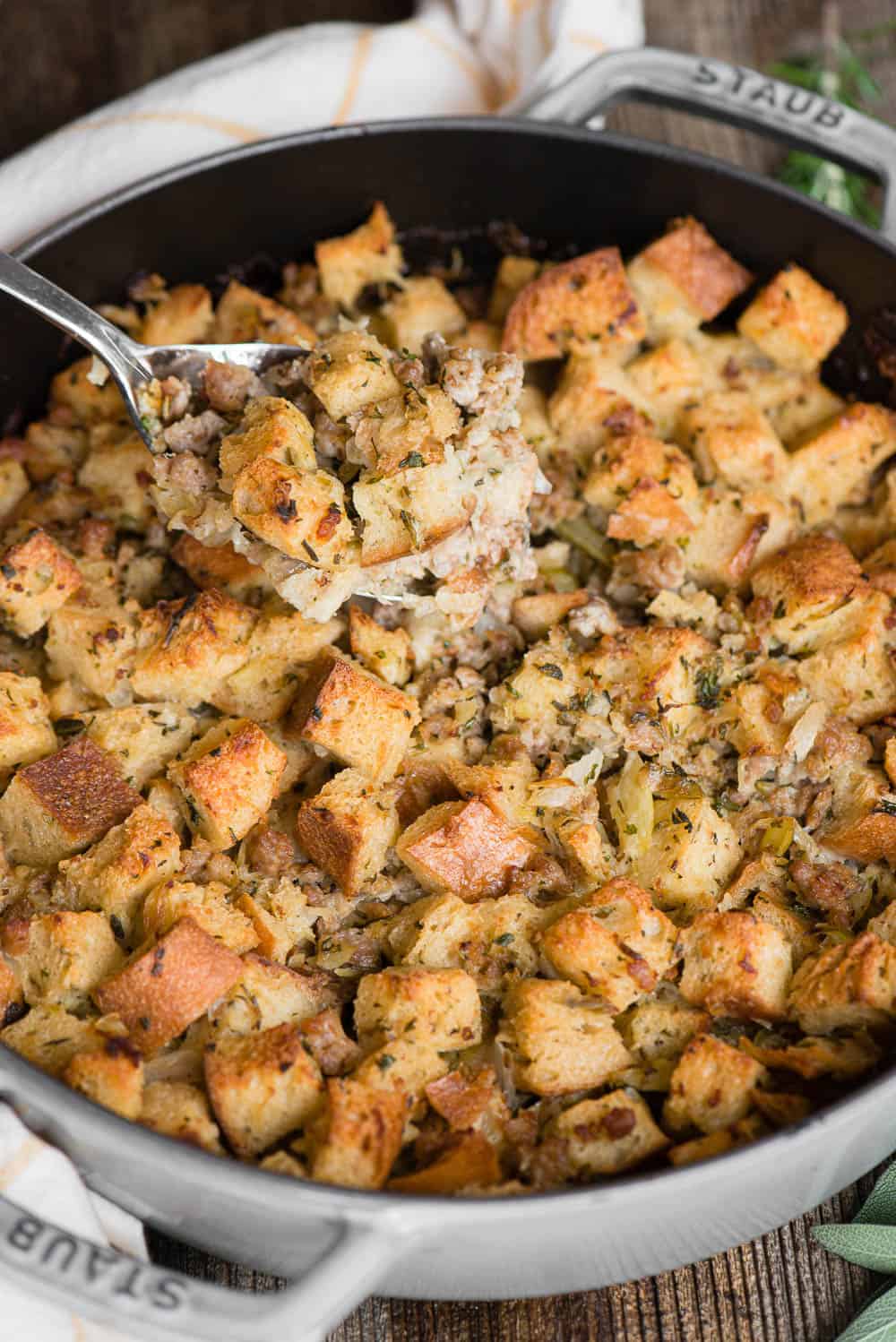 I really should have called this recipe Sausage Dressing because that's what it is: a dressing side dish. I do not stuff my turkey. Ever.
I take that back. I like to brine my turkey and stuff it with aromatics.
But never have I ever stuffed a turkey with a bread stuffing. Not only do you have to worry about internal temperatures and health concerns, but I think mushy stuffing is just gross.
Alas, everyone (including myself) refers to this recipe as sausage stuffing, so I'm going with it.
How to make this recipe:
First step is to cut the bread into tiny cubes (photo 1). I highly recommend buying a rosemary round. When the bread is already infused with herbs, the flavor is unreal. You can totally let the bread sit out for a day to get stale and chewy.
Next step is to brown the sausage (photo 2). I prefer to use ground pork and make my own Sage Sausage which is also what I use when I make biscuits and gravy.
You will then combine an egg with some fresh parsley (photo 3). Combine that with the cubed bread, cooked sausage, and a mixture of onion and celery that was sauteed in a ton of butter with herbs and then some chicken broth (photo 4).
Spread this out in a greased baking dish and top with more butter (photo 5). You'll bake with a cover on and then remove the cover to allow it to crisp up (photo 6).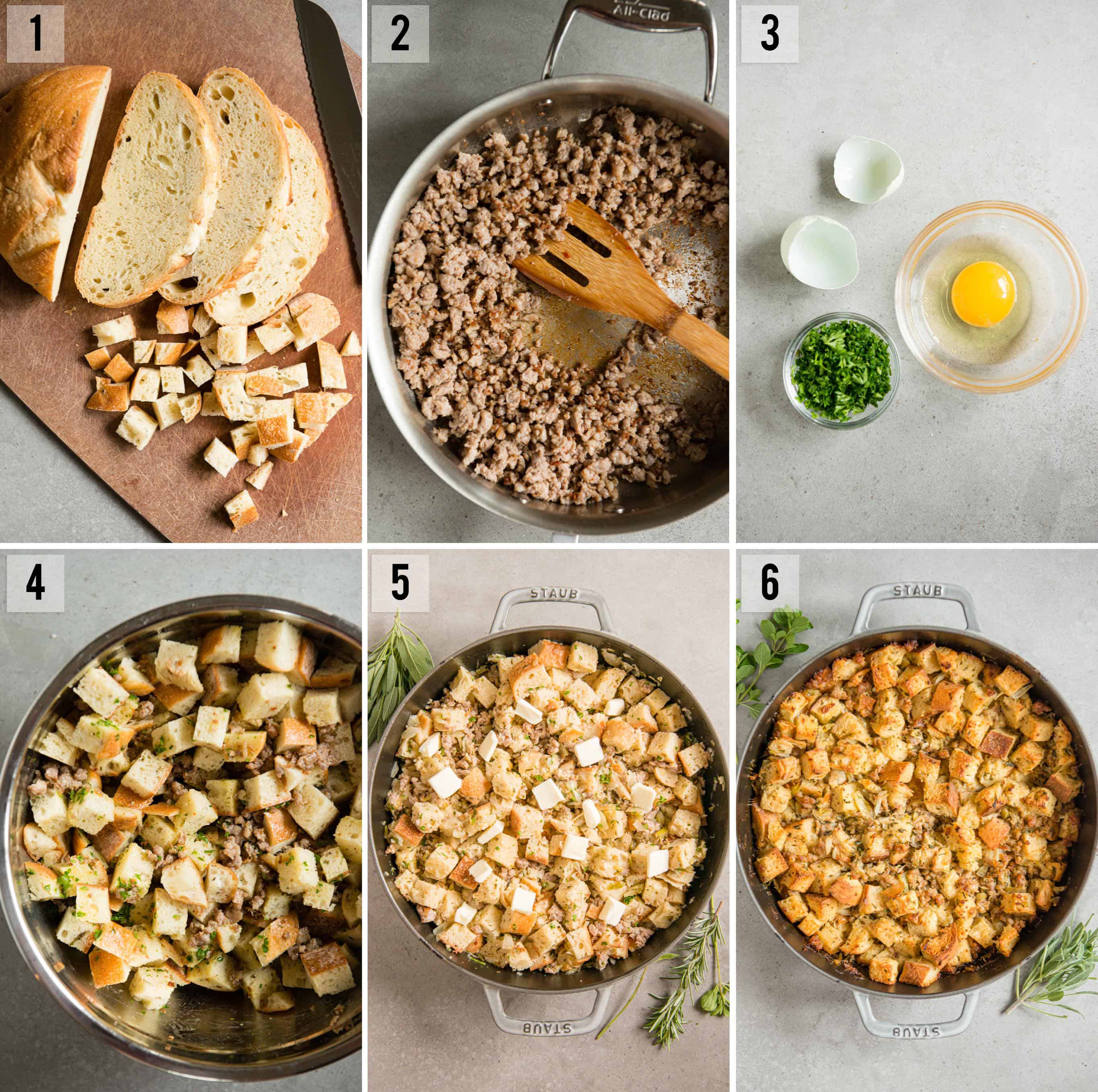 Make ahead directions:
I always prepare this recipe the day before. My two main reasons are:
I don't want my kitchen to look like a bomb went off on Thanksgiving day. I want everything to be prepared the day before so that all I have to do is put everything in the oven, make my house smell like heaven, enjoy all the Thanksgiving traditions, and sip on a crisp white wine while eating Thanksgiving appetizers.
Stuffing, or dressing rather, always tastes best when it has a day to sit and really absorb all the flavors before it gets cooked.
Crispy or mushy stuffing?
That is the true question.
If you're feeding a split crowd, the crispy fans can eat the top and the mushy fans can eat the bottom.
But, if your entire crew likes stuffing one way or another, you can simply control the mushiness or crispness simply by the size and type of pan.
If you like it crispy, use a large pan, use extra butter when greasing the sides, and cast iron will give a better outer crunch than glass or ceramic. Likewise, use a smaller deeper dish if you like it mushy.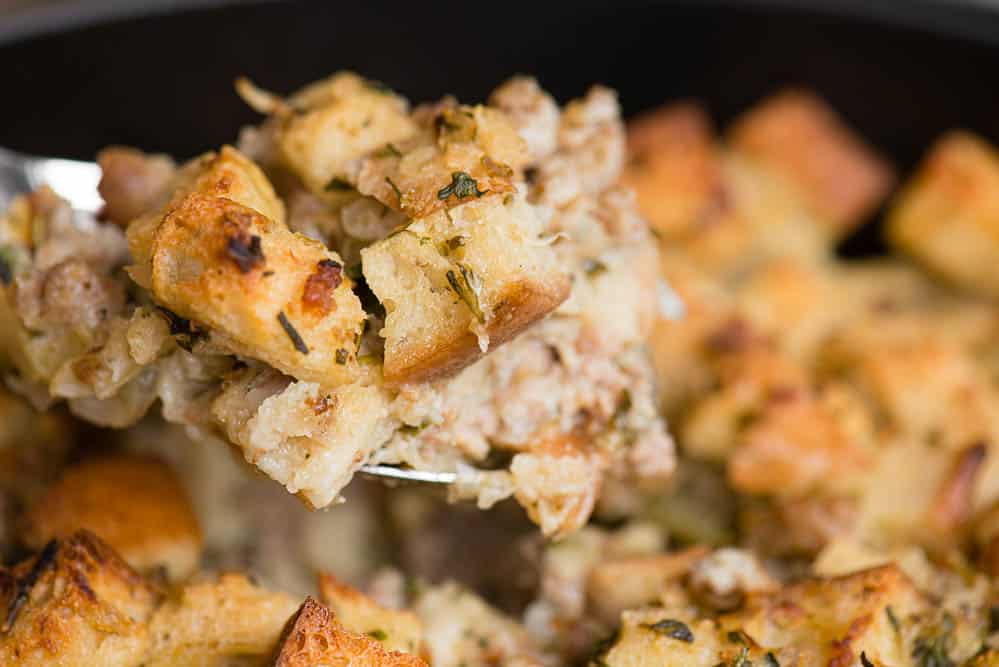 You know this Sausage Dressing will go great with Oven Roasted Turkey, Savory Herb Turkey Gravy, and Instant Pot Mashed Potatoes!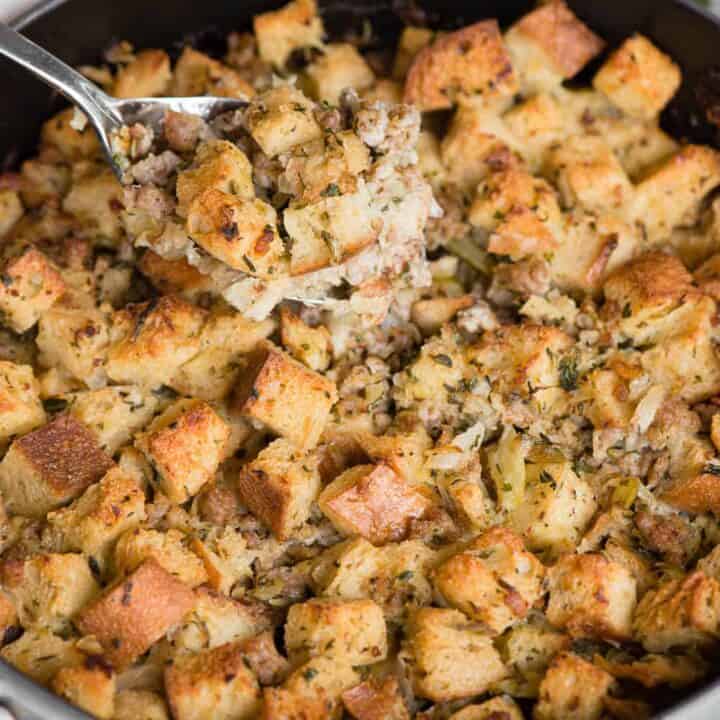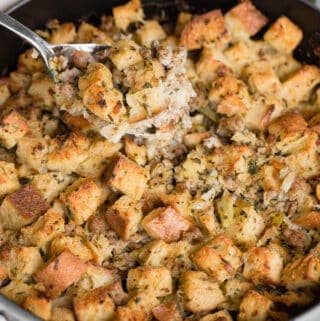 Sausage Stuffing
Homemade Sausage Stuffing is the very best Thanksgiving sausage dressing recipe you can make! Made with fresh bread and tons of flavor, it won't disappoint.
Print
Pin
Rate
Hover to scale:
12
servings
Ingredients
Sausage:
1

pound

ground pork

1

tablespoon

sage

(dried or minced fresh)

1

teaspoon

kosher salt

1

teaspoon

brown sugar

½

teaspoon

black pepper

(freshly ground )

⅛

teaspoon

red pepper flakes

( or more if you like heat)

¼

teaspoon

marjoram

( fresh if you have it)

1

pinch

ground cloves
Stuffing:
½

cup

unsalted butter

( plus 2 tablespoons, divided)

2

cups

yellow onion

(diced (1 large onion))

2

cups

celery

(diced (about 8 small stalks))

4

tablespoons

fresh minced herbs

(sage, rosemary, thyme)

3

cups

chicken stock

(or turkey if you have it)

1

large

egg

(beaten)

¼

cup

parsley

(minced)

16

ounces

bread

(1 loaf, look for a rosemary round, cut into 1-inch cubes)
Instructions
To Make the Sausage:
In medium sized bowl, thoroughly combine all sausage ingredients. Its easiest if you use your hands to mix.

Heat a skillet over medium heat. Cook until brown and crumbly, about 10 minutes. Allow to cool.
To Make the Stuffing:
Melt ½ cup (1 stick) butter in a large skillet over medium high heat. Add onion, celery, and minced herbs (not the parsley). Stir to coat in the melted butter and then saute until they start to turn golden brown, about 10 minutes.

Add broth to skillet and bring to a simmer. Remove from heat and set aside. Allow to cool enough that mixture is cool to the touch.

Meanwhile, beat egg with ¼ cup chopped parsley in a large bowl; add cubed bread and toss to coat. Pour the cooked sausage and cooled vegetable broth mixture over the bread and toss. Transfer to a buttered baking dish and dot with remaining two tablespoons of butter.

Cover and bake 30 minutes at 375 degrees F; uncover and bake until golden, 30 more minutes.
Notes
If you like crispy sausage stuffing, cook in a larger baking dish. If you like it mushy, you can use a smaller deep baking dish.
Although I call this stuffing, it is baked and served as a dressing. I don't actually stuff my turkey.
NUTRITION INFORMATION
Calories:
314
kcal
|
Carbohydrates:
24
g
|
Protein:
13
g
|
Fat:
18
g
|
Saturated Fat:
9
g
|
Cholesterol:
67
mg
|
Sodium:
520
mg
|
Potassium:
336
mg
|
Fiber:
2
g
|
Sugar:
5
g
|
Vitamin A:
459
IU
|
Vitamin C:
5
mg
|
Calcium:
82
mg
|
Iron:
2
mg