Thanksgiving wouldn't be complete without my favorite side dish: moist and flavorful Wild Mushroom Stuffing made with rosemary bread.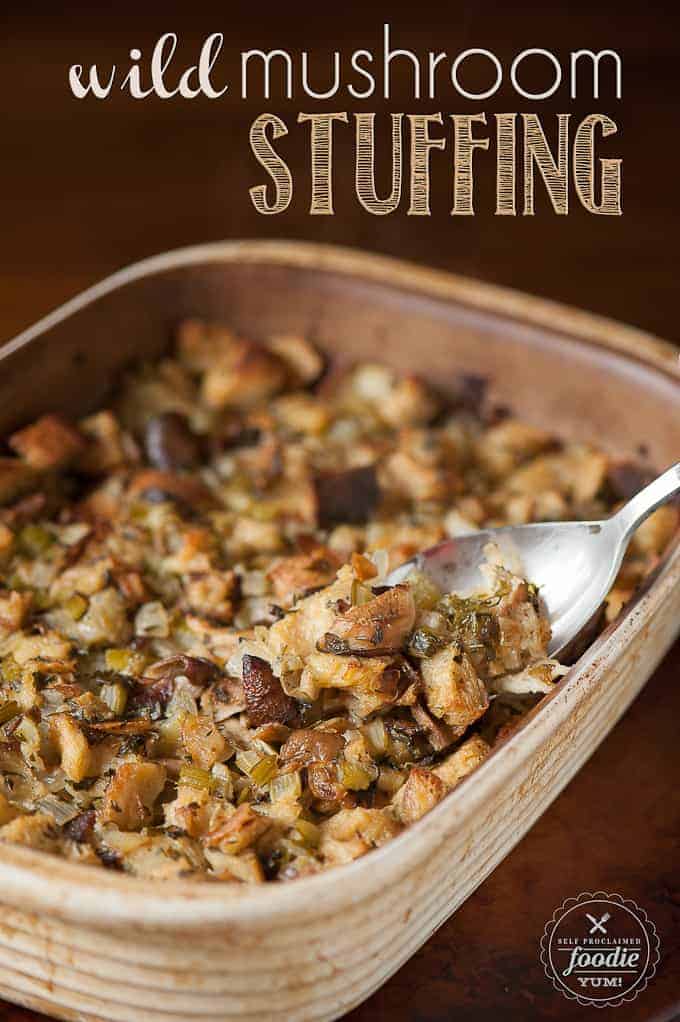 Confession: this was the first time I made stuffing. Or, as some people would like to refer to it, dressing (because it was never stuffed inside a bird). I've always used a box. Guilty. But I have a food blog now. I can't very well write about how I made boxed stuffing according to the directions on the box, now can I?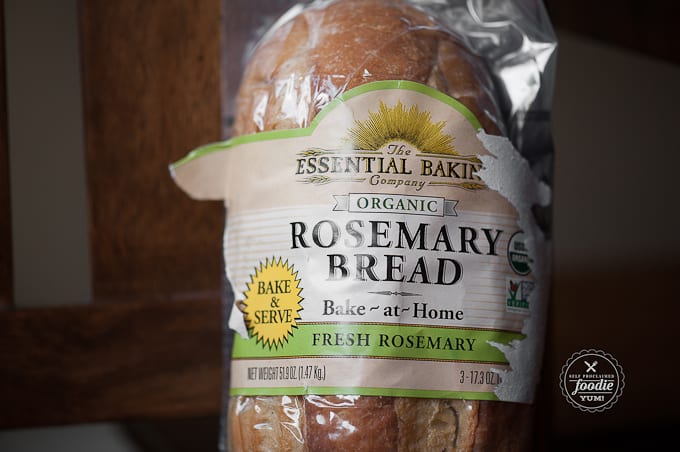 I started with this bake and serve rosemary loaf of bread. Shoot me – I didn't make the bread from scratch. I'm a busy girl! I love using bake and serve breads in things like this and make ahead baked french toast. It's perfectly crispy and chewy all at the same time. None of this wait a couple days for the bread to get stale business. If you're wondering, our Costco sells this bread and I always have at least one loaf in my freezer. When I was thinking about how else I could make this stuffing awesome, I thought long and hard about the foods I love and what would taste marvelous with the sauteed onion and celery and obscene just the right amount of butter. Then it came to me – wild mushrooms. You can find wild mushrooms dried at the grocery store. Why I had never purchased these wonderful things before is beyond me. This stuffing was by far the best stuffing I have ever had in my life.
Shoot. I'm doing it again. I'm writing when I'm hungry. Stuffing is my most favorite Thanksgiving side dish and I'm torturing myself right now by looking at these photos and telling you how wonderful this is. Serve this amazing stuffing alongside some damn good roast turkey, savory herb gravy, roasted garlic mashed potatoes, sweet potato casserole, green bean casserole, fresh cranberry sauce, and homemade dinner rolls for an unbelievable Thanksgiving dinner.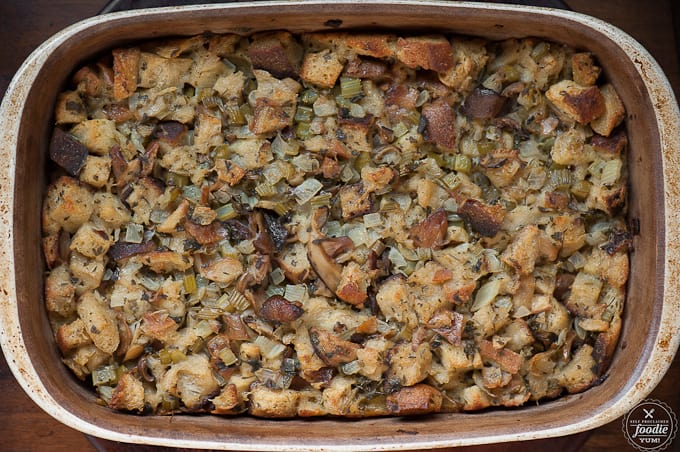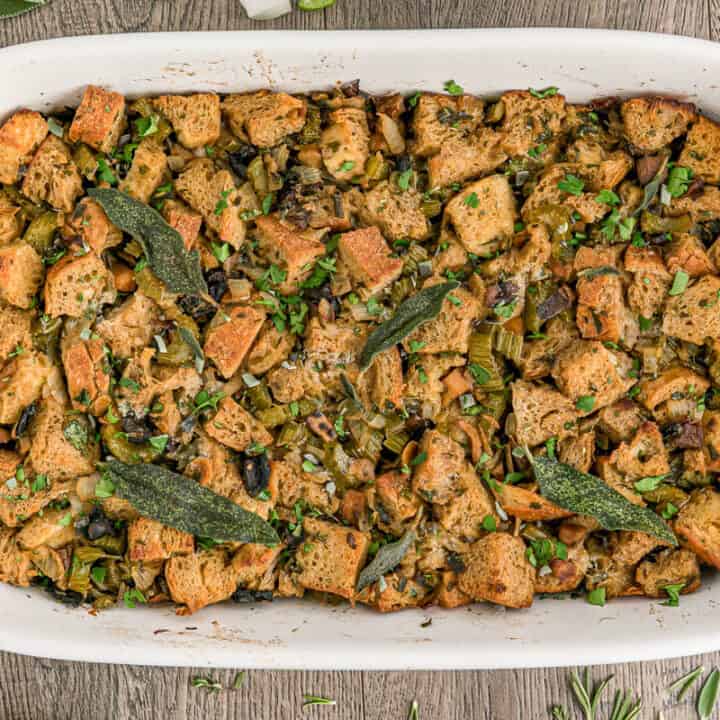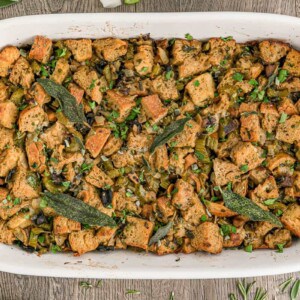 Thanksgiving wouldn't be complete without my favorite side dish: moist and flavorful Wild Mushroom Stuffing made with rosemary bread.
Ingredients
1

ounce

dried wild mushrooms

3

cups

chicken stock

or turkey stock if you have it

10

tablespoons

unsalted butter

divided, plus more for greasing pan

2

cups

yellow onion

diced (1 large onion should give 2 cups)

2

cups

celery

diced (8 small stalks should give 2 cups)

4

tablespoons

fresh minced herbs

sage, rosemary, thyme

1

large

egg

beaten

1/4

cup

fresh parsley

stems removed, minced

16

ounces

bread

Essential Baking Company Rosemary Loaf recommended, see note below
Instructions
Prepare baking dish: Heavily grease 9×13 inch baking pan.

Rehydrate mushrooms: Heat the chicken stock to a simmer. Remove from heat and add dried mushrooms. Cover, and allow the mushrooms to rehydrate and soften. Once the mushrooms have softened, use a slotted spoon to transfer them to a cutting board, cut them into small pieces, and return them to broth.

Sauté vegetables: Melt 8 tablespoons butter (reserving the remaining 2 tablespoons for later) in a large skillet over medium-high heat. Add the onion, celery, and minced herbs (not the parsley). Stir to coat in the melted butter and then sauté until they start to turn golden brown, about 5-10 minutes, stirring only to prevent burning.

Combine: Add the rehydrated mushrooms and the broth to the skillet with the vegetables. Bring to a simmer and then remove the pan from the heat and set it aside. Allow the mixture to cool enough such that the mixture is cool to the touch.

Mix stuffing: In a large bowl, combine the beaten egg with 1/4 cup of chopped parsley. Add the cubed bread and toss the mixture to coat. Pour the cooled vegetable and broth mixture over the bread and stir to combine. Transfer the mixture to the prepared buttered baking dish and dot the dressing with the remaining two tablespoons of butter. Cover with aluminum foil.

Bake: Preheat oven to 375°F. Bake the stuffing, covered, for about 30 minutes. Remove the foil and continue cooking for another 30 minutes until the top is golden brown and crispy. Serve hot.
Notes
Bread – A freshly baked French loaf with a chewy crust works best and the best results will come from a rosemary round (easiest to find around Thanksgiving time).
Nutrition
Calories:
223
kcal
,
Carbohydrates:
26
g
,
Protein:
6
g
,
Fat:
10
g
,
Saturated Fat:
5
g
,
Cholesterol:
35
mg
,
Sodium:
315
mg
,
Potassium:
262
mg
,
Fiber:
2
g
,
Sugar:
4
g
,
Vitamin A:
435
IU
,
Vitamin C:
4.5
mg
,
Calcium:
76
mg
,
Iron:
1.8
mg
Nutrition information is automatically calculated, so should only be used as an approximation.