Campfire Blueberry Peach French toast is a perfect start to your camping morning. Peaches, blueberries and cream cheese make a delicious campfire breakfast.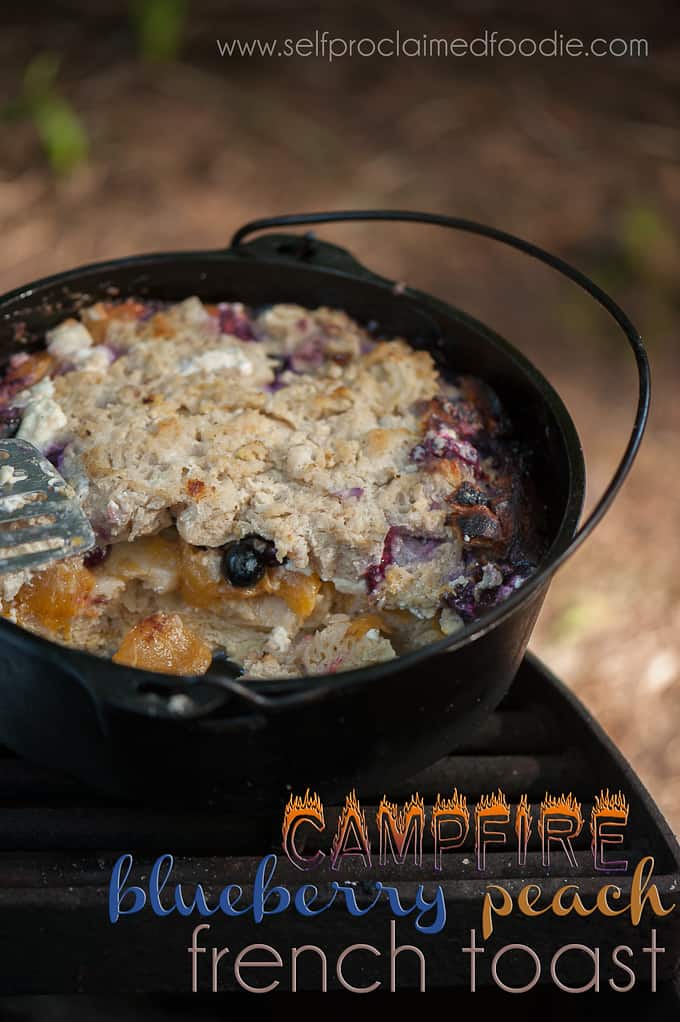 I've tried campfire dutch oven cooking before. Those attempts were unsuccessful, I'm saddened to say. First victim was my poor poor monkey bread. I had read a few tips online on how to cook in a cast iron dutch oven. I blame the internet for my fail. Was it my fault? Absolutely. But I still blame the internet. Why did I fail, you might ask? Because I burned the hell out of the monkey bread. The bottom was black. Now you can pick at the middle (and of course the kids and I did), but when you turn something into charcoal, it makes everything taste a bit like carbon. I'll fill you in on the secret on how to perfectly bake something in your dutch oven, but you have to humor me for a bit.
First, I want to show you the peaches and bread I use. I'm especially proud of the peaches because last summer I learned to can. I was so intimidated by the whole canning process, thinking I was going to kill my entire family because the Center for Disease Control told me home canned goods can become contaminated by a germ that causes botulism, a serious illness that can affect your nerves, paralyze you, and even cause death (again, thank you internet). But when I saw so many gorgeous organic peaches at the farmer's market, and then I looked at the beautiful glass jars of organic peaches for sale that cost like $12 (I'm exaggerating… sort of), I figured I'd give it a try. 44 quarts of perfect low-sugar organic peaches later, I consider myself a semi-pro. Now, the bread for baked french toast is important. A lot of recipes call for stale bread of varying varieties. I'm not a fan of using stale bread because there's like a 5 minute window of opportunity of "stale bread" between fresh bread and moldy bread. No thank you. My favorite is to use Trader Joe's half baked panini rolls. If you can find any kind of half baked bread, use it for baked french toast. Your end result will be a tantalizing combination of silky smooth and perfectly chewy and crisp. Trust Krissy when she tells you these things.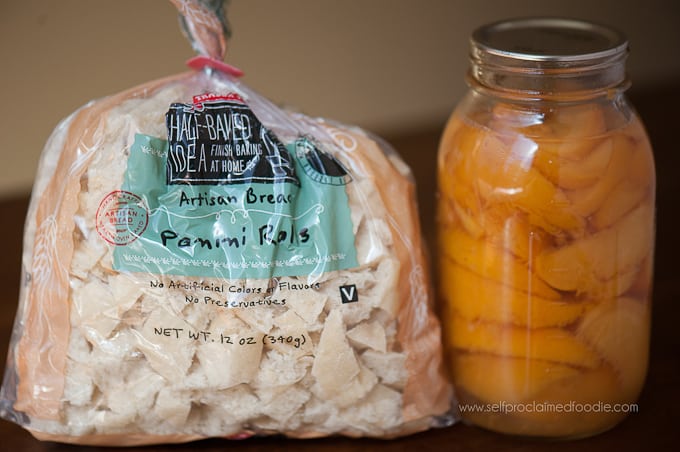 There are two secrets to baking in your cast iron dutch oven on the camp fire. 1) The heat on the bottom needs to be indirect heat and 2) the majority of your heat needs to come from the top. My mistake with my first attempt at monkey bread? I put the dutch oven directly on a super hot pile of coals. Yeah, don't do that. If you have a spare cast iron lid from another dutch oven, all the better. Put that sucker directly on the coals and your dutch oven on top of that. Otherwise, make sure you have the longest legs possible (on your dutch oven, of course – long sexy people legs are not a requirement for camp fire cooking) to allow air flow under your dutch oven. Then, put 75% of your hot coals on the lid and only 25% underneath. Science lesson: heat rises. One last tip – use the real stuff. Buy charcoal that is burned hard wood. Not that nasty stuff that is full of chemicals. You'll thank me later, like when you're 60 and you don't have cancer.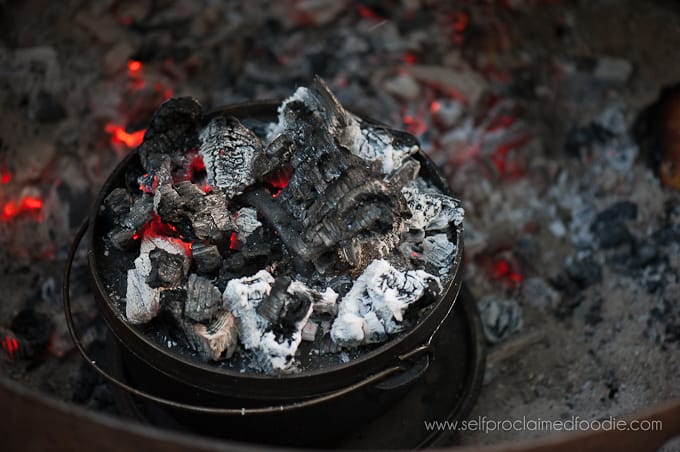 This recipe makes a ton of french toast. Enough for 8 hungry campers or 16 hungry campers who are trying to look like they're watching their weight but are secretly wishing they could stuff their face with more. We had a bunch of leftovers so we brought them home and I reheated in the oven and enjoyed for two more glorious breakfasts.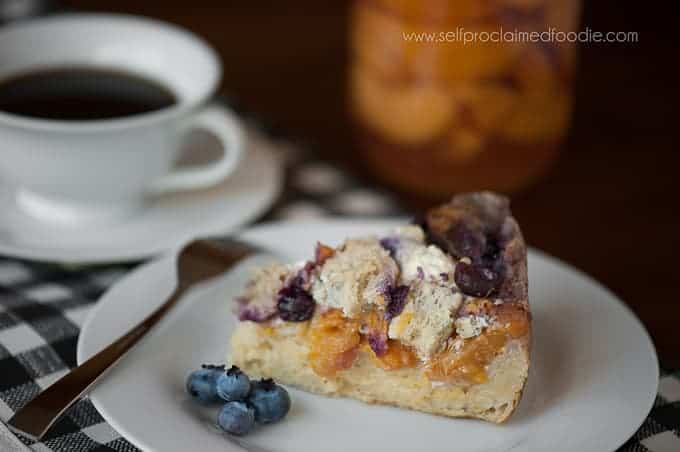 Campfire Blueberry Peach French Toast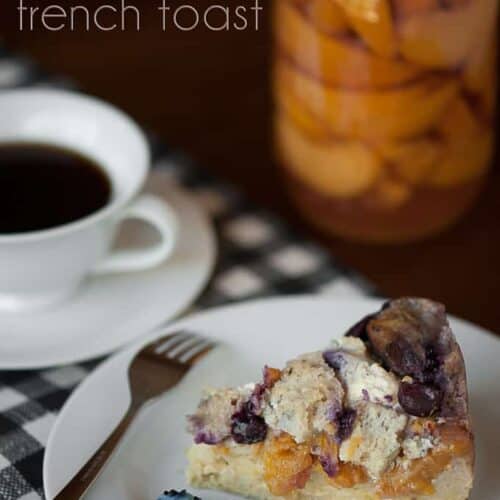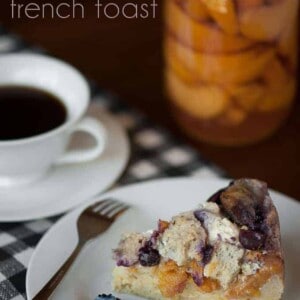 Campfire blueberry peach french toast is a perfect start to your camping morning. Peaches, blueberries and cream cheese make a delicious campfire breakfast.
Ingredients
12

ounces

bread

half baked is best, equivalent to 8-10 rolls

1

quart

canned peaches

1

cup

fresh blueberries

8

ounces

cream cheese

10

eggs

1

cup

half and half

1/2

cup

pure maple syrup

1

tablespoon

vanilla

1

tablespoon

butter
Instructions
Make ahead: Cut bread into half inch cubes and store in bag. Combine eggs, half and half, and vanilla and store in tupperware. Pack peaches and cream cheese in their containers. Store blueberries in tupperware and pack.

The night before: Combine juice from peaches with liquid ingredients and stir to ensure eggs are well mixed. In large gallon size sealable bag, combine liquid ingredients with bread. Massage bag to ensure all pieces of bread are well coated. Seal and refrigerate over night.

The morning of: Start a campfire bright and early and do not start cooking until the fire has died down and you have a pit full of hot coals. Arrange a thin level layer of hot coals for your dutch oven to sit on, ensuring there will be space in between base of dutch oven and coals for air flow. Heavily grease base and sides of dutch oven with butter. Pour half of the bread and liquid mixture in the dutch oven. Then evenly spread a layer of the blueberries, cream cheese slices and smashed peaches. Finally, top with remaining bread and liquid mixture. Cover with lid, and then cover lid with hot coals. Use an equivalent of 18 coals on the lid to 6 coals underneath for a 10 inch dutch oven. After about 45 minutes, carefully lift lid to check doneness. Should not jiggle and should appear golden brown when done. Serve with additional maple syrup and bacon and/or sausage.
Nutrition information is automatically calculated, so should only be used as an approximation.