Roasted Garlic Mashed Potatoes are easy to make & are loaded with amazing flavor. Perfect for a weekday dinner side dish and are a huge hit at Thanksgiving.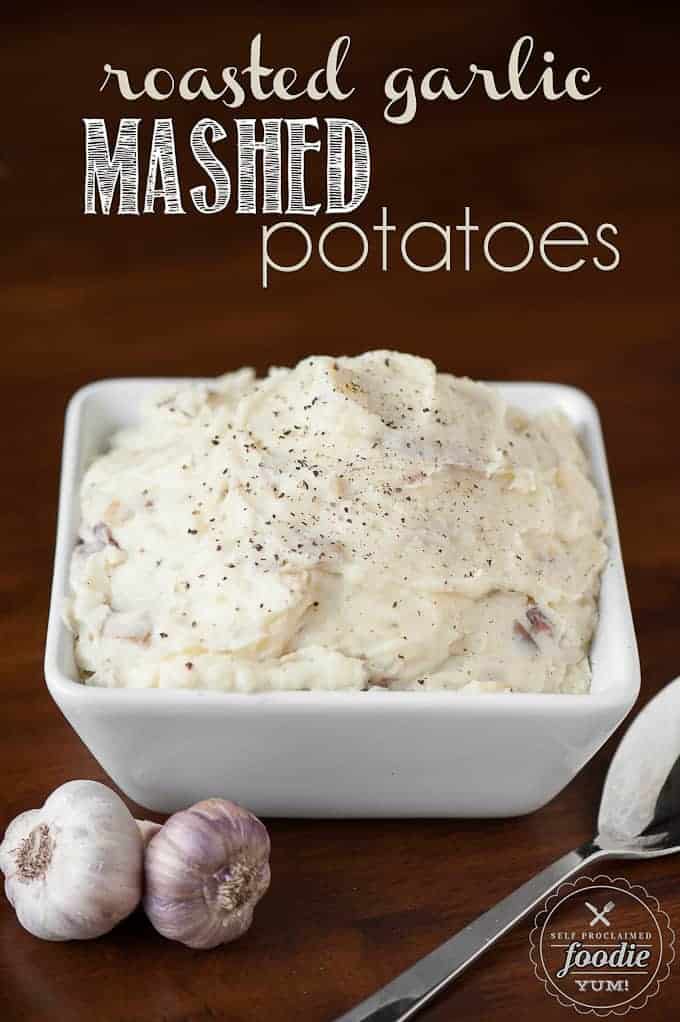 I have a mashed potato story that would make any woman gasp. Early in our marriage, we had some friends over for dinner. It turned out quite well. I believe I made herb parmesan chicken, mashed potatoes, and corn. The potatoes were served luke warm. I got carried away and didn't plan well, and they were not super hot. "So, what's the big deal?" you might be wondering. Well, my husband made the hugest stink about the potatoes being cold. He acted like a big baby and wouldn't touch the potatoes and made the biggest deal about it in front of our friends. Of course, the rest of us ate them because they tasted good, but to this day two things always happen:
1. I make sure the potatoes are served so damn hot that I may never relive that dreadful evening and
2. Every time we have guests over, I like to make mashed potatoes just so I can tell the story of what a big baby my husband was that night!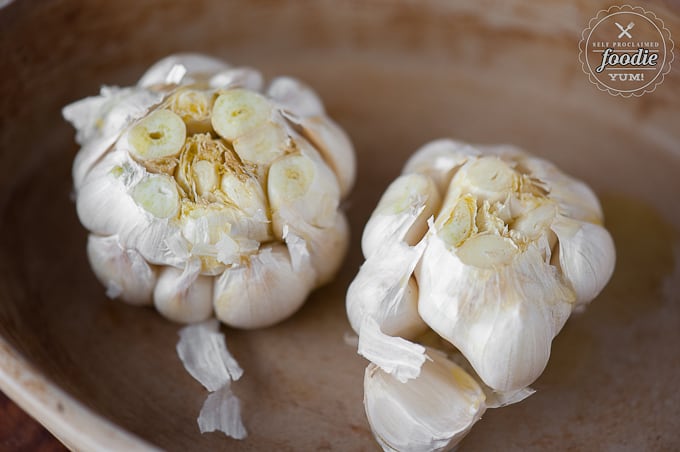 I just so happened to make these roasted garlic mashed potatoes when we had friends over for dinner.  I wanted to make something I had already posted on the blog so I wouldn't feel pressure to photograph anything, so we cooked up a couple of damn good roasted chickens (which I used the leftovers to make green chile enchilada casserole), herbed green beans with corn, and these potatoes.  I thought, "potatoes – boring. I won't want to photograph those". Well, once I mixed them up and tasted them, there was no way I wasn't going to share the recipe with you!  They were that good.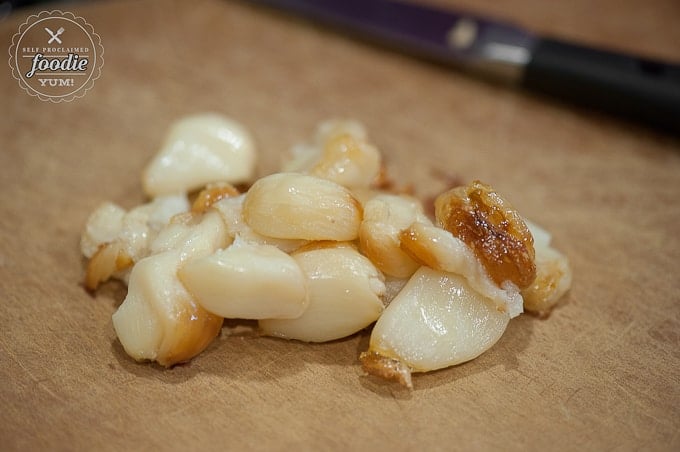 See that gorgeous roasted garlic? When I roast garlic, I always roast a lot more than I need for the current recipe and keep the cloves in the frig. The husband will pop them like candy. I love to spread it on parmesan garlic toast. Sooo insanely delicious.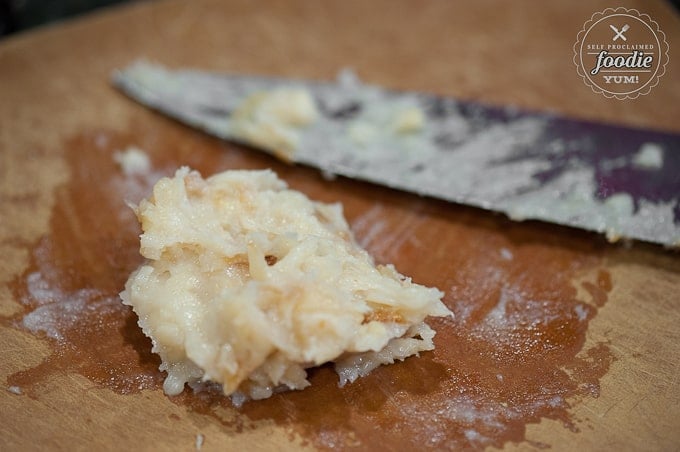 For the remainder of the month of November, I'll be posting things you will want to serve for Thanksgiving dinner. These potatoes need to be on your table. For Thanksgiving, I always cook as much as possible the day before so that effort and clean up is minimal on Thanksgiving day. These are no exception. Make them ahead of time and on the day of, keep them warm (or as the husband likes – piping hot) in the slow cooker.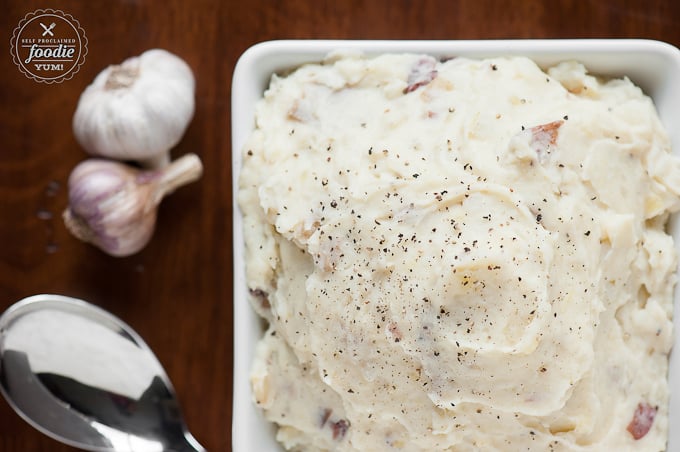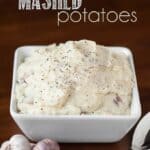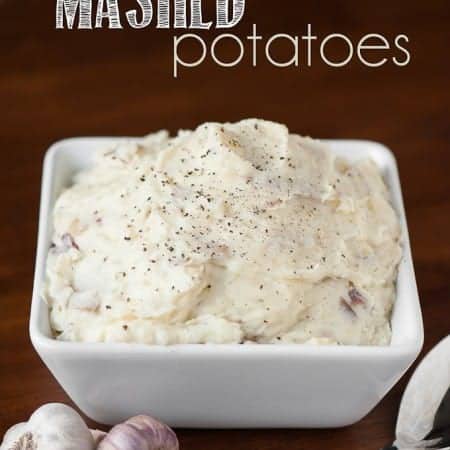 Roasted Garlic Mashed Potatoes
Roasted Garlic Mashed Potatoes are easy to make & are loaded with amazing flavor. Perfect for a weekday dinner side dish and are a huge hit at Thanksgiving.
Ingredients
2

pounds

red skinned potatoes

skin on, chopped

1

teaspoon

kosher salt

1

head garlic

1

tablespoon

olive oil

4

tablespoons

butter

cut into slices

1/2

cup

sour cream

kosher salt and fresh ground pepper to taste
Instructions
Place chopped potatoes in large pot and cover with cool water. Add teaspoon of kosher salt. Over high heat, bring to a boil and continue to cook until the potatoes are very tender, about 15-20 minutes. Drain.

Meanwhile, cut stem end (opposite of root end) off head of garlic to expose tips of cloves. Remove outer papery skin, but leave inner skin on. Place in an oven safe dish. Drizzle with olive oil. Roast in 400 degree F oven until golden brown and fragrant, about 20 minutes.

Once garlic has roasted and is cool enough to handle, separate cloves from any of the skin. With the side of a large knife, smash cloves into a paste.

In bowl of stand mixer, combine cooked potatoes, smashed roasted garlic, butter, and sour cream. Mix on low until desired consistency is reached, about 2-4 minutes.

Add salt and pepper as desired. Serve immediately.

To make ahead, prepare as directed and refrigerate. To reheat, add potatoes to slow cooker and heat on low until warm, stirring occasionally. Once warm, change slow cooker setting from low to warm. If they appear dry, you can add chicken broth or, dare I say, more butter.