Mashed Potates made with roasted garlic, butter and sour cream are an easy make ahead side dish and one of the best mashed potato recipes you'll find!
Roasted Garlic Mashed Potatoes are easy to make & are loaded with amazing flavor. Perfect for a weekday dinner side dish and are a huge hit at Thanksgiving.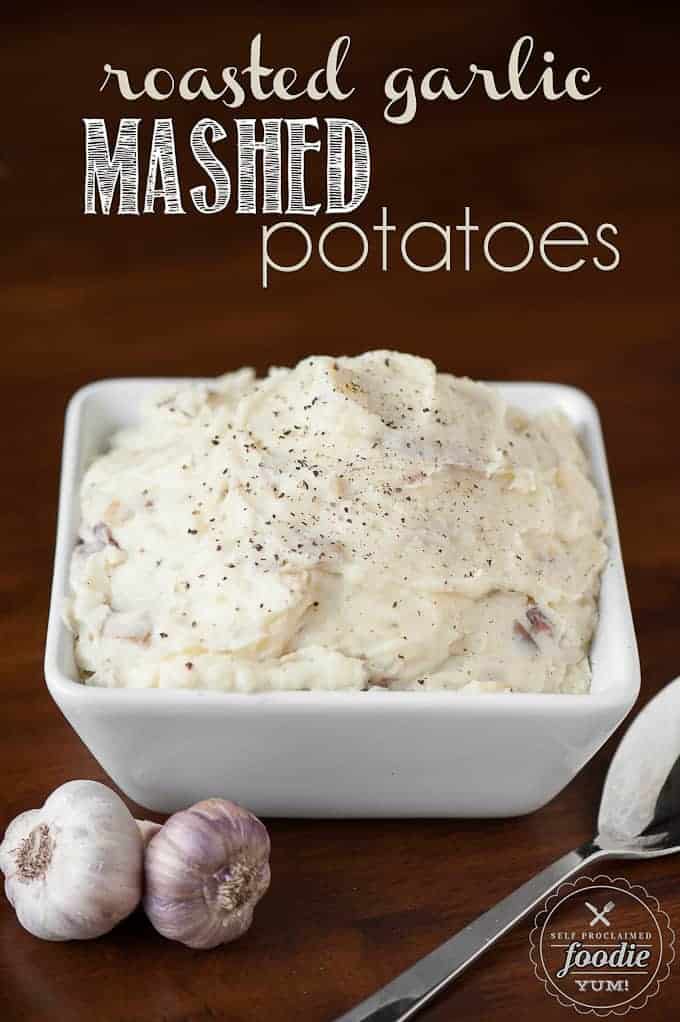 This post may contain affiliate links. That means that I will earn a teeny tiny (seriously, it's ridiculously small) commission on anything that you buy, at no added cost to you. By supporting me this way, I can deliver more delicious recipes! Read my disclosure policy here.
MASHED POTATO RECIPE
Pin it to your SIDE DISH RECIPE BOARD to SAVE it for later!
Follow Self Proclaimed Foodie on Pinterest for more great recipes!
I just so happened to make these roasted garlic mashed potatoes when we had friends over for dinner.  I wanted to make something I had already posted on the blog so I wouldn't feel pressure to photograph anything, so we cooked up a couple of roasted chickens (which I used the leftovers to make green chile enchilada casserole), herbed green beans with corn, and these mashed potatoes.  
I thought, "potatoes – boring. I won't want to photograph those". Well, once I mixed them up and tasted them, there was no way I wasn't going to share the recipe with you!  They were that good.
How to roast Garlic:
See that gorgeous roasted garlic? When I roast garlic, I always roast a lot more than I need for the current recipe and keep the cloves in the frig. The husband will pop them like candy.
To make roasted garlic cloves, you need to first preheat your oven to 400 degrees F.

You will then cut the stem end, which is the opposite of the root end, off of the head of the garlic to reveal the tips of the cloves.

Next you will remove the outer papery-like skin, leaving the inner skin on. Place your garlic cloves in an oven safe dish.

The next step is to drizzle some olive oil over your garlic cloves before roasting the cloves in the oven. You will keep your garlic cloves in the oven until they are golden brown and fragrant. Overall, it should take around 20 minutes for your roasted garlic cloves to be done.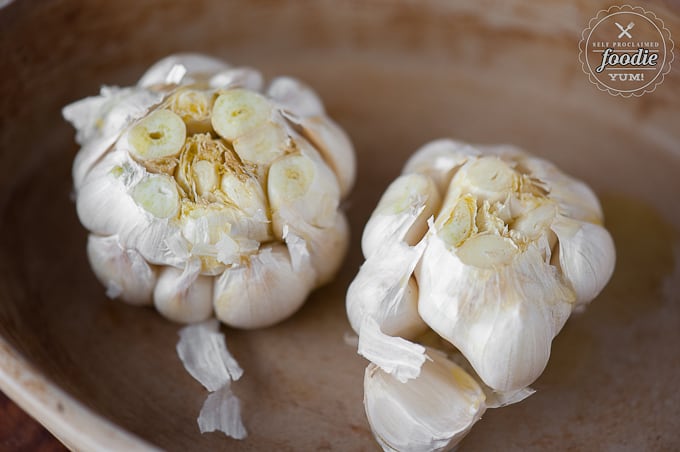 What can you add to mashed potatoes for flavor?
Some people may think that mashed potatoes can be a little bland and boring. However, these roasted garlic mashed potatoes are far from that!
The main ingredient in these garlic roasted mashed potatoes are red skinned potatoes. The ingredients that you add to the potatoes are what really gives these garlic mashed potatoes their flavor.
You will be adding kosher salt, roasted garlic, butter, sour cream, and then more salt and pepper at the end to your own personal taste. As you can see, these ingredients make up easy garlic mashed potatoes that have a ton of added flavor to them!
How do you make roasted garlic mashed potatoes?
Homemade roasted garlic mashed potatoes are super easy to make. You will start by placing your chopped potatoes in a large pot of water and bringing it to a boil after adding the kosher salt to it. It should be about 15-20 minutes until your potatoes are tender and ready. You can also cook the potatoes in the Instant Pot.
While this is happening, you can start roasting your garlic, like I already explained above.
Once you have finished boiling your potatoes and roasted your garlic, you will drain your potatoes and mash up your roasted garlic. Make sure to separate the cloves from any of the skin before doing this. You will mash your roasted garlic cloves until they form a paste. Then, you will add your cooked potatoes, smashed and roasted garlic, butter, and sour cream to a stand mixer and mix on low until your mashed potatoes reach the consistency that you desire. This should take around two to four minutes. The final step is to salt and pepper your roasted garlic mashed potatoes to how you like and serve! Enjoy!
Can you make these mashed potatoes ahead of time?
You can totally make these roasted garlic potatoes ahead of time. You will start by making your garlic mashed potatoes like it is stated above and then refrigerating them. You will then have to reheat your mashed potatoes on low in a slow cooker until they are warm, making sure to stir occasionally. Once your roasted garlic mashed potatoes are warm, change your slow cooker from low to warm. If you think your garlic mashed potatoes look a little dry, you can add some chicken broth or more butter to liven them up.
For Thanksgiving, I always cook as much as possible the day before so that effort and clean up is minimal on Thanksgiving day. These are no exception. Make them ahead of time and on the day of, keep them warm (or as the husband likes – piping hot) in the slow cooker!  I do the same thing when we have company over for dinner so that I have less mess to worry about.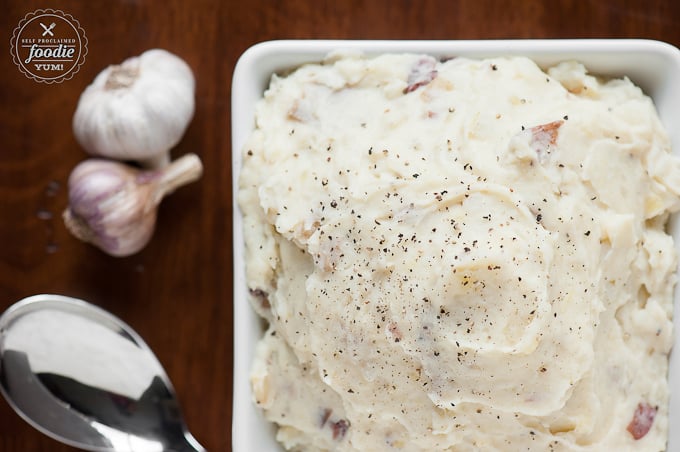 Love roasted garlic recipes?
You'll definitely want to try:
Looking for recipe variations of Mashed Potatoes? Try these: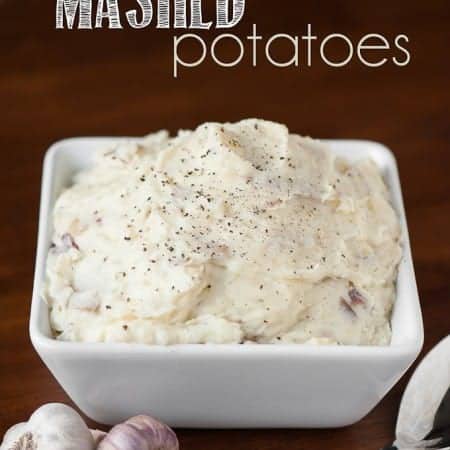 Roasted Garlic Mashed Potatoes
Roasted Garlic Mashed Potatoes are easy to make & are loaded with amazing flavor. Perfect for a weekday dinner side dish and are a huge hit at Thanksgiving.
Print
Pin
Rate
Ingredients
2

pounds

red skinned potatoes

skin on, chopped

1

teaspoon

kosher salt

1

head garlic

1

tablespoon

olive oil

4

tablespoons

butter

cut into slices

1/2

cup

sour cream

kosher salt and fresh ground pepper to taste
Instructions
Place chopped potatoes in large pot and cover with cool water. Add teaspoon of kosher salt. Over high heat, bring to a boil and continue to cook until the potatoes are very tender, about 15-20 minutes. Drain.Alternatively, place potatoes in Instant Pot with one cup water and cook on high pressure for 12 minutes. Drain.

Meanwhile, cut stem end (opposite of root end) off head of garlic to expose tips of cloves. Remove outer papery skin, but leave inner skin on. Place in an oven safe dish. Drizzle with olive oil. Roast in 400 degree F oven until golden brown and fragrant, about 20 minutes.

Once garlic has roasted and is cool enough to handle, separate cloves from any of the skin. With the side of a large knife, smash cloves into a paste.

In bowl of stand mixer, combine cooked potatoes, smashed roasted garlic, butter, and sour cream. Mix on low until desired consistency is reached, about 2-4 minutes.

Add salt and pepper as desired. Serve immediately.

To make ahead, prepare as directed and refrigerate. To reheat, add potatoes to slow cooker and heat on low until warm, stirring occasionally. Once warm, change slow cooker setting from low to warm. If they appear dry, you can add chicken broth or, dare I say, more butter.
Nutrition
Calories:
173
kcal
|
Carbohydrates:
18
g
|
Protein:
2
g
|
Fat:
10
g
|
Saturated Fat:
5
g
|
Cholesterol:
22
mg
|
Sodium:
372
mg
|
Potassium:
536
mg
|
Fiber:
1
g
|
Sugar:
1
g
|
Vitamin A:
5.4
%
|
Vitamin C:
12.1
%
|
Calcium:
2.9
%
|
Iron:
4.7
%
This post was originally created in November 2014 and has been updated with more fun facts and tidbits for your reading pleasure.