Mashed Sweet Potatoes made with greek yogurt provide a tasty balance of complex carbohydrates, fiber, and protein for an easy side dish recipe.
We all know regular mashed potatoes are a great side dish, but mashed sweet potatoes not only add a different flavor, but they're better for you! These mashed sweet potatoes are a perfect side for chicken, pork, or even steak.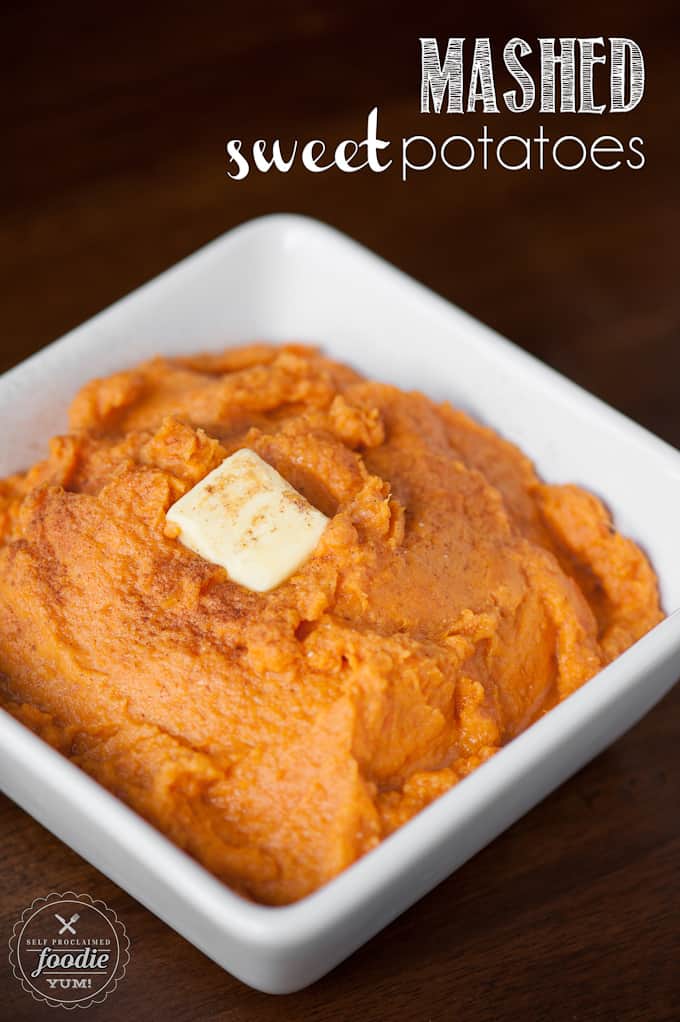 If you know my blog, you'll realize that this post is seriously lacking in the photo department. Normally I share quite a few photos when I post recipes, not only of the process but quite a few of the finished recipe along with my half eaten bite to demonstrate how good it was. There's a serious lack of photos in this post because it happened to just be a regular old side dish that I made with dinner (pork chops, I believe) and I hadn't planned on actually making a recipe post out of it. That is, actually, until I tasted it.
How can you make them creamy?
You see, I typically make my mashed potatoes with sour cream or buttermilk or even just butter and milk, but with this recipe I decided to add some plain greek yogurt instead. I thought the tang of the yogurt would go really well with the sweet potato and the addition of a little brown sugar and some spices would finish it off nicely. I was totally right. I remember saying to myself "nailed it" as I tasted it.
Are they healthy?
Sweet potatoes, full of fiber and vitamins, are so much better for you than your standard russet potato. One of the reasons why is because they have less starch in them than regular potatoes. When you add in greek yogurt to tie it all together, they really are guilt free. You won't regret making mashed sweet potatoes over standard mashed potatoes.
Do you need to peel sweet potatoes for mashing?
In my version of this recipe, I chose to peel my sweet potatoes. I have heard from others though that it is fine to leave them unpeeled. I would definitely prefer to peel my sweet potatoes before mashing them. If you didn't peel your sweet potatoes I would assume it just adds a little to the texture of the overall sweet potatoes. If you are using a food processor to mash up your potatoes, it make not make a difference in the end result though.
How to make them:
I'm going to be honest, these greek yogurt mashed sweet potatoes are really easy to make.
The first step to make your easy mashed sweet potatoes is to add your sweet potatoes to a medium sized pot with cold water and a cover.
After you have brought the water to a boil, you will need to reduce the heat to a simmer and continue to cook your sweet potatoes until they are fork tender. This should take around 15 to 20 minutes.
The final step to these homemade mashed sweet potatoes is to drain the pot and add the remaining ingredient before mashing everything together.
After everything is blended well, serve your mashed sweet potatoes hot and enjoy!
Can you prepare them ahead of time?
The answer to this question is yes! Similarly to regular mashed potatoes, your mashed sweet potatoes can be premade and refrigerated before reheating again at a later time. I would recommend, however, that you don't wait much more than one to two days before reheating and eating your mashed sweet potatoes as this dish is best served fresh.
Love sweet potato recipes?
You'll have to try these: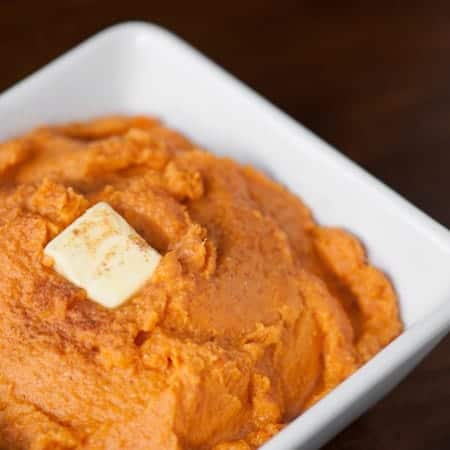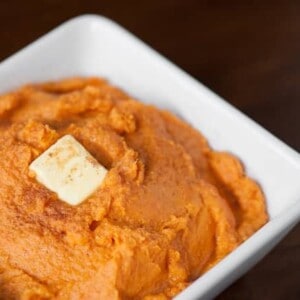 A side dish of Mashed Sweet Potatoes made with greek yogurt and a touch of brown sugar provide a tasty balance of complex carbohydrates, fiber, and protein.
Instructions
Add sweet potatoes to a medium sized pot and cover with cold water. Cover with lid and heat on high to bring to a bowl. Reduce heat to a simmer and continue to cook until the potatoes are fork tender, about 15-20 minutes. Drain.

Add remaining ingredients and mash to blend well. Serve hot.
Nutrition
Calories:
270
kcal
,
Carbohydrates:
61
g
,
Protein:
6
g
,
Cholesterol:
1
mg
,
Sodium:
29
mg
,
Potassium:
1753
mg
,
Fiber:
8
g
,
Sugar:
3
g
,
Vitamin A:
290
IU
,
Vitamin C:
35.9
mg
,
Calcium:
67
mg
,
Iron:
1.2
mg
Nutrition information is automatically calculated, so should only be used as an approximation.
This post was originally created in September 2015 and has been updated with more fun facts and tidbits for your reading pleasure.