This Sweet Potato and Bacon Frittata is a delicious and protein packed breakfast that can be eaten hot as a family meal or cold for breakfast on the go!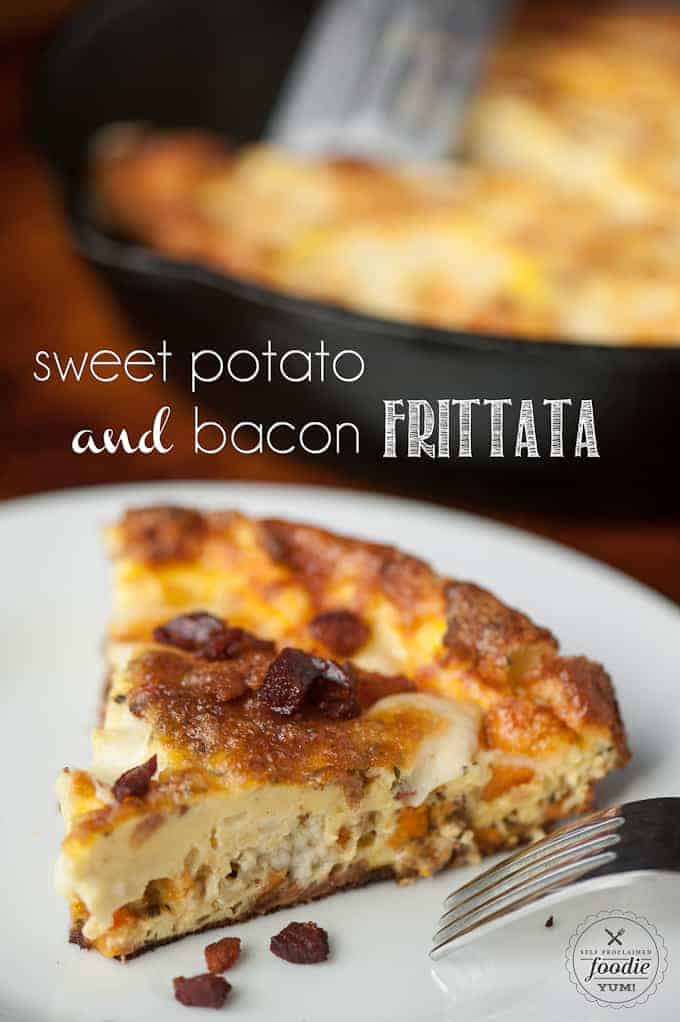 MY OTHER RECIPES
I always put a lot of thought into how I can deliciously transform traditional family favorites with smarter ingredients. Sure, scrambled eggs and bacon are a quick and easy go-to breakfast that most everyone loves. But within this last year, I've discovered how wonderful frittatas are. I love them because:
1) I add cottage cheese. This not only makes them super fluffy and delicious, but it adds even more protein which is something I'm always wanting.
2) I can add all sorts of delicious ingredients.
3) I make one frittata and end up with six good sized slices. Ask me to eat scrambled eggs leftover and my answer will be "no way". Ask me to eat frittata leftover and my answer will be "yes please". Whether you reheat it or eat it cold, its downright delicious.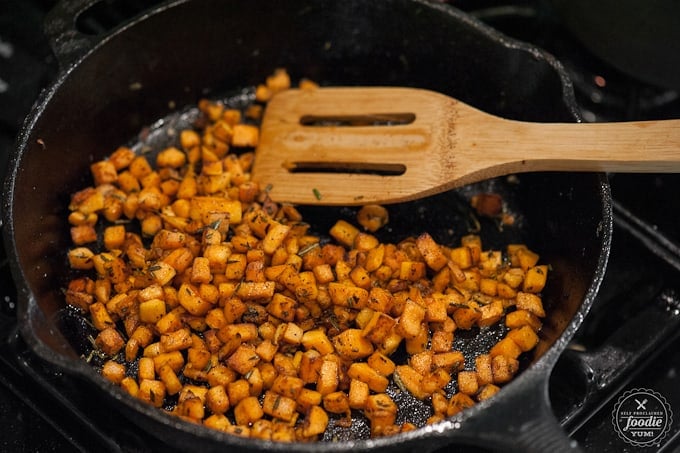 I think my new favorite combo is sweet potato and bacon. If you haven't tried the two together, you're missing out.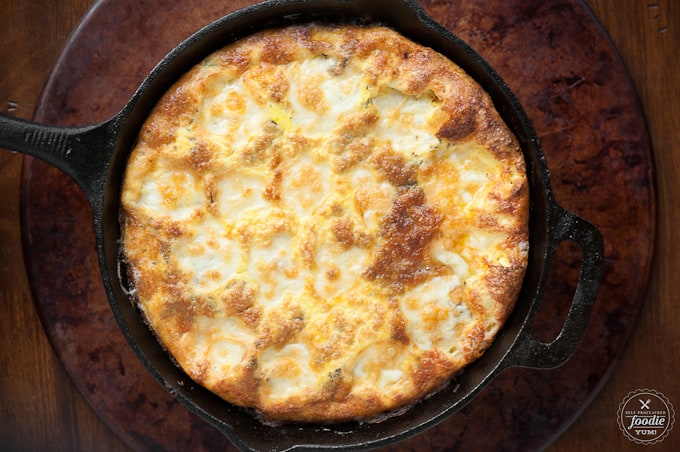 Look how beautiful it turned out!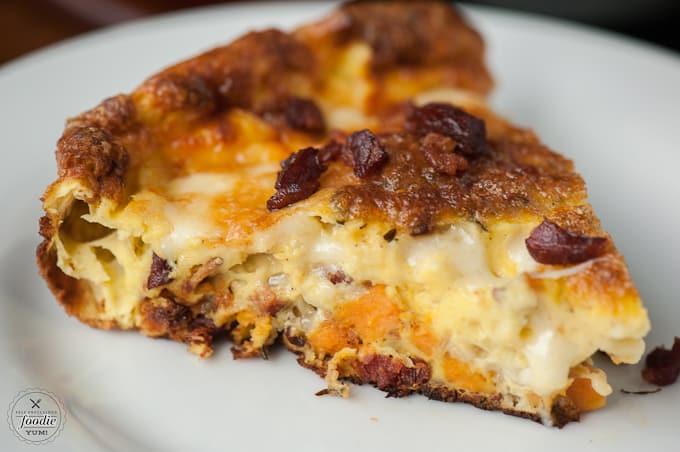 I poured half the egg mixture into the hot pan to create a bottom layer. Then I added the sweet potato, bacon, and rosemary mixture on top before I covered with the remaining egg mixture. I'm glad I did it this way because it was really easy to cut.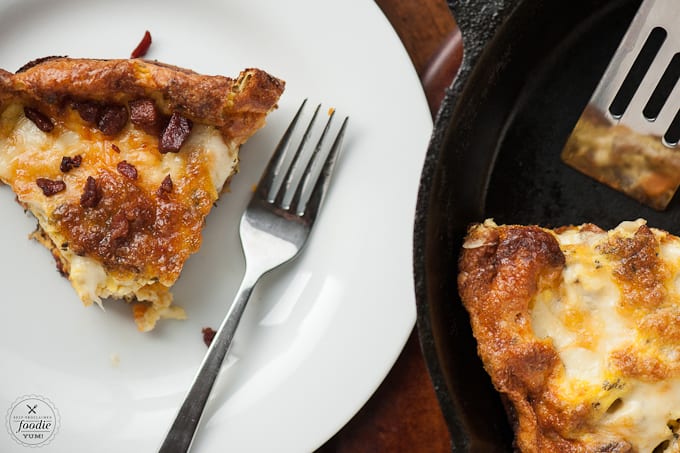 My husband isn't a fan of frittatas or sweet potatoes (crazy, right?) and he took two pieces into work and said it was really good. We are always working to make smarter meals for our families. Meals made with the right ingredients, for the right price that leave more time to spend together. This is a fantastic breakfast solution that your entire family will love!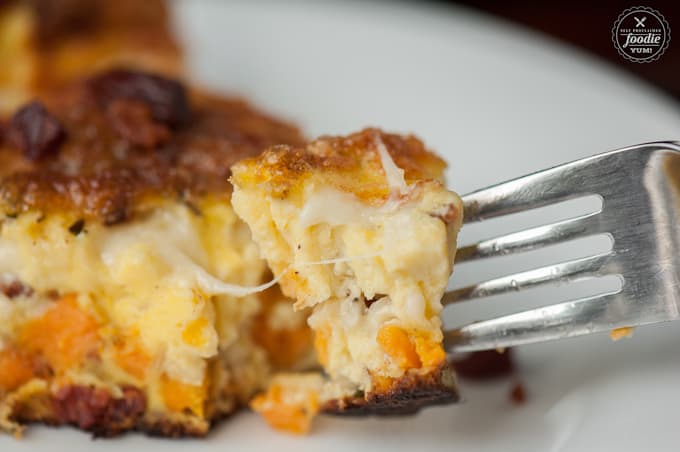 This Sweet Potato and Bacon Frittata is a delicious and protein packed breakfast that can be eaten hot as a family meal or cold for breakfast on the go!
Ingredients
8

ounces bacon, chopped, cooked, and drained (reserve 1 tablespoon of bacon grease)

1

large sweet potato, peeled, cut into small cubes

2

tablespoons fresh rosemary, minced

8

large eggs

1

cup small curd cottage cheese

1

tablespoon butter

3

ounces sharp cheddar cheese
Instructions
Cook bacon until crisp. Set aside.
Heat 1 tablespoon of reserved bacon grease in an 8 inch cast iron skillet over high heat. Add sweet potato and cook, stirring occasionally, until brown. If potato starts to brown to quickly, reduce heat. Cook until tender, about 10 minutes.
While the sweet potato is cooking, preheat oven to 450 degrees F. Using a stand mixer with the whisk attachment, beat eggs and cottage cheese on medium speed for 5 minutes.
When the potatoes are just about done, add rosemary and cooked bacon, stir, and cook until heated through. Transfer to a separate plate.
With the heat on low, melt the butter in the cast iron skillet, ensuring entire bottom and sides are well greased. Pour half of the egg mixture into the pan. Top with the potatoes and bacon, trying to spread in an even layer. Cover with remaining egg mixture.
Allow frittata to cook on cooktop over low heat for about 8 minutes. Then, add cheddar cheese to the top of the oven and place in preheated oven. Cook in hot oven for 8-10 minutes, until the middle is just set. Remove from oven and cover with plate. Allow to rest, covered, for 5 minutes.
Serve hot or cold.