Whipped Sweet Potatoes are one of the easiest paleo and vegan sweet potato recipes. Just two ingredients and your instant pot is all you need!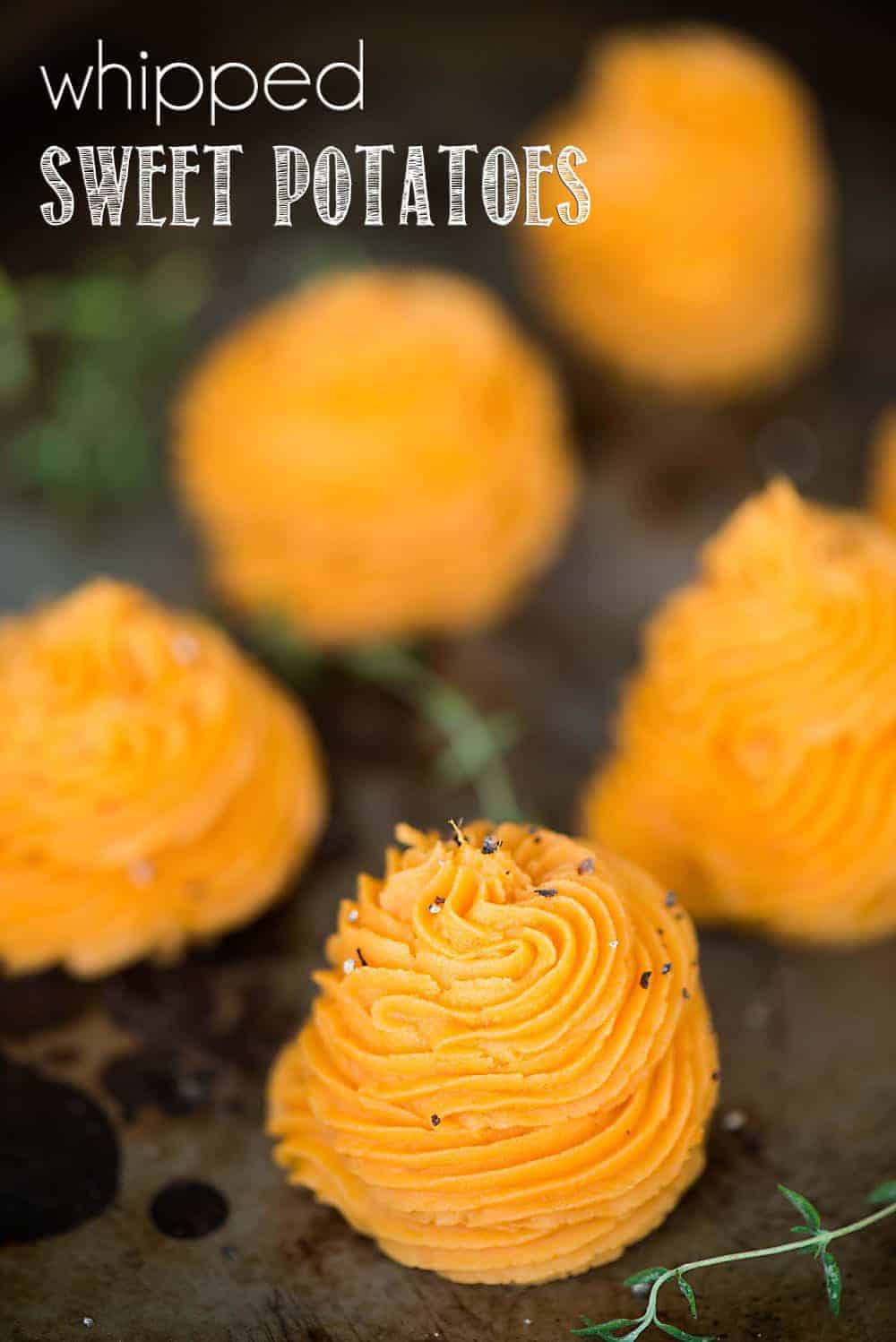 Whipped Sweet Potatoes only take a few minutes to make when you use your Instant Pot (or any electric pressure cooker). Have you ever made pressure cooker potatoes? It will change your life. You know I don't follow a paleo diet. I'm not vegan. I don't do Whole 30, although I would like the will power to. I don't discriminate when it comes to food, but that doesn't mean I don't make vegan sweet potato recipes or paleo sweet potato recipes from time to time.
These whipped sweet potatoes only have two ingredients (I never count salt and pepper when I'm going for an easy two ingredient or three ingredient recipe, but I highly recommend them). Besides sweet potatoes being the obvious ingredient, the fat I used is a healthy fat. Give me grassfed butter any day, but sometimes I love the flavor coconut provides and these whipped sweet potatoes use coconut butter. Not coconut oil. Not coconut milk. But coconut butter. It's what I used in my paleo coconut macaroons and it's fabulous.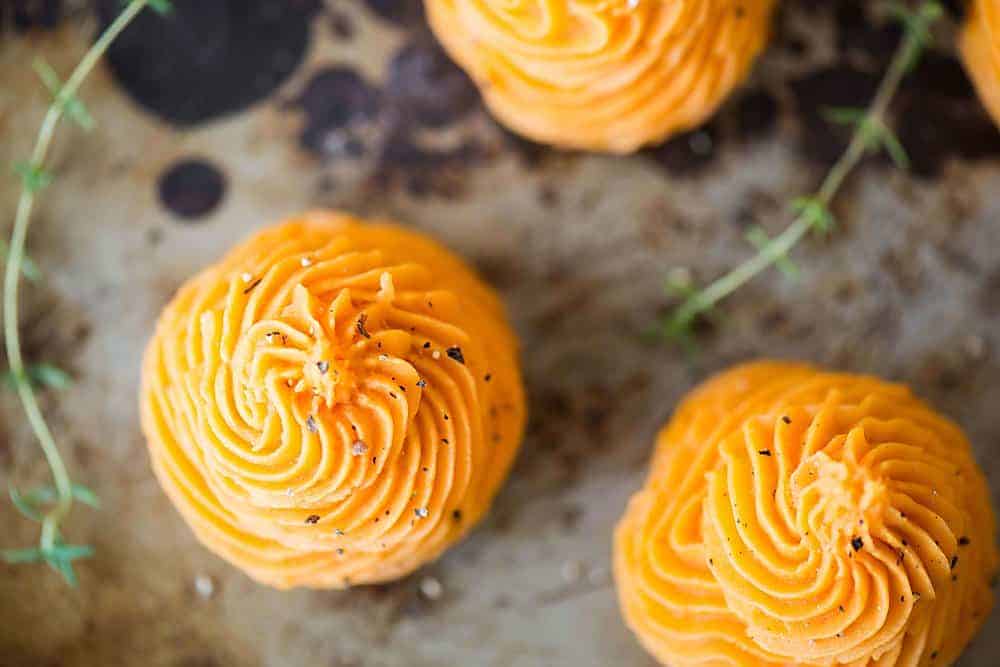 Are sweet potatoes paleo?
The basic white potato is a no no when it comes to following the Paleo philosophy. It's often then a bit confusing to learn that not only is sweet potato allowed, but it is a much celebrated and promoted carbohydrate. But why is one allowed when the other isn't?
The reason: Sweet potatoes are only very distantly related to the white potato.
The health benefits are numerous: Sweet potato provides us with vital minerals such as iron, calcium, magnesium, manganese and potassium.
They are packed with essential vitamins such as vitamin B5, B6,  B1, niacin and riboflavin. These vitamins are essential in that they help support our immune systems and brain function. They are also an excellent source of antioxidants which help to prevent cancer in the long term. These antioxidants are different depending on which type (color) of sweet potato you eat, so be sure to try them all! The sweet potato mainly contains starch, however the type of starch that sweet potatoes contain raises our blood sugar levels very slowly, especially in comparison to simpler sugars we might get from fruit.
Fun fact: did you know that the greens of the sweet potato plant actually contains more nutrients and dietary fiber than some of the more popular green leafed vegetables we consume?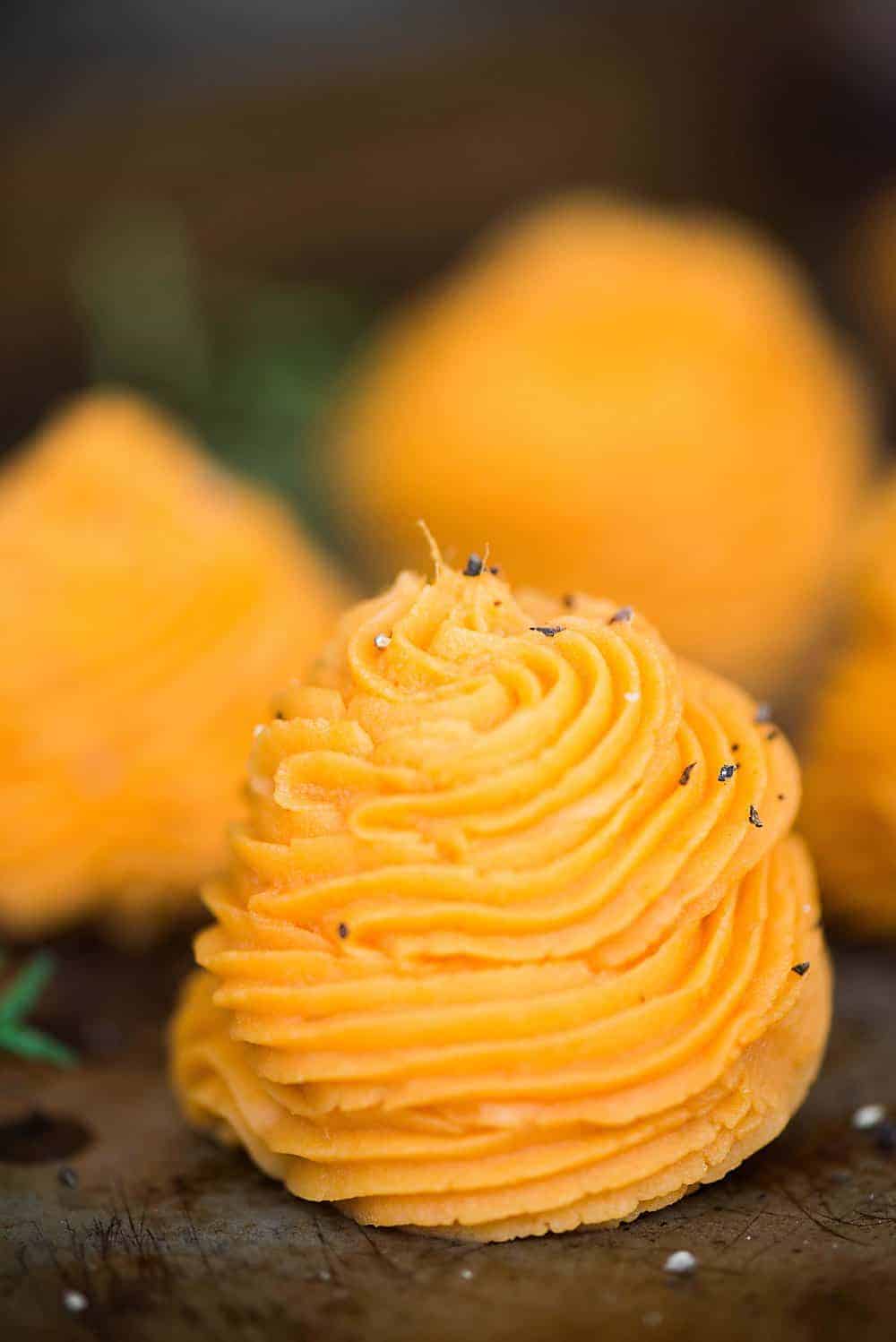 Kitchen tools used to make these whipped sweet potatoes:
Electric Pressure Cooker: I don't actually have the Instant Pot brand, but I plan on getting one so that I can run two at the same time and so that I can finally feel like one of the cool kids.
Potato Masher: This is one of those tried and true kitchen gadgets that's a must have. When the style and function hasn't changed since you were a kid, you know it works.
Measuring Spoons: There are about a million of these out there to choose from, but these have been my favorite. They are stackable and magnetic so you don't have to deal with that annoying ring.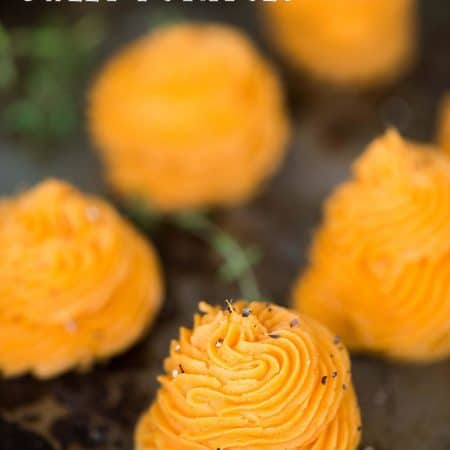 Whipped Sweet Potatoes
Whipped Sweet Potatoes are one of the easiest paleo and vegan sweet potato recipes. Just two ingredients and your instant pot is all you need!
Print
Pin
Rate
Hover to scale:
4
servings
Ingredients
2

large garnet or jewel yams

(peeled and chopped into 1 inch cubes)

1

cup

water

4

tablespoons

raw coconut butter

Sea salt and black pepper

(to taste)
Instructions
Cook sweet potatoes and water in electric pressure cooker on high pressure for 6 minutes. Quick release the pressure. Alternatively, you can boil on stove until tender or place sweet potatoes and water in covered dish and bake at 350° F for 75 minutes.

Mash or whip yams with coconut butter. Add sea salt and pepper to taste. For variety, try baking a combination of sweet potatoes or Japanese yams (purple skin, white flesh) instead of garnet or jewel yams.
NUTRITION INFORMATION
Calories:
340
kcal
|
Carbohydrates:
62
g
|
Protein:
4
g
|
Fat:
8
g
|
Saturated Fat:
2
g
|
Sodium:
27
mg
|
Potassium:
1713
mg
|
Fiber:
11
g
|
Sugar:
2
g
|
Vitamin A:
290
IU
|
Vitamin C:
36.2
mg
|
Calcium:
41
mg
|
Iron:
1.6
mg