Create an easy yet fancy and delicious appetizer with cocktail weenies by making these three ingredient Roasted Garlic Cocktail Pups.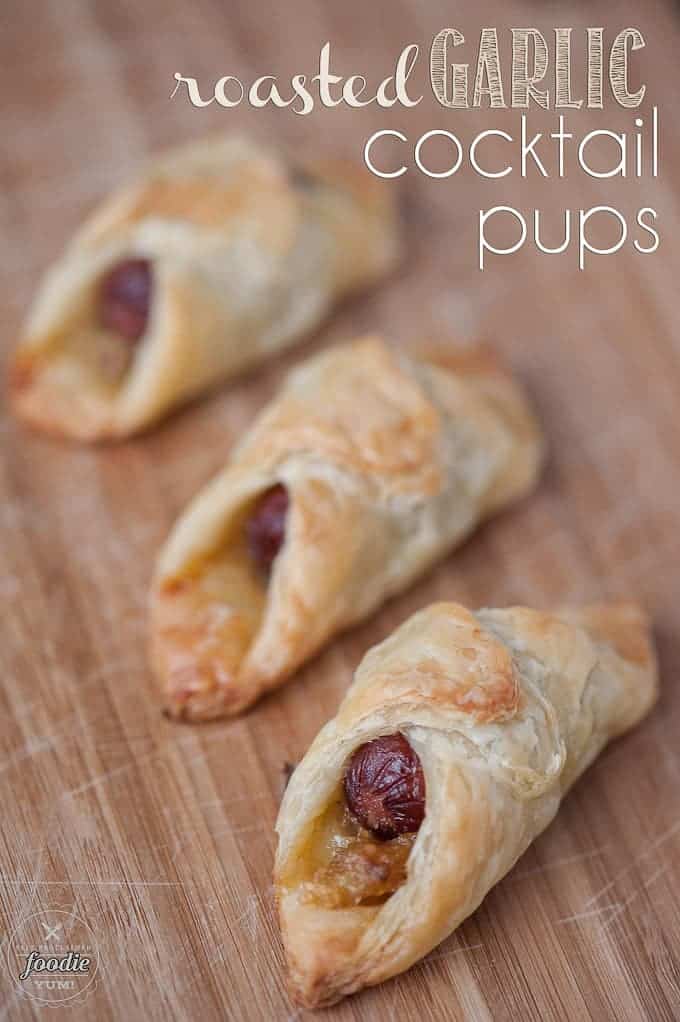 There was a heated debate on my Facebook page as to whether these little tasty morsels should be referred to as "pups" or "weenies". The overwhelming majority voted for "weenie", but after I just posted about how I can't get enough of my husband's Schweddy Balls, I couldn't quite bring myself to talk how much I love to stuff my face with a good weenie. So "pups" it is.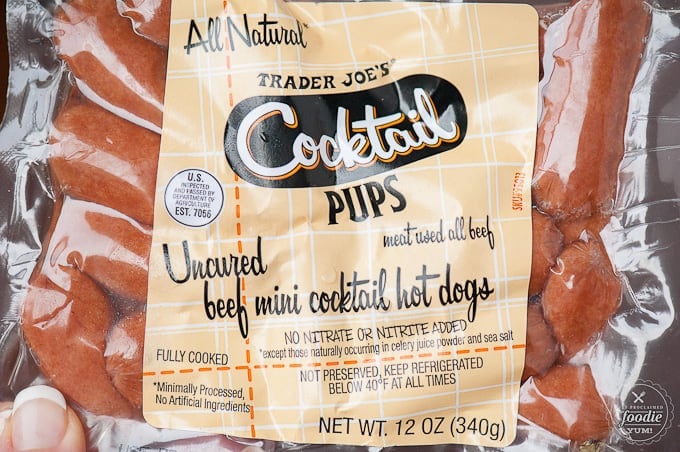 Cocktail weenies or lil smokies have always grossed me out. I've just never been a fan. When I was buying my bacon ends and pieces, however, I saw that these little guys were made without nitrates or nitrites so I thought I'd give them a try. I love using puff pastry too. I use it to make petite palmiers and even wrapped bacon jalapeno poppers. I figured it would be a great addition to these tasty treats. I knew I needed to do something more than wrap mini hot dogs in puff pastry. I mean, this is a food blog, right? And a post about something like pouring a bowl of cereal and then adding milk won't get too many looks. But what is simple that I can add to this two bite appetizer that would really transform it into something delicious? Roasted garlic, of course!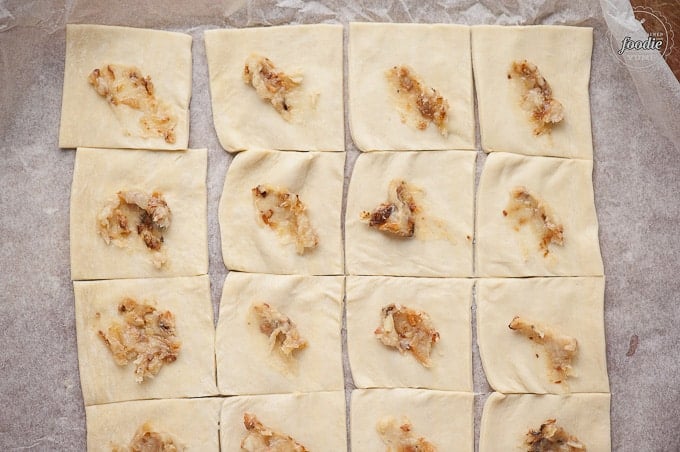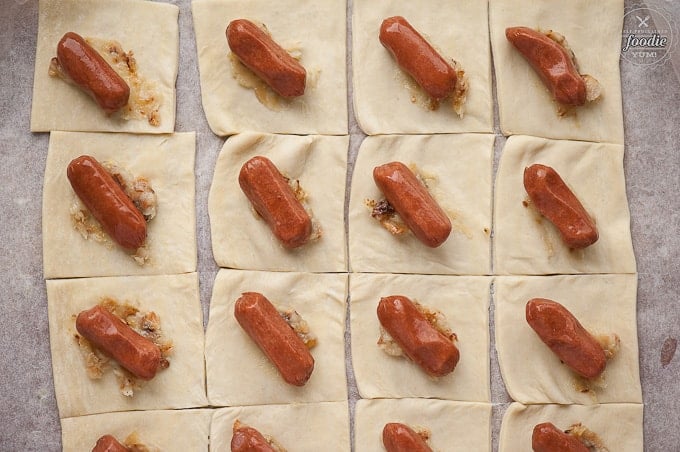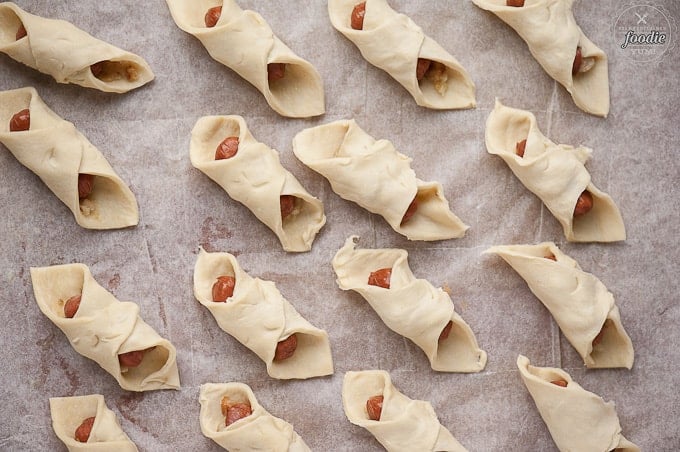 I know I said three ingredient and technically its four if you count the olive oil you use to roast the garlic, but let's not get too technical here, mmmkay?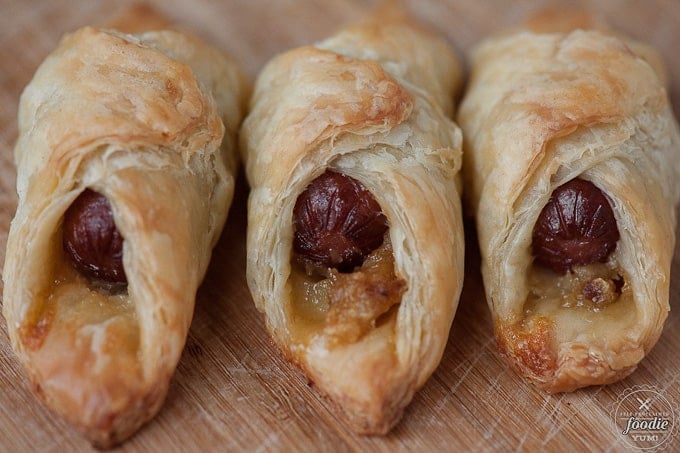 This three-ingredient two-bite appetizer will have kids and adults alike fighting to eat the last one!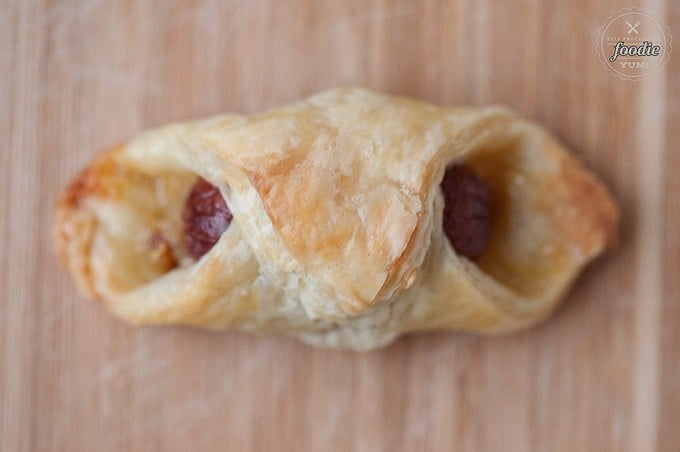 Roasted Garlic Cocktail Pups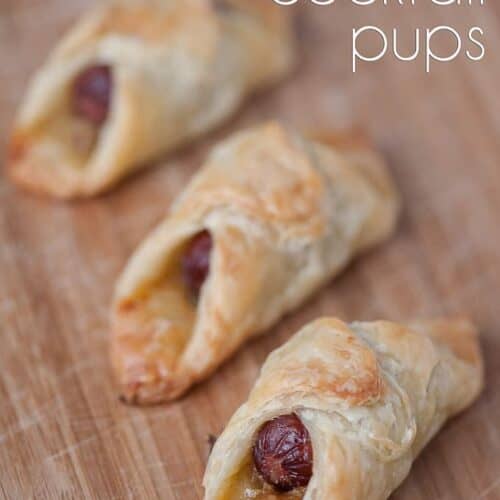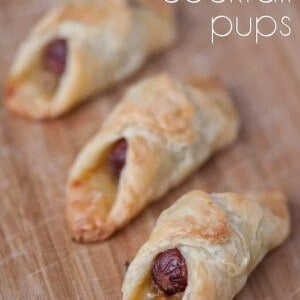 Create an easy yet fancy and delicious appetizer with cocktail weenies by making these three ingredient Roasted Garlic Cocktail Pups.
Ingredients
Two heads garlic

1

tablespoon

olive oil

12

ounce

package cocktail pups*

16

ounce

package

2 sheets puff pastry
Instructions
To roast the garlic, preheat oven to 400 degrees F. Cut the end off heads of garlic (leaving the root end in tact) and remove as much outer papery peel as you can. Drizzle with olive oil and roast in preheated oven until cloves begin to turn golden brown and are fragrant, about 20 minutes. Remove from oven and allow to cool. Once cool, smash roasted garlic into a paste.

If frozen, allow puff pastry dough to defrost in the refrigerator. Unroll sheets. Cut into squares that are approximately 3x3 inches. You can make these squares bigger if you want fewer appetizers with more pastry, or cut them smaller if you want more. Totally up to you.

Add about a teaspoon of roasted garlic to the center of each square. Again, you can increase or decrease this amount based on how much garlic you have and how much you like it.

Add your weenie. Fold over the corner of the dough and seal the corners.

Bake in 350 degree F preheated oven until golden brown, about 20 minutes. Serve warm with a good quality dipping mustard, if desired.
Notes
* I prefer TJ's cocktail pups because they are pure beef, no nitrate, no nitrate, and they taste really freaking good. You can go with any old cocktail weenie or lil smokie if you prefer
Nutrition information is automatically calculated, so should only be used as an approximation.