If you're looking for a vibrant, healthy, and tasty appetizer that's easy to make, look no further than this Roasted Garlic Beet Hummus.
I participated in Mom Blog Tour Winter Fancy Food Show (#MomBlogTourFF) on behalf of Wendy's Bloggers. I received Saffron Road products to facilitate my review, but my opinions and the recipe are my own.

Well, hello there! Today I'm not only going to share with you my recipe for Roasted Garlic Beet Hummus which is pretty darn fantastic, but I'm going to tell you about Saffron Road legume snacks which happen to be my new favorite snack. Seriously. My husband and I were literally fighting over who got to eat the last bag of the white cheddar Chickbean Crisps.
MY OTHER RECIPES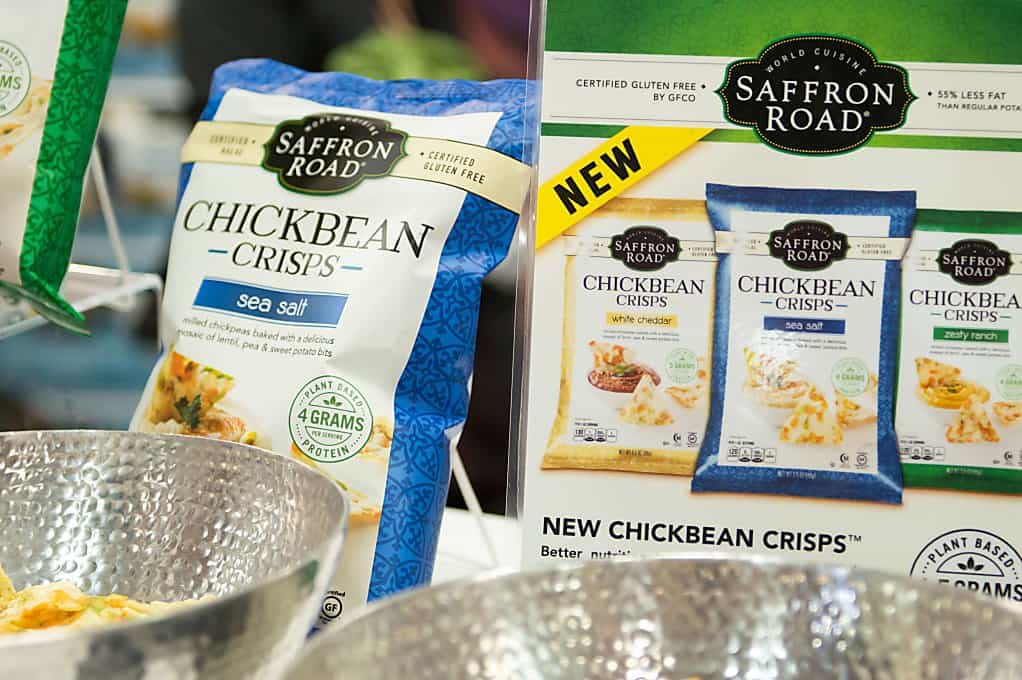 I first got to try these awesome snacks and learn more about the brand at the Winter Fancy Food Show back in January. Saffron Road is in its 7th year as a company focusing on frozen fusion cuisine, but the legume snacks, known for their use of plant based protein, was a new addition as of just a couple years ago. The brand wanted to expand on plant based protein product offerings, and we all benefit from this decision because these snacks are SO GOOD. They already produce a huge variety of Baked Lentil Chip flavors including sea salt, cucumber dill, garlic parmesan, and Moroccan barbeque. They also have snacks like lentil crackers, BeanStalks, and roasted chickpeas. The snacks they introduced at the show are their newest creations – the Chickbean Crisps that come in Zesty Ranch, Sea Salt, and my personal favorite – White Cheddar.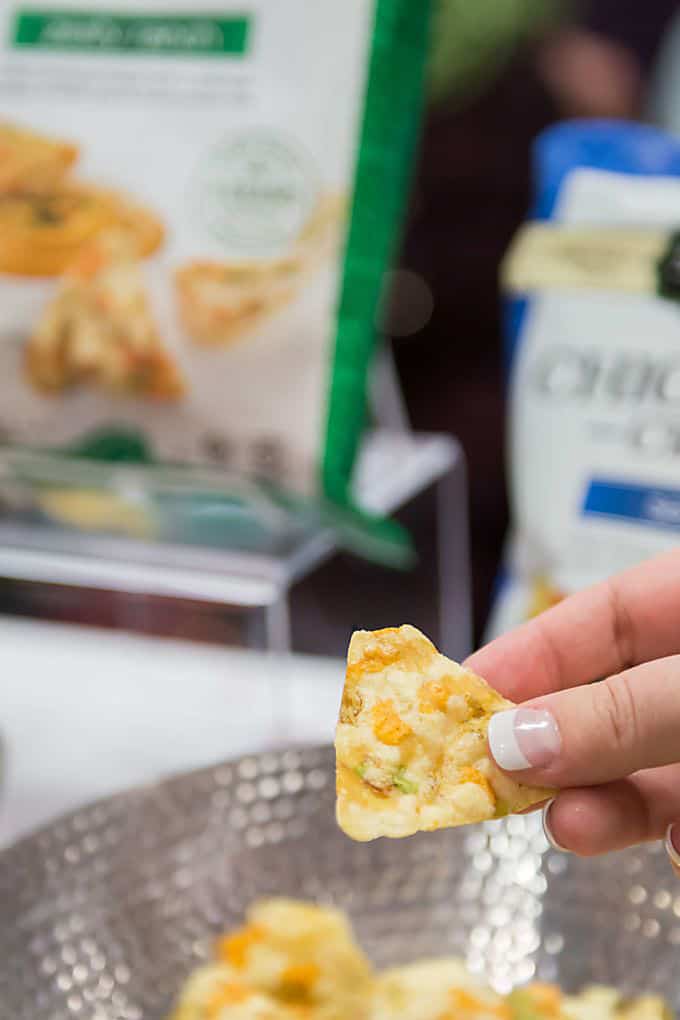 The first thing you'll notice are the different colors. I have to admit I enjoyed that part just as much as my kids. Not only do these crisps taste awesome, especially when served with something like this hummus, but they are high in protein and fiber. As the name indicates, they have a great crispy crunch and for some reason, that alone satisfies a certain part of my brain.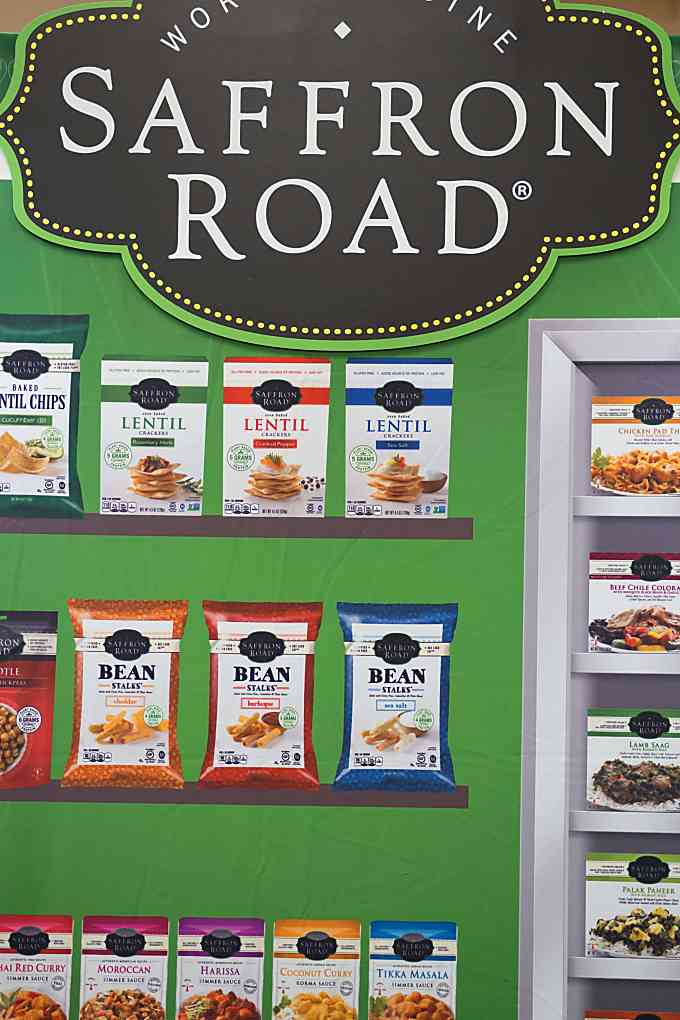 Although these snacks are perfect on their own, I wanted to create a tasty and healthy dip to accompany them. Enter: HUMMUS.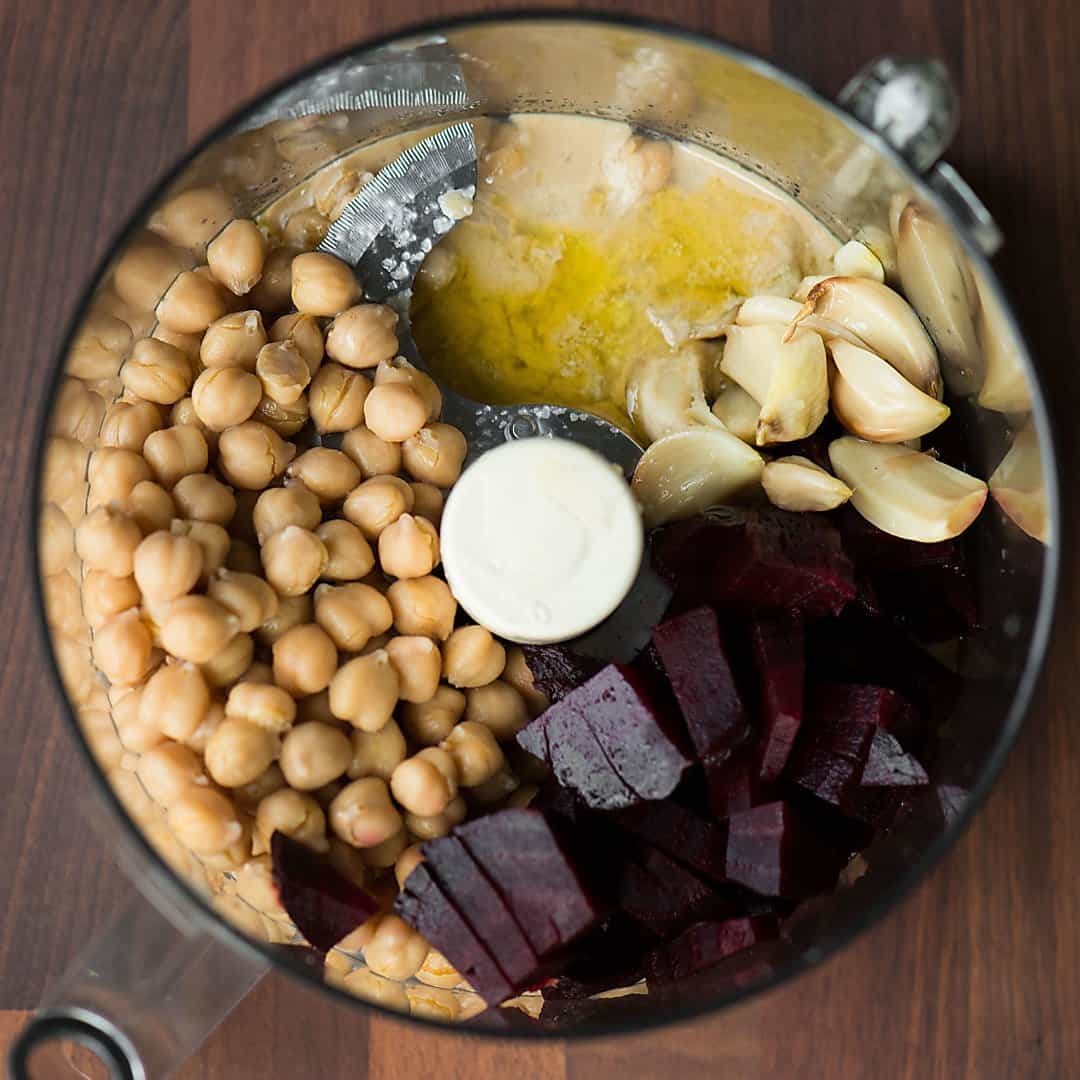 I took my original hummus recipe and modified it a wee bit. The general concept is the same – chickpeas + tahini + garlic + lemon juice + olive oil get whirled around in a food processor until smooth and creamy. The only difference is that instead of adding one or two cloves of raw garlic that really packs a punch, I added an entire head of roasted garlic that makes anything oh-so-good. The addition of one whole roasted beet not only gave this hummus and earthy flavor that I know and love, but how can anyone resist the bright pink flavor!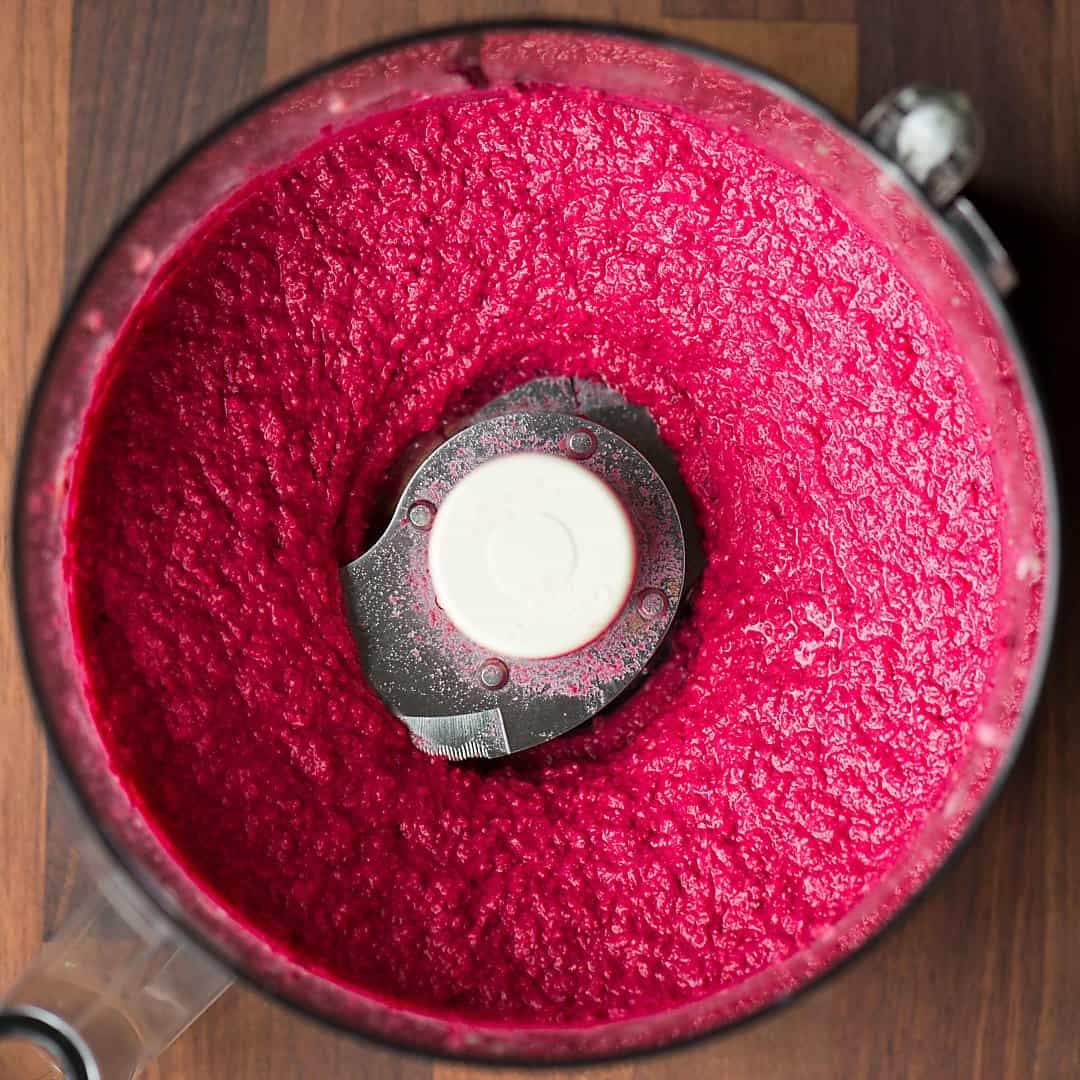 Isn't it pretty? You know, with plant based food, the more color the more nutrition you get. You just can't get more colorful than beets.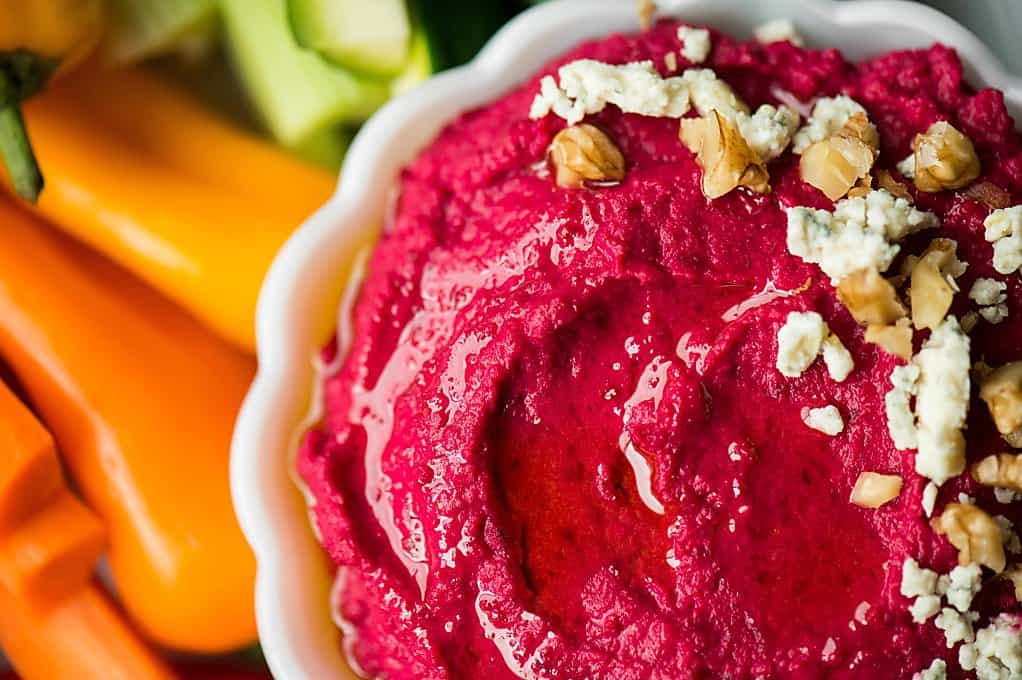 When I made this hummus, it was for a group of people.  I set it out with a veggie tray along with all of my Chickpea Crisps. Can you guess what got devoured first?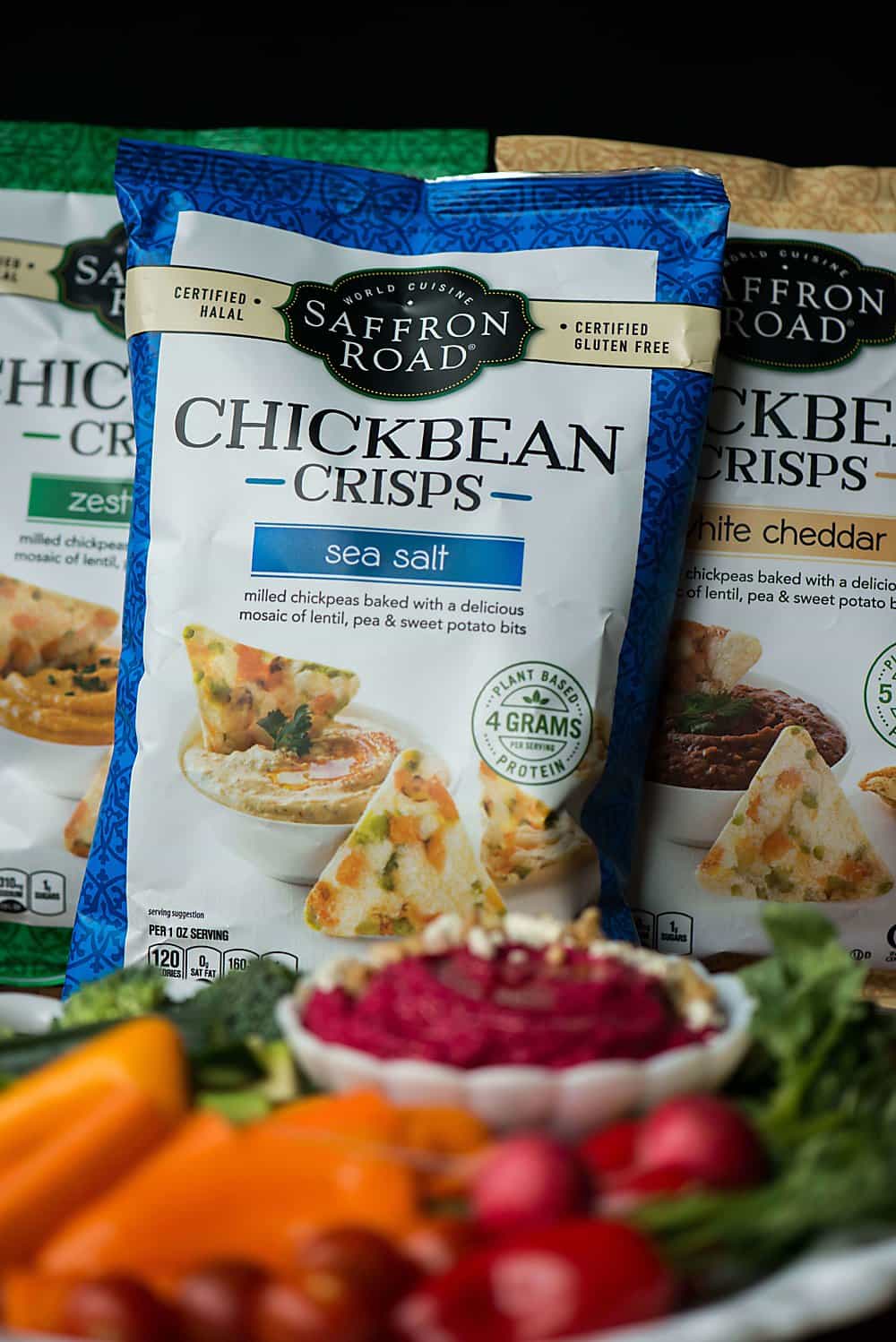 It's important for any chip to be strong enough to hold up to some heavy lifting with legitimate scooping power. These crisps passed the test with flying colors!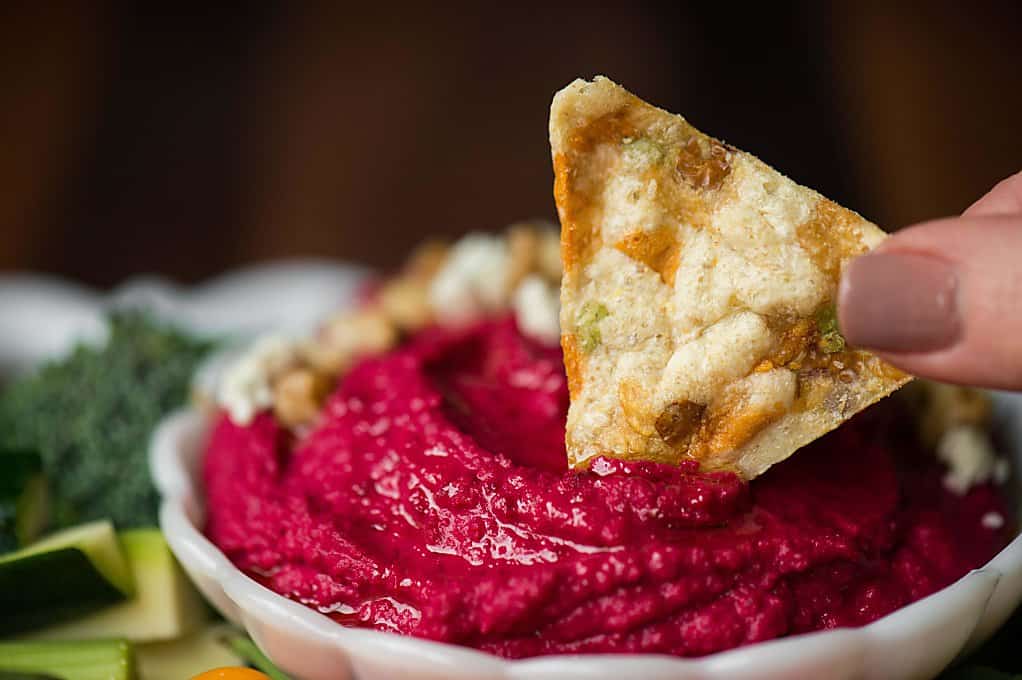 Want some of these tasty snacks delivered straight to your house? Just enter the giveaway below!  There are several ways to increase your chance of winning.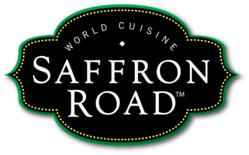 To learn more about Saffron Road, please visit their website or follow them on facebook, twitter, pinterest and instagram!
Giveaway Disclaimer
One winner per household, email address, or home address. If you have won this prize on another blog you are ineligible to win again.
Winner must have a U.S.-based address to receive the prize.  Winner will be randomly selected and notified on May 15, 2017.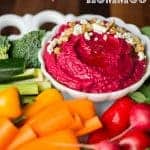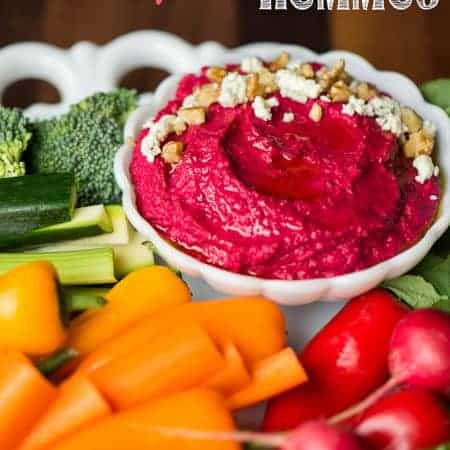 Roasted Beet Hummus
If you're looking for a vibrant, healthy, and tasty appetizer that's easy to make, look no further than this Roasted Garlic Beet Hummus.
Total Time
1
hour
15
minutes
Ingredients
1

head of garlic

1

large beet

2

tablespoons

olive oil

divided

1

tablespoon

tahini

1

tablespoon

fresh lemon juice

1

15-ounce can unsalted chickpeas, rinsed and drained

1/4

teaspoon

kosher salt

2

tablespoons

water

more if needed
Instructions
Preheat oven to 425 degrees F. Remove outer papery layers from head of garlic and leave innermost layer to keep the head of garlic whole. Remove leaves from beet, if needed. Drizzle with half of the olive oil, 2 tablespoons, and wrap loosely in aluminum foil. Roast in preheated oven until the beet is tender and the garlic starts to turn golden brown, about an hour. Remove from oven. When cool enough to handle, remove cloves from head and peel skin away from beet.

Combine roasted garlic and beet with tahini, lemon juice, remaining olive oil, chickpeas, and salt in the bowl of a food processor. Process until fine. With the food processor running, add a small stream of water until the desired consistency is reached. Process until smooth. Top hummus with gorgozola and walnuts, if desired.