Homemade hummus only takes a few minutes to blend up and tastes better than any prepared hummus you'll find at the store. Delicious as a dip or a spread.
You can even transform my healthy hummus into a meal when you make Hummus Baked Chicken with Feta and Vegetable Orzo.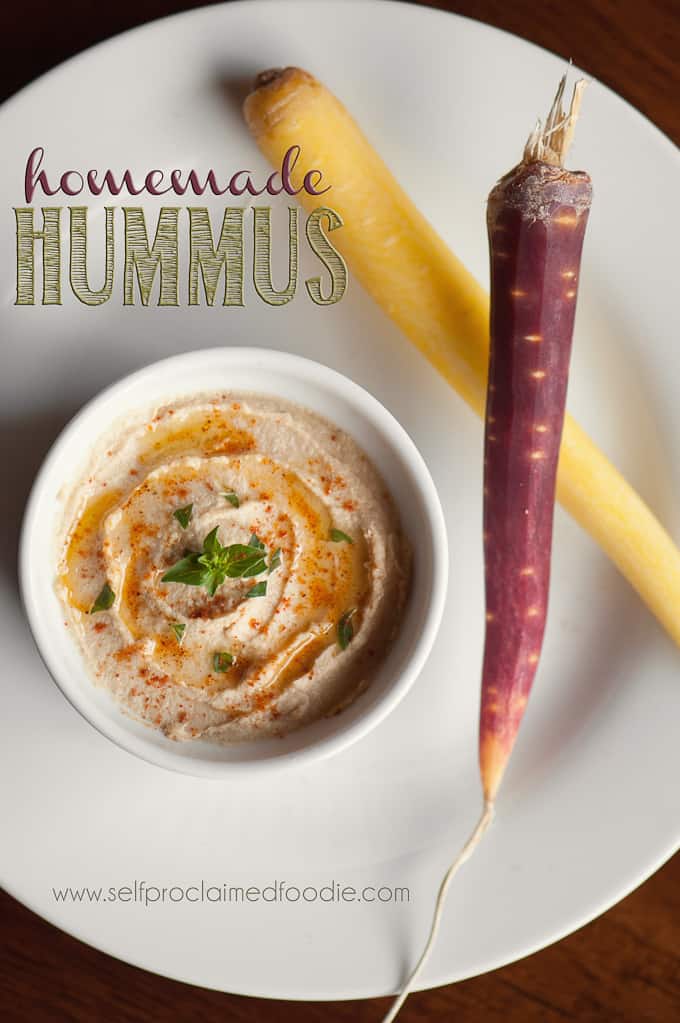 The first time you make homemade hummus, you'll wonder why it took you so long to make homemade hummus. If you like hummus, most likely you've tried many different kinds before finding a brand you like. I've eaten so many different kinds of hummus that I thought were pretty gross. Either they were too bland, the texture was undesirable, or they just tasted off. In my opinion, the perfect hummus is a smooth creamy dip that is the perfect balance of garlic, lemon, salt and cumin. You can adjust the amounts of each of those ingredients, but what I have listed in the recipe below is what I've found to be my favorite.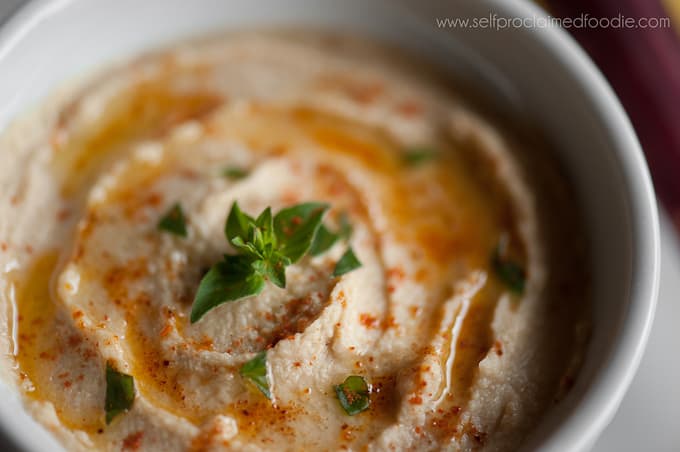 Hummus is such a great snack to keep on hand. Its filling, good for you, and tastes delightful.
Funny story: This hummus was one of the first things I made for my food blog. I've very experienced at taking photos of people, but photographing food is new territory for me. Luckily for me, my convert-foodie opinionated and semi-critical husband was home when I attempted to photograph my hummus. Basically, I scooped it all into a dish and it looked nasty. Just a big beige pile of doo. He enlightened me and I changed dishes, spread it around oh so smoothly, drizzled some olive oil, sprinkled some paprika, and put a smidge of fresh herbs on top. Voila! It actually looked appetizing. Thanks, husband, for your criticism encouragement.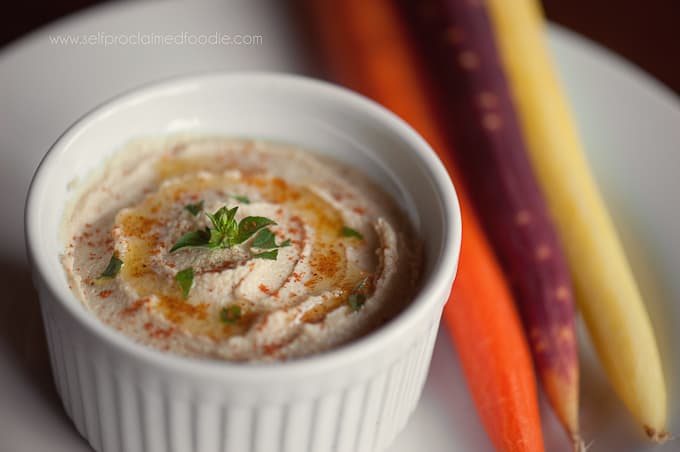 Full Recipe Instructions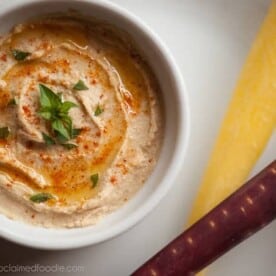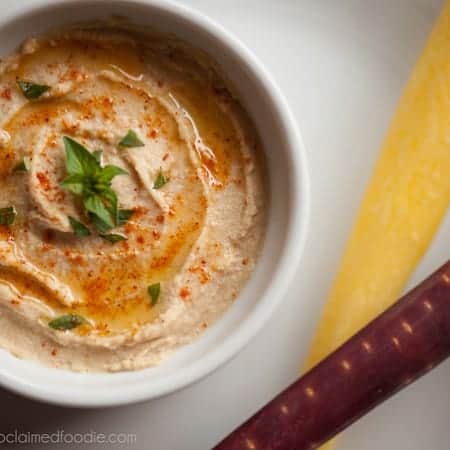 Ingredients
Instructions
In a food processor, cream tahini and lemon juice for one minute. Scrape sides and blend for another 30 seconds. This will create a fluffy creamy blend that is light in color.

Add garlic, olive oil, salt and cumin. Blend for 1 minute. Scrape sides and then blend another 30 seconds.

Add half of the drained and rinsed chickpeas. Blend for 1 minute. Scrap sides and add remaining chickpeas. Blend for 2 more minutes until smooth and creamy.

Scrape the sides once more, turn the food processor on, and while its running add water, one tablespoon at a time, to achieve desired smoothness and consistency.

Garnish with a drizzle of olive oil, a sprinkle of paprika, or toasted pine nuts, if desired. Store hummus in air tight container in refrigerator for up to one week.
NUTRITION INFORMATION
Calories:
166
kcal
|
Carbohydrates:
13
g
|
Protein:
5
g
|
Fat:
11
g
|
Saturated Fat:
2
g
|
Sodium:
395
mg
|
Potassium:
158
mg
|
Fiber:
4
g
|
Sugar:
1
g
|
Vitamin A:
11
IU
|
Vitamin C:
5
mg
|
Calcium:
39
mg
|
Iron:
1
mg