Hummus Baked Chicken with Feta and Vegetable Orzo is a delicious and healthy home cooked meal made easy and convenient with a QFC Prep + Pared kit!
A tasty and complete home cooked meal has never been so easy!
This post was sponsored by QFC but all opinions are 100% my own. @QFCgrocery #PrepParedQFC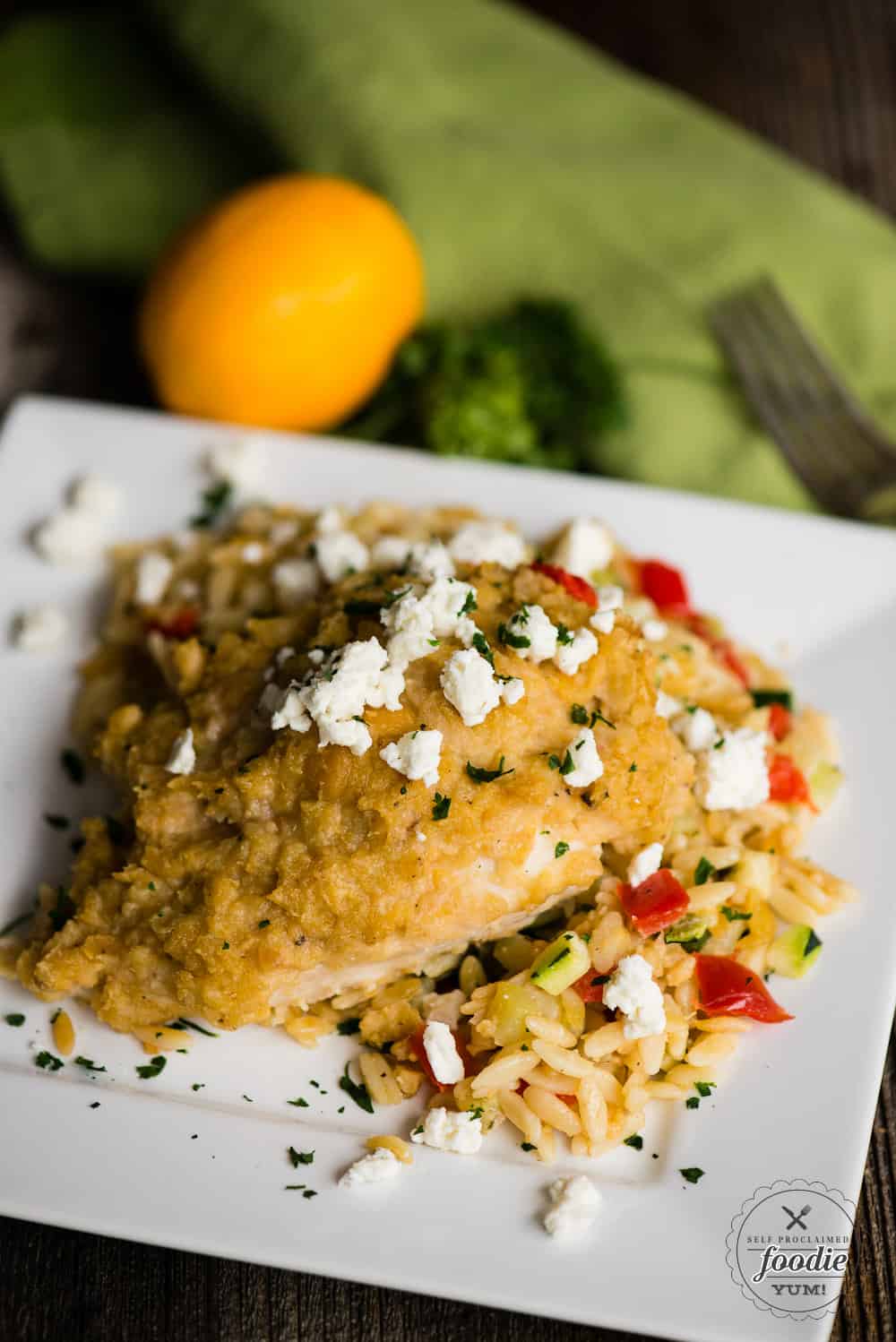 HUMMUS BAKED CHICKEN
Pin it to your DINNER BOARD to SAVE it for later!
Hummus Baked Chicken with Feta and Vegetable Orzo is not only a super delicious meal for two with incredible Mediterranean flavors, but it literally only took minutes to put together because of how perfect this meal kit is.
You guys, I'm so excited to share these new Prep + Pared Meal Kits with you!
What is a Prep + Pared Meal Kit?
Let me tell you all you need to know…
Prep + Pared Meal Kits are fresh, chef-designed meals you can prepare at home. Everything you'll need to make a complete and delicious meal comes in the kit. All of the ingredients have been pre-measured, chopped, and portioned so there is no guess work involved.
The Meal Kit also comes with the most comprehensive recipe card I've ever seen. This recipe card includes thorough step by step instructions with photos. It even spells out what kind of kitchen tools like bowls, baking dishes, etc. that you'll need. The only items needed are staples that everyone has in their pantry like salt, pepper, olive oil, etc.
The meals cook in about 20 minutes or less and feed two hungry adults.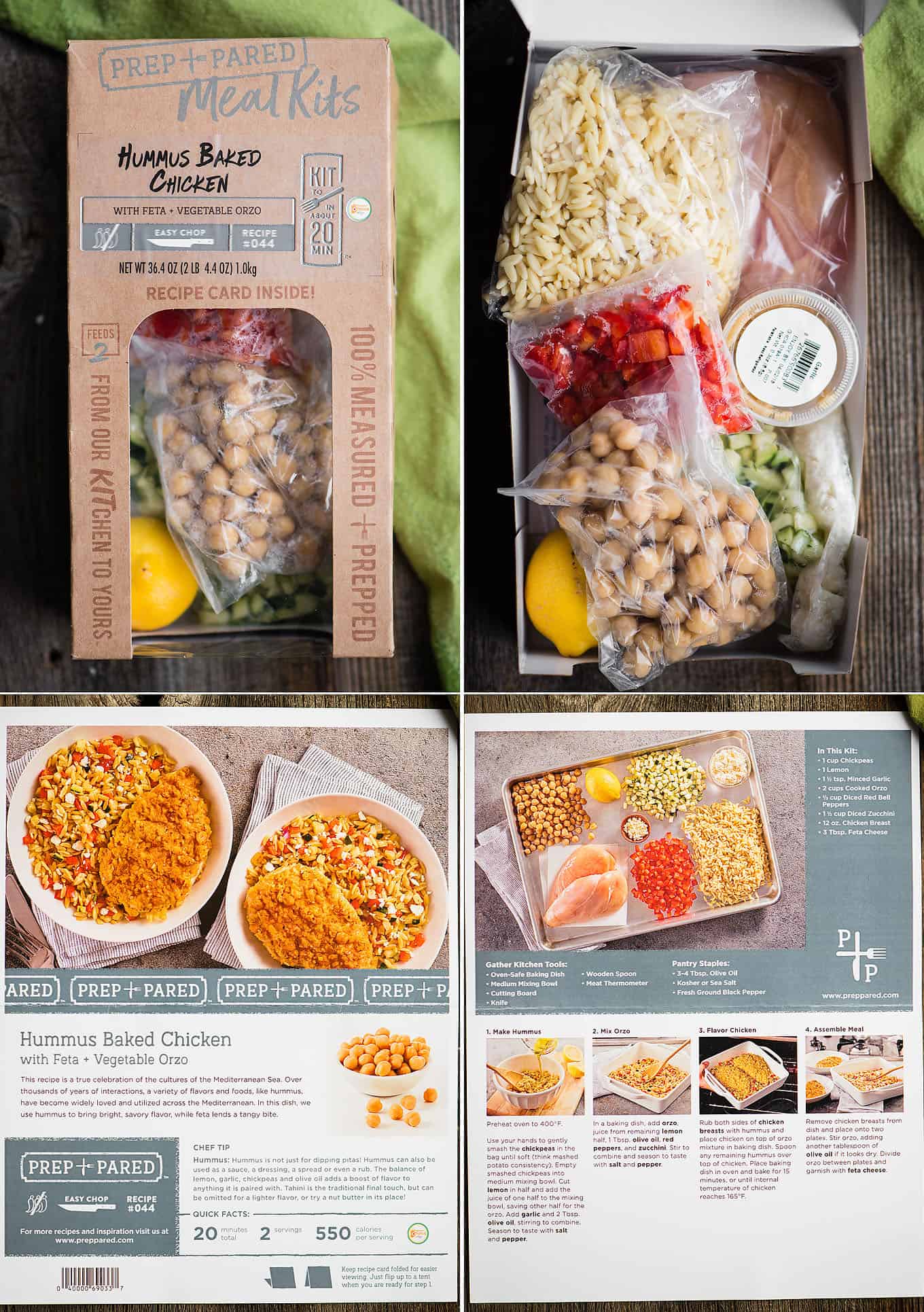 Tell me more about this Hummus Baked Chicken!
Well, my only disappointment was that I didn't come up with this recipe myself. Seriously, the entire meal was fabulous!
The recipe started with me getting to smash a bag of soft chickpeas with my hands. I don't want to admit how much I enjoyed that part. Okay, I'll admit it. It was fun. You mix those smashed chickpeas with the juice from half a lemon – also provided in the box. Toss in the fresh garlic that was also provided and mix it all together with some olive oil, salt and pepper.
Then you take a baking dish and toss in the orzo, zucchini, red bell pepper, lemon juice from the other half of the lemon, olive oil, salt and pepper. Now, if I was making this recipe from scratch at home as opposed to making it from my Prep + Pared Meal Kit, I would have had to cook and drain the orzo. There goes 15 minutes plus a dirty pan and strainer. I would have also had to chop up the zucchini and bell pepper. That would have taken time plus dirty a cutting board and knife, not to mention the fact that I'd probably have leftover veggies that get lost in the back of my vegetable drawer.
The final step was to coat the fresh chicken breasts, also provided, with the hummus I mixed together, and bake it all together in the oven.
BAM! I had a complete homemade meal for two with very few dishes and no wasted food in less time than it would take me to unload my groceries from my car.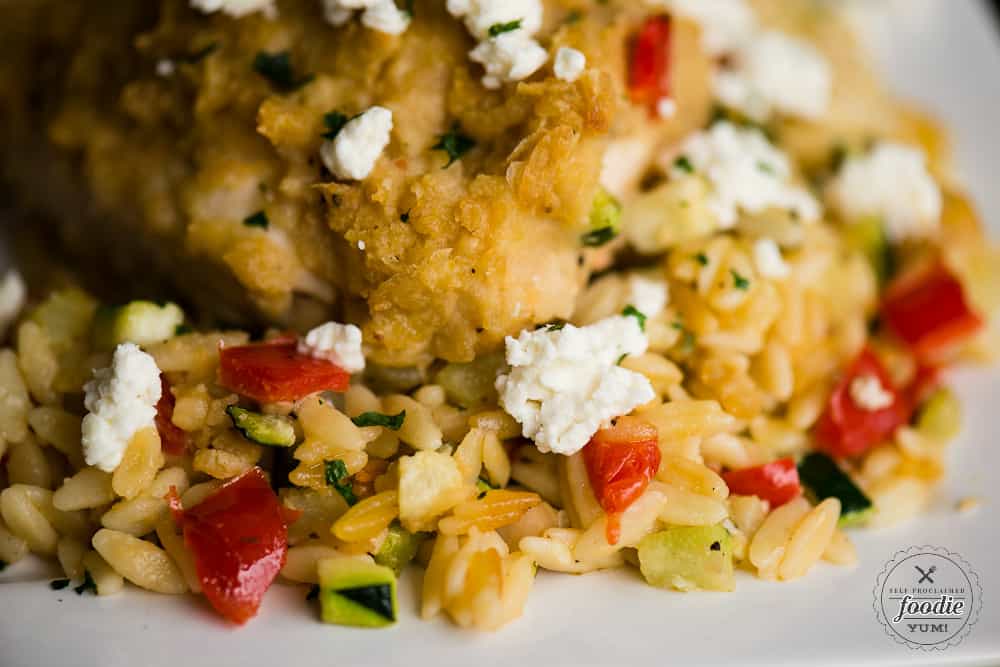 Speaking of groceries…
These Prep + Pared Meal Kits are available in 20 QFC locations and can be ordered through Clicklist at 9 locations. How convenient is that?
If you haven't used Kroger's Clicklist program yet, you're missing out! It is the easiest and most convenient way to order groceries. My Clicklist account remembers what I order regularly, tells me what's on sale, and the pick up times are super convenient.
Once you start ordering through Clicklist's curbside pickup, you won't be able to not use it!

Which Prep + Pared dinner kit will you choose?
Trust me, the decision is hard. I must have stood at the case for a solid 5 minutes trying to decide which one I wanted to try first.
The Hummus Baked Chicken with Feta and Vegetable Orzo was calling to me, but there was also the following fresh choices available this month:
Citrus Garlic Chicken Sauté with Fettuccine + Parmesan Crumbles
Mini Meatloaves + Homemade Ketchup with Garlic Smashed Potatoes
Latin-Inspired Pork Tacos + Avocado Radish Salad
Lemon Glazed Flat Iron Steak with Roasted Vegetables
Shrimp + Carrot Stir Fry over Scallion Pancakes
Hard to choose, right? And to keep things interesting, there are new recipes available each month! Lucky for all of us, the only choice we have to make is the order in which we make these Prep and Pared meals… because I plan on making them all!
Some kits are gluten free, vegetarian, vegan, and dietitians choice.  Basically that means you have options. Very good, very tasty options.
I encourage you to visit QFC stores as well as online where you can place your Clicklist order. When you try your Prep + Paired Meal Kit, come back and tell me about it!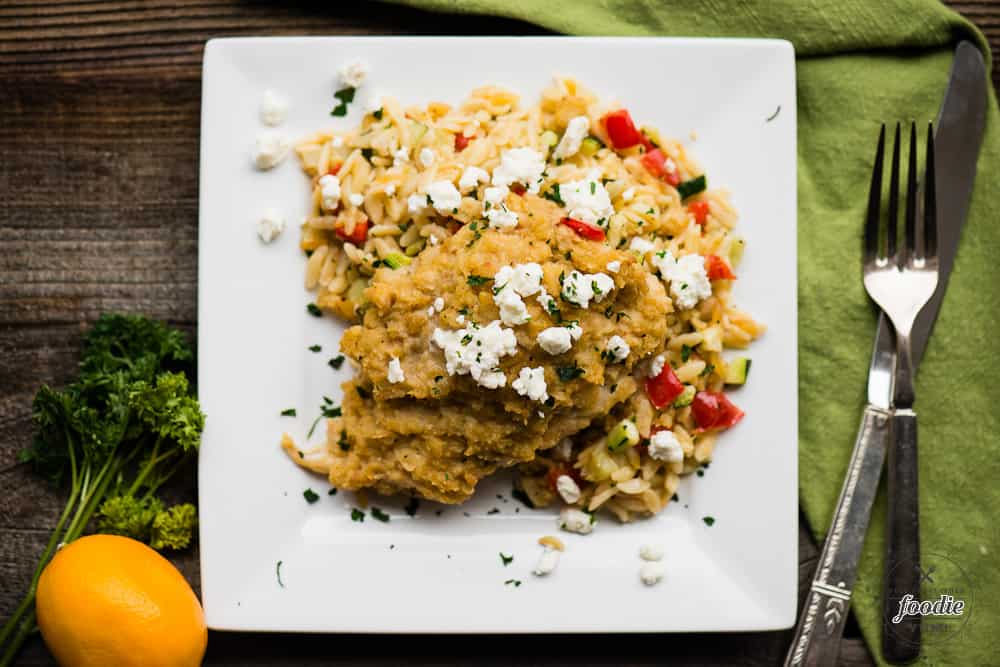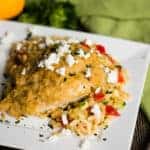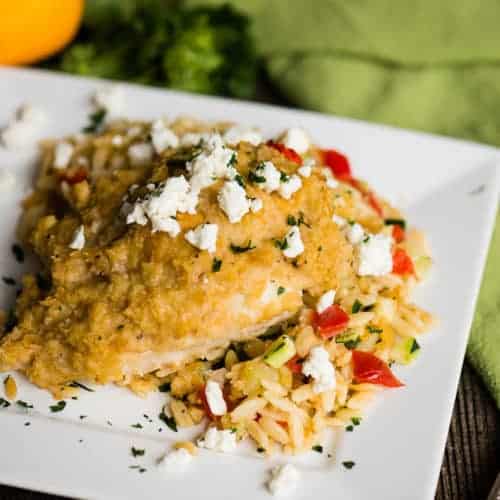 Hummus Baked Chicken with Feta and Vegetable Orzo
Hummus Baked Chicken with Feta and Vegetable Orzo is a delicious and healthy home cooked meal! Smashed chickpeas, lemon, and olive oil smother boneless skinless chicken breasts which are baked on a flavorful bed of orzo with bell peppers and zucchini and then topped with feta cheese. So delicious!
Ingredients
1

cup

chickpeas

1

lemon

1 1/2

tsp

garlic

minced

3-4

tbsp

olive oil

divided

2

cups

orzo

cooked

1/2

cup

red bell peppers

diced

1 1/2

cup

zucchini

diced

12

ounce

chicken breast

3

tbsp

feta cheese

salt and pepper

to taste
Instructions
Preheat oven to 400 degrees F.

Use your hands to gently smash the chickpeas in a bag until soft (think mashed potato consistency). Empty smashed chickpeas into medium mixing bowl. Cut lemon in half and add the juice of one half to the mixing bowl, saving other half for the orzo. Add garlic and 2 Tbsp. olive oil, stirring to combine.

In a baking dish, add orzo, juice from remaining lemon half, 1 Tbsp olive oil, red peppers, and zucchini. Stir to combine and season to taste with salt and pepper.

Rub both sides of chicken breasts with hummus and place chicken on top of orzo mixture in baking dish. Spoon any remaining hummus over top of chicken. Place baking dish in oven and bake for 15 minutes, or until internal temperature of chicken reaches 165 degrees F.

Remove chicken breasts from dish and place onto two plates. Stir orzo, adding another tablespoon of olive oil if it looks dry. Divide orzo between plates and garnish with feta cheese.
Recipe Notes
Instructions taken directly from Prep and Pared recipe card that is included with the meal kit.