The best Turkey Brine recipe is made with lots of apple cider, salt, and all the right spices. Your turkey will be so incredibly moist and delicious.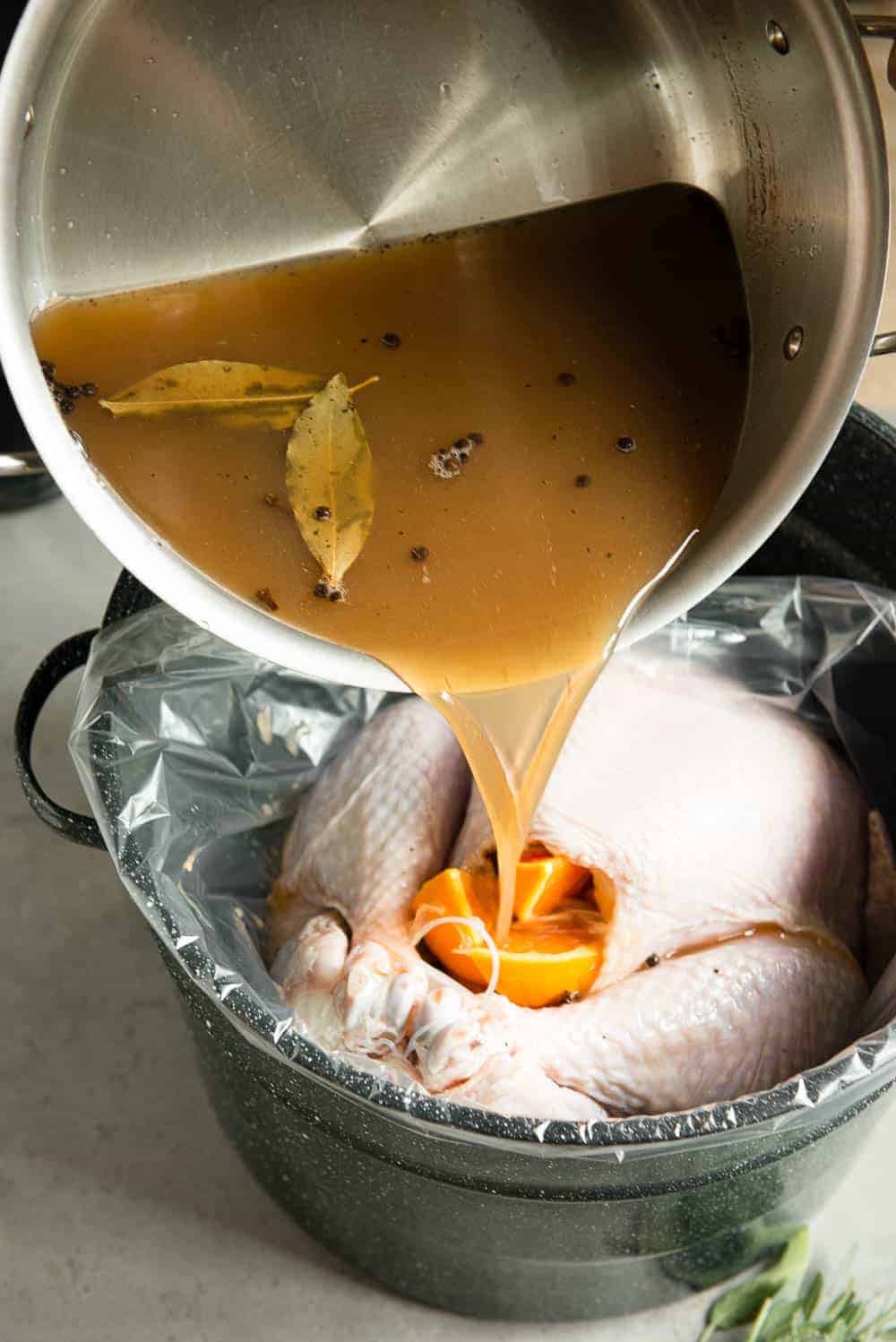 I've used this same brine recipe for years when making my oven roasted turkey. The amount of flavor and moisture it adds is incredible. Be sure to make the best turkey gravy too!
There are a lot of ways to brine a turkey. The easiest and most obvious way is to buy a brine kit at the store which is usually an expensive combination of a lot of salt along with some herbs.
The difference with the way I like to brine a turkey is that I save my money on the brine kit by making my own recipe with salt and other ingredients I already have in the pantry.
Then, I combine that with unfiltered apple cider. Oh my. It makes all the difference in the world!
How to make this recipe:
The actual process of making this brine is extremely simple.
The first step is to combine all of the brine ingredients except for the ice in a large pan. This solution is heated simply to dissolve all the salt.
The brine then needs to be completely cooled and chilled (photo 1 below).
That's it! But making the brine is only part of the process. Now you must get that turkey soaking.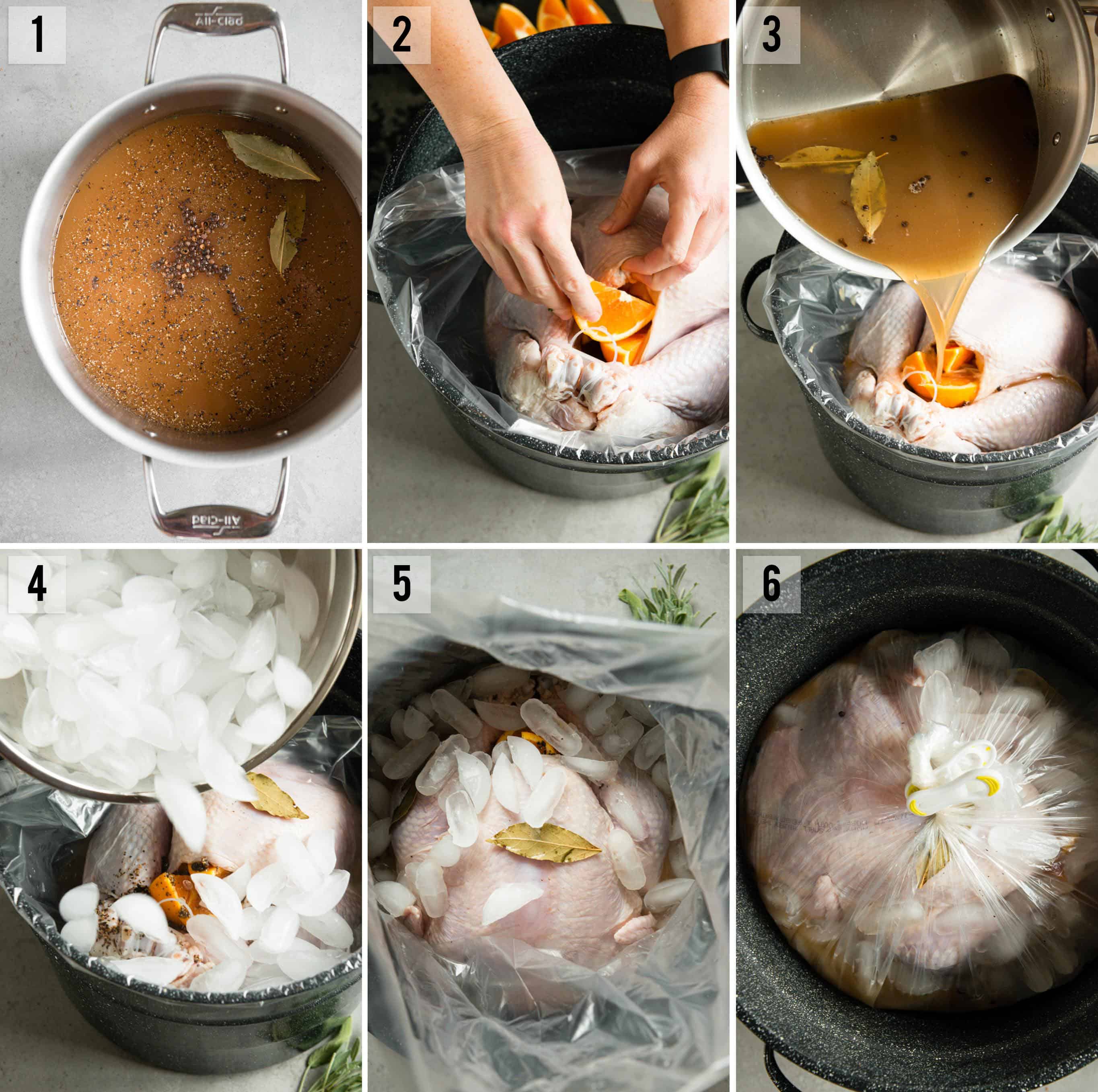 Here's what you need:
A large pot or clean bucket large enough to fit your entire turkey.
You'll need a large food safe plastic bag. I highly recommend using a turkey roasting bag. You can find them at the grocery store in the same aisle where the disposable aluminum roasting pans are. They're food grade quality and big enough.
Lots of ice
Room in your refrigerator. Don't overlook this step. You might have to get real creative or hope that's it's under 40 degrees F outside so you can brine the turkey outside in a predator-free area.
How to brine a turkey:
Remove giblets and neck from turkey cavity and place in bowl in refrigerator. You'll want to use them to make the best turkey gravy ever. Give the turkey a good rinse and place inside bag in your giant pot or bucket.
Stuff turkey cavity with a ton of sliced orange wedges (photo 2 above).
Add all of the chilled brine to the bag (photo 3 above) and ice (photo 4).
Taking great care not to tear the bag, squeeze out as much of the air as possible, then twist and secure the top (photos 5 and 6 above). I use a clip instead of tying a knot because I will reach in and turn the turkey over at least once during the brine process.
Refrigerate the brine turkey and let it do it's magic. When you're ready to cook the turkey, remove it from the bag, discard the brine and orange wedges, rinse it with cold water and pat it dry.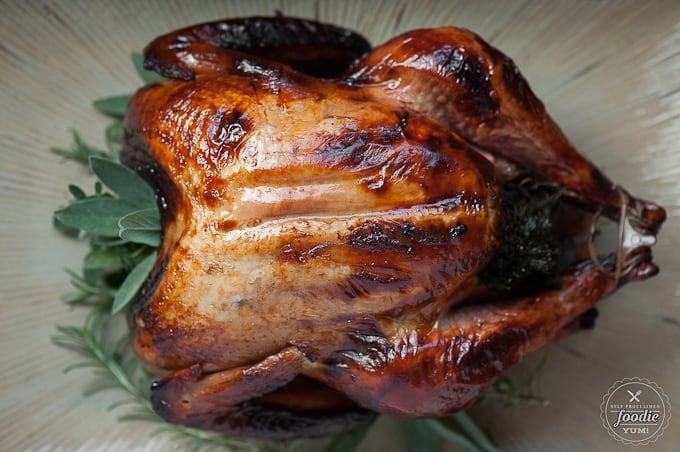 How long to brine a turkey:
How long you choose to brine your turkey is completely up to you. My recommendation is anywhere from 12-24 hours. You want to give the brine enough time to soak in and really work, but you really don't need to soak your turkey longer than a day.
Since I do as much Thanksgiving prep the day before as possible, making an easy turkey brine is just part of the process.
Best Thanksgiving recipes:
Now that you've made the most flavorful moist turkey, here are more recipes that will complete your Thanksgiving spread.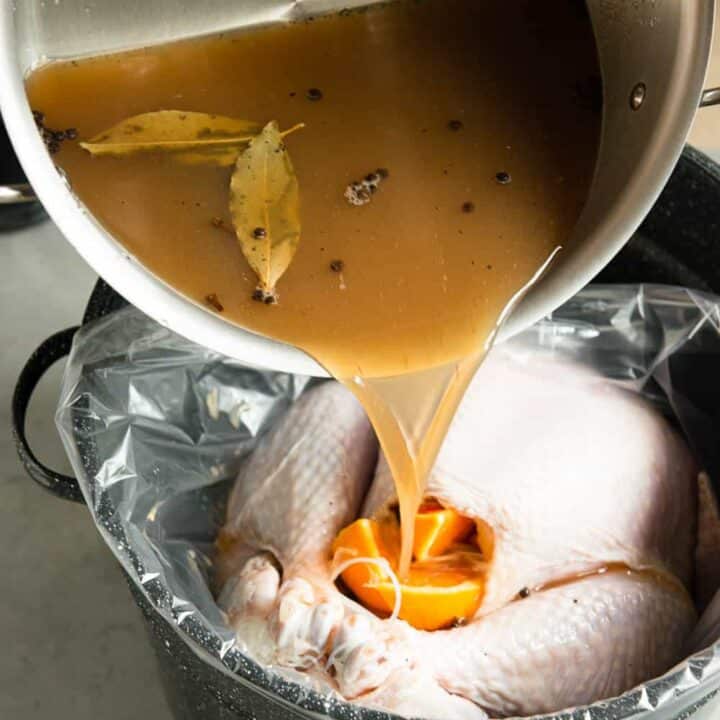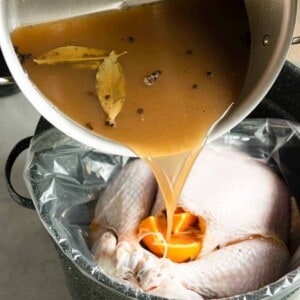 The best Turkey Brine recipe is made with lots of apple cider, salt, and all the right spices. Your turkey will be so incredibly moist and delicious.
Ingredients
Turkey Brine:
8

cups

apple cider

unfiltered recommended (apple cider like juice aka the kind you drink – NOT apple cider vinegar)

2/3

cup

kosher salt

1

tablespoon

black peppercorns

coarsely crushed

1

tablespoon

whole allspice

coarsely crushed

6

whole cloves

8

cups

ice
Turkey:
12

pound

turkey

ensure its fully thawed if previously frozen, turkey size can vary

2

valencia oranges

quartered
Instructions
Combine apple cider, salt, peppercorns, allspice, cloves, and bay leaves in a large saucepan and bring to a boil. Cook 5 minutes until salt dissolves. Cool completely in refrigerator.

Remove giblets and neck from turkey, refrigerate until ready to use, and reserve for gravy. Rinse turkey with cold water and pat dry. Trim excess fat. Stuff body cavity with orange quarters. Place a turkey-sized oven bag inside a large stockpot. Place turkey inside bag. Add cold cider mixture and ice. Squeeze as much air out of bag as possible. twist top and secure with twist tie or tuck end so that it stays put. Refrigerate for 12 to 24 hours, turning turkey occasionally.

Once done, remove turkey from bag, and discard brine, orange quarters, and bag. Rinse turkey with cold water and pat dry.

Cook turkey using your favorite method.
Notes
Nutritional information is based on the brine only, but you don't really eat the brine, so I'm not sure why I bothered.
I use my canning pot to hold the turkey with the brine. It works perfectly and fits on the bottom shelf of my refrigerator as long as I clear everything else out.
Nutrition
Calories:
57
kcal
,
Carbohydrates:
14
g
,
Protein:
1
g
,
Fat:
1
g
,
Saturated Fat:
1
g
,
Sodium:
4721
mg
,
Potassium:
132
mg
,
Fiber:
1
g
,
Sugar:
11
g
,
Vitamin A:
3
IU
,
Vitamin C:
1
mg
,
Calcium:
18
mg
,
Iron:
1
mg
Nutrition information is automatically calculated, so should only be used as an approximation.