Homemade Candied Yams, made with fresh sweet potatoes and a sweet and sticky citrus sauce browned to perfection, is a fantastic fall inspired side dish.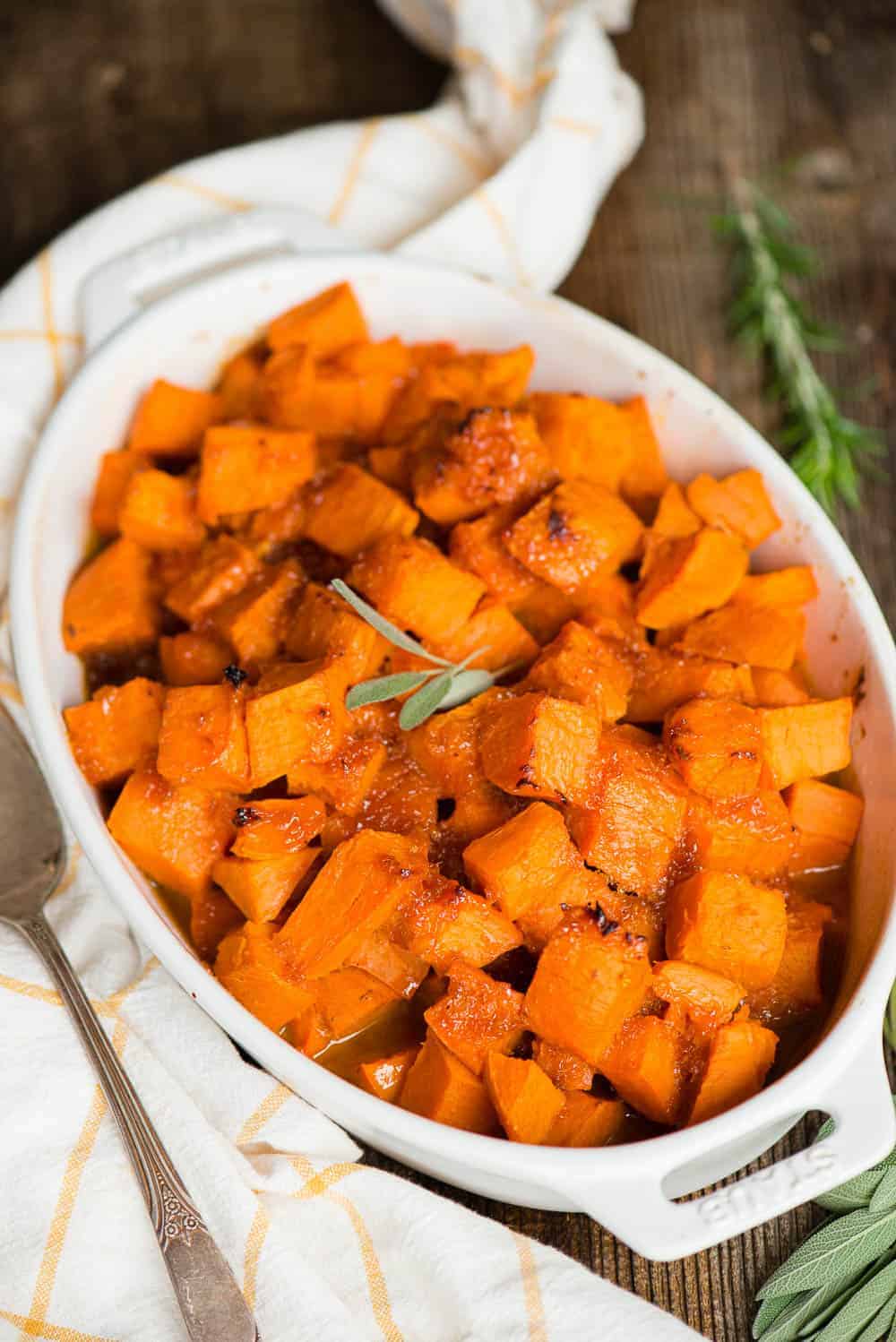 Honestly, I'm a firm believer that sweet potatoes deserve to be covered in toasted marshmallows. It's how I ate them growing up. Call it muscle memory or nostalgia… I have a hard time eating them any other way.
BUT, if what you're craving are tender sweet potatoes tossed in a sweet citrus candied sauce, then this recipe is perfect!
How to make candied yams:
My recipe involves mostly cooked sweet potatoes that are covered in a sweet citrus sauce and then broiled to a chewy perfection!
First step is to peel and chop the sweet potatoes (photo 1). Try to make them the same size so they cook at the same rate.
You might notice a milky white substance oozing out. This is starch. For this reason, I like to soak and rinse my sweet potatoes in cold water before cooking them (photo 2). Then boil or pressure cook them just until they're tender but still firm.
Next step is to make the sauce (photo 3) from orange zest and juice, brown sugar, pumpkin pie spice, salt and butter. Cook until it's a thick syrup and you can see the bottom of the pan when scraped (photo 4).
For the final step when making candied yams, coat the sweet potatoes with the sauce (photo 5) and broil until the tops get golden brown and chewy (photo 6).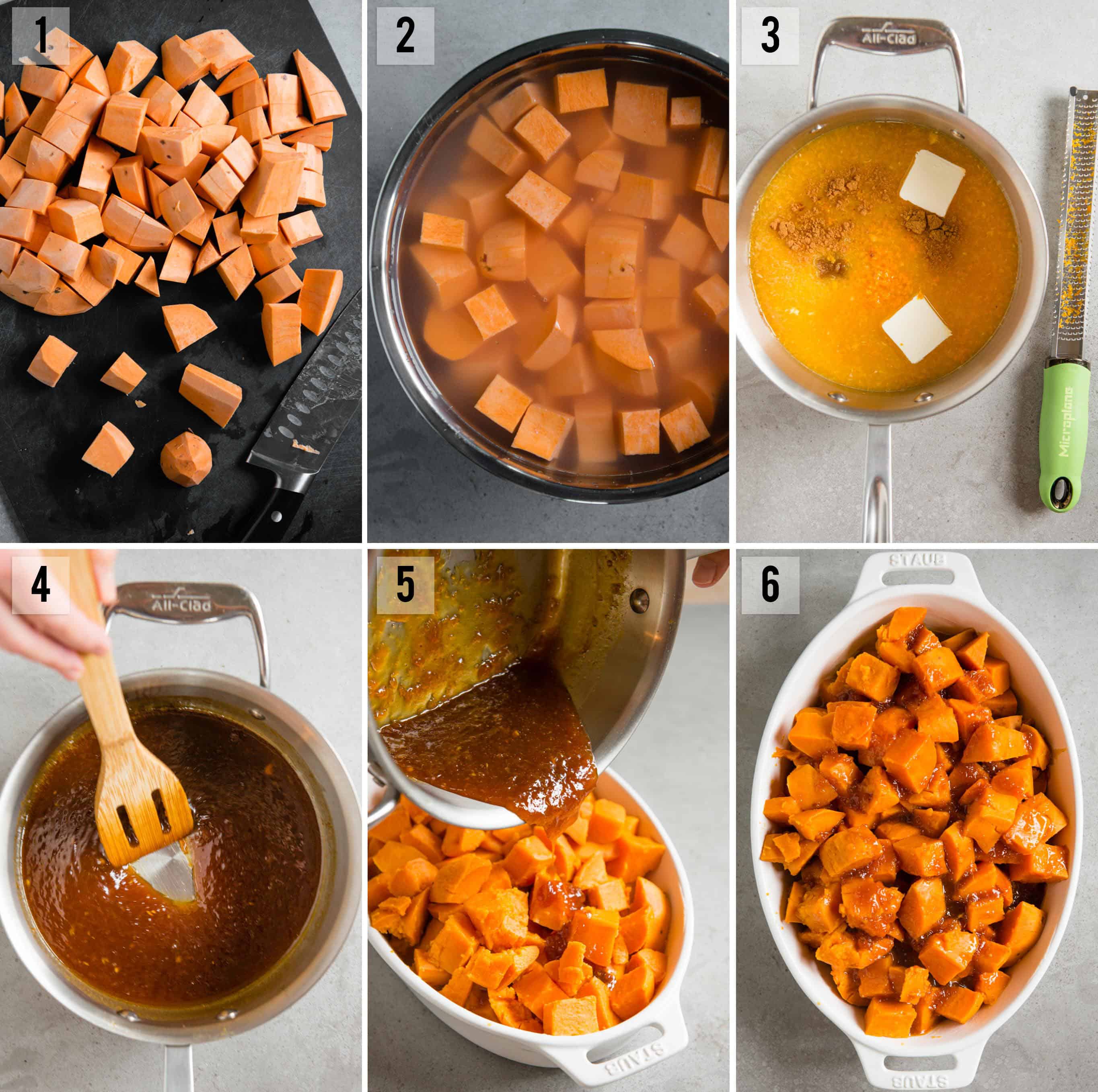 Modifications to the recipe:
If you want to change things up a bit and make them more interesting, you can try a few things.
Add nuts. Pecans or walnuts would add a great crunch.
Shredded coconut would give some great texture and would taste great with the candied citrus sauce.
Candied yams would taste great with some crushed pineapple, either cooked into the sauce or mixed in with the sweet potatoes.
Throw a handful of marshmallows on top before sticking in the oven. I couldn't resist that suggestion!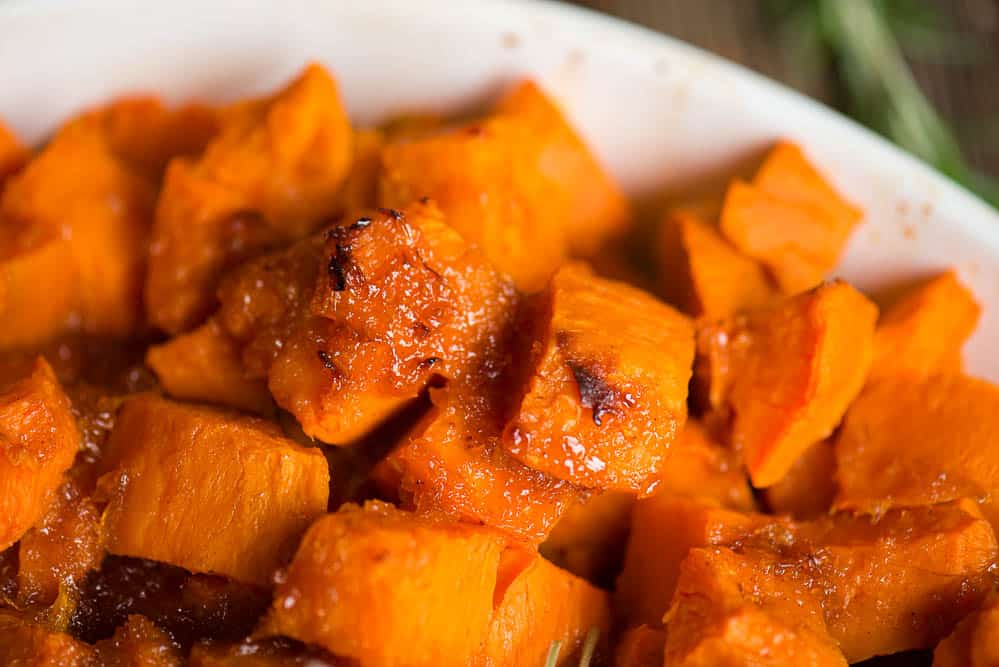 Other great sweet potato recipes: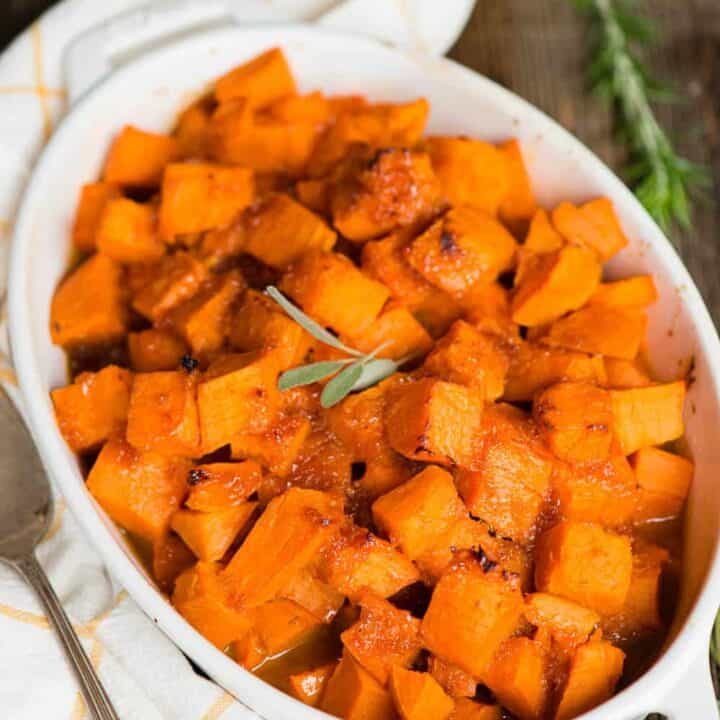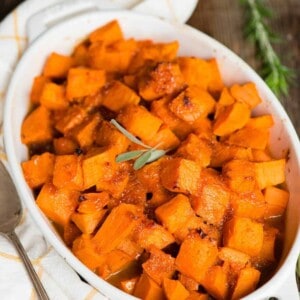 Homemade Candied Yams, made with fresh sweet potatoes and a sweet and sticky citrus sauce browned to perfection, is a fantastic fall inspired side dish.
Instructions
As soon as you peel and cut the sweet potatoes, soak them in a bowl of cold water. After a few minutes, drain and refill with fresh water. Allow them to continue soaking until you're ready to cook. This will eliminate some of the starch and results in softer, more moist and tender sweet potato bites.

Par cook the sweet potatoes. If using the cook top, place the cut sweet potatoes in a pot and cover with a couple inches of cold water. Boil the sweet potatoes for 5-10 minutes, or until you can just pierce them with a fork, but not fully cooked. Drain and set aside. If using an Instant Pot, add 1 cup of water and set the sweet potatoes on the rack. Cook on high pressure for 3 minutes and quick release the pressure when done. (see note)

Zest one of the oranges and add to a sauce pan (see note). Slice the oranges in half, juice, and add to the sauce pan. Add the remaining ingredients to a boil on high heat. Reduce heat to the lowest it will go while maintaining a simmer. Continue to cook while stirring occasionally until the mixture reduces to a syrup. You should be able to scrape the bottom of the pan with a flat wooden spoon and will be able to see the pan for about a second before the syrup covers it back up.

Add the sweet potatoes and coat well with the sauce. Transfer to a buttered casserole dish and broil until the top gets candied and the sweet potatoes are tender, 5-15 minutes.
Notes
You want your sweet potatoes to be mostly cooked from the boiling process. This means that they will be tender but firm. You don't want them to turn into mush. They will continue to cook slightly when broiled.
Cooking times will vary drastically depending on the size of your cut pieces. Use my cooking times as a guide but determine how long to cook them based on their firmness.
You will have much more control over the sweet potatoes if you use a pot with water versus the Instant Pot. If using the pressure cooker, you may have to continue cooking longer or you may accidentally over do it.
This recipe is heavy on the citrus. If you want the citrus flavor to be mild, reduce or omit the zest.
Recipe inspired by Simply Recipes
Nutrition
Calories:
358
kcal
,
Carbohydrates:
75
g
,
Protein:
4
g
,
Fat:
6
g
,
Saturated Fat:
4
g
,
Cholesterol:
15
mg
,
Sodium:
458
mg
,
Potassium:
824
mg
,
Fiber:
8
g
,
Sugar:
41
g
,
Vitamin A:
28478
IU
,
Vitamin C:
40
mg
,
Calcium:
112
mg
,
Iron:
2
mg
Nutrition information is automatically calculated, so should only be used as an approximation.