Dutch Apple Pie is the best version of apple pie! Instead of a top crust, you enjoy a sweet crumble topping over a mound of delicious apples. Everyone will agree that this is the best apple pie they've ever had.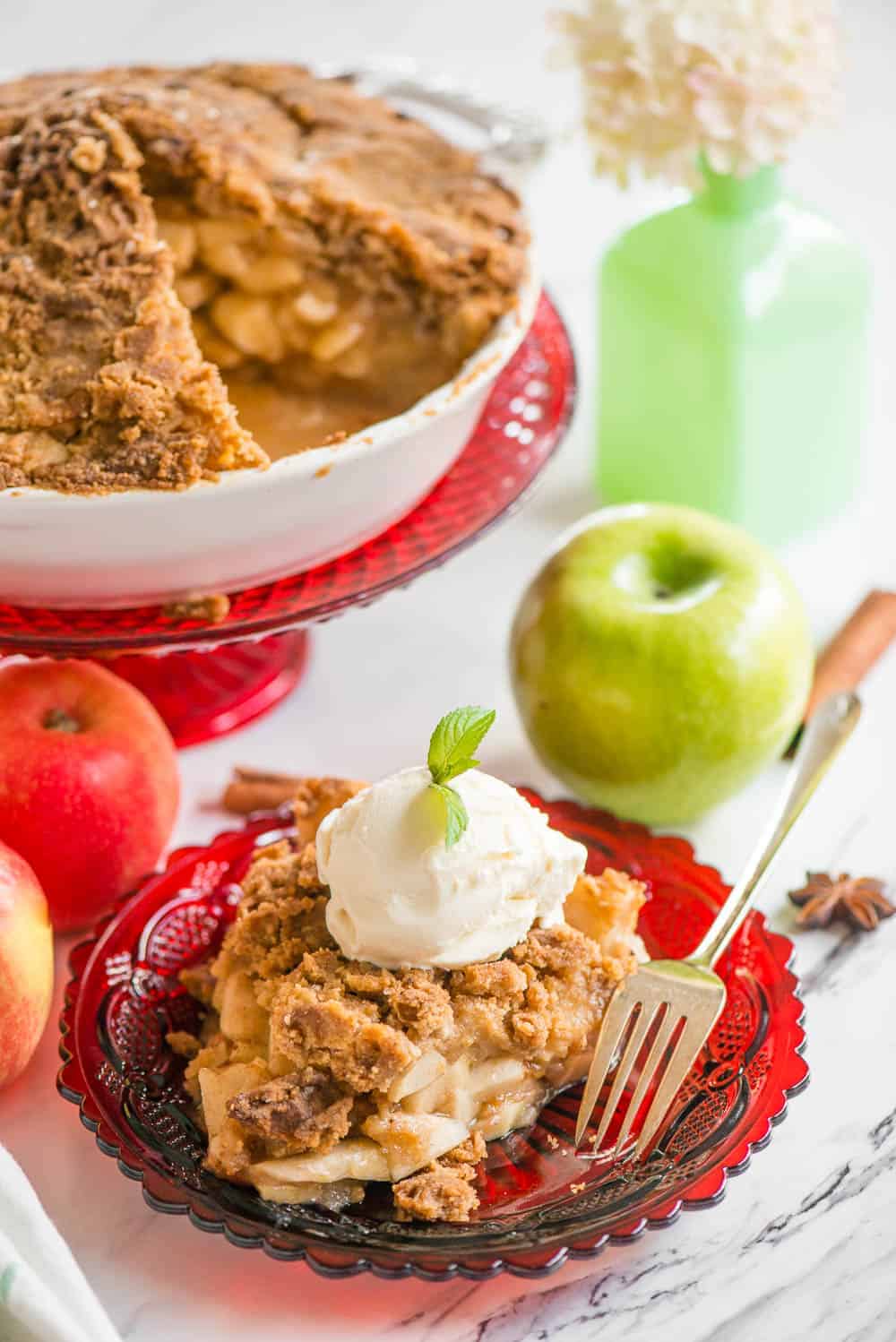 Everyone loves to bake this time of year. You just can't beat the wonderful aroma of apples and cinnamon baking in a warm kitchen. This is the sort of thing memories are made of!
Whether you're enjoying homemade applesauce, easy apple brown betty, or this amazing dutch apple pie, these are the kind of fall desserts memories are made of!
This pie is so good for so many reasons. I love the combination of the crust and the crumble topping. The sweet topping really balances out the tartness of the apples. And you simply can't beat a warm slice topped with a scoop of vanilla ice cream!
Use your own homemade pie crust or save some time and use a pre-made store bought crust. Either way, this pie will knock your socks off! Add this pie recipe to your holiday baking menu along with my Pecan Pumpkin Pie or my Hard Cider Caramel Apple Pie Recipe.
How to make this recipe:
As you can see from the step-by-step photos below, making a homemade pie is a process, but it's so incredibly worth it.
For this pie, you will need to prepare the pie crust, the apple filling, and the crumb topping.
If you make your own homemade crust, be sure to refrigerate it for at least an hour before you roll it out. Gently place it into your pie pan and flute the edges.
Add the prepared apples to the crust and mound them up high!
When you add the crumb topping, do it on a prepared baking sheet. It will spill over, but you can pick up any excess and add it right back on top.
The pie will take about an hour to bake.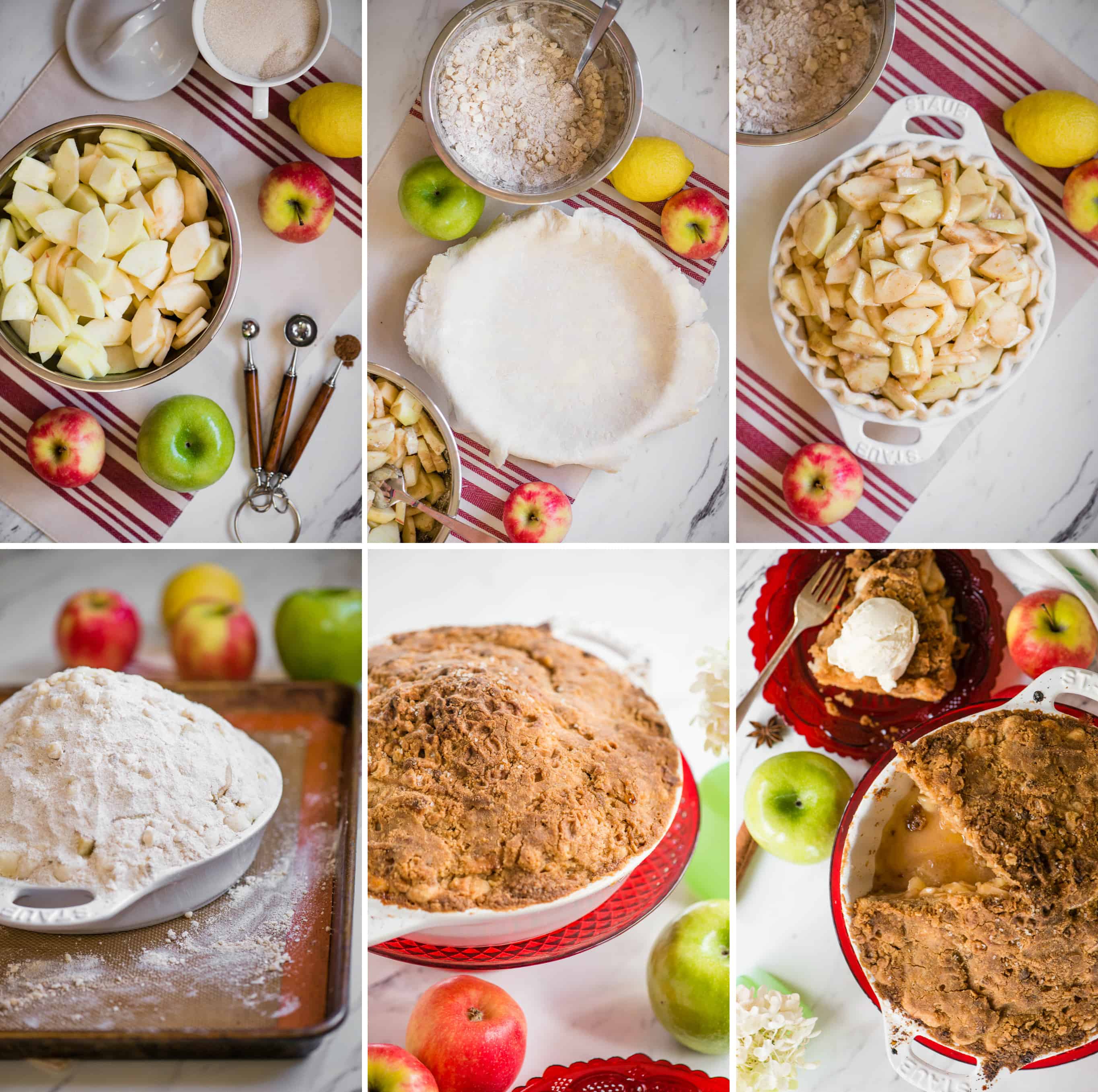 Best apples to use:
Some people are die hard Granny Smith fans. Don't get me wrong. I think these tart green apples are a necessary component of any apple dessert recipe, but I firmly believe they need to be mixed with a second variety.
When I make things like an apple pie or cobbler, I always use an even amount of Granny Smith apples along with a sweet and juicy apple like a Honeycrisp or a Pink Lady. Even something like a Golden Delicious or Fuji apple really helps balance out the tart Granny Smith.
Other reasons to use different varieties of apples:
Different textures. Some apples get very soft when they're cooked and others remain firm. If you use a combination of apples, you end up with a wonderful filling that has both crunchy and soft apples.
Control the amount of liquid in your pie. Granny Smith apples don't release much liquid when they cook, but other apples do. By using a combination of apples, you'll be able to achieve a nice thick sauce without creating a runny pie.
Sweet and sour. Each bite should provide a little of both and that's what will happen with you use multiple varieties.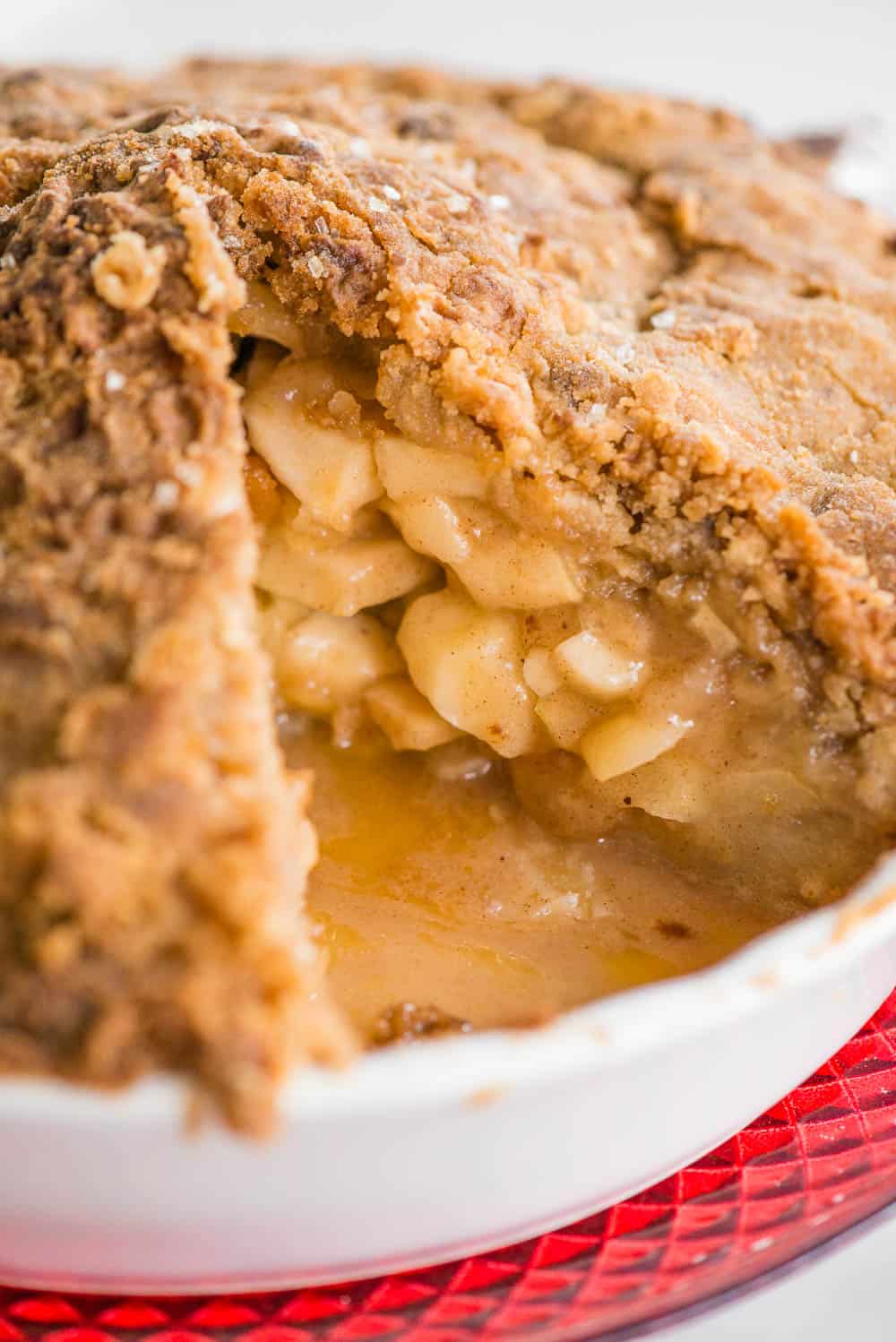 Pie baking tips:
It's rare that someone can start out as an outstanding pie maker. It takes time and a lot of trial and error to be able to achieve consistent results.
I've baked a ton of pies in my day and here are the tips that help me when making desserts like this Dutch Apple Pie:
If making your own pie crust, be sure not to over work the dough, let it rest in the refrigerator at least one hour before rolling out, and keep all of the ingredients chilled.
Tall pies like these must be baked on the bottom rack of the oven. This will ensure the bottom crust is cooked all the way through.
The thickness of your apple slices will determine how crunchy they are after being cooked. I prefer my apples to have a bit of bite to them, so I slice them into bite sized pieces that are a little under a quarter inch thick. If you want your apples to fall apart, be sure to slice them very thin.
To prevent the top from burning on a pie like this, lay a piece of foil on top of the pie once the top gets as brown as you want it to be. This will allow the pie to continue cooking without the top getting too burnt.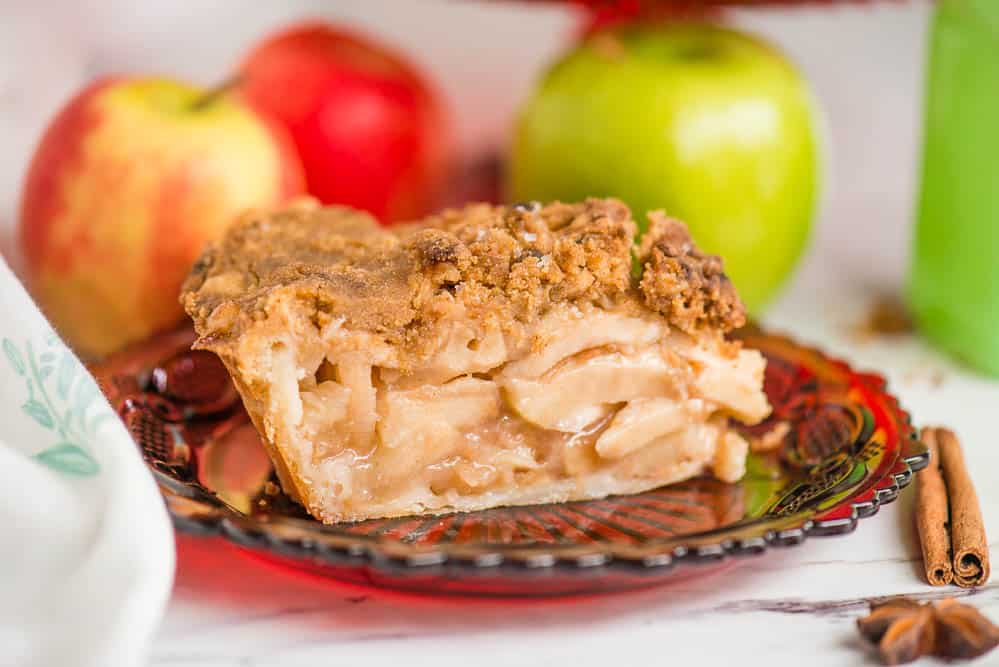 Other great pie recipes:
Love pie recipes? Be sure to check out these favorites: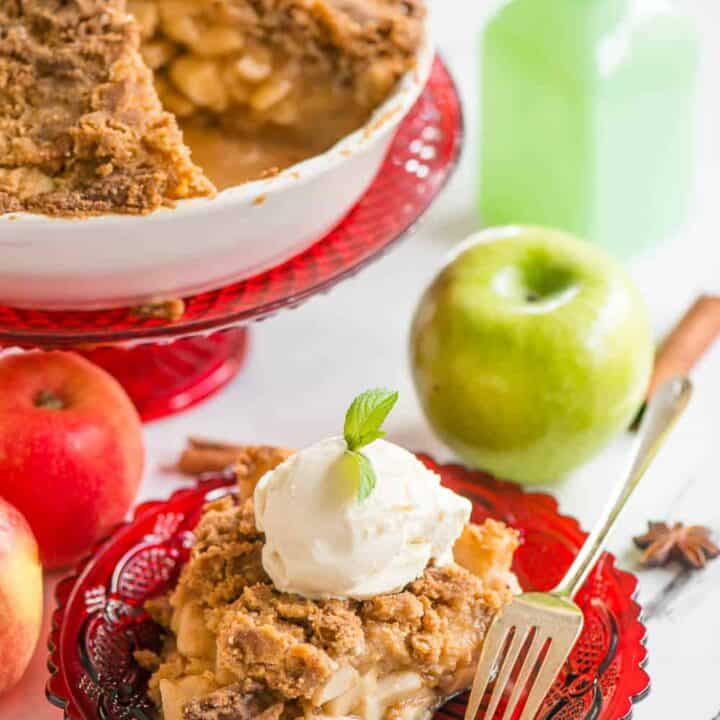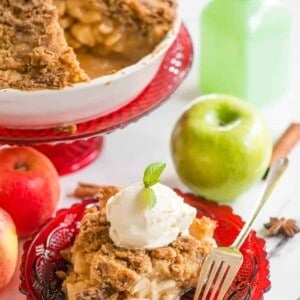 Dutch Apple Pie is the best version of apple pie! Instead of a top crust, you enjoy a sweet crumble topping over a mound of delicious apples. Everyone will agree that this is the best apple pie they've ever had.
Ingredients
Apple Filling:
8

cups

apples

peeled, cored, sliced thin (about 5 large apples or 8 small apples), see note about varieties

1/2

cup

sugar

1/4

cup

all purpose flour

1

teaspoon

cinnamon

2

tablespoons

lemon juice
Instructions
Preheat oven to 400 degrees F and arrange racks so that the pie can cook on the bottom rack. Line an 8-inch pie pan with crust. Fold over edges and pinch to flute. Set prepared dish on a large baking sheet that is lined with a silpat, parchment paper, or foil.

In a large bowl, combine apples, 1/2 cup sugar, 1/4 cup flour, 1 teaspoon cinnamon and lemon juice. Toss to coat.

To make the crumble topping, combine the brown sugar, 1 cup flour, the chilled butter pieces and the remaining cinnamon using a pastry blender in a large bowl. You want your butter to remain as small chunks about the size of a pea.

To assemble pie, mound apples on top of crust.

Then, carefully spoon on crumble topping, taking care not to spill too much over the edges and pressing down onto the apples as needed to make it stick.

Place prepared pie on baking sheet on bottom rack of oven. Cook for about 1 hour. If topping starts to brown, loosely tent with foil.

Allow pie to cool at least 30min to an hour, however it will slice best if you allow pie to fully cool.
Notes
Recipe makes one large pie.
Recipe for the best pie crust: https://selfproclaimedfoodie.com/not-your-mamas-all-butter-pie-crust/
Best varieties of apples: I prefer a mixture of granny smith with something sweet and crisp like a Honeycrisp.
Be sure to set your pie on a lined baking sheet. This will prevent oven spills and make for easy clean up.
This pie is fantastic on it's own, or you can serve a la mode with a scoop of vanilla ice cream.
Nutrition
Calories:
297
kcal
,
Carbohydrates:
50
g
,
Protein:
3
g
,
Fat:
10
g
,
Saturated Fat:
5
g
,
Cholesterol:
15
mg
,
Sodium:
123
mg
,
Potassium:
133
mg
,
Fiber:
3
g
,
Sugar:
29
g
,
Vitamin A:
220
IU
,
Vitamin C:
5
mg
,
Calcium:
23
mg
,
Iron:
1
mg
Nutrition information is automatically calculated, so should only be used as an approximation.
This post was first featured on The Recipe Critic where I'm a contributor but has been updated for your viewing pleasure.