Pecan Pumpkin Pie combines the best of both worlds into one decadent and perfectly sweet holiday pie that is perfect for Thanksgiving Dinner.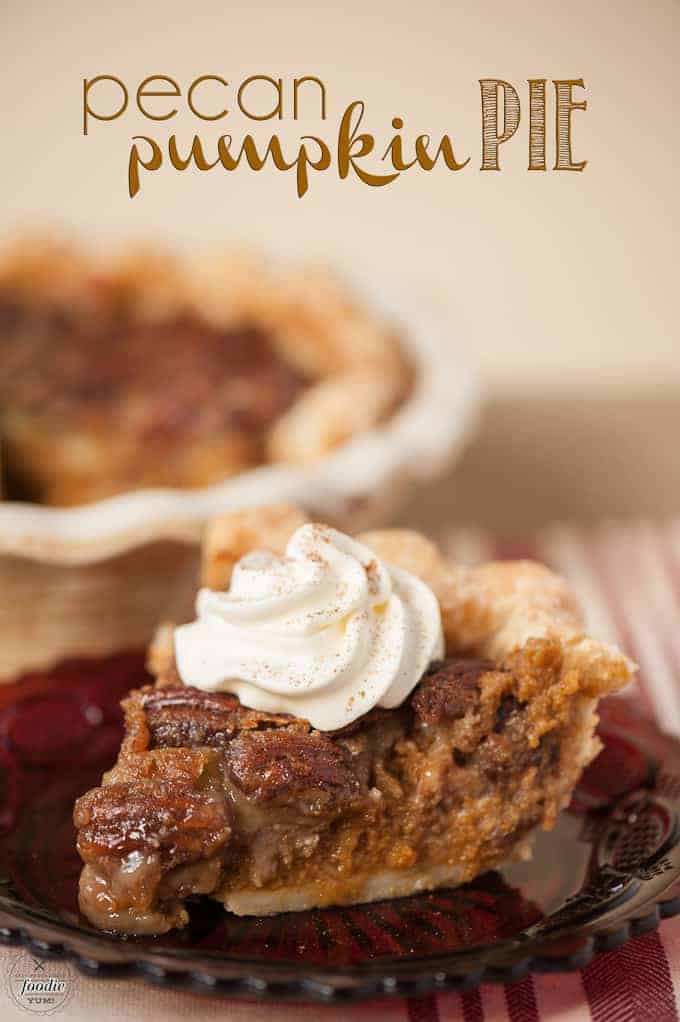 What pies are always served at Thanksgiving? Pumpkin, of course. And if you're in my family, you'll always see a Pecan Pie as well. What's that?  Apple you say?  Well, sure, but let's not get crazy here. I think that it is perfectly acceptable to combine two of Thanksgiving's greatest desserts: the pumpkin and pecan pie. The pecan pie layer elevates the pumpkin pie layer, and the pumpkin layer tames the richness of the pecan layer. If you want my honest opinion, I think this hybrid pie is so much better than either of the originals. Kind of like how a Golden Doodle is way better than a regular old Poodle (sorry poodle owners, but you know I'm right).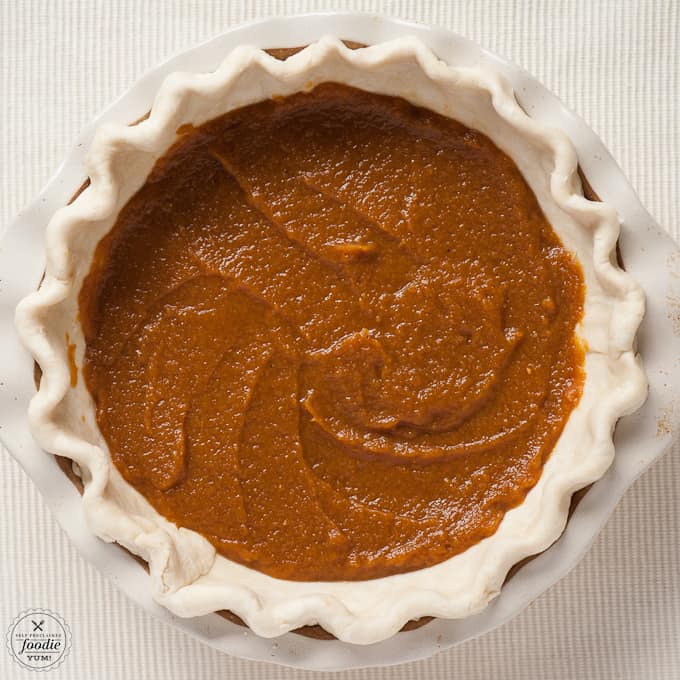 This pie starts off with a traditional pie crust. You can always buy one of those pre-made ones, but you know homemade is always best. I use an all butter recipe. Its how my mom taught me and its what I've taught my own daughter. I think all butter pie crusts are not only delicious, but if prepared correctly, they're insanely flakey. Next comes the pumpkin layer. Can it really get any easier than mixing a can of pumpkin with some sugar, a couple of eggs, and some pumpkin pie spice? It can't. Which is why, despite my control issues in the kitchen, I was able to let my daughter do this part on her own. Into the uncooked pie shell it goes!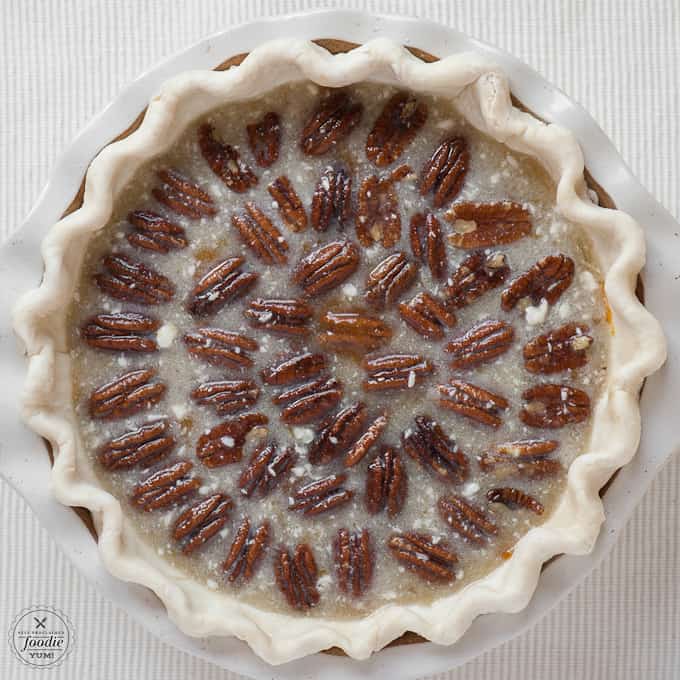 Don't mind those little chunks of butter in the picture above. I failed to completely melt my butter, but it didn't hurt the final recipe. It's all good.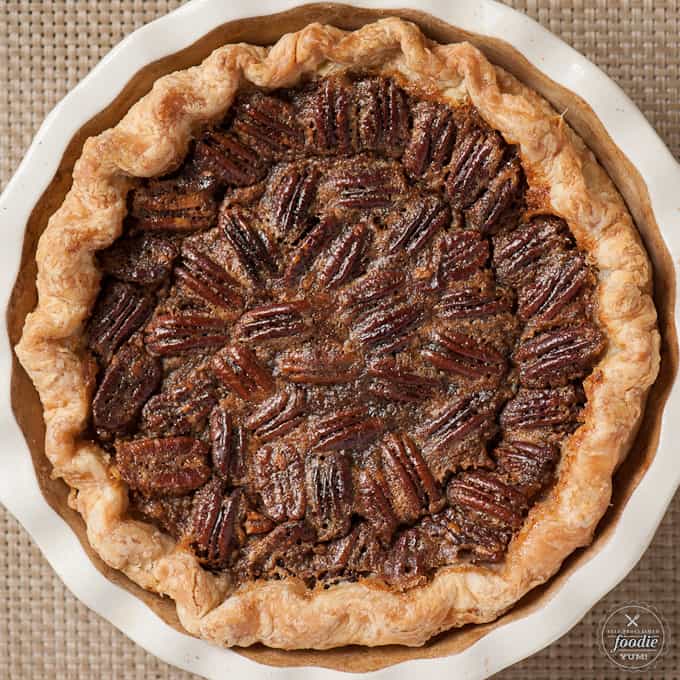 Finally, you have your pecan layer. Again, its super easy. Basically, just dump and mix. The pecans float right to the top so I think its worth it to take the extra minute to arrange them in an eye pleasing pattern.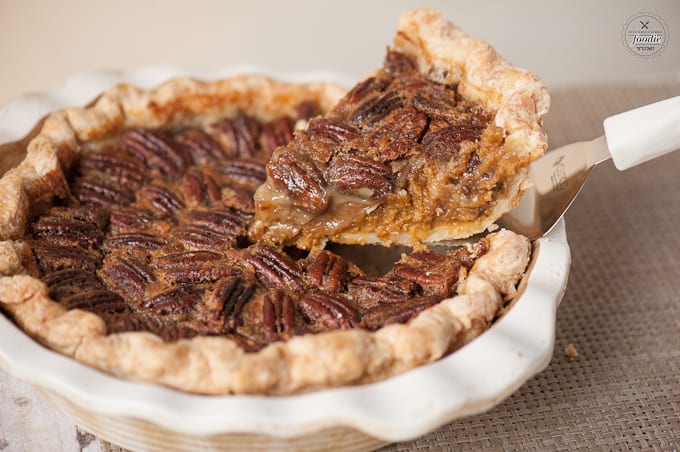 The trick to any Thanksgiving pies (and muffins, for that matter) are to start out cooking hot and then reduce the temperature. I've found this to be the best method for cooking both the inside and the outside perfectly.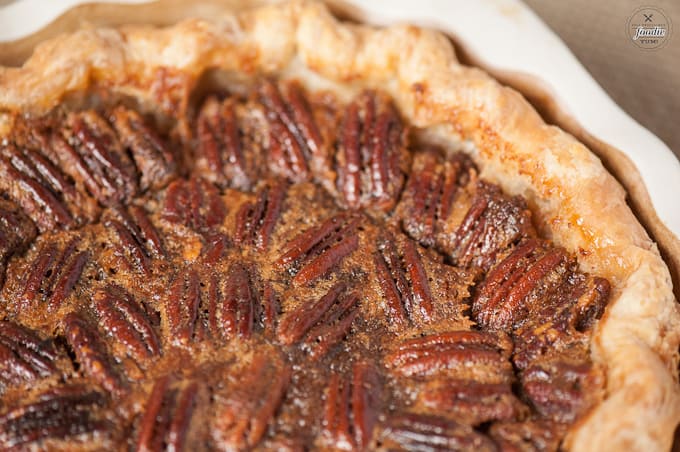 Now, once this pie is done you will have to show some major restraint because it really should sit in the refrigerator overnight. Just imagine how good this will taste with a hot cup of coffee and a dollop of freshly whipped cream after your Thanksgiving dinner. Yum, right?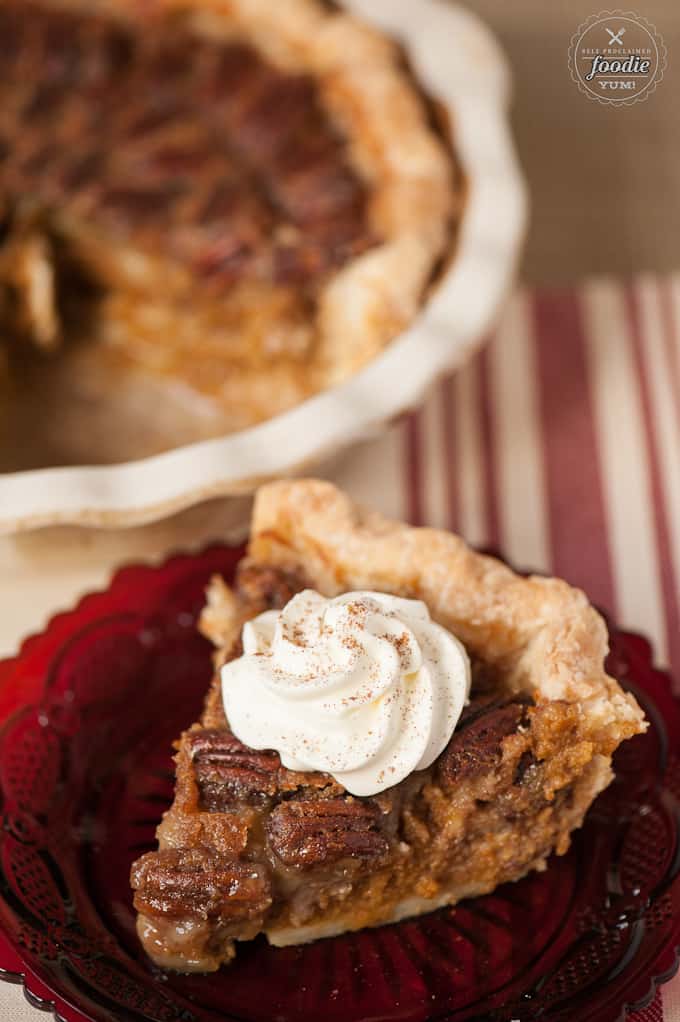 This pie is simply the best of both worlds. I'm going to let you in on a little secret… I don't actually like pumpkin pie all that much. Gasp!  I'll eat it, but it usually involves stripping away the top part of the pumpkin layer and adding a bunch of whipped cream. There's something about the texture, or lack there of, of plain pumpkin pie that makes me gag.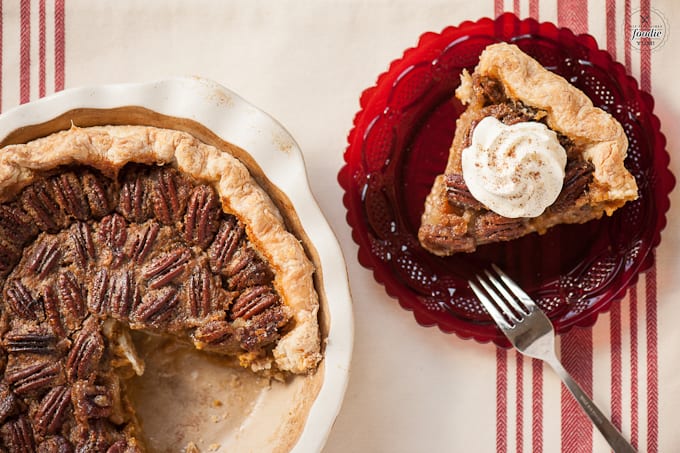 Likewise, I have a hard time eating straight up basic pecan pie. That's a lot of sugar, yo! But, when combined into one perfectly sweetened and textured pie – oh heavens! Time to put on the stretchy pants!!!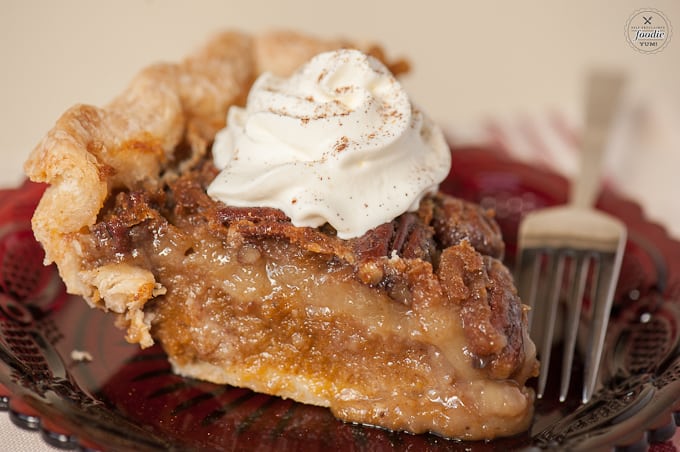 This recipe uses pure vanilla extract. Did you know you can make your own homemade vanilla extract? It makes the perfect gift too. W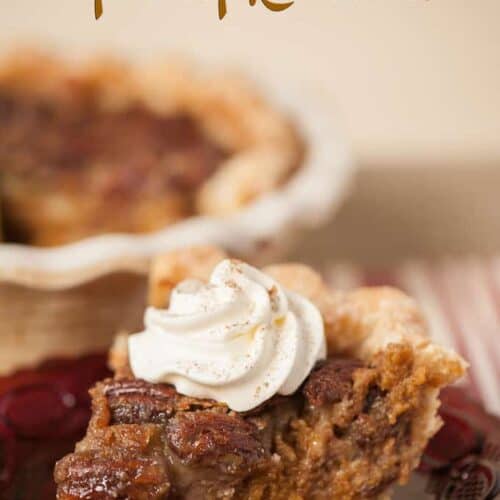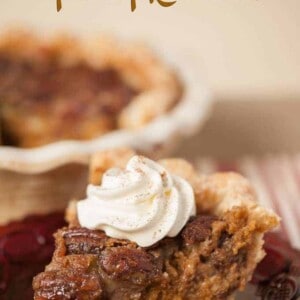 Pecan Pumpkin Pie combines the best of both worlds into one decadent and perfectly sweet holiday pie that is perfect for Thanksgiving Dinner.
Ingredients
1

9-inch pie crust

unbaked
Instructions
Line a 9 inch pie plate with pie dough. Roll edges under and create a scalloped pattern.

In a large bowl, combine the pumpkin, sugar, eggs, and pumpkin pie spice until smooth. Pour the mixture into the pie dough and level it with the back of the spoon.

Wash and dry the bowl, and then combine the corn syrup, sugar, eggs, melted butter, vanilla extract and pecans. Gently pour over the pumpkin mixture. If desired, place the pecans in a symmetrical pattern.

Cover the crust loosely with aluminum foil or a pie shield to keep it from browning too much.

Bake in preheated 425° F oven for 15 minutes. Without opening the door, reduce heat to 350°. Bake an additional 40-45 minutes until crust is golden brown. Turn oven off and crack oven door. Allow pie to sit in open oven for about 15 minutes before removing.

Cool on a wire rack for 1 hour. Cover with plastic wrap and refrigerate overnight. Serve with whipped cream if desired.
Nutrition
Calories:
299
kcal
,
Carbohydrates:
42
g
,
Protein:
4
g
,
Fat:
14
g
,
Saturated Fat:
4
g
,
Cholesterol:
66
mg
,
Sodium:
116
mg
,
Potassium:
146
mg
,
Fiber:
2
g
,
Sugar:
32
g
,
Vitamin A:
5692
IU
,
Vitamin C:
2
mg
,
Calcium:
33
mg
,
Iron:
1
mg
Nutrition information is automatically calculated, so should only be used as an approximation.