Flaky homemade all Butter Pie Crust is the best pie crust recipe you can make. Easy step by step instructions and a secret ingredient give perfect results!
You'll never buy pre-made pie crust again after following this recipe.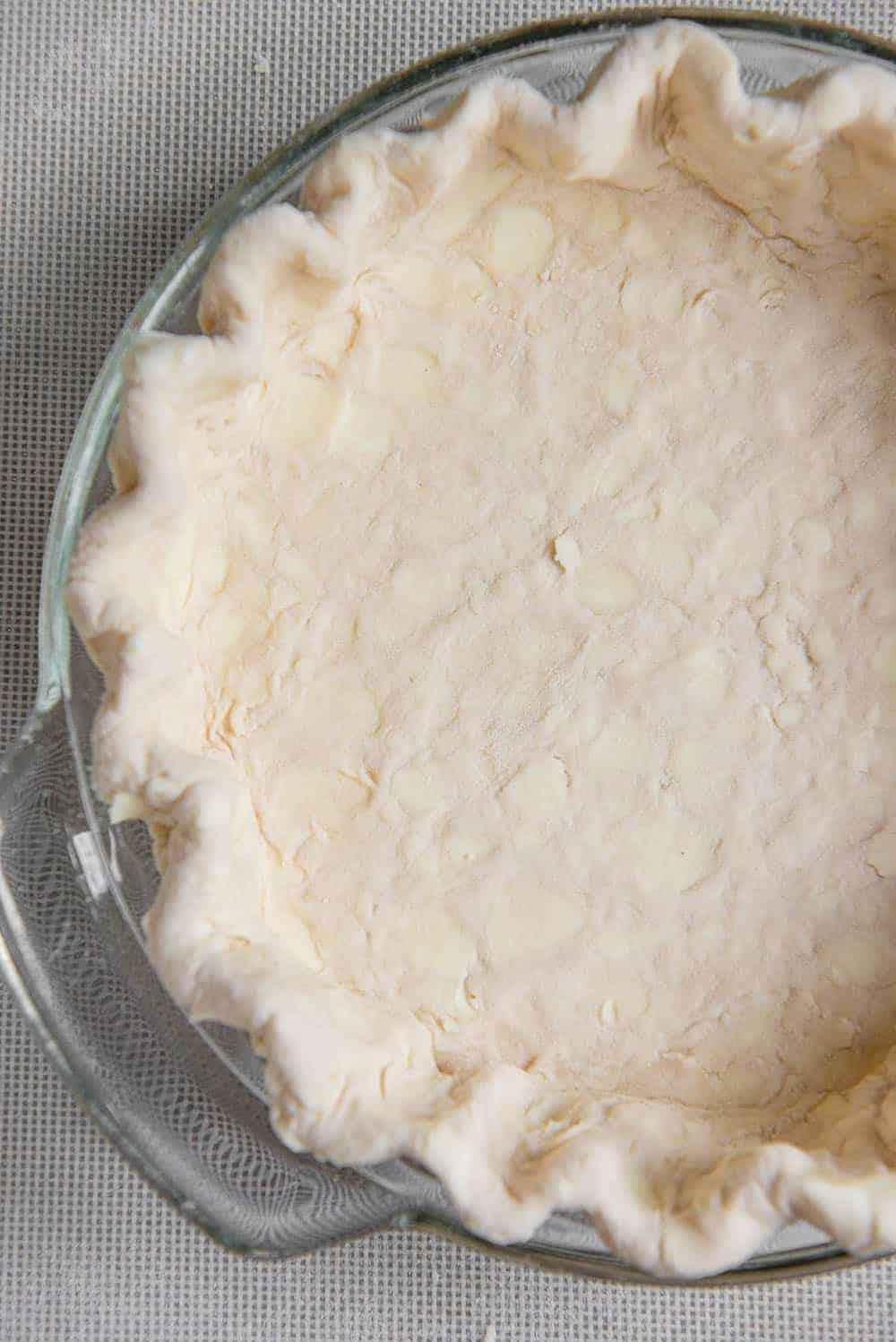 Why this recipe works:
The perfect flaky pie crust is equally dependent on the ingredients and the technique.
How to make butter pie crust:
There are two main steps in creating the perfect homemade pie crust: the mixing and the rolling. I'll break it down into two sections and we'll start with the mixing.
First step is to incorporate the butter with the flour. You can do this by hand in a bowl with a pastry cutter or you can pulse in a food processor (photos 1 & 2). The goal is to get the largest pieces of butter about the size of a pea.
Next you will alternate adding small amounts of ice cold water and vodka (photos 3 & 4). The vodka is the secret ingredient. The alcohol completely bakes off, you can't taste it at all, and you are left with the most tender and flaky crust.
After each amount of liquid is added, gently mix the dough to distribute it. Gently toss, turn over, and squeeze. Stop adding liquid and mixing as soon as it sticks enough to form a disk (photo 5).
Transfer the disk to plastic wrap (photo 6),  wrap tightly, and chill.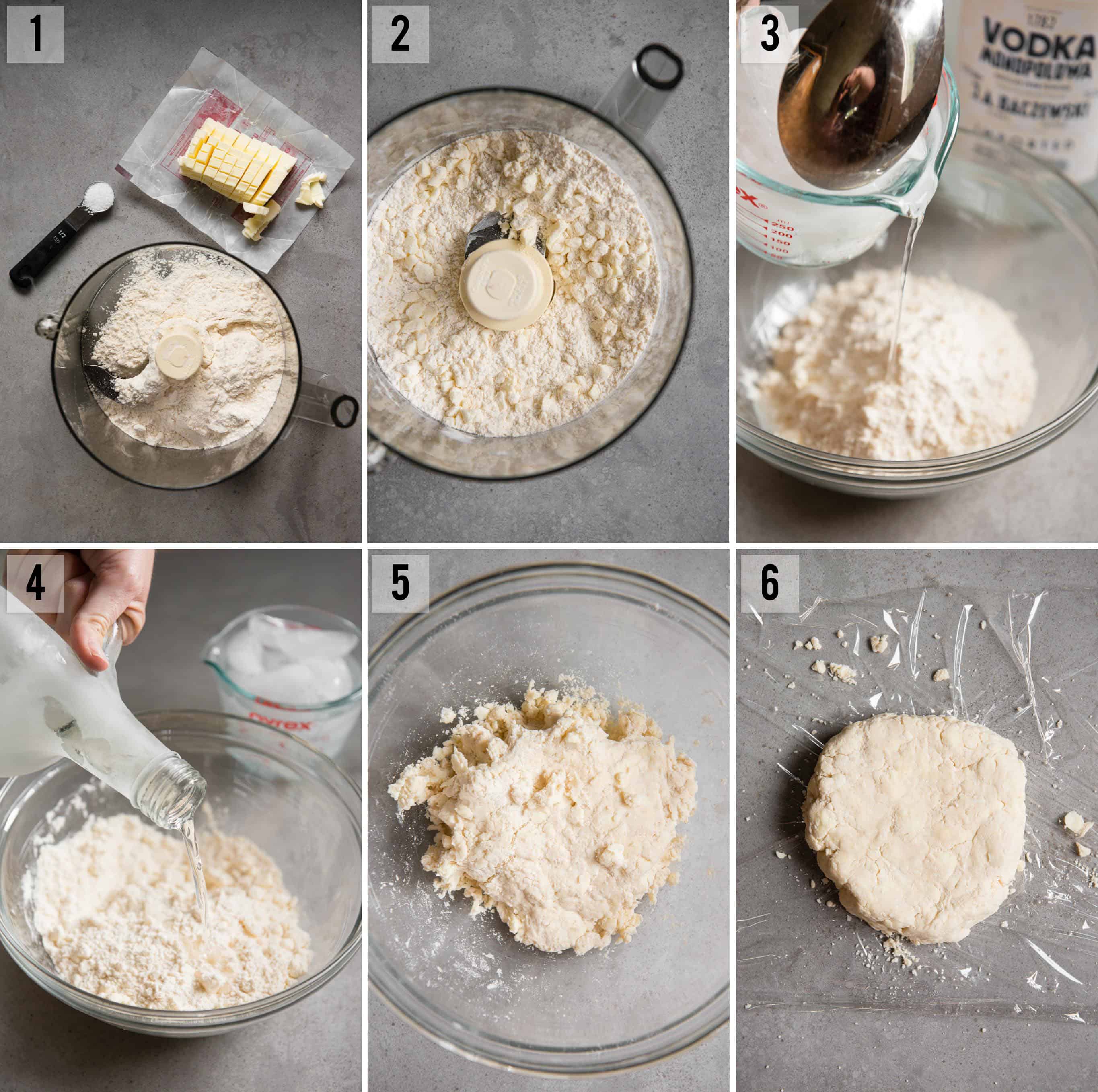 The quality of your crust largely depends on your technique.   Can you see any of those little globs of butter?  Much like homemade biscuits, you need those little globs of butter to create your layers.
How to roll it:
Although pie crusts made with Crisco or lard are much easier to work with, nothing compares to the taste of a pie crust made only with butter.
If you're wrapped pie crust was frozen, allow it to thaw for a day in the refrigerator. Once ready to use, remove wrapped dough disk (photo 1) and place on a floured surface (photo 2). I like to use a non-stick silicon Silpat Roul'Pat for easy of use and easy clean up, but you can use your counter top or even roll the dough between two pieces of wax or parchment paper.
When I roll out a pie crust, I usually go from the center out and will rotate the circle. I also like to use my hands to shape the outside to maintain the round edge. The trick is to work the dough the least amount possible, so be firm and deliberate with each roll (photo 3). I like this rolling pin because it's nice and heavy plus the handles are comfortable.
To transfer the dough to your pie dish, drape it over the rolling pin for transport and center it in the dish. Use your fingers to flute the edges (photos 4 and 5). If baking a pie that requires a top crust (photo 6) or a lattice, you'll need to double this recipe.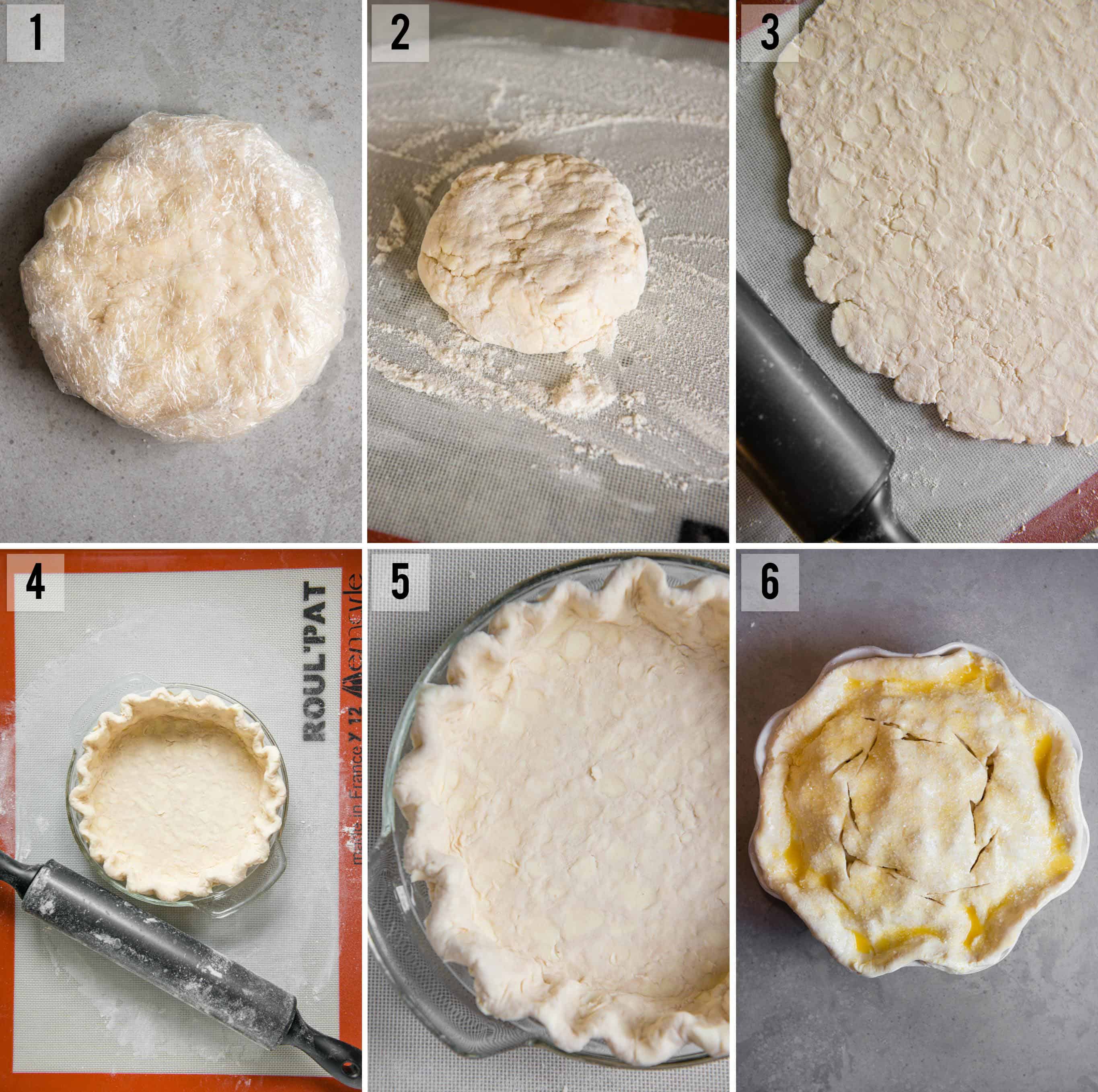 Pie crust baking tips: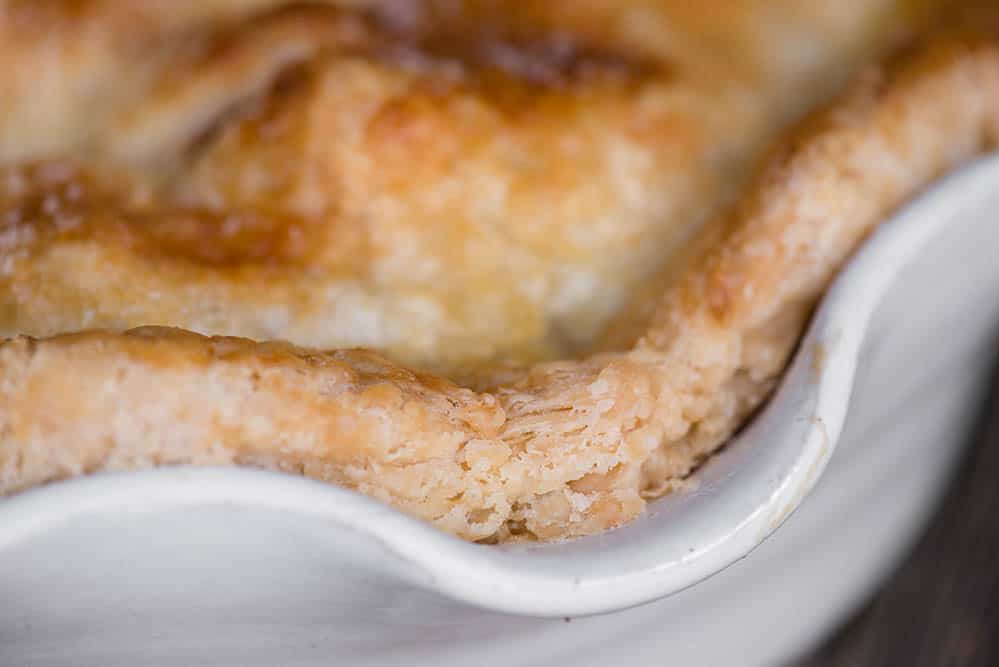 Favorite pie recipes that use this crust: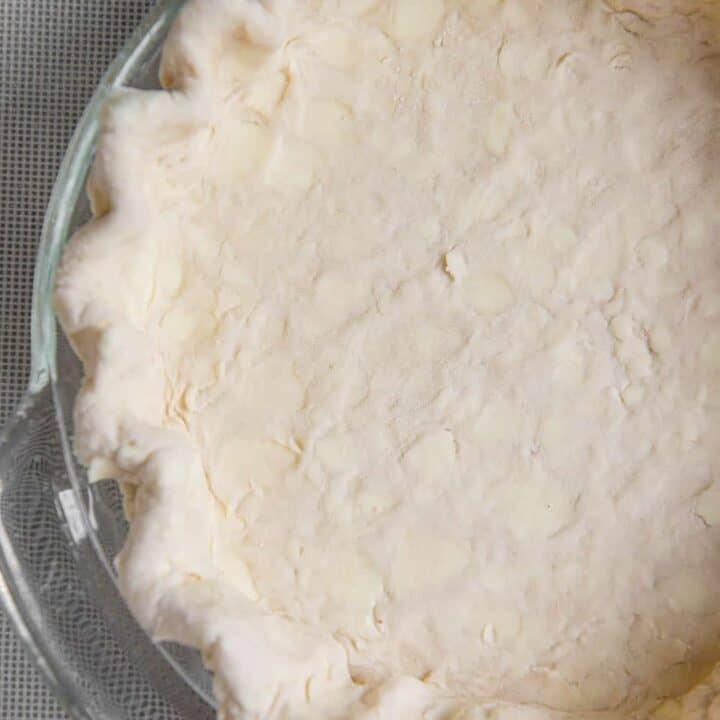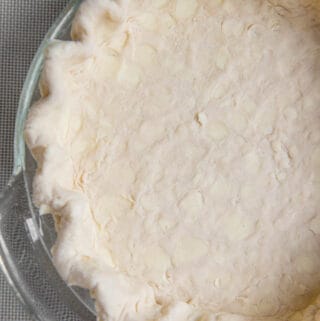 Butter Pie Crust
Flaky homemade all Butter Pie Crust is the best pie crust recipe you can make. Easy step by step instructions and a secret ingredient give perfect results! #piecrust #recipe #easy #withbutter
Print
Pin
Rate
Hover to scale:
8
servings
Ingredients
½

cup

unsalted butter

(chilled (see note))

1

cup

all purpose flour

(plus extra for rolling)

¼

teaspoon

kosher salt

2

tablespoons

vodka

(ice cold, more as needed)

2

tablespoons

water

(ice cold, more as needed)
Instructions
In large bowl, combine flour and salt.

Add entire cube of chilled butter. Use a pastry blender to cut in butter until mixture resembles course pea sized crumbs. Alternatively, pulse mixture in food processor until largest chunks of butter are about the size of a pea, then transfer to a large bowl.

Alternating approximately 1 tablespoon of extremely cold vodka and water at a time, add liquid to dough mixture and use hands to gently incorporate. Continue adding liquid, alternating small amounts of water and vodka, mixing with hands until dough can be formed into a disk. Avoid adding so much that the dough is wet. You want to add the least amount possible to get the dough to stick together. Take great care not to over work the dough.

Wrap pie crust dough disk tightly in plastic wrap and refrigerate for at least one hour.

To roll, remove disk from plastic wrap and place on a floured surface or in between two pieces of wax or parchment paper and use additional flour, as needed, to keep it from sticking to the surface or rolling pin. Roll into a large circle large enough for your pie dish.

To transfer dough to pie dish, drape over rolling pin and carefully move it into place.
Notes
Recipe makes one 9-inch pie crust
If making ahead, dough can be frozen as a wrapped disk for later use, or rolled out, wrapped in plastic, and frozen.
Avoid over rolling, as this can make your dough tough. Aim to get your dough rolled out using as little manipulation as possible.
For best results, ensure all ingredients (including butter and flour) are chilled.
To make the process easier, I like to cut the butter into small cubes before mixing.
This butter pie crust will drip butter in your oven while it bakes. Not only will that make a mess, but it will fill your oven with smoke. Be sure to always bake your pies on a baking sheet or a heavy duty piece of aluminum to avoid a smoky kitchen and messy oven.
Be sure to scroll up to see all of my step by step photos and more recipe tips & tricks.
NUTRITION INFORMATION
Calories:
159
kcal
|
Carbohydrates:
12
g
|
Protein:
2
g
|
Fat:
12
g
|
Saturated Fat:
7
g
|
Cholesterol:
31
mg
|
Sodium:
75
mg
|
Potassium:
17
mg
|
Fiber:
1
g
|
Sugar:
1
g
|
Vitamin A:
355
IU
|
Calcium:
6
mg
|
Iron:
1
mg
This post was originally written in June 2014 (one of my first recipes on the blog) and was updated in November of 2014 for your viewing pleasure.
Related recipes:
In addition to breakfast recipes like quiche and dinner recipes like Homemade Chicken Pot Pie, this delectable pie crust is best enjoyed in classics like these homemade pie recipes.