Fresh Strawberry Pie, with a chocolate layer dividing the incredible Oregon strawberries from the all-butter pie crust, is the absolute best summer dessert!
This is no regular strawberry pie. All the difference is in the quality of the strawberries, and they just don't get any better than Oregon grown, ruby red all the way through, sweet and juicy strawberries!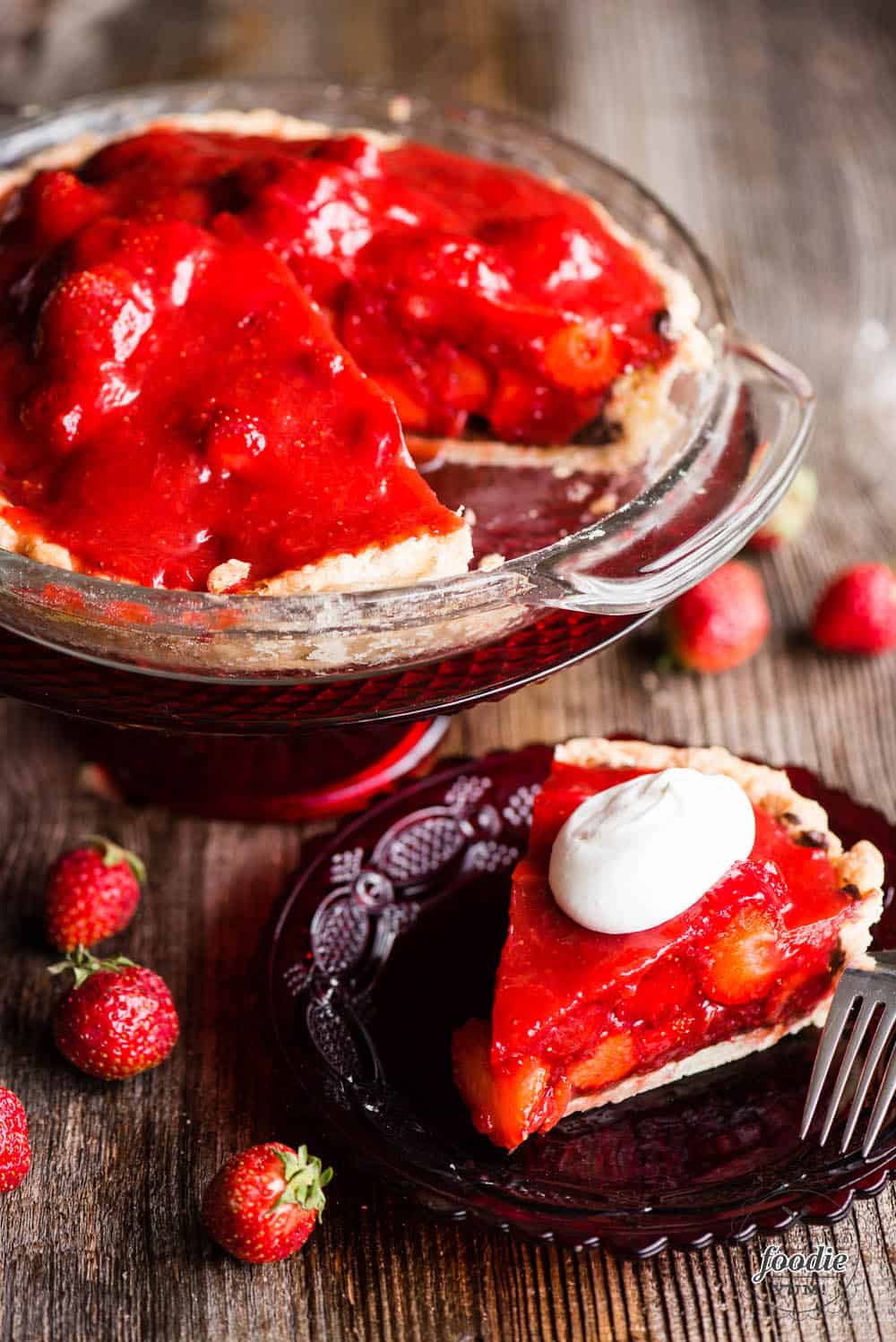 This post was created on behalf of the Oregon Strawberry Commission (OSC), the official organization representing the farmers and growers of Oregon's bounty of strawberries. #OregonStrawberries
Can you even imagine how delicious this Fresh Oregon Strawberry Pie tastes?
Oregon strawberries are the best.
The crown jewels of Oregon summer are the ripe, luscious strawberries that fill our farmer's markets and grocery stores through the warmest months!
Fresh strawberry season is officially here! There are many different varieties of Oregon strawberries to ensure ripe, fresh strawberries from May to September. Varieties include Hood, Shuksan, Totem, Tillamook, Marys Peak, Charm, Sweet Sunrise, Puget Crimson, Albion, Seascape. If you're an Oregon strawberry lover like I am, tell me which varieties you've tried!
Did you know:
Oregon strawberries are grown on family farms and picked at the peak of ripeness. They are widely known for exceptional taste, and deep red color throughout.
The qualities that make Oregon

strawberries

so wonderful to eat also make them difficult to ship long distances when fresh.
More than 90% of Oregon

strawberries

are frozen with 24 hours of being picked, to lock in maximum taste, color, and nutrition which means it's really

Oregon

strawberry season 365 days a year!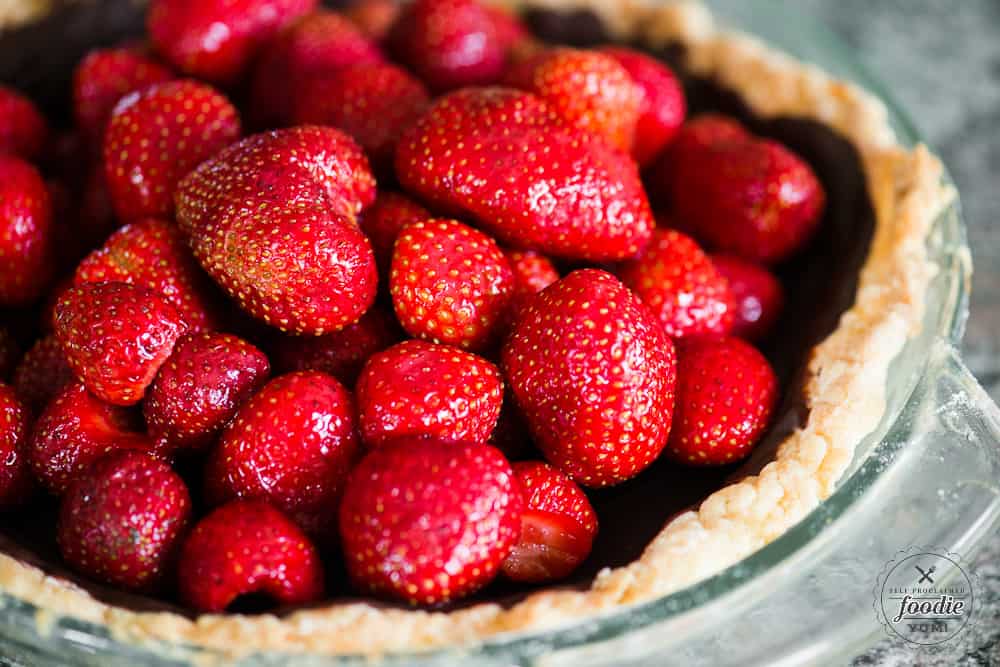 How do you make fresh strawberry pie?
Making this fresh strawberry pie recipe takes a few steps, but overall the process is really easy and absolutely worth it.
The first step is to make a pie crust. You can certainly buy pre-made pie dough, but I'm a firm believer that homemade and old fashioned is always best. The pie crust is baked by itself.
The next step is to create the chocolate layer. I set my chocolate chips on the hot crust as soon as it was done baking and they melted perfectly. The chocolate layer is necessary because it creates a barrier between the juicy strawberries and the crust, thus keeping the crust from getting soggy. Besides, who doesn't love chocolate covered strawberries?
Final step is to add tons of fresh strawberries to the crust and then cover with your homemade strawberry glaze. Just an hour in the refrigerator and it's ready for slicing!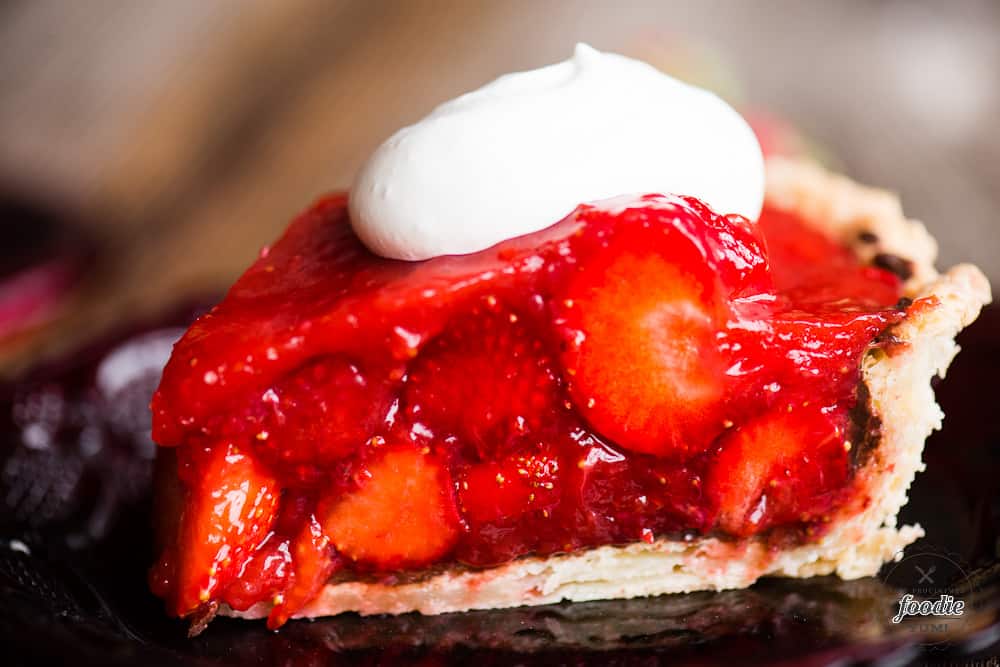 How do you make a strawberry glaze?
I did not want to make a strawberry pie with jello. If you're wondering how to make a no-gelatin strawberry pie, the answer lies in the combination of super juicy fresh Oregon strawberries, sugar, and cornstarch.
When you mash up those gorgeous strawberries and cook them over high heat with the sugar and corn starch, they thicken within minutes. Then, as the strawberry glaze cools, it starts to set. When the glaze has been refrigerated, it will set firm enough to hold all of those fresh strawberries together perfectly making cutting perfectly shaped slices a dream!
Can a strawberry pie be frozen?
I would not recommend freezing my fresh strawberry pie recipe. It is just too delicious fresh and I highly recommend eating it right away.
It does, however, keep well in the refrigerator for a day or two.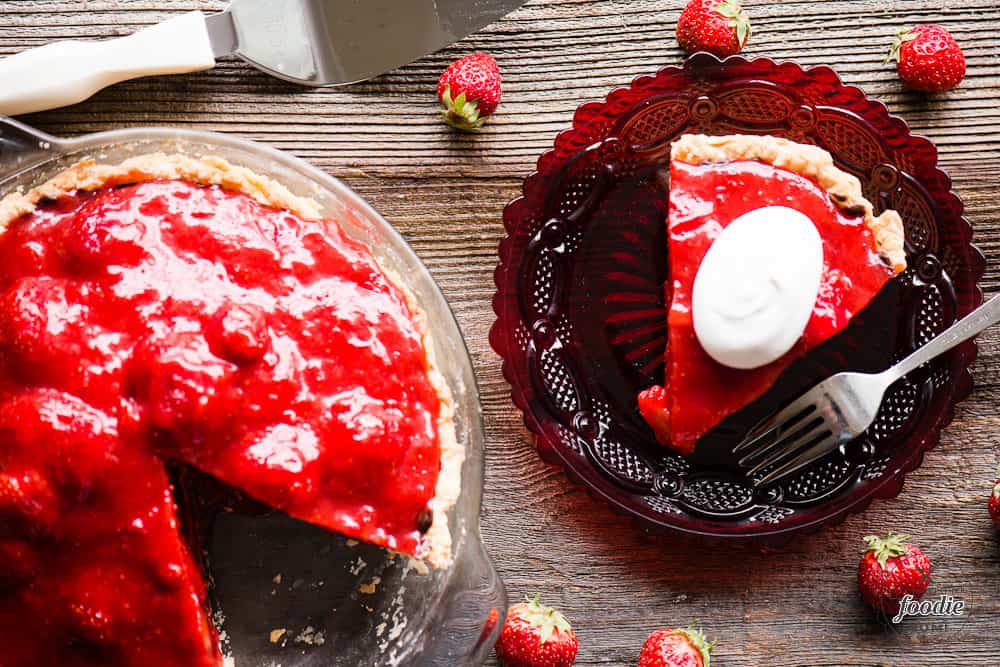 Hands down, this is the best Fresh Strawberry Pie recipe you will ever find. If you love making homemade pies with summer fruit, be sure to check out my recipes for Fresh Blueberry Pie, Cherry Pie, and Strawberry Rhubarb Pie.
Love Strawberry Dessert Recipes?
You will have to try these favorites: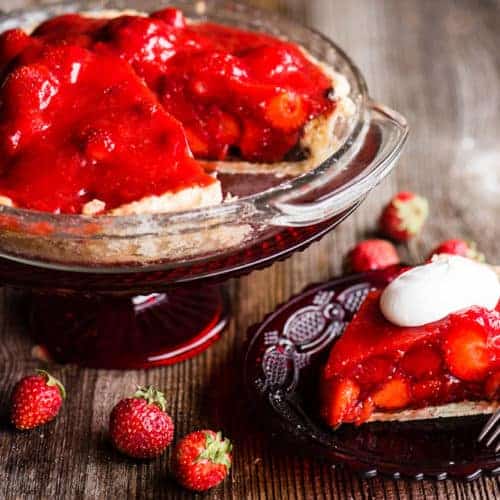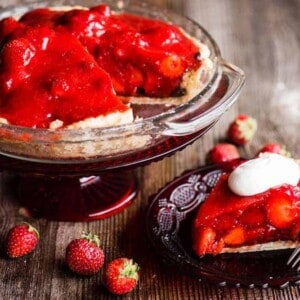 Fresh Strawberry Pie, with a chocolate layer dividing the incredible Oregon strawberries from the all-butter pie crust, is the absolute best summer dessert!


Ingredients
crust:
1

cup

all purpose flour

plus more for rolling

1/2

cup

unsalted butter

1 stick, cold

1/2

tsp

salt

chilled water

4

oz

semi-sweet chocolate
whipped cream:
1

cup

heavy whipping cream
Instructions
To make the butter pie crust, use a pastry blender to cut the butter into the flour and salt until all of the butter is pea sized or smaller. Adding one tablespoon at a time of the cold water, work the dough together just until it sticks together. Take care not to over mix or over work the dough. Shape into a dish and tightly wrap with plastic wrap. Refrigerate at least and hour.

Roll dough out on a heavily floured surface until it is of even thickness and can fit into a 9 inch pie dish. Poke holes in dough across entire surface of dough to allow steam to escape. Cover with parchment paper and weigh down paper with pie weights or dry beans. Bake crust in 375 F degree oven for 20 minutes, then remove the weights and paper and continue cooking for another 10-20 minutes until the crust is golden brown.

When crust is done cooking, turn off oven, add chocolate chips, and allow crust to sit in hot oven for a few minutes to allow chocolate to melt. Once melted, use a pastry brush to evenly spread the chocolate across the bottom and up the sides of the crust. Refrigerate to set.

Mash 2 cups of the strawberries and add water. In a separate dish, combine sugar and cornstarch in a small bowl. Combine both the mashed strawberries with water with the sugar and cornstarch mixture in a medium saucepan. Place saucepan over medium-high heat and bring to a boil, stirring constantly. Allow to boil while stirring for 2-3 minutes until thickened, stirring constantly. I find a wooden spoon with a flat end works best. Remove from heat and stir in butter. Allow to cool enough that you can touch it without getting burnt and pour over strawberries in pastry shell.


Arrange 4 cups strawberries in baked pastry shell. Pour warm filling over strawberries, spreading as needed to cover entire surface.

Chill for at least 1 hour before serving.


In a small bowl, whip cream and powdered sugar until soft peaks form. Serve each slice of pie with a dollop of whipped cream.
Nutrition
Calories:
318
kcal
,
Carbohydrates:
33
g
,
Protein:
2
g
,
Fat:
19
g
,
Saturated Fat:
12
g
,
Cholesterol:
50
mg
,
Sodium:
116
mg
,
Potassium:
189
mg
,
Fiber:
2
g
,
Sugar:
20
g
,
Vitamin A:
570
IU
,
Vitamin C:
42.5
mg
,
Calcium:
34
mg
,
Iron:
1.4
mg
Nutrition information is automatically calculated, so should only be used as an approximation.