Blueberry Pie, made with a mountain of fresh flavorful blueberries and the absolute best butter pie crust you'll ever taste, is a classic dessert!
One of the easiest homemade fruit pies you'll ever make will quickly become your favorite. I am a lover of pie, and this was the best pie I've ever made!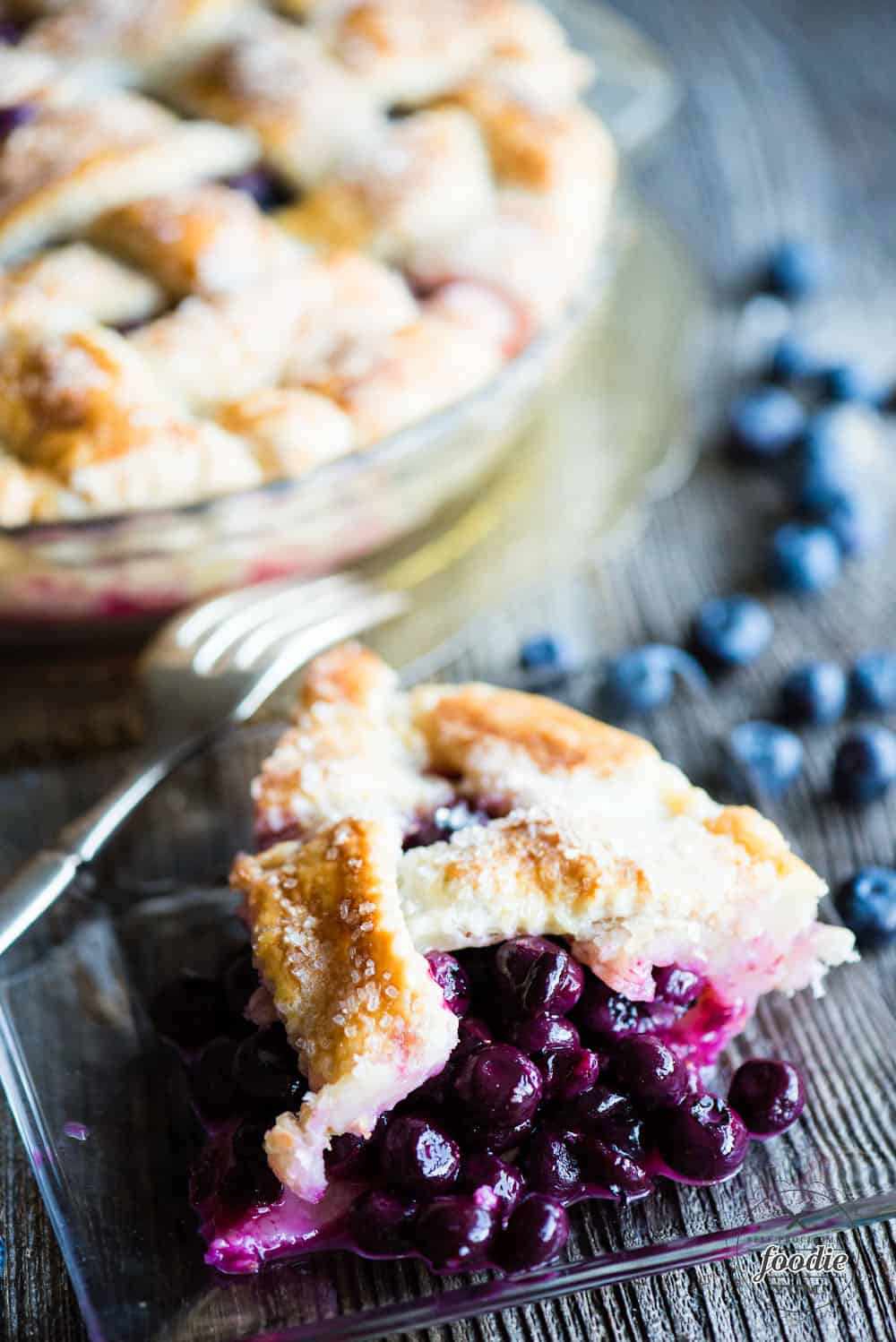 She told me she won the fair pie contest with it and now I see why! Each and every blueberry came directly from my yard, which made it even more special!
Blueberry pie is so easy to make!
Think about all the summer fruit pies you've ever made. Strawberry pie, Cherry Pie, Strawberry Rhubarb Pie – you name it. What do all of those fruit pies have in common with each other but not this blueberry pie? Simple. With all of those other fruit pies, the fruit requires some degree of peeling, pitting, or slicing.
It doesn't get any easier than a fresh blueberry pie.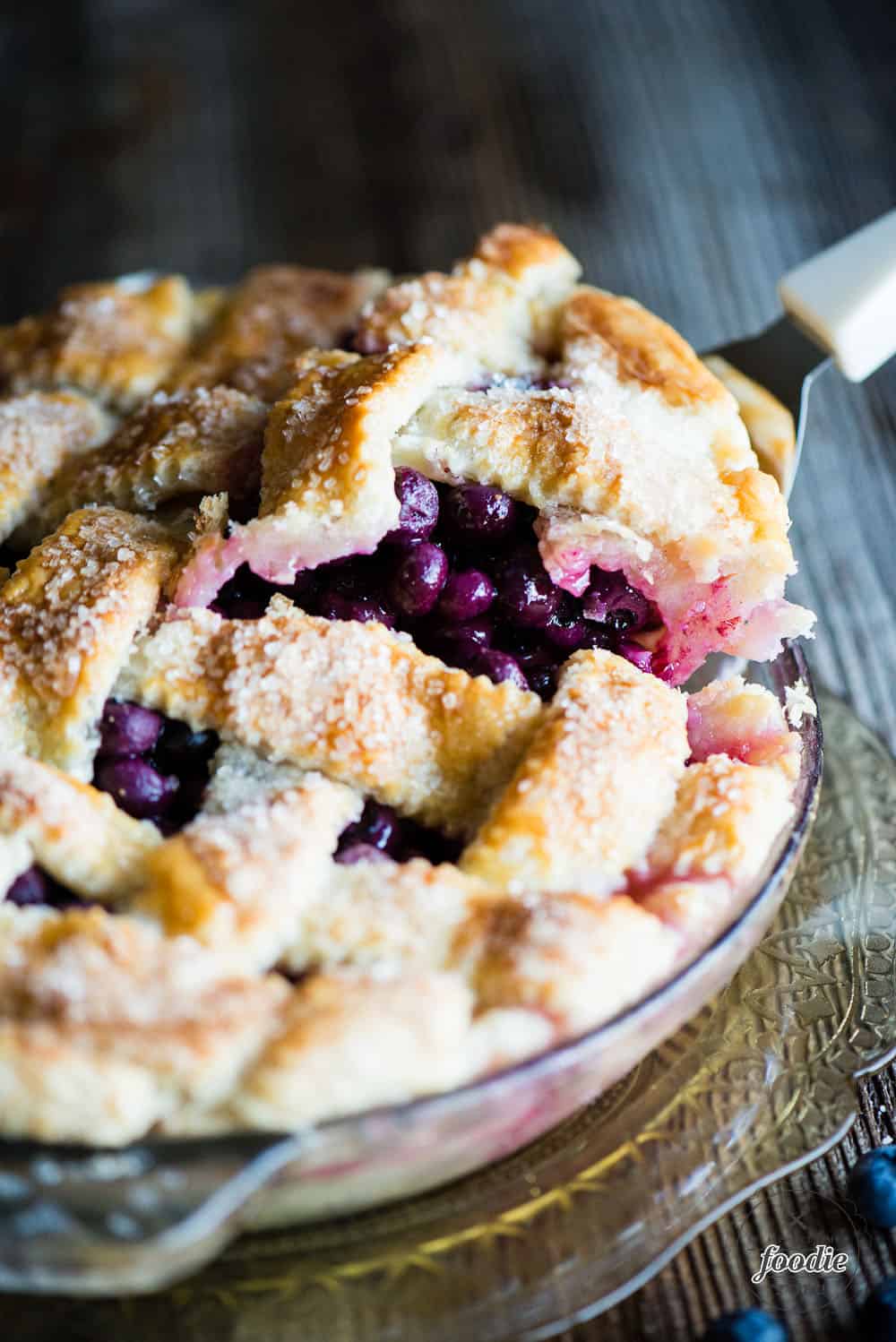 Why this is the best blueberry pie filling:
If you search blueberry pie recipe, you're going to find a lot to choose from. My goal is to try and convince you that this is the best blueberry pie recipe out there. I will admit that it is equally due to both the filling and the crust, but I'll start by talking about the filling.
Fresh blueberries are best. I suppose you can use frozen, but if you do that, you'll either have to cook frozen berries which will increase your cooking time and over cook your crust. Or, you can thaw the frozen berries but then they'll be sitting in a pool of juice. Fresh berries are so forgiving.
I was fortunate enough to have producing blueberry bushes that gave me more blueberries than I know what to do with. Fresh blueberries aren't cheap, especially when they're out of season, so I highly recommend making this as a summer pie only. If you've got the freezer space, go ahead and prepare the entire pie on a metal pie dish and freeze it raw. Can you imagine a better treat in the middle of the winter?
If you're looking for a blueberry pie filling without cornstarch, this is your recipe. What? No cornstarch? How?
To make the filling, simply give the fresh blueberries a rinse (or not, no judgement here), toss with some sugar, lemon juice, vanilla, and tapioca flour. If you don't have tapioca flour and don't care about using corn starch or flour, you can use either of those to save you a trip to the store. Then dump it in the shell!
The most amazing pie crust!
Jennifer, the lovely lady who gave me this recipe, basically changed my life. She gave me a pie crust tip that I had never heard of, but the results were so amazing that I shall never deviate from this new process again.
This pie crust was seriously better than any pie crust I've ever had. We're talking better than the Flying Star pie crust in Albuquerque. Better than any pie crust my mom has ever made. Sorry, mom. Yours was the best up until this moment.
Want to know what the secret ingredient was? Vodka!
Jennifer told me to add equal parts vodka and water instead of just using water. Now, I've heard of using apple cider vinegar, which I've tried and wasn't really impressed, but vodka? This was new to me!
The cooked crust was so flaky. So delicious. It far exceeded any pie crust expectations I've ever had!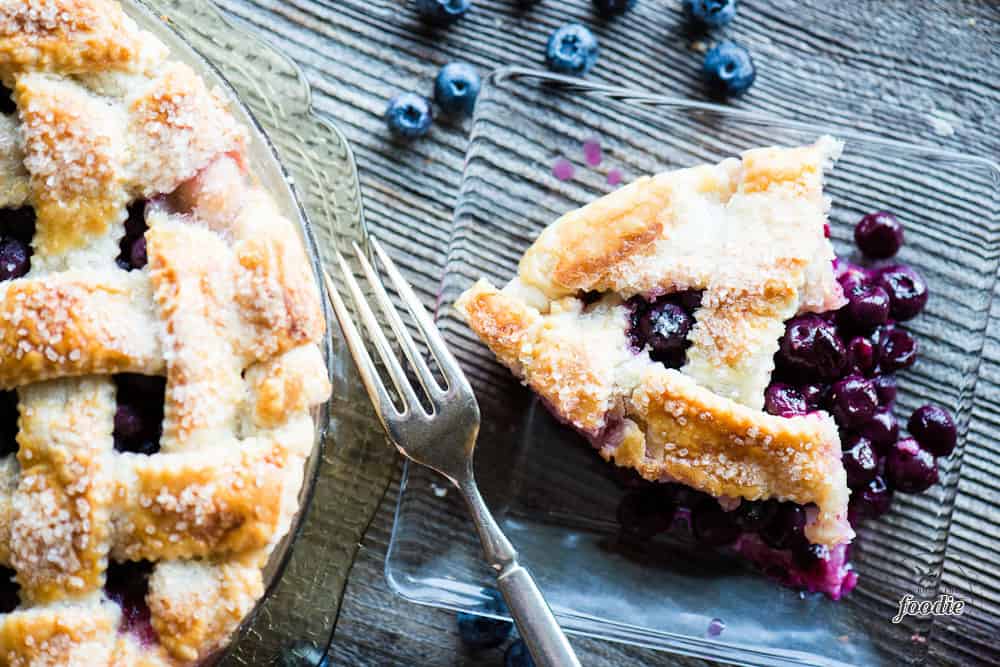 Summer fruit pies
If you love traditional homemade pies made with the best fruits summer has to offer, be sure to check out these favorite recipes.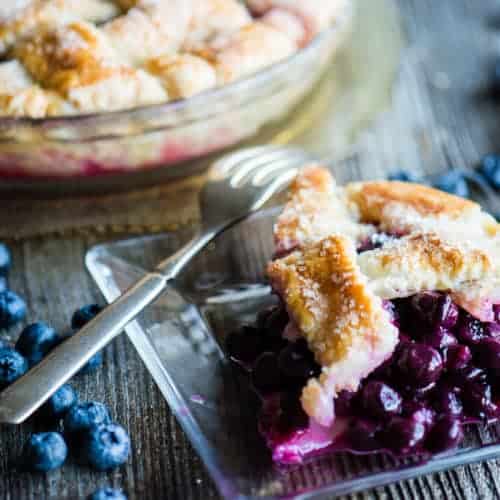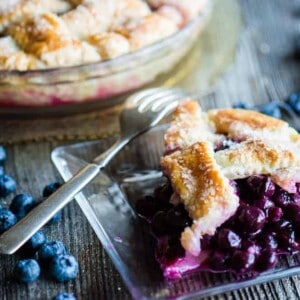 Blueberry Pie, made with a mountain of fresh flavorful blueberries and the absolute best butter pie crust you'll ever taste, is a classic dessert!

Ingredients
pie crusts:
2

cups

all-purpose flour

plus more for rolling

1

cup

unsalted butter

2 cubes, chilled

1

tsp

kosher salt

4

tbsp

vodka

chilled, more may be needed

4

tbsp

water

ice cold, more may be needed
on top of pie:
1

egg

slightly beaten

1

tbsp

decoraters sugar
Instructions
to make the crusts:
You will be making two whole 9-inch pie crusts, one at a time. Make sure all of your ingredients are chilled for the best results. Combine 1 cup flour with 1/2 cup (1 cube) and 1/2 teaspoon kosher salt using a pastry blender. Cut through the butter until you end up with pieces about the size of a pea, or smaller. Adding one tablespoon at a time of each, add vodka and water. Use your hands to toss the pastry dough. Continue adding more liquid just until the mixture can hold its shape when pressed together. Shape into a disk, wrap tightly in plastic wrap, and refrigerate for at least an hour. Repeat with second pie crust so that you have two.
to make the filling:
Combine all of the filling ingredients in a large bowl. Use a masher to gently mash the mixture to break open only a few of the blueberries. You want most of them whole, but a few of the broken ones will really release their juice.
to assemble the pie:
Roll out the first pie crust on a floured surface and transfer to a 9-inch pie dish. Add blueberry filling.

Roll out second pie crust and cut into 1-inch thick strips. Add alternating strips to the top of the pie leaving a 1-inch gap in between strips. Rotate the pie 90 degrees, and weave remaining strips in an alternating pattern to create a basket weave. Cut any excess crust away and crimp edges together.

Cover top of pie with egg wash, discarding any excess egg that doesn't cover surface of pie. Sprinkle decorator's sugar on top of the egg wash while it is still wet.

Preheat oven to 400 degrees F. Cover the edge of the crust with a pie ring or foil to keep it from overly browning. You may want to place a baking sheet on the bottom rack to catch any butter that drips. Bake in preheated oven for 15 minutes. Without opening the oven, reduce cooking temperature to 350 degrees F and continue cooking for an additional 40 minutes or until the crust is a golden brown. Be sure to remove pie ring or foil during the last 10 minutes of cooking time.

Allow pie to fully cool before slicing. There will be a lot of juice in the pie pan (which is how I prefer it). SEE NOTE.
Notes
There will be a lot of juice in the pie dish after cooking. If you prefer a thicker filling, you may replace the lemon juice with lemon zest, avoid crushing the berries, and increase the amount of tapioca flour to 1/2 cup.
Serving size is based on 1 slice if the pie is sliced into 12 slices.
Nutrition
Calories:
342
kcal
,
Carbohydrates:
44
g
,
Protein:
3
g
,
Fat:
16
g
,
Saturated Fat:
9
g
,
Cholesterol:
54
mg
,
Sodium:
202
mg
,
Potassium:
79
mg
,
Fiber:
2
g
,
Sugar:
24
g
,
Vitamin A:
525
IU
,
Vitamin C:
6.9
mg
,
Calcium:
13
mg
,
Iron:
1.2
mg
Nutrition information is automatically calculated, so should only be used as an approximation.