Lemon Meringue Pie is made with a flaky all-butter crust, a creamy and tart lemon filling, and a light meringue topping.
It is a fantastic citrus dessert that is a real treat because it is a three-step recipe that takes time, care, and technique. The result is a mouth watering pie that looks and tastes amazing!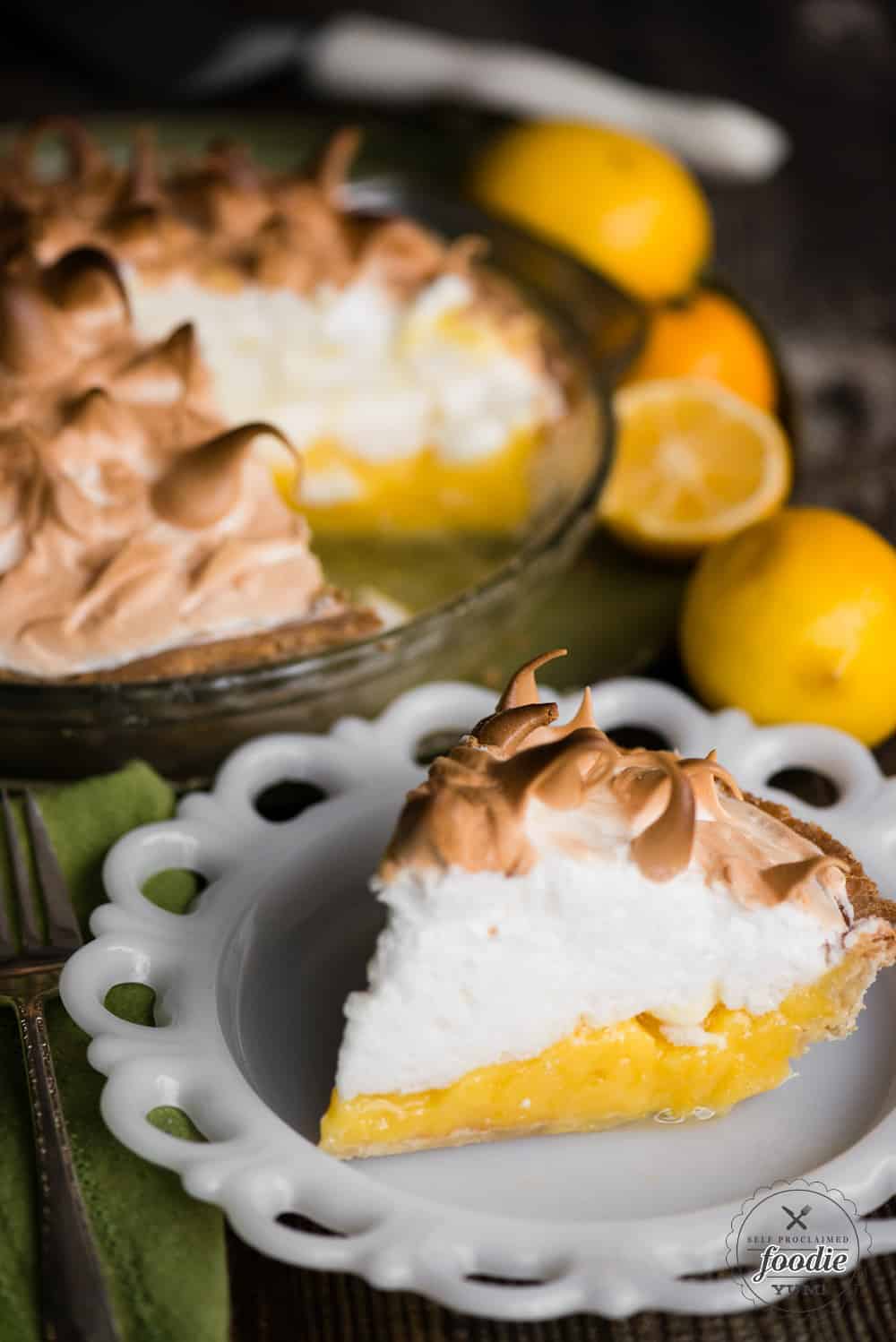 Why this recipe works:
Lemon meringue pie is a favorite dessert around here. It has everything a citrus dessert should have. The lemon filling I made is perfectly tart, in my opinion, but my husband thought it was a bit much. For me, I want my lemon desserts to be sour enough to make me salivate, but sweet enough to need another bite!
This recipe is a labor of love. You can always lessen the amount of work by buying a pre-made pie crust, but for me there's nothing better than a homemade all-butter pie crust.
The lemon filling takes time because you have to juice and zest the lemons, then mix the ingredients, then gently cook so they thicken. The meringue requires care to perfectly mix it so that soft, pillowy peaks can be formed.
All said and done, this recipe is really not that difficult to make. You just need to know what to look out for. There are definitely a few steps you should and shouldn't take while making a homemade lemon meringue pie.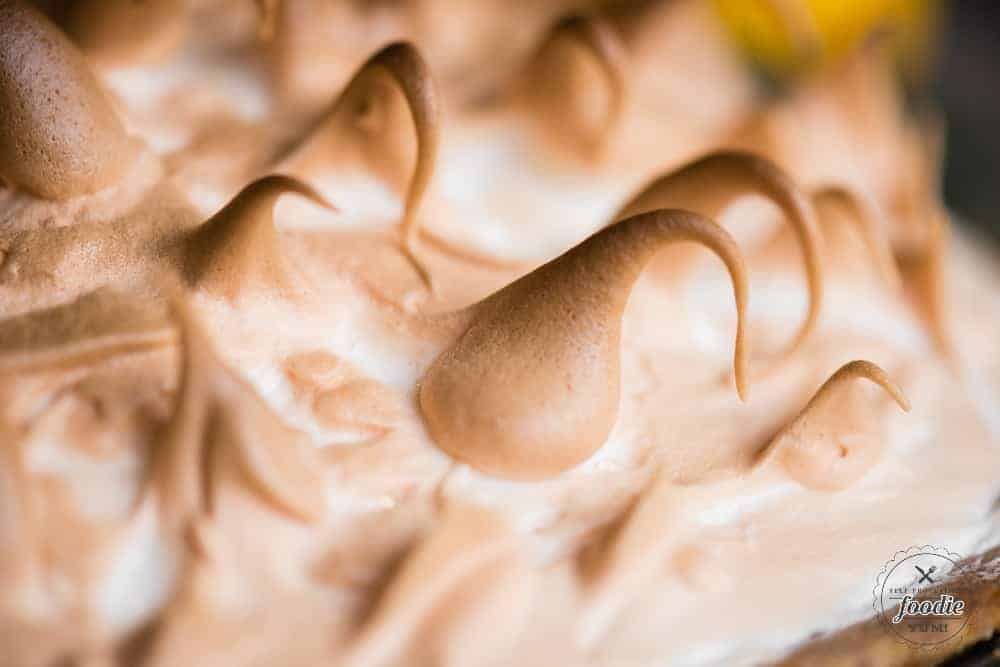 Do you bake a lemon meringue pie?
Yes, but the process might be different than what you might guess. Lemon meringue pie requires a pre-baked pie crust. This can happen by purchasing a pre-baked shell at the store. Albeit, this is definitely the easiest option, it's not the tastiest. The next option would be to purchase a pre-made pie crust at the store and to bake it yourself.
The final option would be to make a crust from scratch and then to bake it. I chose to make my all-butter pie crust. The only issue was that all-butter pie crusts shrink when they bake, so I chose to bake it upside down in hopes that my crust still looked like it could hold pie filling (not a disc) once baked.
After you cook the lemon filling and whip up the meringue topping, you will bake the entire pie. This step is required to give the meringue that tasty and gorgeous golden brown layer. The heat from the oven, along with the heat from the hot lemon filling, is what cooks the topping.
What does it taste like?
Heaven. It tastes like pure heaven.
Oh, you want more detail?
Well, if you've never enjoyed lemon meringue pie, allow me to explain. Each and every bite has three different textures and three different tastes. The crust provides something for you to chew on as well as a rich, buttery pastry flavor.
The lemon filling is smooth and creamy. It packs a real punch with the tart lemon flavor but has enough sugar to leave a sweet taste resonating in your mouth.
The meringue topping is light and fluffy. It melts in your mouth. The sweetness of the meringue balances out the sour from the lemon. And the part of the topping that turned golden brown tastes like a toasted marshmallow.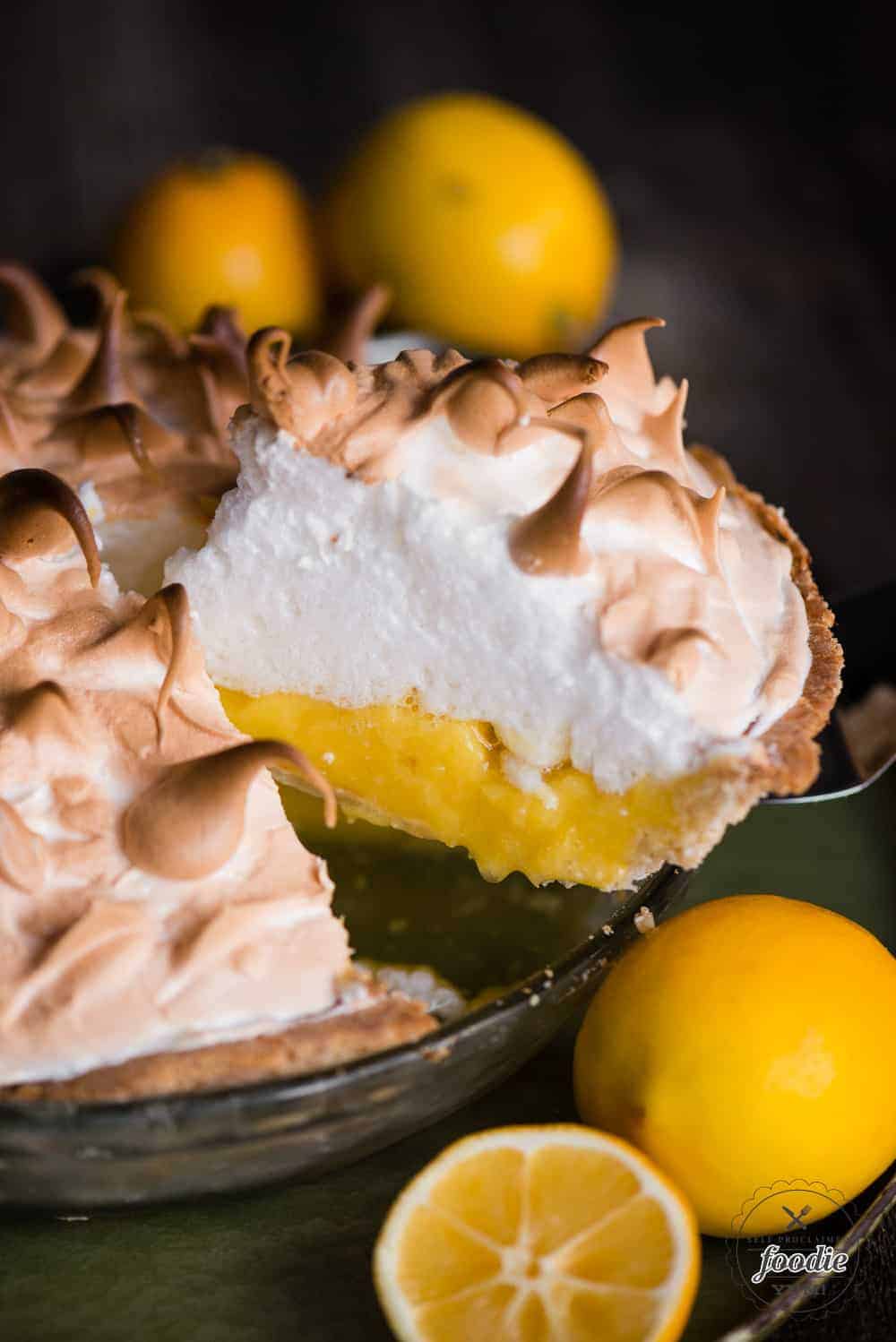 How do you keep meringue from weeping?
Why is there water in my lemon meringue pie?
I did tell you this was my first time making lemon meringue pie, right? Along with that comes some learning.
Weeping is when a meringue releases droplets of liquid, giving the meringue the appearance of having tears or raindrops all over it – hence the name. Water seeping from meringue is practically always coming from the egg whites.
Also, once the pie is in a humid environment, such as the refrigerator (or your kitchen, if you live somewhere it is very humid), it may begin to weep anyway. This was my mistake, as I refrigerated it before I took the photos. A bit of liquid pooled at the bottom.
How to avoid having your meringue weep:
Do not over beat the egg whites. If you do, it can easily lead to self-destructing foam which is when the proteins continue tightening after the beating, squeezing the water out and creating large, easily-collapsed bubbles. Using cream of tartar helps to create a more stable meringue without too much beating.
Do not over bake your meringue. Overbaking causes the egg whites to shrink and squeeze out small droplets of moisture. Always make sure to check on your pie at the minimum baking time and remove it from the oven as soon as it starts to turn golden brown.
Undissolved sugar in the egg whites can also cause weeping. To make sure the sugar gets dissolved, mix the egg whites and sugar at a low speed until the mixture feels perfectly smooth with no graininess when you rub a little between your thumb and fingers. Using superfine sugar is a great option as it dissolves much more quickly than regular white sugar.
Be sure to prepare the meringue before preparing the pie filling so it's ready to spread while the filling is still hot. The heat from the filling will help cook the meringue onto the filling and make it much less likely to leak or shrink. Make sure to seal the meringue completely to the edge of the pie so it touches the crust.
Most importantly, know that humidity will cause weeping. Avoid making meringue on humid days. Also, storing your pie in the refrigerator will introduce extra humidity. Make meringue pie on dry, low-humidity days.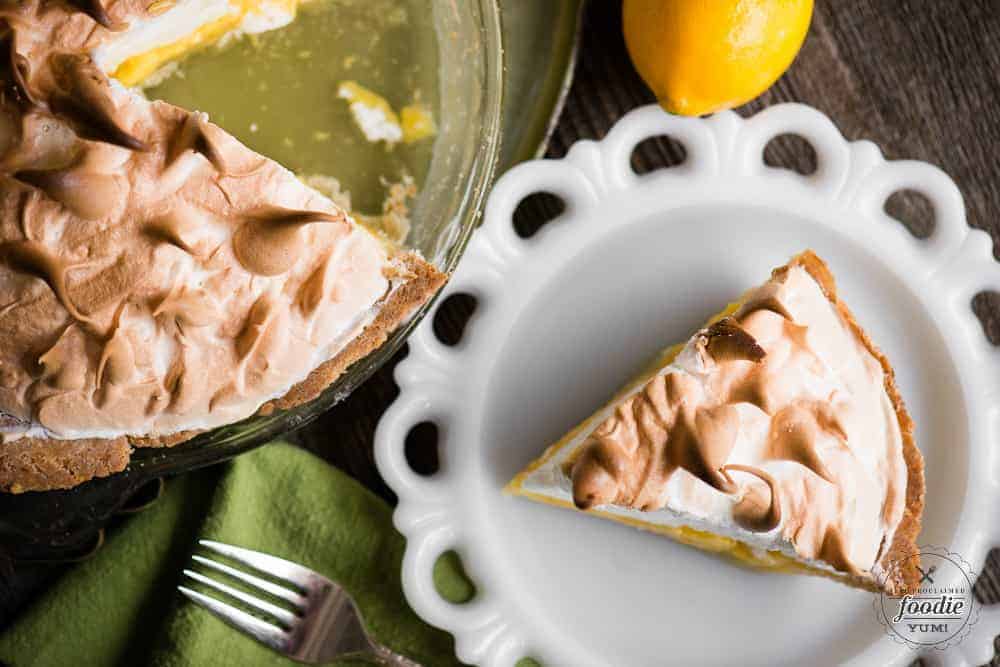 How long can you leave it out?
Lemon meringue pie is best when served as soon as it cools. Ideally, you will make your pie in the morning and allow enough time for it to cool before everyone devours it. Your goal is to have the entire pie eaten so that you don't have to worry about leftovers.
Do you put lemon meringue in the refrigerator?
Like I mentioned above, refrigeration causes weeping. If the entire pie isn't eaten on the day you make it, you should refrigerate it to keep it fresh. It will last a good 2 or 3 days if refrigerated, however moisture will accumulate. Also, the texture of the meringue will go from light and fluffy to slightly rubbery.
Can you freeze it?
Nope. Sorry. Do not freeze lemon meringue pie. Beaten egg whites that are frozen do not thaw well. This just isn't a make ahead kind of dessert.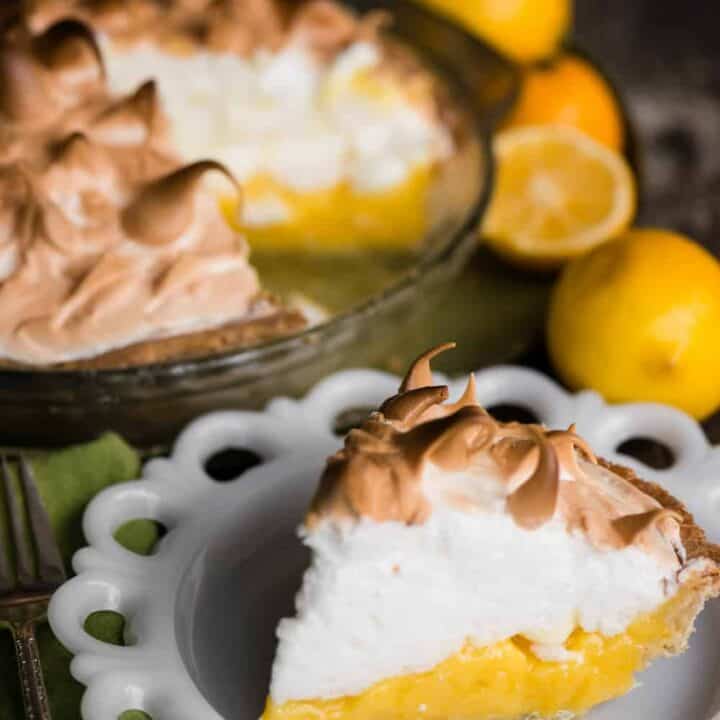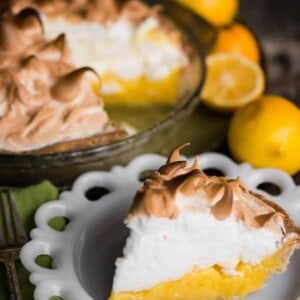 Lemon Meringue Pie is made with a flaky all-butter crust, a creamy and tart lemon filling, and a light meringue topping.


Instructions
Start by pre-baking the pie crust. If you use an all butter pie crust recipe, it will shrink as it cooks. To minimize shrinking, cook crust upside down. Set in pie dish and set another pie dish on top. Invert onto a baking sheet lined with parchment paper. Bake in 375 degree preheated oven for 20 minutes. Remove from oven, turn pie dish right side up, remove top pie dish, poke crust several times with fork, and continue cooking for 15-20 minutes. Remove from oven.

Reduce oven temperature to 350 degrees F.

Meanwhile, make the lemon filling.

Using a stand mixer, cream the butter until smooth and fluffy. Beat in the sugar and lemon zest and blend until smooth, scraping sides down half way through.

On low speed, add the egg yolks one at a time. Then add the lemon juice and corn starch. Mix until combined.

Add about 1/2 inch of water to a pan and set a non-reactive metal bowl on top. You want a double boiler set up so that the steam from the water cooks the lemon curd; not direct heat.

Add the lemon mixture to the bowl and heat the water so that it boils, whisking the lemon mixture the entire time. Be sure to use an instant read thermometer. The curd should thicken around 170 degrees F, after about 10 minutes of cooking and whisking. Pour filling onto cooked pie crust.

To make the meringue topping, whisk egg whites on medium high speed until foamy. Whisk in cream of tarter. Gradually add sugar while mixer is running, and continue to whip until soft, or semi-stiff, peaks form. Do not over beat or they will break. Spread meringue topping over hot pie filling and be sure to create a seal all the way around the crust, otherwise it will pull away when you bake it. You can spread the topping evenly, or you can make it more decorative by swirling in peaks and valleys.

Bake pie in 350 degrees F preheated oven until golden brown, 10-12 minutes.

Allow pie to cool at room temperature. Best if served that day. Pie can be stored in refrigerator 2-3 days, however the meringue may begin to weep causing moisture to accumulate.
Nutrition
Calories:
310
kcal
,
Carbohydrates:
43
g
,
Protein:
4
g
,
Fat:
15
g
,
Saturated Fat:
8
g
,
Cholesterol:
153
mg
,
Sodium:
139
mg
,
Potassium:
66
mg
,
Fiber:
1
g
,
Sugar:
38
g
,
Vitamin A:
517
IU
,
Vitamin C:
12
mg
,
Calcium:
24
mg
,
Iron:
1
mg
Nutrition information is automatically calculated, so should only be used as an approximation.