Lemon cupcakes, made from scratch, are perfectly moist and sweet.
Made with both lemon juice and lemon zest, the light and fresh citrus flavor shines through. The trick to perfect homemade cupcakes is in how you mix the batter. Topping these lemon cupcakes with mascarpone frosting or cream cheese frosting is downright heavenly!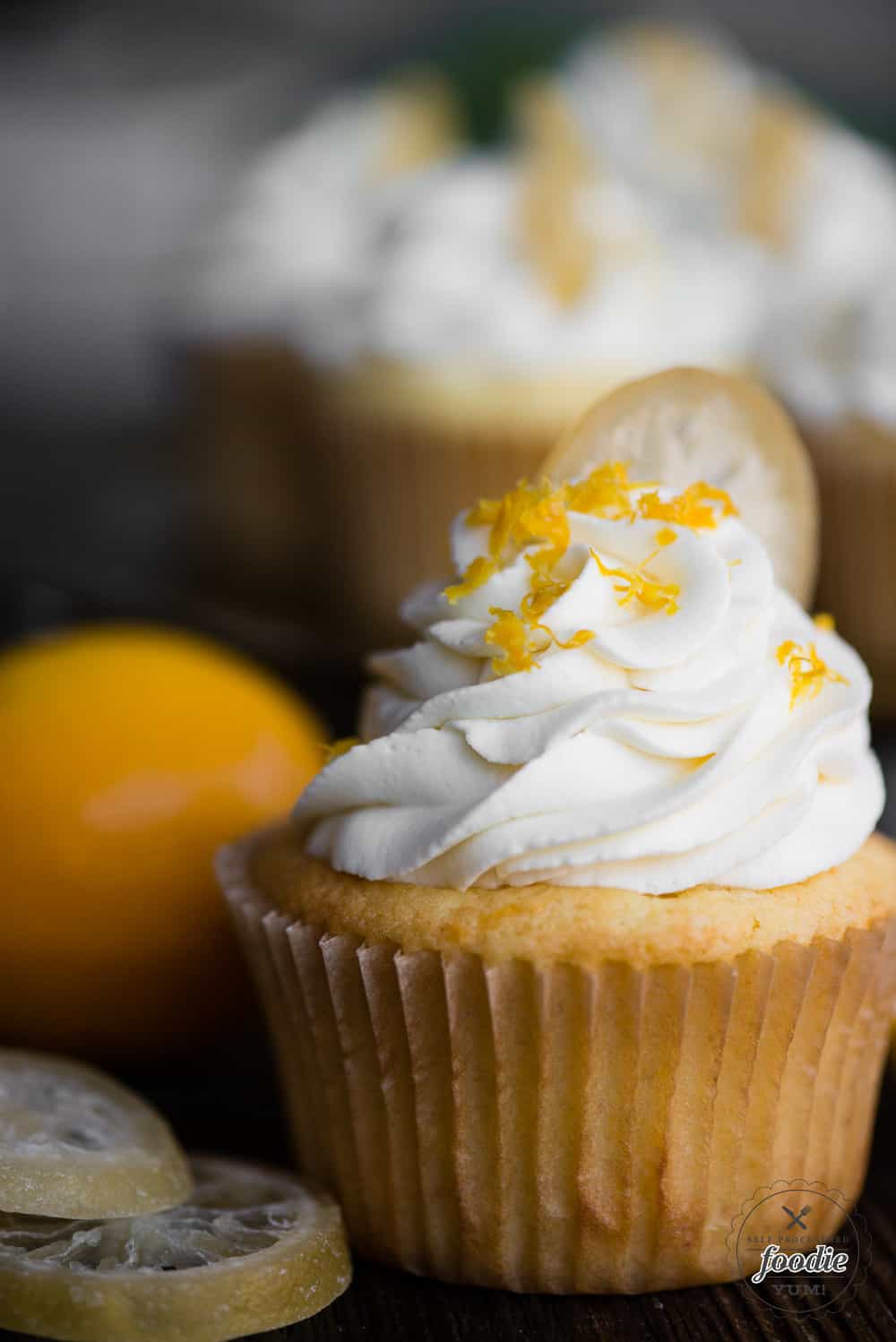 HOMEMADE LEMON CUPCAKES
Pin it to your DESSERT BOARD to SAVE it for later!
Follow Self Proclaimed Foodie on Pinterest for more great recipes!
Lemon Cupcakes are moist and fluffy. They are heavenly. Homemade lemon cupcakes are in my dreams. They're what I crave.
I might sound a bit overboard right now, but I swear these lemon cupcakes with the mascarpone frosting were my absolute favorite!
Wanna know how good these are?
My friend, Jen, was over at my house helping me bake these luscious citrus cupcakes. She doesn't eat dairy or gluten because it doesn't play nice with her body. These lemon cupcakes, with the mountain of velvety frosting, are loaded with both dairy and gluten. She ate two. Two!
Allow me to describe how wonderful these cupcakes were. The cake was incredibly soft, yet firm enough that it didn't fall apart. The teeny specs of lemon zest allowed the vibrant citrus flavor to burst in every bite. The smooth and light frosting was the perfect compliment to the cupcake. Paired together, the result was a not overly sweet, creamy dessert that would satisfy any sweet tooth.
I wish I had gotten photos of my husband and kids when they sunk their teeth into them. In fact, I wish I had one right now.
Lemon cupcake ingredients:
There are two parts to every recipe – the ingredients and the directions. Both are equally important when making any recipe.
For a recipe to work, you have to have the proper ingredient measurements. It also makes a difference when you use high quality, fresh ingredients. I used Sally's Baking Addiction as inspiration for these cupcakes. She is the cupcake queen and has so many amazing varieties and baking tips.
eggs – always use large eggs when baking and have them at room temperature
pure vanilla extract – never use imitation, the real stuff is worth the cost
whole milk – I never buy lowfat anymore
This recipe uses both fresh lemon juice and lemon zest. I think this is far superior to using lemon extract. Plus, Meyer lemons offer the very best flavor

.

all-purpose flour – cake flour isn't necessary for this recipe
granulated sugar
baking powder
salt – I always use kosher salt
unsalted butter – if you only have salted, be sure to reduce or eliminate the kosher salt in the recipe
How to make lemon cupcakes from scratch:
For the procedure, I changed things up a bit from Sally's recipe. Whenever I make cakes or cupcakes with butter, I use the recommendations of my talented friend Liz, of the Sugar Geek Show.
Mix the dry ingredients, including the sugar, with the softened butter until all of the the dry ingredients are coated.
Then, the trick is to add anywhere from a third to half the amount of liquid and really whip the heck out of your batter. This produces a very light and fluffy cake.
The final step is to mix in the remaining liquid ingredients.
Anytime you mix up a batch of homemade cupcakes, you're either going to have to use a stand mixer with the paddle attachment, or a hand mixer. I'm sure it's possible to mix up a scratch made cake that uses butter completely by hand, but I don't see how you can incorporate as much air as the batter needs to yield a light and fluffy cake.
What is the best icing for lemon cake?
Hands down, the mascarpone frosting that you see in these photos is the absolute best frosting. Possibly ever! It is light and silky smooth. Plus, there's a lot less sugar than what I typically put in frosting, but at the same time it is perfectly sweet.
Some other great options include:
Perfect Buttercream Frosting – This is my version of an Italian buttercream. It, too, is silky smooth and is a dream for decorating because it holds it's shape. The recipe is a little tricky, but I include a video in the post that will help you make it.
Brown Butter Vanilla Bean Frosting – Okay, okay. I said the mascarpone frosting was my favorite, but this one is a close second. If you know my blog, you know I love brown butter anything, from desserts to savory dishes, and using brown butter in your frosting takes it to a whole new level. This would absolutely compliment the delicate lemon cupcakes!
Blueberry Cream Cheese Frosting – Everyone knows how to make cream cheese frosting, but have you ever incorporated crushed freeze dried blueberries? This is a fantastic recipe because they don't have to be in season and it's really easy to make. What pairs better with lemon than blueberries?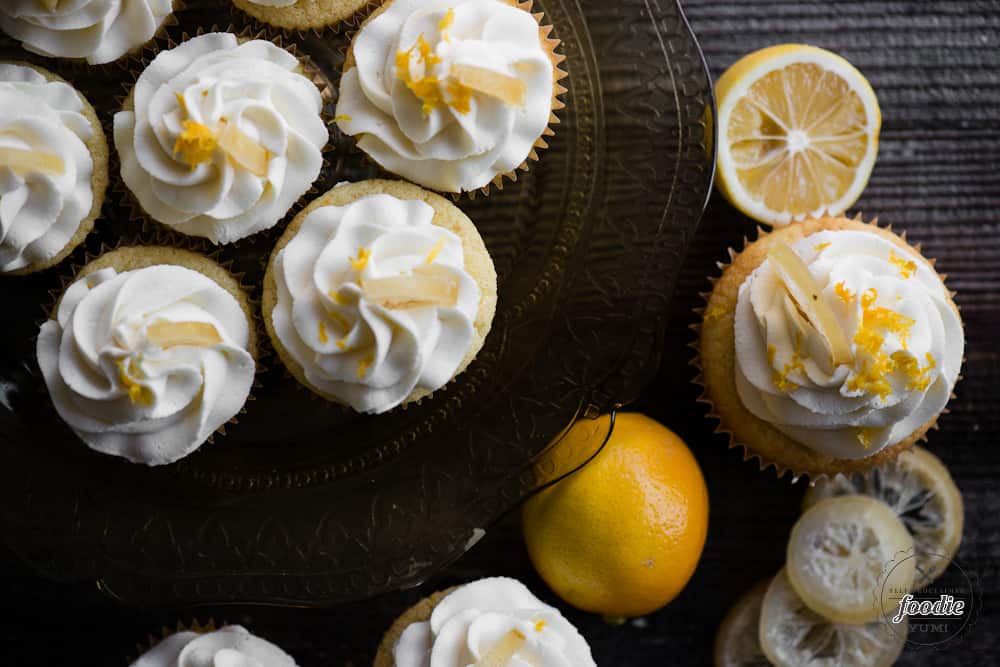 How to garnish lemon cupcakes:
If you're wondering what to decorate lemon cupcakes with, I have a few recommendations. The perfect cupcake needs no garnish, however a little something on top to please the eye never hurt anyone.
For these lemon cupcakes, I garnished with Meyer lemon zest and a piece of candied lemon. I have never found a better zesting tool than a microplane and I highly recommend everyone have one for zest and a larger one for hard cheeses in their kitchen. The candied lemons were found at Trader Joe's in the dried fruit and nut section. They are simply slices of lemon that have been dried in sugar water and you can eat the entire thing!
Other great ideas for garnishing your cupcakes might be some fancy yellow sprinkles, a thin wedge of fresh lemon, or some sugar pearls.
Additionally, you can never go wrong with some gorgeous fresh berries, especially if they're in season.
Can you freeze lemon cupcakes?
Absolutely! Homemade cupcakes almost always freeze well as long as you store them in an airtight container. Be sure to let them fully cool before you freeze them as well.
To eat, you'll just want them to naturally thaw to room temperature.
I prefer to freeze unfrosted cupcakes, but did you know you could frost them and freeze them as well? The trick is to set them in the freezer so they freeze beautifully, and then you can stick them in a airtight container or resealable bag for storage.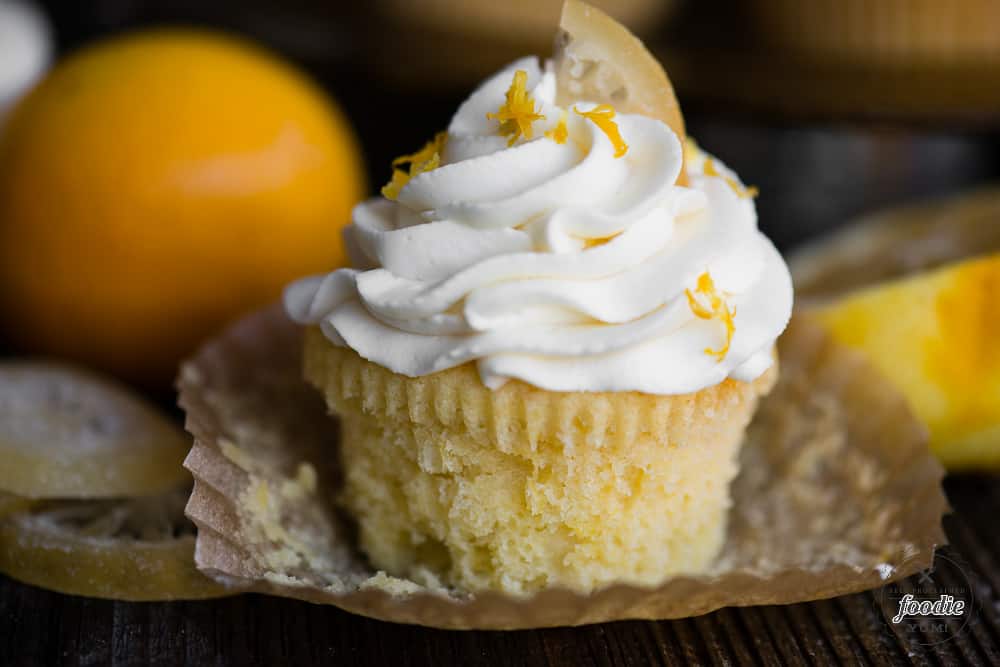 Love homemade cake recipes?
You'll definitely want to try these: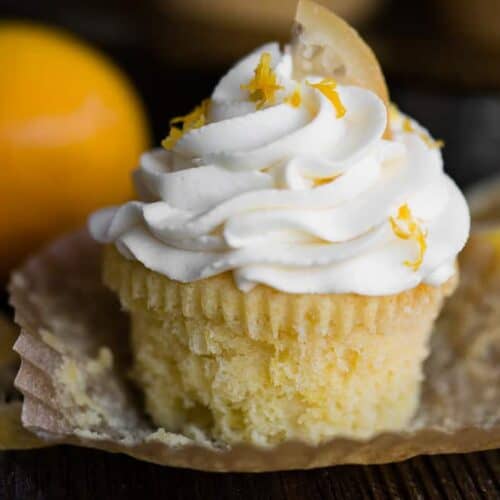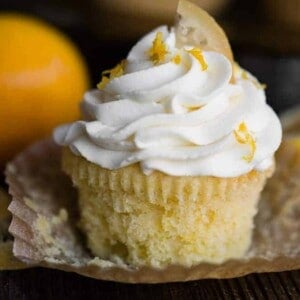 Lemon cupcakes, made from scratch, are perfectly moist and sweet. Made with both lemon juice and lemon zest, the light and fresh citrus flavor shines through. The trick to perfect homemade cupcakes is in how you mix the batter. Topping these lemon cupcakes with mascarpone frosting is downright heavenly!
Instructions
Preheat the oven to 350 degrees F. Line 12-count muffin pan with paper liners. Recipe will make about 15 standard size cupcakes or 9 jumbo cupcakes. Set aside.

In a medium bowl or large measuring cup with a spout, mix eggs, vanilla, milk, lemon zest and juice. Set aside.

Measure out dry ingredients (flour, sugar, baking powder, salt) and place them into the stand mixer bowl. Attach the paddle to the mixer, and turn on the slowest speed (setting 1 on Kitchen Aid mixers). Slowly add chunks of your softened butter until it is all added. Let mix until batter resembles coarse sand.

Add 1/3 of your liquid ingredients while mixing on low until just moistened. Once incorporated, increase mixing speed to medium high (setting 7 on Kitchen Aid mixer). Let the mixture whip up until it has thickened and lightened in color. It should look like soft-serve ice cream. This mixing can take up to 2 minutes.

Scrape the bowl and give it another short mix to ensure everything is well incorporated.

Slowly add in the rest of your liquid ingredients while the mixer is running on low speed, stopping to scrape the bowl one more time halfway through. Mix just until everything has combined. Your batter should be thick and not too runny.

Spoon batter evenly into 12 cupcake liners, filling them about 2/3 full. A large cookie scoop works well. Bake for about 18-22 minutes. A toothpick inserted in the middle will come out clean when done. Remove from the oven and allow to cool completely before frosting.
Nutrition
Calories:
166
kcal
,
Carbohydrates:
23
g
,
Protein:
2
g
,
Fat:
7
g
,
Saturated Fat:
4
g
,
Cholesterol:
38
mg
,
Sodium:
91
mg
,
Potassium:
86
mg
,
Sugar:
13
g
,
Vitamin A:
235
IU
,
Calcium:
39
mg
,
Iron:
0.7
mg
Nutrition information is automatically calculated, so should only be used as an approximation.