Homemade Pound Cake made from scratch with traditional ingredients of sugar, butter, eggs, and flour.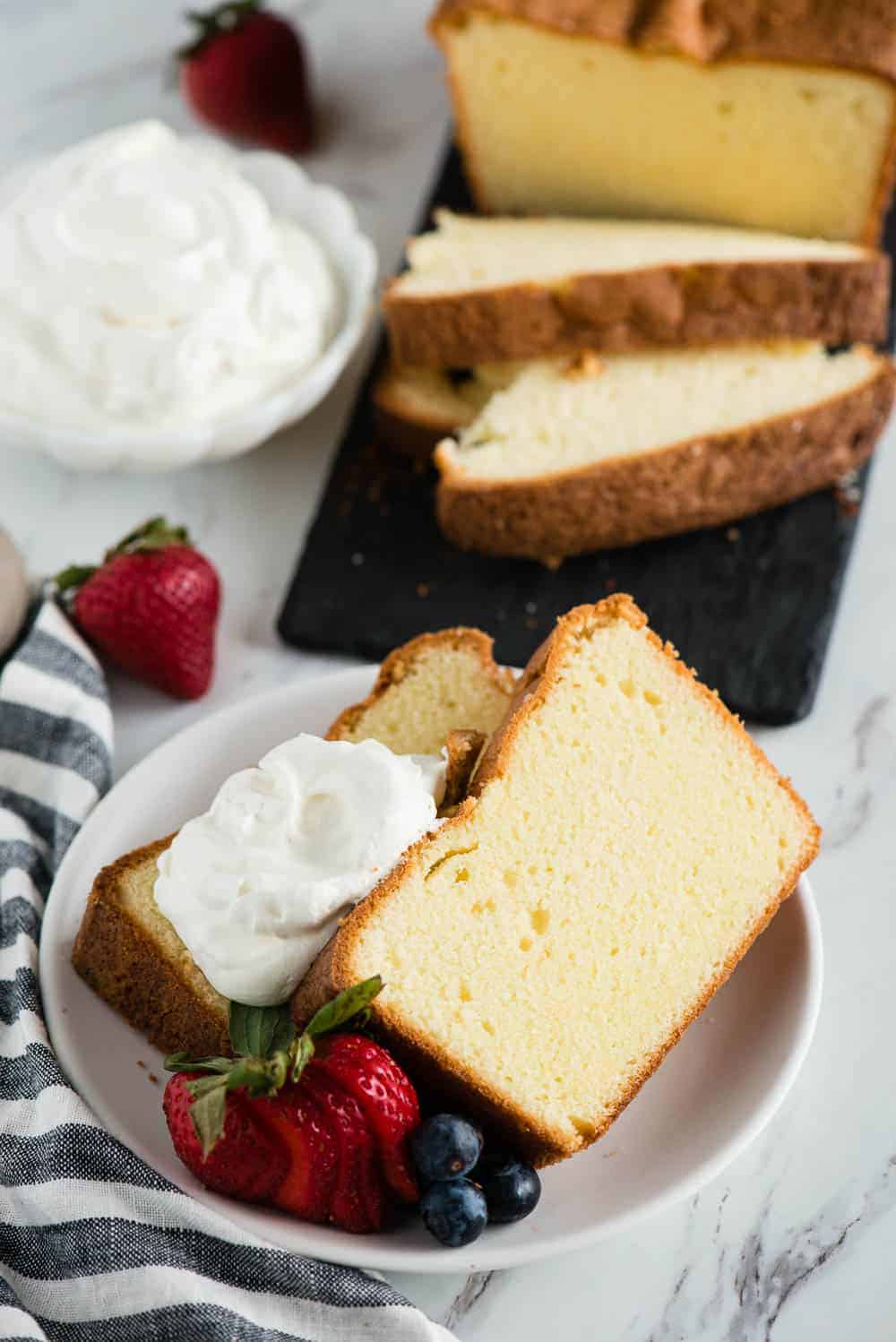 Why this recipe works:
This isn't exactly the most traditional pound cake recipe because it has some cream cheese in it. Plus, I didn't weigh my main ingredients, I just counted my eggs and used a measuring cup for everything else.
But, it does taste exactly what I think pound cake should taste like and I will tell you it is a very moist pound cake recipe.
This homemade dense cake makes the perfect dessert, especially when served with fresh fruit and whipped cream.
Ingredients needed:
sugar – just regular granulated sugar
butter – unsalted and softened
cream cheese – softened
vanilla, orange, and almond extracts – the best combination
eggs – always keep them at room temperature when baking
all purpose flour – cake flour isn't strong enough for this dense cake
baking powder – for lift in an otherwise very dense cake
salt – always needed with the sweet!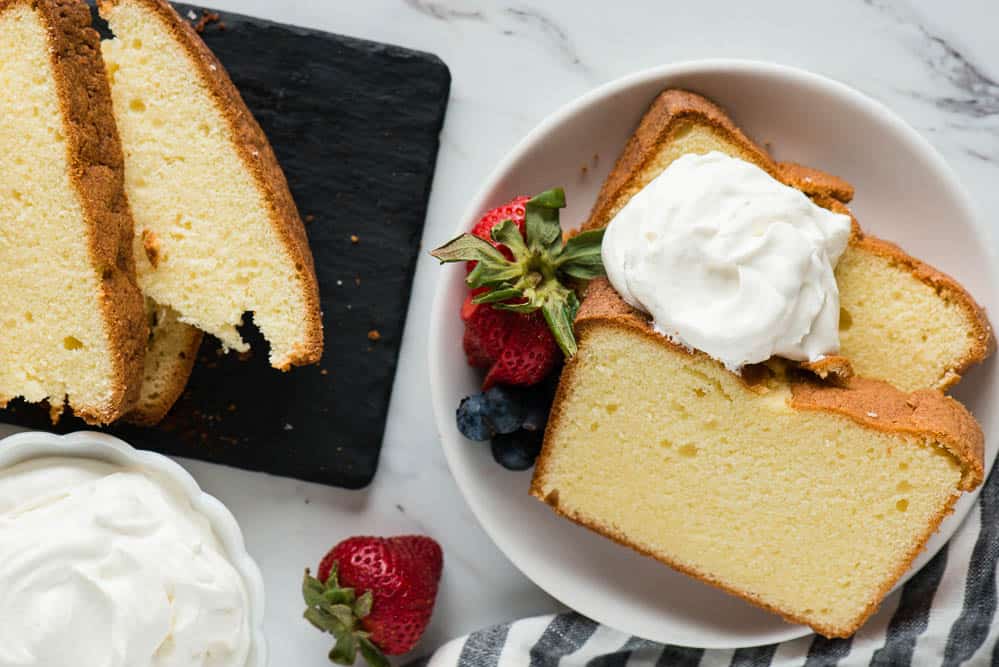 How to make this recipe:
This recipe makes enough to fill a single loaf pan. Start by preheating your oven and preparing your pan with a layer of butter and a light coating of flour. This will prevent sticking. I cook my pound cake low and slow.
Cream together your sugar, butter, cream cheese, and extracts. You can't over mix this part so make sure it is very well incorporated, light, and fluffy.
Next you'll mix in all the eggs. Mix the batter just enough so that they are well incorporated.
Much like with any baking recipe, you'll combine the dry ingredients in a separate bowl and then mix them in. Scrape as needed and do not over mix.
Pour the batter in the prepared pan and bake until a toothpick in the center comes out clean. This is the trickiest part because you want to make sure it's fully cooked but don't want to over cook it to the point where it dries out.
As soon as the pound cake is cool enough to handle, remove it from the pan so that it can finish cooling on the rack.
Why is it called pound cake?
For once, the name of a recipe actually makes sense! Sort of.
This recipe originates from Great Britain. A pound cake was given it's name because the traditional recipe was made with a pound of each of the four main ingredients: flour, butter, eggs, and sugar.
What I didn't understand was using the name "pound" when I thought Great Britain used the metric system, meaning this should be called a kilogram cake instead of a pound cake.
I actually had to look this little tidbit up so that it made sense in my brain…
Great Britain actually used the British Imperial System of measurement 1824 until the adoption of the metric system beginning in 1965. So, the pound cake must have started during that time period, right?
Not sure, exactly. It is also believed that the pound cake is of northern European origin that dates back to the early 1700s. Plus, there have been many documented variations of the recipe since. So… not exactly sure of anything except that it tastes really good!
Choosing the best pan:
Pound cakes are traditionally made in either a loaf pan or a Bundt mold.
Growing up, when convenient, frozen, pre-made, and processed foods were more popular than anything homemade, I only knew Sara Lee Pound Cake found in the freezer section.
We'd bring it home and not even wait to for it to thaw before we sliced it and topped it with fresh strawberries and whipped cream (from a can because we didn't make anything from scratch, of course).
Because I always ate pound cake in the shape of a loaf pan growing up, that is my preferred method to bake it from scratch now. But, either pan will work.
The difference between a sponge cake and a pound cake:
A pound cake is much more dense and moist than most other cake recipes out there, including a sponge cake.
Although the ingredients are very similar to other cake recipes, the specific quantities and equal portions of flour, butter, eggs, and sugar are what make a pound cake recipe so unique.
Other cake recipes, like a sponge cake, might involve different instructions to beat the egg whites separately, then fold them into the batter. This would result in a lighter, airier, fluffier cake than that of a pound cake.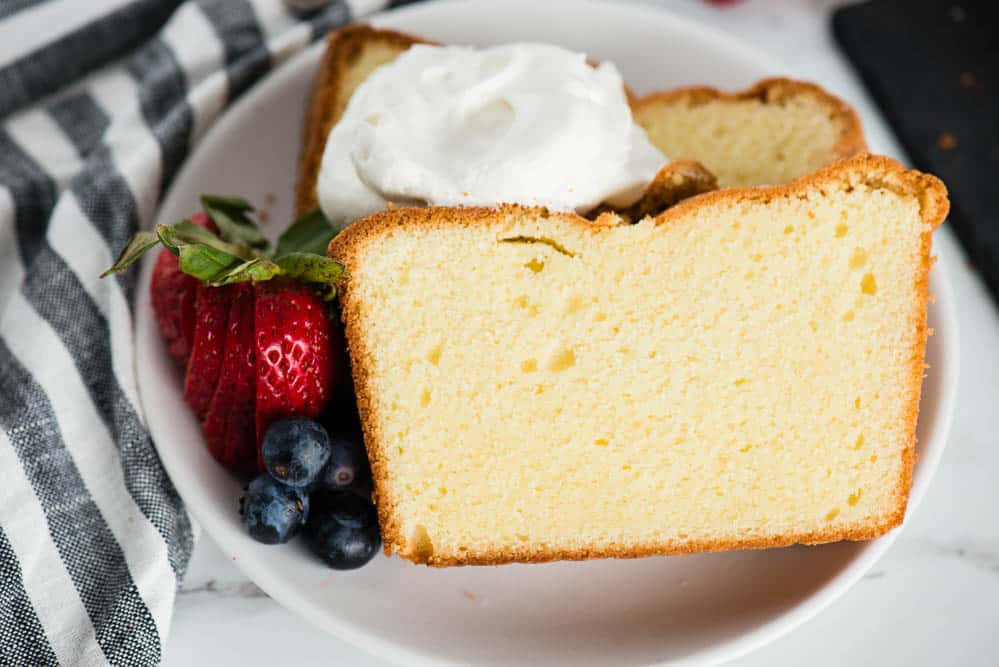 Although very similar to my Brown Sugar Pound Cake, Classic Strawberry Shortcake and Angel Food Cake in that you want to top both with strawberries and whipped cream, pound cake has a different flavor and texture.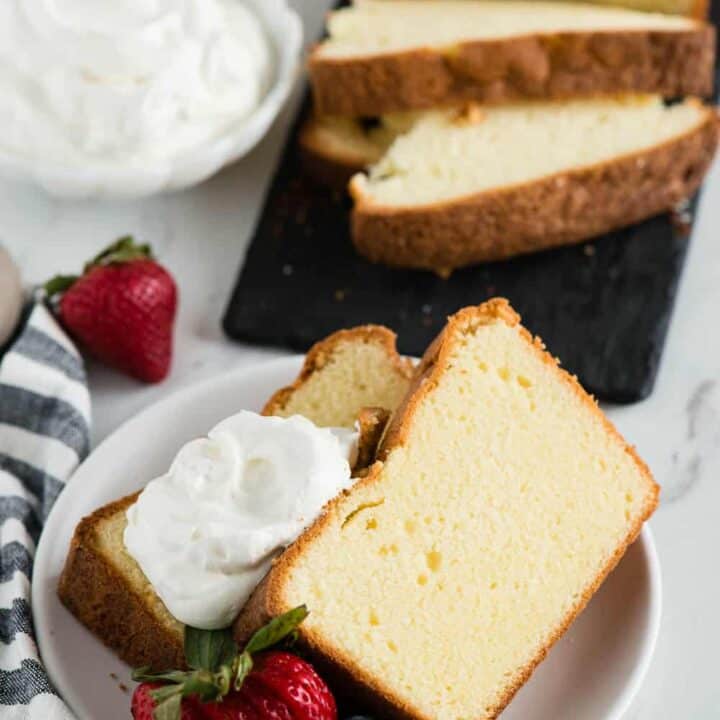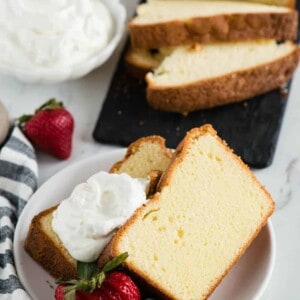 Homemade Pound Cake made from scratch with traditional ingredients of sugar, butter, eggs, and flour, is made especially moist and delicious with cream cheese!
Instructions
Preheat oven to 325°F. Grease one 9x5x3-inch loaf pan and dust with flour, shake out excess flour, and set aside.

In bowl of stand mixer with paddle attachment, beat sugar, butter, cream cheese and extracts for 4 to 5 minutes, until very creamy and light in color. Add eggs, one at a time, mixing after each addition and scraping sides of bowl, as needed.

In separate bowl, whisk together flour, baking powder and salt. Add to the sugar mixture, about a half cup at a time, mixing well after each addition for a smooth batter.

Spoon batter evenly into prepared pan. Cut through batter several times with a knife to break large air bubbles.

Bake 60 to 70 minutes, or until toothpick inserted in center comes out clean. Allow loaves to rest on cooling rack about 15 minutes, then once cool enough to handle carefully release loaves from sides of pan. Use a butter knife to cut around edge if cake is sticking to sides of loaf pan. Remove from pan and cool right side up on rack.

Cool completely, slice and enjoy. Store any remaining cake in plastic wrap.
Nutrition
Calories:
251
kcal
,
Carbohydrates:
25
g
,
Protein:
3
g
,
Fat:
15
g
,
Saturated Fat:
9
g
,
Cholesterol:
91
mg
,
Sodium:
117
mg
,
Potassium:
64
mg
,
Sugar:
15
g
,
Vitamin A:
525
IU
,
Calcium:
28
mg
,
Iron:
0.8
mg
Nutrition information is automatically calculated, so should only be used as an approximation.