Hummingbird Cake with cream cheese frosting is a moist and delicious homemade layer cake full of tropical banana, pineapple and coconut flavors!
Is there anything better than a homemade cake? I say no... especially when it tastes like the tropics! Add some homemade cream cheese frosting and an ice cold glass of milk and I'll risk not being able to fit into my pants the next day.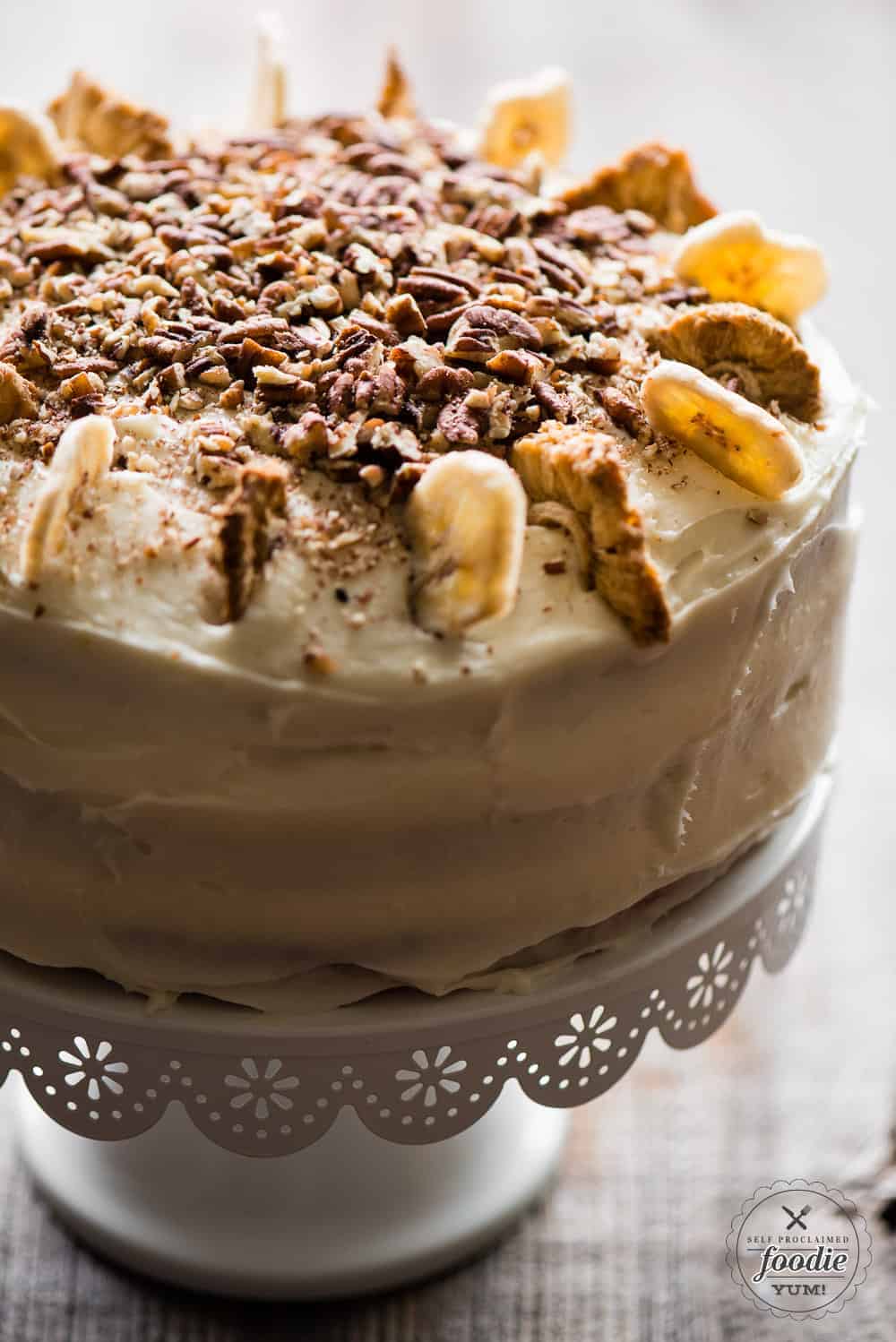 HUMMINGBIRD CAKE
If you're looking for a moist, perfectly sweet, and downright delicious cake recipe, look no further. Have you ever made a hummingbird cake? If not, there are a ton of recipes out there to choose from, but I can tell you that this recipe is not only relatively easy to make, but it is super tasty!
I'm no stranger to cooking with pineapple and coconut. Heck, I've made both banana upside down cake and pineapple upside down cake. I've combined the two flavors in a tropical granola. Tropical Muffins are another great option too! It's no surprise that when these two flavors come together in a cake, it's going to taste good.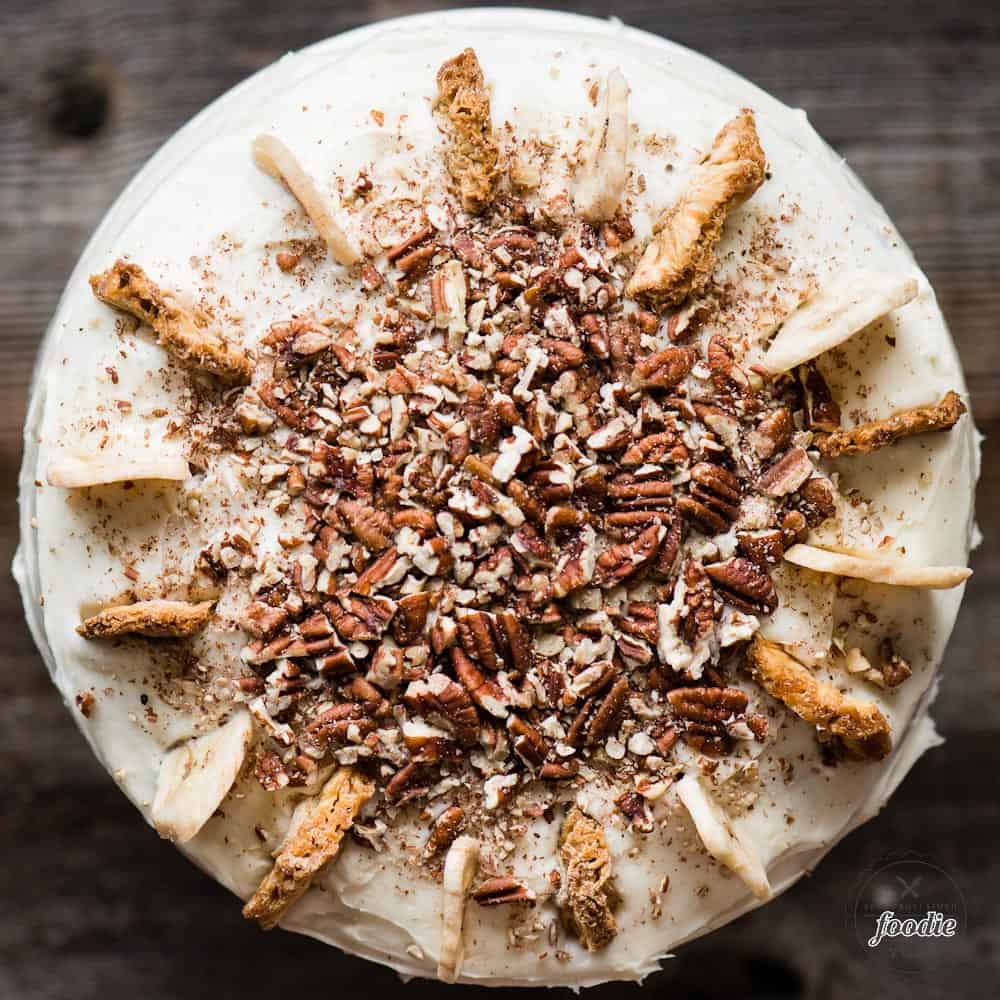 Why is it called a Hummingbird Cake?
I have no idea. But because I thought you might be wondering too, I did a little research.
One of my food hero's, Jamie Oliver, shared the information:
The giveaway to the Hummingbird cake's birthplace, however, is in the key ingredients – bananas and pineapple. Hopefully you're already thinking of the Caribbean, and it's thought to have been invented in Jamaica, probably in the late '60s.

Originally, it was called the "Doctor bird cake", a nickname for a Jamaican variety of hummingbird called the Red-billed Streamertail. The name came from the way the bird's long beak probes flowers, like a doctor inspecting a patient. So what does that have to do with a pineapple and banana cake? Some say the cake was named after the bird because it was sweet enough to attract hummingbirds (who eat only nectar), while others say the yellow streaks of banana was reminiscent of the bird's plumage. Either way, the Doctor bird was about to take flight.
If you have heard of a hummingbird cake, it's most likely because it was originally printed in Southern Living magazine and has become a favorite dessert of the south.
Reasons why this cake is so moist:
There are two reasons.
I often prefer to make homemade cake with butter. It's firmer when chilled and therefore easier to decorate. This hummingbird cake recipe, however, is made with oil. When you use oil in a cake recipe, it is always super moist and airy. It has a nice pillowy feel while still holding it's shape. To keep with the tropical flavors, I used coconut oil instead of vegetable oil. Delicious choice.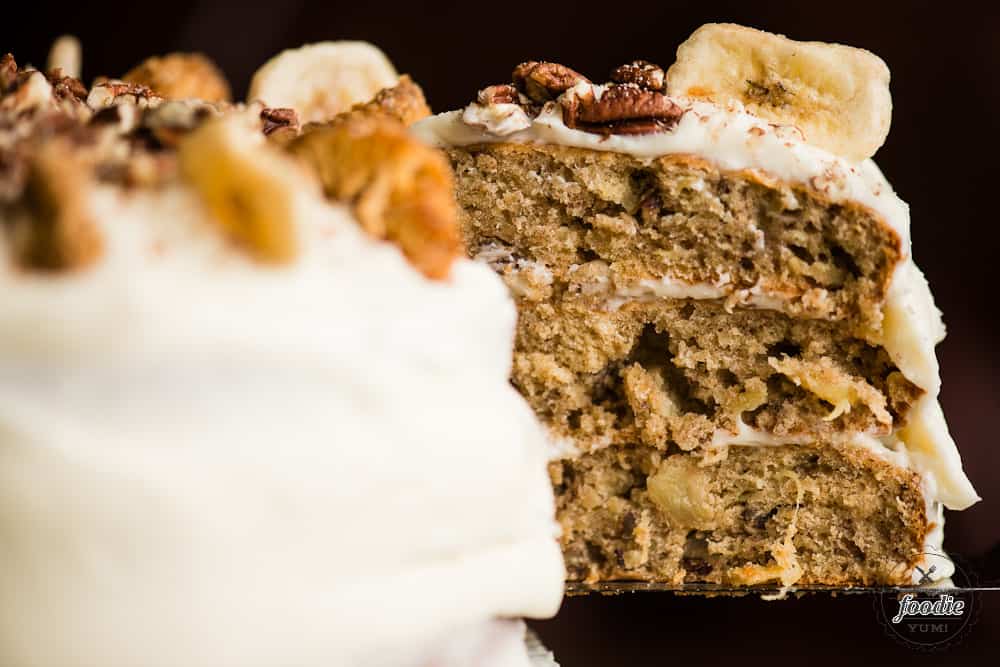 Kitchen tools needed to make a Hummingbird Cake:
Love homemade cake recipes?
You'll definitely want to try these: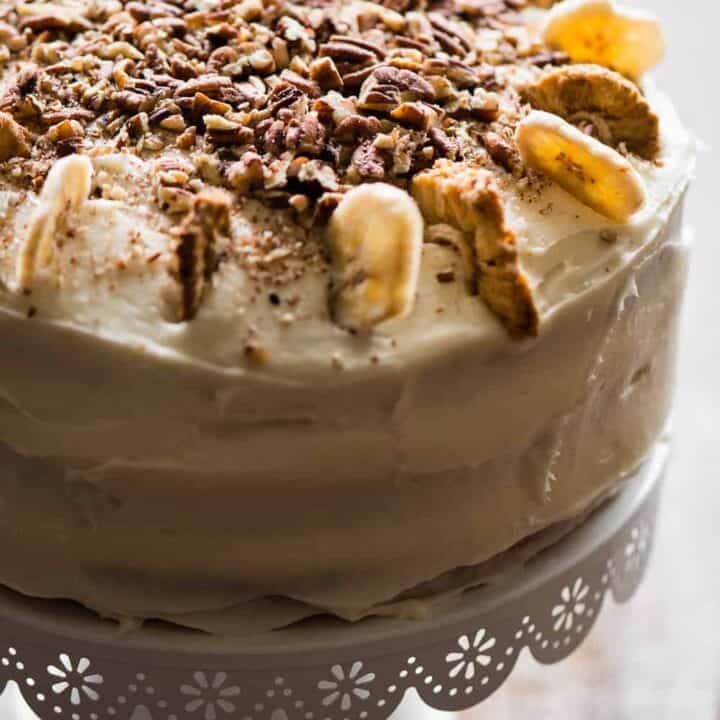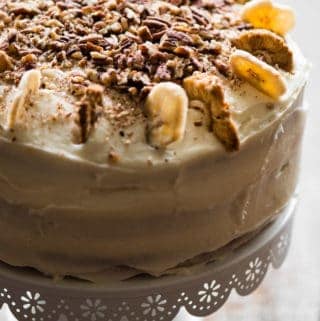 Hummingbird Cake
Hummingbird Cake with cream cheese frosting is a moist and delicious homemade layer cake full of tropical banana, pineapple and coconut flavors!
Print
Pin
Rate
Hover to scale:
12
servings
Ingredients
Cake:
3

cups

all-purpose flour

1

teaspoon

baking soda

2

teaspoon

pumpkin pie spice

½

teaspoon

salt

2

cups

banana

(roughly 4 very ripe bananas, mashed)

8

ounces

crushed pineapple

(1 8oz can, juice included)

3

large

eggs

(room temperature)

⅔

cup

coconut oil

(melted)

1

cup

golden brown sugar

(packed)

¾

cup

granulated sugar

1

tablespoon

pure vanilla extract

1 ½

cups

pecans

(toasted,chopped)
Frosting:
8

ounces

cream cheese

(1 (8oz) package, softened)

½

cup

unsalted butter

(1 stick, softened)

1

teaspoon

pure vanilla extract

16

ounces

confectioners sugar

(approximately 4 cups)

milk?
Garnish for top:
¾

cup

pecans

(toasted, roughly crushed)

½

teaspoon

pumpkin pie spice
Instructions
to make the cake:
To toast pecans, spread in a single layer on a baking sheet and toast in 300 degree oven for 8-10 minutes, stirring once. You'll know they're done when you can smell them. Allow pecans to cool before using.

Preheat oven to 350 degrees F. Grease and lightly flour three 9 inch cake pans.

Whisk the flour, baking soda, pumpkin pie spice, and salt together in the bowl of a stand mixer. Attach the paddle attachment.

Whisk the banana, pineapple, eggs, coconut oil, sugars, and vanilla in a medium bowl. Pour half of the wet ingredients into dry ingredients and beat on low speed to combine and then on high speed for 1-2 minutes until light and fluffy. Add remaining wet ingredients and mix on medium until fully combined. Stir in 1 ½ cups of the toasted pecan pieces.


Spread batter evenly between the 3 prepared cake pans. Bake for 25-28 minutes or until a toothpick inserted in the center comes out clean. Rotate pans halfway through baking. Cool in pans on wire racks about 10 minutes. As soon as they are cool enough to touch with your hands, remove from pans to wire racks, and cool completely, about 1 hour.

to make the frosting:
Using your stand mixer with the whisk attachment, beat cream cheese and butter on high speed until light and fluffy, about 5 minutes. Add in vanilla and mix. While the mixer is running on medium speed, add the confectioners sugar one cup at a time until fully incorporated.
Assemble the cake:
Place the first cake round on a serving platter. Spread a layer of frosting on top. Place the second cake round on top of that and frost. Top with the final cake round and cover the top and sides with remaining frosting.

Top with remaining pecan pieces and pumpkin pie spice.
NUTRITION INFORMATION
Calories:
811
kcal
|
Carbohydrates:
107
g
|
Protein:
8
g
|
Fat:
41
g
|
Saturated Fat:
20
g
|
Cholesterol:
87
mg
|
Sodium:
288
mg
|
Potassium:
334
mg
|
Fiber:
3
g
|
Sugar:
76
g
|
Vitamin A:
600
IU
|
Vitamin C:
5.2
mg
|
Calcium:
68
mg
|
Iron:
2.6
mg