Hummingbird Cake with cream cheese frosting is a moist and delicious homemade layer cake full of tropical banana, pineapple and coconut flavors!
Is there anything better than a homemade cake? I say no... especially when it tastes like the tropics! Scroll down to see tons of detailed step-by-step photos on how to make this recipe. It's one of my favorite treats to make for Easter along with Hot Cross Buns.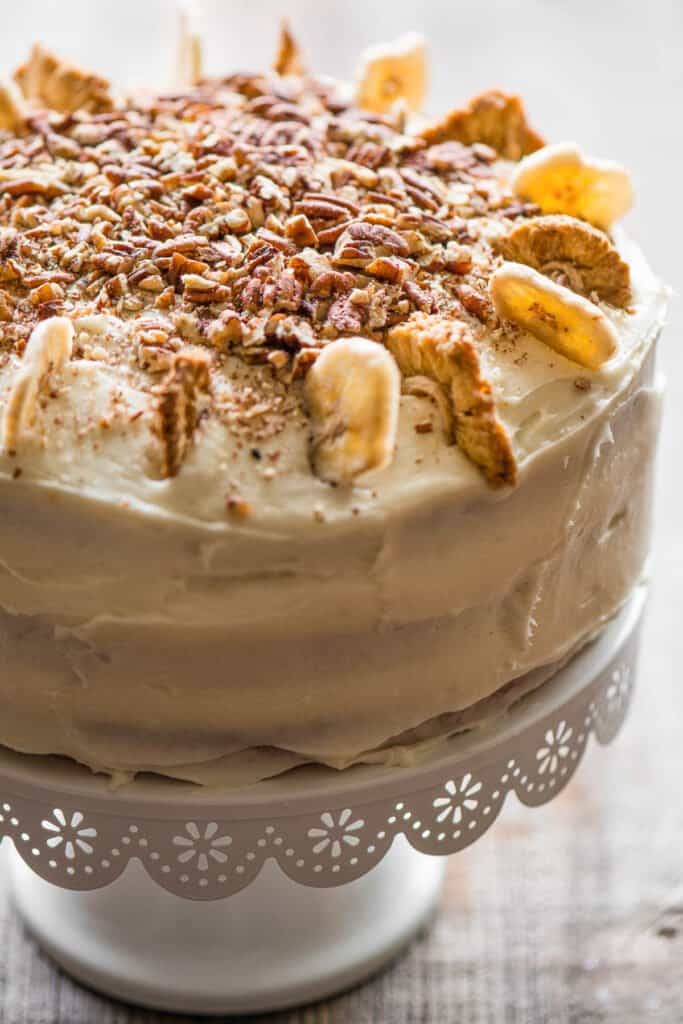 Why you will love this recipe:
Tropical flavors: This cake combines banana, pineapple, and even the flavor of coconut to create the most delicious, moist, old fashioned cake.
Super moist: Hummingbird Cake is so moist is because you use just as much fruit as you do flour. Also, because oil is used instead of butter, the cake is light and fluffy.
Easy to make: Whether you're an expert baker or a beginner, this recipe is easy to make and difficult to mess up. Since the cream cheese frosting can be made while the cake is baking in the oven, the entire recipe doesn't take much time.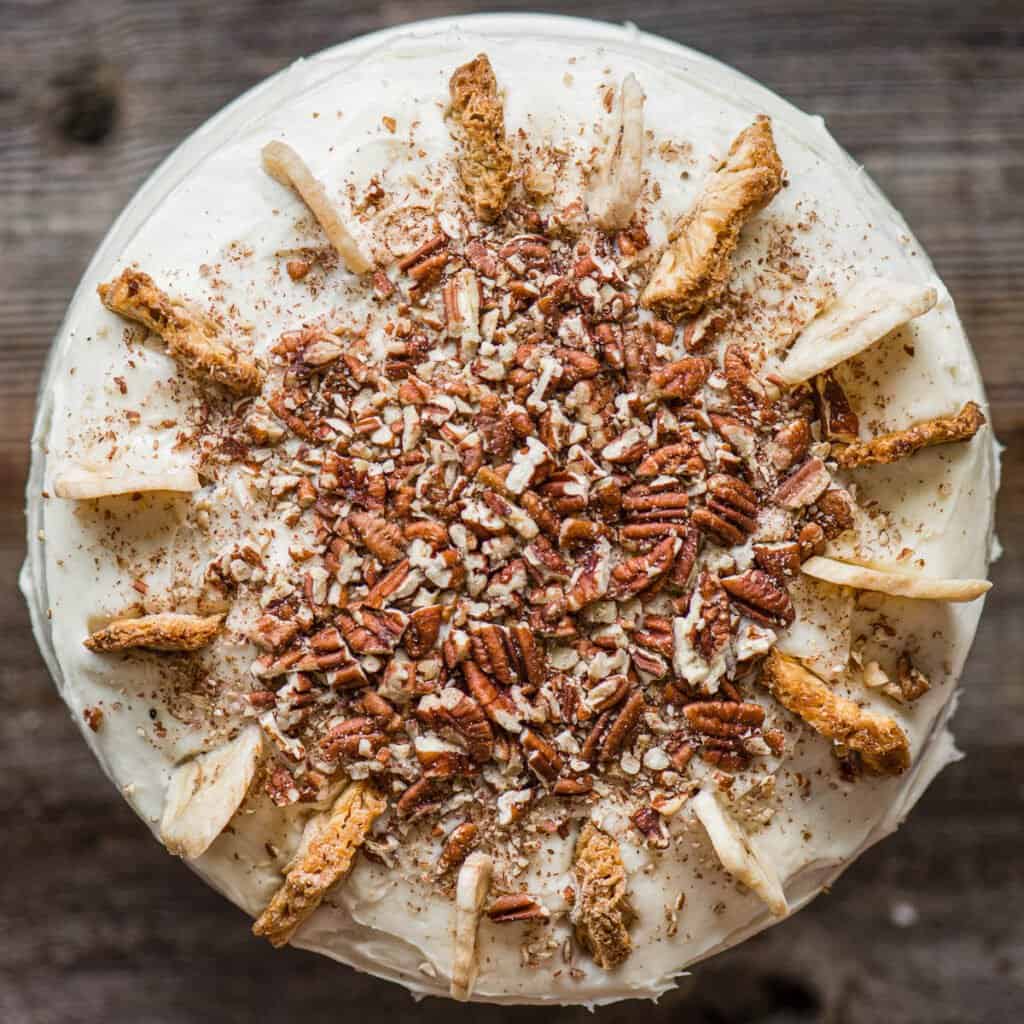 Why is it called a Hummingbird Cake?
One of my food heroes, Jamie Oliver, shared the information:
The giveaway to the Hummingbird cake's birthplace, however, is in the key ingredients – bananas and pineapple. Hopefully you're already thinking of the Caribbean, and it's thought to have been invented in Jamaica, probably in the late '60s.

Originally, it was called the "Doctor bird cake", a nickname for a Jamaican variety of hummingbird called the Red-billed Streamertail. The name came from the way the bird's long beak probes flowers, like a doctor inspecting a patient. So what does that have to do with a pineapple and banana cake? Some say the cake was named after the bird because it was sweet enough to attract hummingbirds (who eat only nectar), while others say the yellow streaks of banana was reminiscent of the bird's plumage. Either way, the Doctor bird was about to take flight.
If you have heard of a hummingbird cake, it's most likely because it was originally printed in Southern Living magazine and has become a favorite dessert of the south.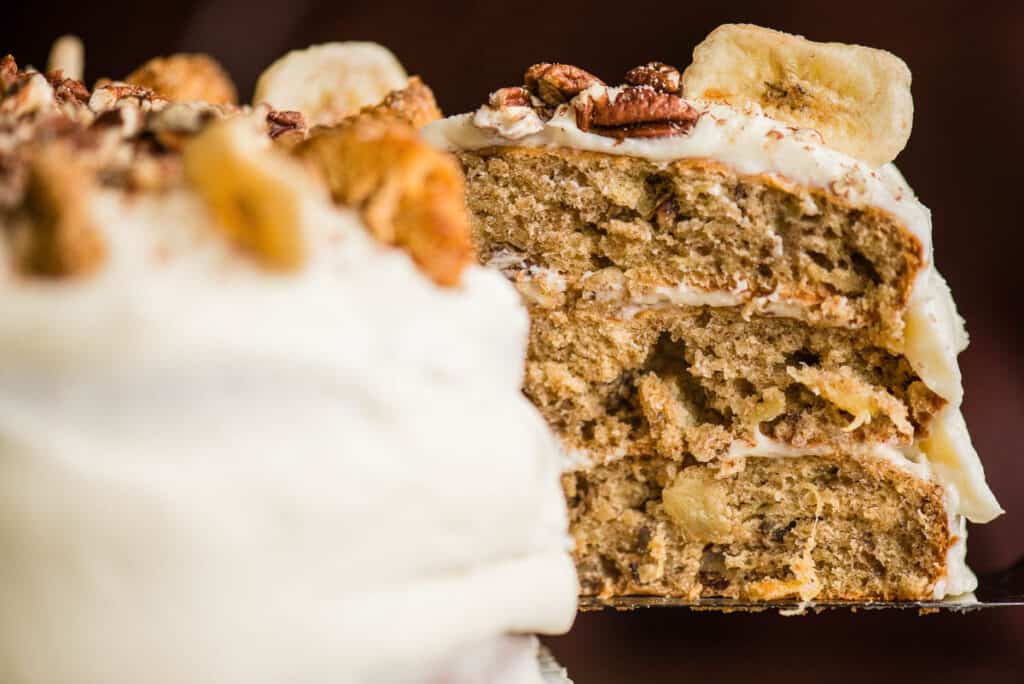 Ingredients needed:
Exact quantities are listed in the recipe card below, but here is a summary.
Cake: Flour, baking soda, pumpkin pie spice, salt, banana, pineapple, eggs, coconut oil, brown sugar, granulated sugar, vanilla, pecans
Frosting: Cream cheese, butter, vanilla, confectioners sugar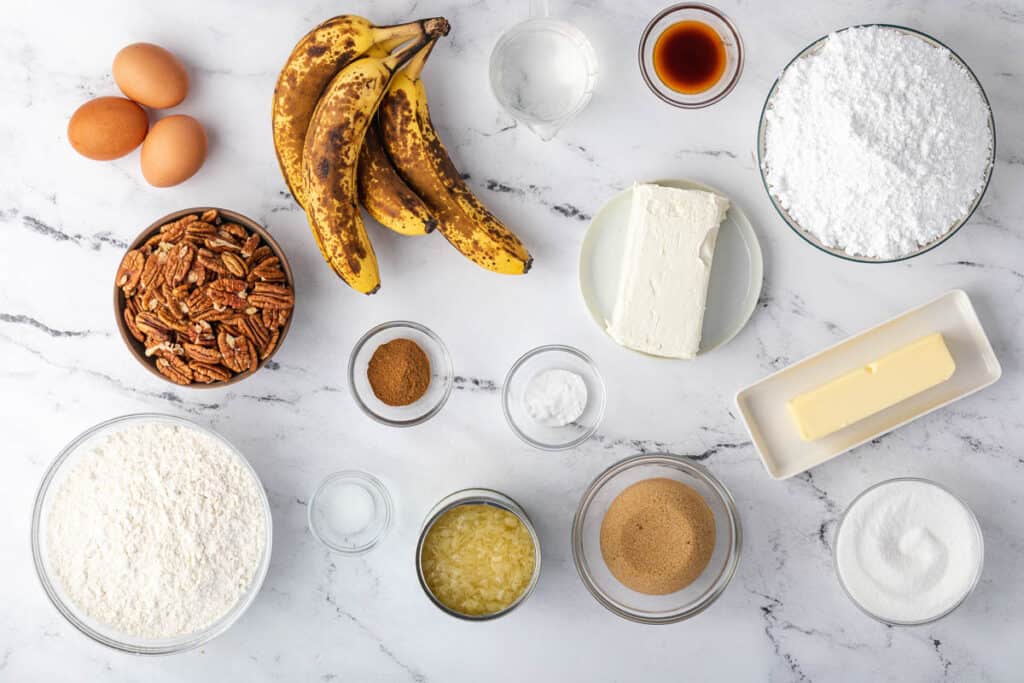 How to make Hummingbird Cake:
Detailed step by step instructions are listed in the recipe card below, but here is a summary.
Step 1: Toast the pecans
Place the raw pecans on a baking sheet and toast in the oven. When they're cool, chop them into small pieces.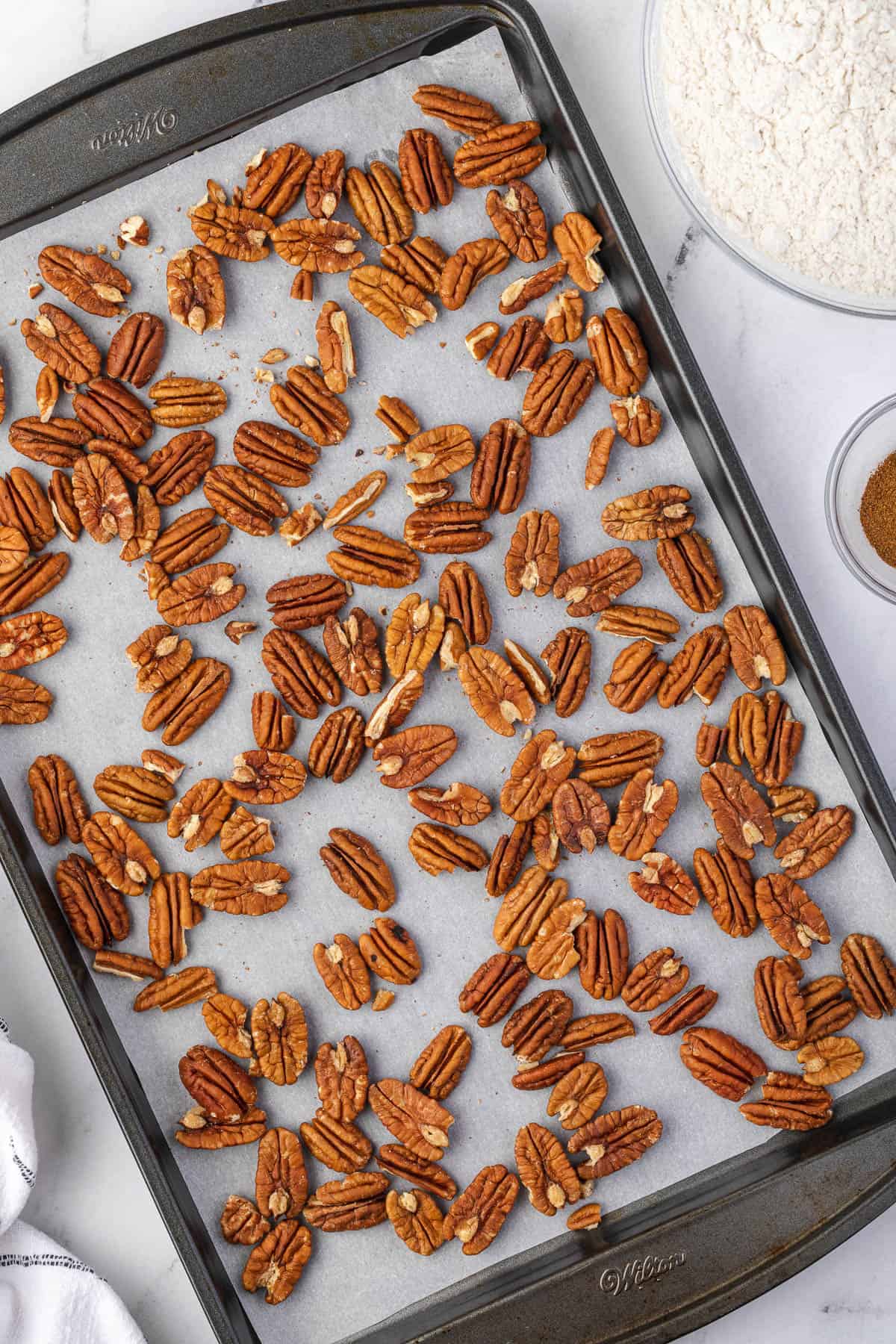 Step 2: Mix the cake batter
Mix ingredients: Combine the dry ingredients and wet ingredients separately. Incorporate the wet ingredients into the dry. Mix in the toasted pecans.
Add to pans: Pour even amounts of the Hummingbird Cake batter into three prepared cake pans and bake in preheated oven.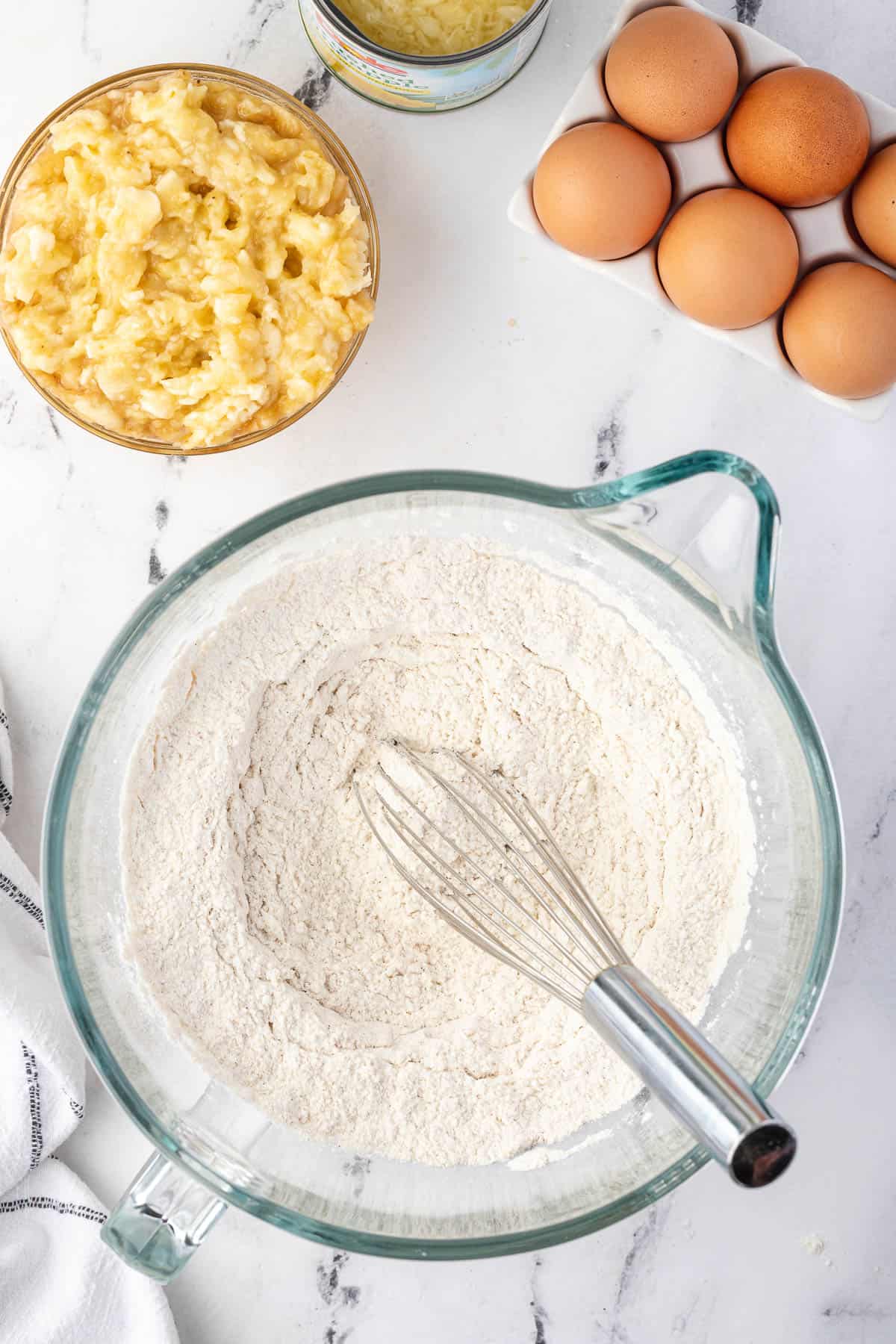 Step 4: Make frosting
Whip together the cream cheese and butter. Mix in vanilla. Incorporate the powdered sugar until the frosting is completely mixed. The frosting should be light and fluffy.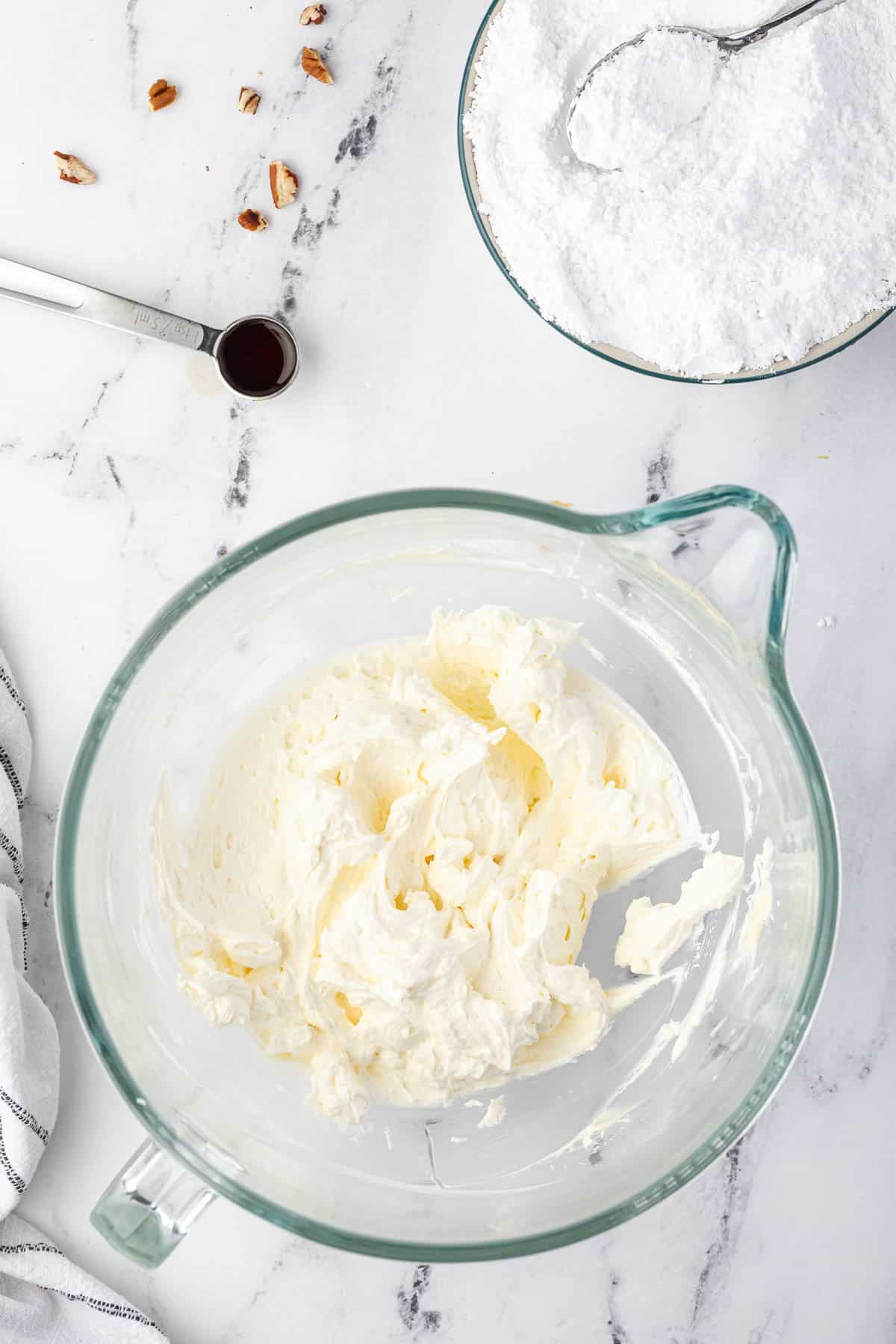 Step 5: Decorate cake
Once the cake has cooled, everything can be assembled. Spread the frosting in between the two cake layers, reserving enough to coat the top and sides of the cake. Top with remaining chopped pecans and some pumpkin pie spice.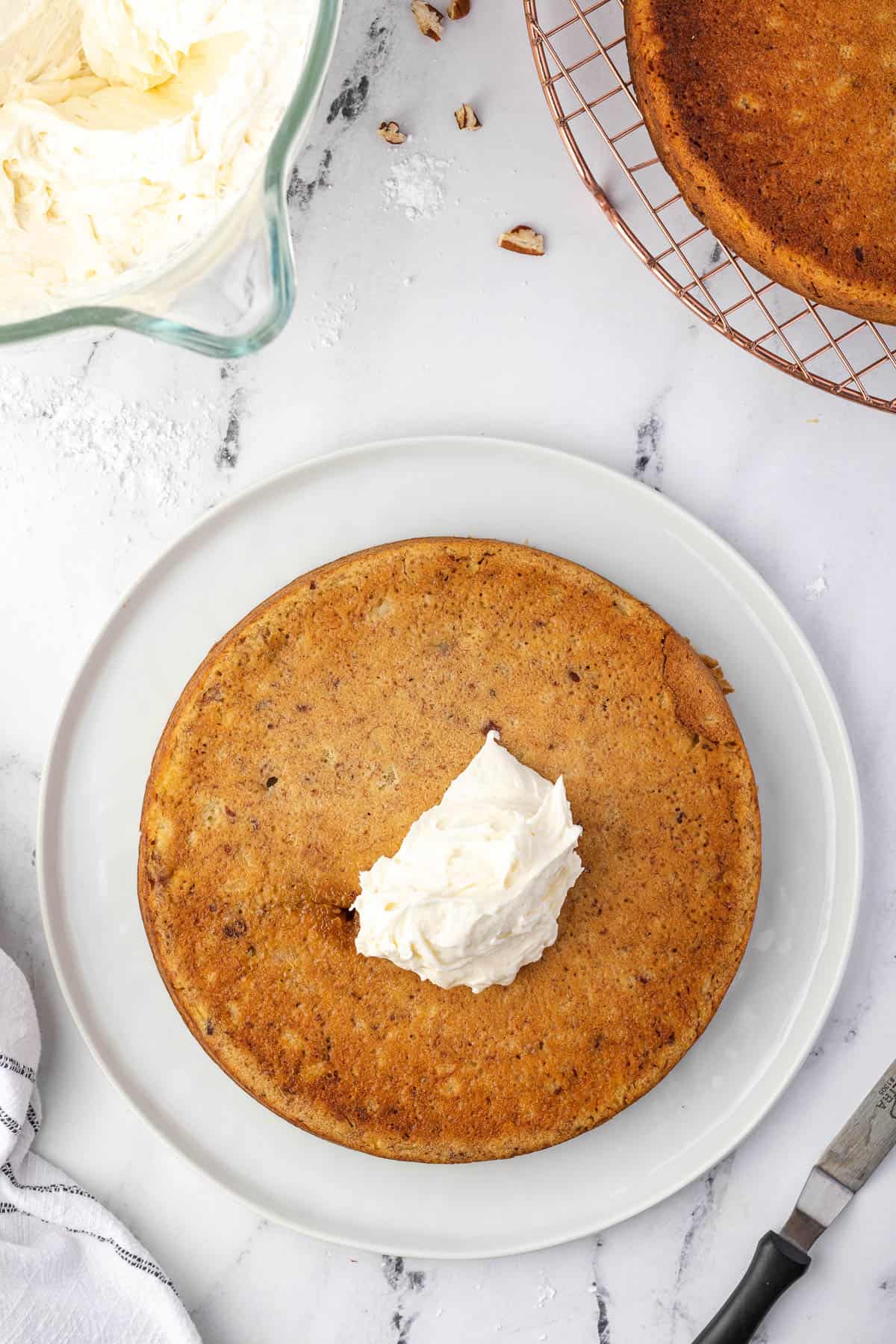 Baking tips for best results:
Substitutions: Melted butter or lite olive oil can be used in place of the melted coconut oil. Fresh pineapple can be used in place of canned. Cinnamon can be used in place of pumpkin pie spice. Walnuts make a great substitution for pecans, or the nuts can be omitted altogether.
Storage: To remain moist, cake should be covered or stored in air tight container. Hummingbird cake can be left out at room temperature for a short period of time, but any leftovers should be kept in the refrigerator.
Sheet pan: This recipe is meant to make a large layered cake using three 9-inch round cake pans. If you'd like to bake it as a sheet cake, you will need a deep 9x13-inch pan or something even longer and cooking times may be extended.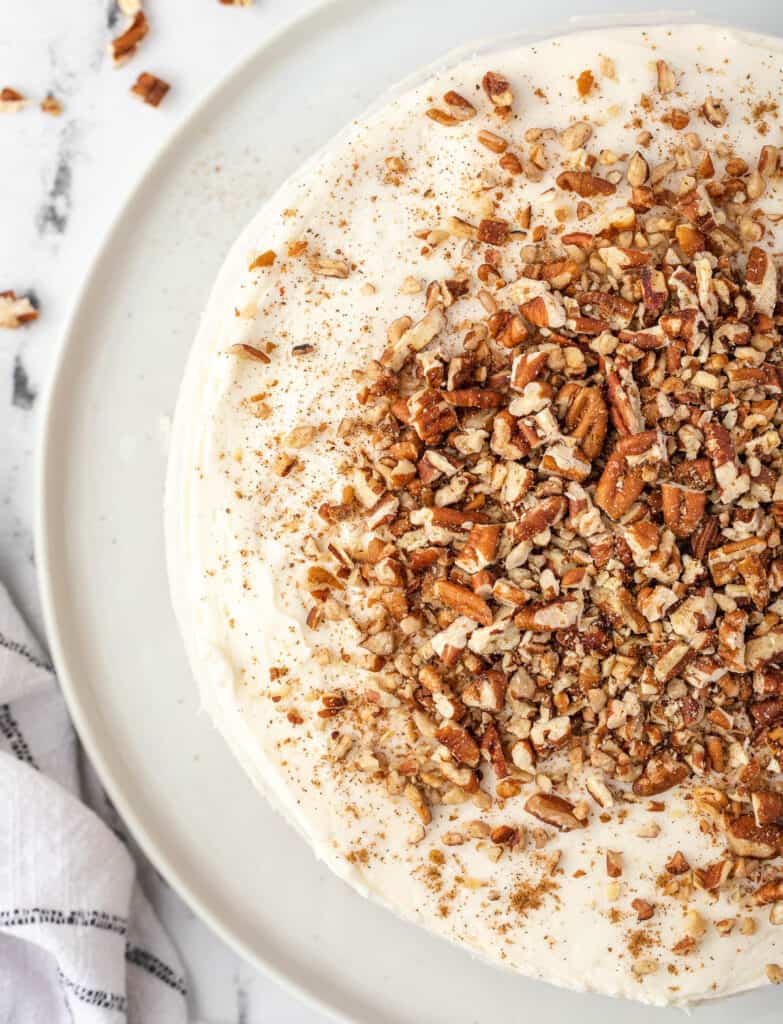 If you've made this or any other recipe on my site, let me know in the comment section how it turned out. I love hearing from my readers!
You can also follow along on PINTEREST, FACEBOOK and INSTAGRAM to see more amazing recipes to satisfy any foodie craving!
Full Recipe Instructions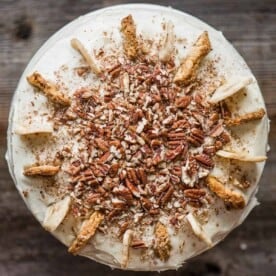 Instructions
to make the cake:
Toast pecans: Spread 2 ¼ cups raw pecans (for the cake and garnish) in a single layer on a parchment-lined baking sheet and toast in 300°F oven for 8-10 minutes, stirring once. You'll know they're done when you can smell them. Allow pecans to cool before using. Chop or crush into small pieces.

Prep oven and pans: Preheat oven to 350° F. Grease and lightly flour three 9-inch cake pans.

Dry ingredients: Whisk the flour, baking soda, pumpkin pie spice, and salt together in the bowl of a stand mixer. Attach the paddle attachment.

Wet ingredients: Mix the banana, pineapple, eggs, coconut oil, sugars, and vanilla in a medium bowl.

Mix: Pour half of the wet ingredients into dry ingredients and beat on low speed to combine and then on high speed for 1-2 minutes until light and fluffy. Add remaining wet ingredients and mix on medium until fully combined. Stir in 1 ½ cups of the chopped toasted pecan pieces.

Bake: Spread batter evenly between the 3 prepared cake pans. Bake for 25-28 minutes or until a toothpick inserted in the center comes out clean. Rotate pans halfway through baking. Cool in pans on wire racks for about 10 minutes. As soon as they are cool enough to touch with your hands, remove cakes from pans and transfer to wire racks. Allow to cool completely, about 1 hour.
to make the frosting:
Beat: Using your stand mixer with the whisk attachment, beat cream cheese and butter on high speed until light and fluffy, about 5 minutes.

Mix: Add vanilla and mix. Add the confectioner's sugar one cup at a time and mix on medium speed until fully incorporated. Okay to beat on high speed at the end to make it extra light and fluffy.
Assemble the cake:
Frost: Place the first cake round on a serving platter. Spread a layer of frosting on top. Place the second cake round on top of that and frost. Top with the final cake round and cover the top and sides with remaining frosting.

Garnish: Top with remaining pecan pieces and pumpkin pie spice. Dried pineapple or banana also make a nice garnish.
Notes
Serving size based on one slice with frosting if the cake is cut into 12 equal portions.
Substitutions: Melted butter or lite olive oil can be used in place of the melted coconut oil. Fresh pineapple can be used in place of canned. Cinnamon can be used in place of pumpkin pie spice. Walnuts make a great substitution for pecans, or the nuts can be omitted altogether.
NUTRITION INFORMATION
Calories:
811
kcal
|
Carbohydrates:
107
g
|
Protein:
8
g
|
Fat:
41
g
|
Saturated Fat:
20
g
|
Cholesterol:
87
mg
|
Sodium:
288
mg
|
Potassium:
334
mg
|
Fiber:
3
g
|
Sugar:
76
g
|
Vitamin A:
600
IU
|
Vitamin C:
5.2
mg
|
Calcium:
68
mg
|
Iron:
2.6
mg
This recipe was originally published in July 2018 and has been updated with helpful information, ingredient and process photos, as well as recipe tips. Don't worry - the recipe hasn't changed!
Kitchen tools needed:
Love homemade cake recipes?
You'll definitely want to try these: