Homemade Carrot Cake, loaded with tons of freshly grated carrots and covered with cream cheese frosting, is simply the best moist cake recipe you'll ever make.
This simple recipe is super easy to make from scratch. Each bite is loaded with flavor and it really is so moist that it will melt in your mouth!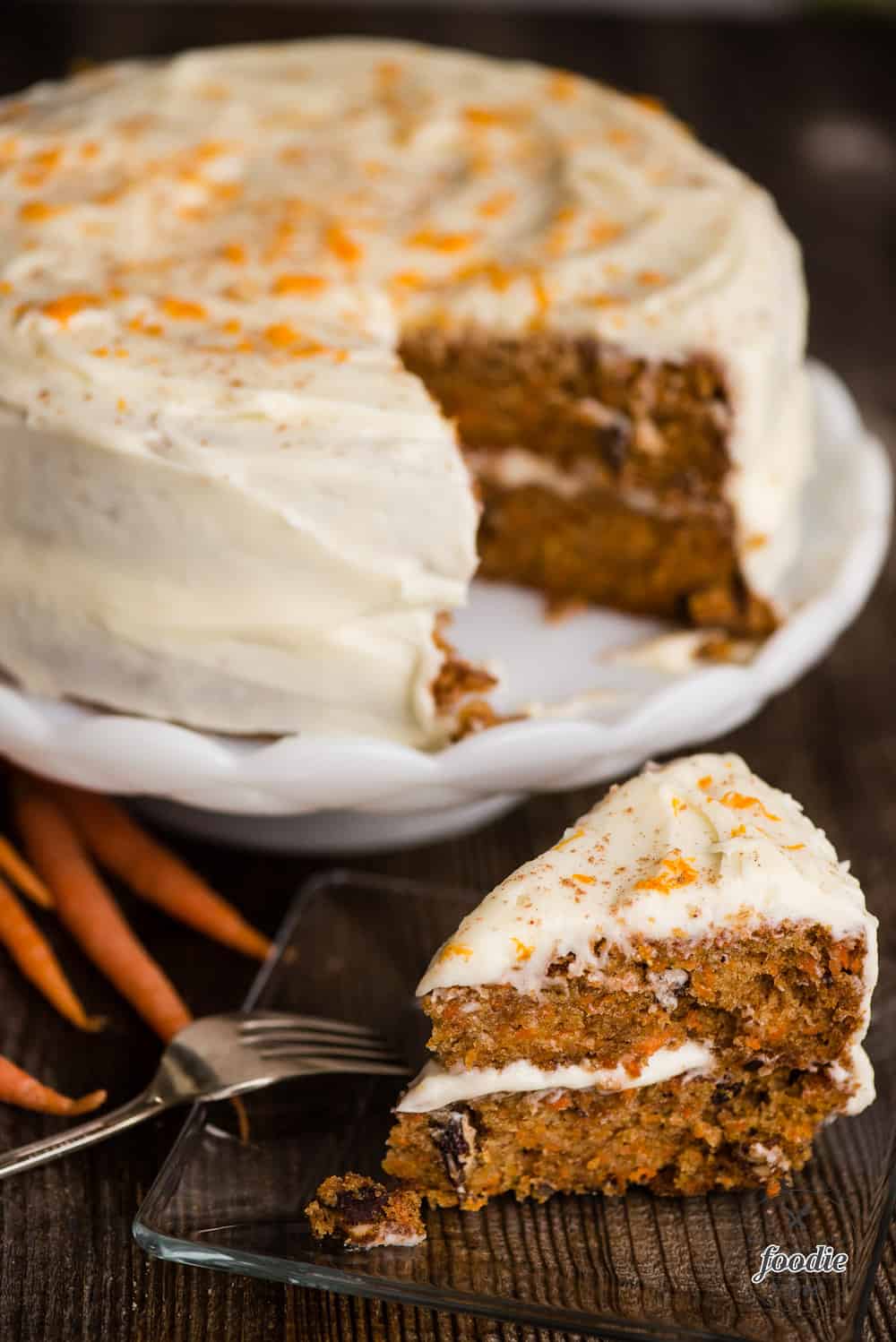 Why this recipe works:
Carrot Cake really is simply the best cake you can make if you're looking for something easy, delicious, and wonderfully moist. I could try to pass this off as a healthy carrot cake recipe because it's loaded with healthy things like carrots, eggs, and nuts, but who are we kidding!
Aside from the mountain of shredded carrot you add to the batter, this is 100% legitimate, loaded with fat and calories, mouth watering cake. And it is so worth it.
We can all enjoy homemade carrot cake any time of year, but for some reason my brain always associates it with Easter. I know it's because the Easter Bunny eat's carrots.
How to make this recipe from scratch:
When making any kind of cake recipe, you'll want to preheat the oven and prepare your cake pans.
I always start my baking recipes by combining the dry ingredients in a separate bowl. If I'm feeling super lazy, I'll skip this step, but it does help distribute your baking powder and soda.
You can use an electric mixer or a stand mixer with the paddle attachment (my preference), but you'll want to mix your wet ingredients well to incorporate some air which will help your cake be light and fluffy. Then you'll mix in the dry ingredients.
Finally, you'll fold in the shredded carrots and nuts. When I was a kid I used to grate the carrots by hand. If you have a food processor, save yourself some time and use it to grate the carrots. It's so much faster and the clean up is just a quick rinse.
Bake your cake in the preheated oven. As soon as it's cool enough to handle with your bare hands after removing it from the oven, get it out of the cake pan so that it can finish cooling on the rack.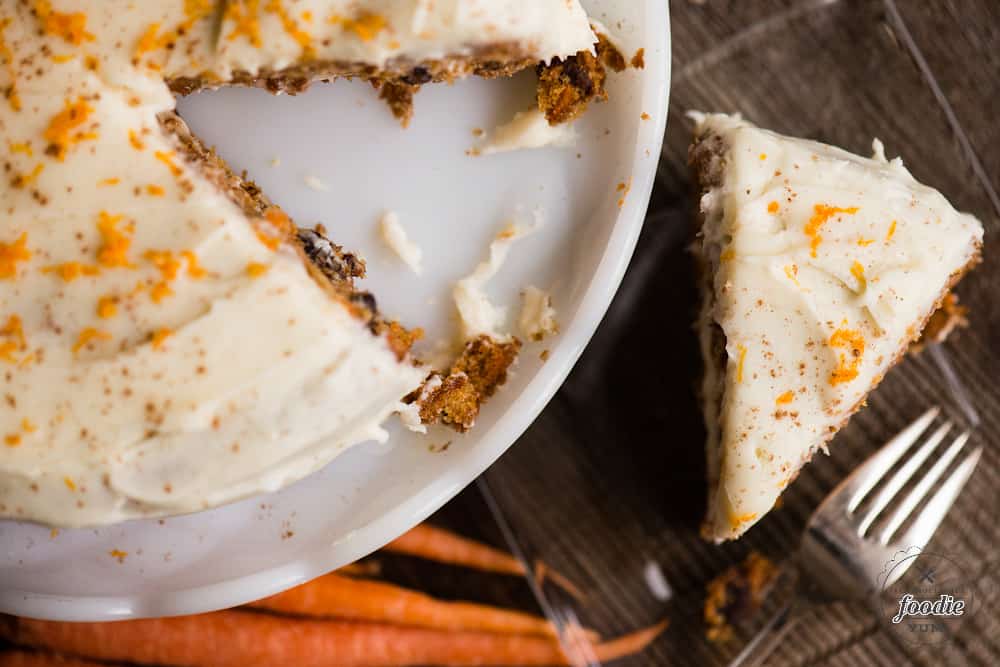 What exactly is carrot cake?
It's seems funny to me that anyone would ask that, but since I get asked all sorts of questions I figured I'd just throw it out there.
The dictionary explains it best: a moist cake containing grated carrot and typically topped with a buttercream or cream cheese icing.
Here's a fun little tidbit that you may not have known… The origins of carrot cake are disputed. Many food historians believe carrot cake originated from Medieval carrot puddings eaten by Europeans. This evolution is said to be originated during the Middle Ages when sugar and sweeteners were expensive for most individual and often hard to find, so many people used carrots as a substitute for sugar (source).
The popularity of carrot cake, among many other recipes, was revived in Great Britain because of rationing during the Second World War.
What makes it so moist?
There are several factors that make carrot cake super moist.
First, the shredded carrots play a huge role in making the carrot cake moist. There is a high moisture content in the carrots, and by shredding them you maximize their surface area. This allows them to break down and become super soft and moist without watering down the batter.
Second, there are a lot of eggs in my recipe. The quality of your eggs always makes a difference, and lucky for me I have 22 egg laying chickens in my back yard. Eggs add structure, leavening, color and flavor to any baked goods. Most importantly, they add moisture to the cake.
Third, my recipe uses oil. Honestly, I usually prefer to make my cakes with butter, but you can't get around the fact that vegetable oil makes recipes like this carrot cake as well as my chocolate cupcakes and layered pumpkin cake incredibly moist.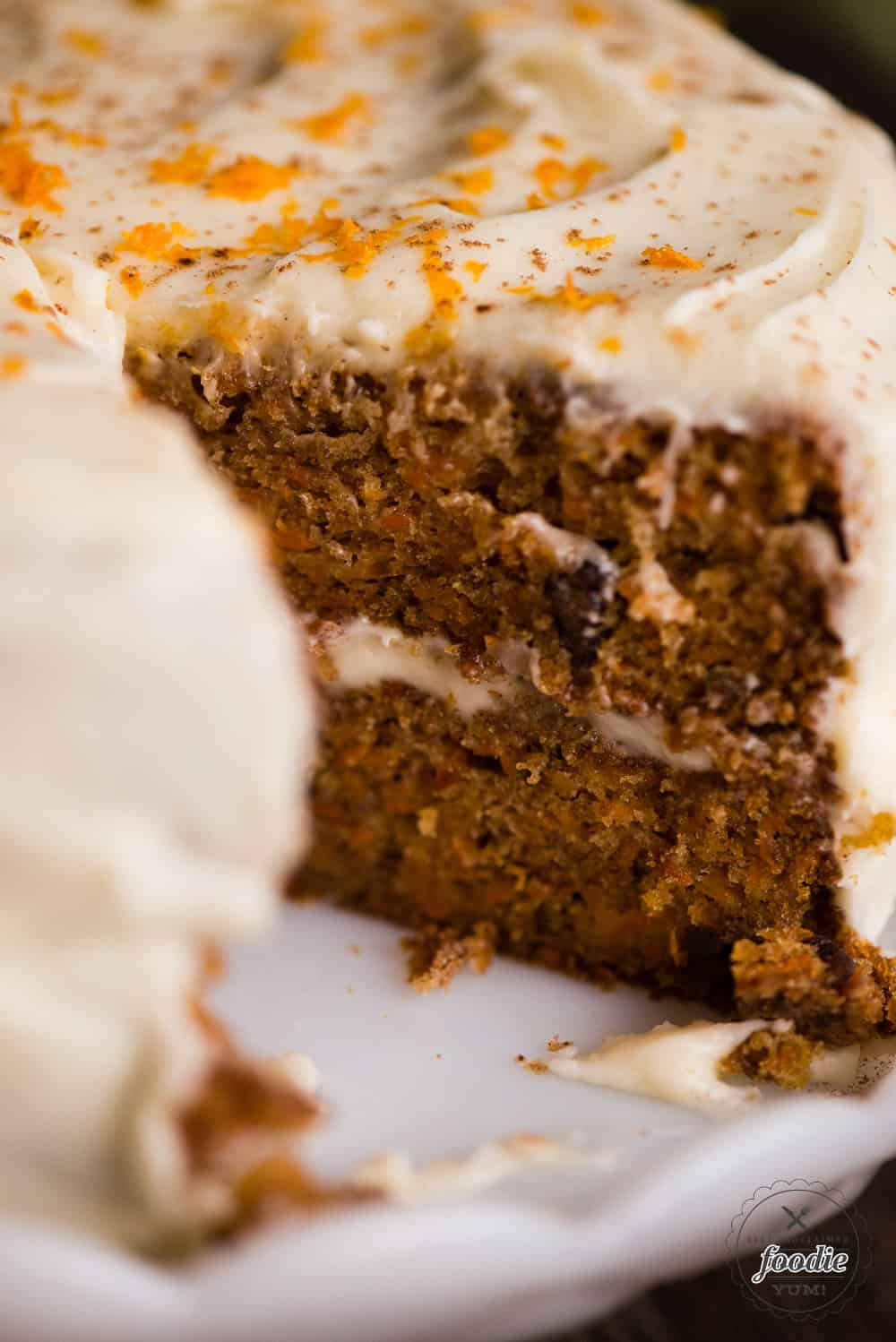 If your cake sinks in the middle:
If you don't cook your cake long enough, it will sink in the middle after it has cooled.
I am a chronic under-baker because I'm terrified of overly dried baked goods.
There really is a sweet spot when baking, however, when your cake or quick bread has completely cooked and is not overly cooked. This is typically about a 5-minute window.
Just be sure your carrot cake has no wet batter that sticks to a toothpick when inserting in the middle. If you think you're in that window, but aren't entirely sure, you can always turn off the oven and crack the door and let your cake sit for about 5 minutes before removing it. This will allow your cake to continue cooking but not cook so much to the point where it dries out.
Frosting recommendations:
I think cream cheese frosting is the absolute best frosting to pair with carrot cake, which is why I included it in the recipe. I do, however, think there are some other great options you might like to try!
Perfect Buttercream Frosting – This is my version of an Italian buttercream. It, too, is silky smooth and is a dream for decorating because it holds it's shape. The recipe is a little tricky, but I include a video in the post that will help you make it.
Brown Butter Vanilla Bean Frosting – If you know my blog, you know I love brown butter anything, from desserts to savory dishes, and using brown butter in your frosting takes it to a whole new level. This would absolutely compliment this super moist carrot cake!
Mascarpone Frosting – This is actually my favorite frosting. It's light, creamy, holds it's shape, and is perfectly sweet. I used it on my lemon cupcakes, but it would go great on this carrot cake too!
When is National Carrot Cake Day?
Oh yes. There's a national day for just about every food out there.
Can you believe National Carrot Cake Day is February 3rd? Why? Why not around Easter time?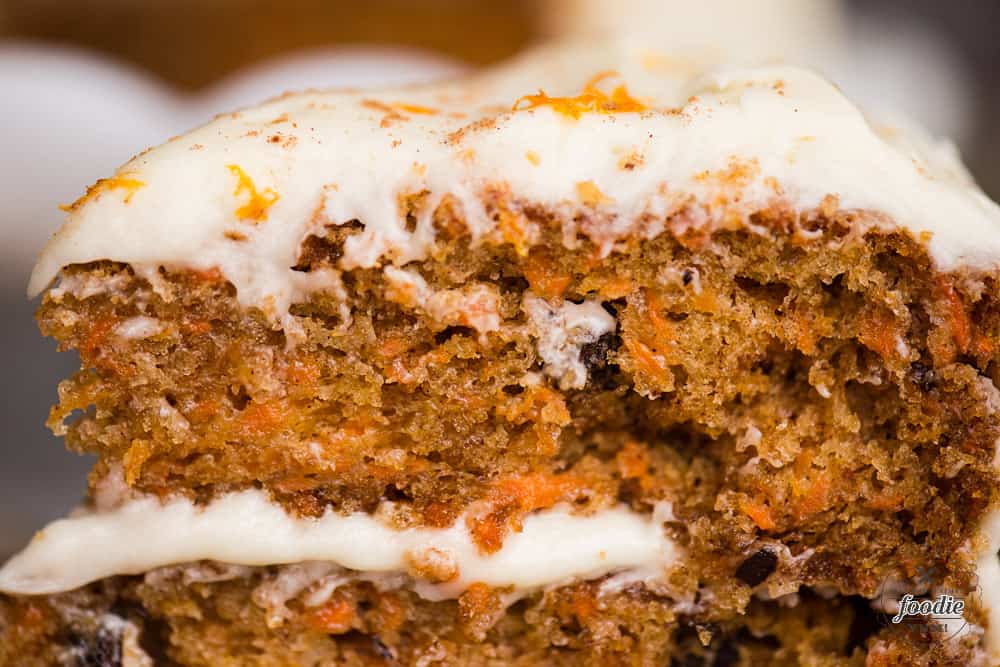 Easter Day recipe ideas:
My ideal Easter day, aside from the hard boiled egg decorating and candy filled baskets, is all about the food. When I think about Easter, I think about starting my day with classic eggs benedict and a side of easy breakfast potatoes.
I eat so much at breakfast that I can skip lunch and go for the "linner" option (eat at 3pm and combine your lunch and dinner).
For Easter dinner, we love to make a whole ham, cheesy scalloped potatoes, and asparagus. For dessert, there's always carrot cake, but sometimes I like to throw in fun little coconut macaroon Easter egg nests.
Love homemade cake recipes?
You'll definitely want to try these:
Did you make this recipe? Please leave me a comment below to let me know what you think!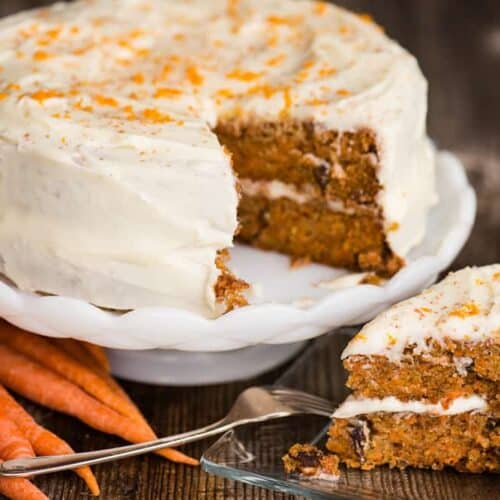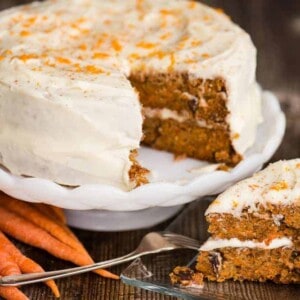 Carrot Cake, loaded with tons of freshly grated carrots and covered with cream cheese frosting, is simply the best moist cake recipe you'll ever make. This simple carrot cake recipe is super easy to make from scratch. Each bite is loaded with flavor and it really is so moist that it will melt in your mouth!
Instructions
Preheat oven to 350 degrees F. Grease and flour two 9-inch baking pans.

In a medium sized bowl, combine flour, baking soda, baking powder, cinnamon, and salt. Set aside.

In the bowl of a stand mixer, combine eggs, oil and sugar. Mix on medium high speed until light and fluffy, about 5 minutes. Add vanilla and almond extract and mix until combined. Add flour and fold mixture together just until mixed. Fold in shredded carrots and nuts.

Fill both pans with equal amounts of batter. Bake in preheated oven until golden brown on top and a toothpick inserted comes out clean, about 40-50 minutes total. As soon as you remove them from the oven, transfer them to a wire rack to cool. As soon as cakes are cool enough to handle with your bare hands, remove from pans and allow to cool completely on wire rack.

To make frosting, blend butter and cream cheese together on high speed until light and fluffy, about 5 minutes. Scrape sides, add vanilla, and mix another minute. Add sugar incrementally, blending slowly to combine and then on high speed to really mix. You can either add the orange zest and spices to the frosting at this point or you can frost the cake and then top it with the zest and spices.

When cake is completely cool, frost and stack it.
Nutrition
Calories:
614
kcal
,
Carbohydrates:
95
g
,
Protein:
6
g
,
Fat:
24
g
,
Saturated Fat:
9
g
,
Cholesterol:
95
mg
,
Sodium:
451
mg
,
Potassium:
272
mg
,
Fiber:
2
g
,
Sugar:
75
g
,
Vitamin A:
5915
IU
,
Vitamin C:
2
mg
,
Calcium:
84
mg
,
Iron:
1.7
mg
Nutrition information is automatically calculated, so should only be used as an approximation.