Coconut Caramel Easter Egg Nests made with coconut macaroons, salted caramel sauce, and chocolate candy eggs are the cutest little Easter desserts ever.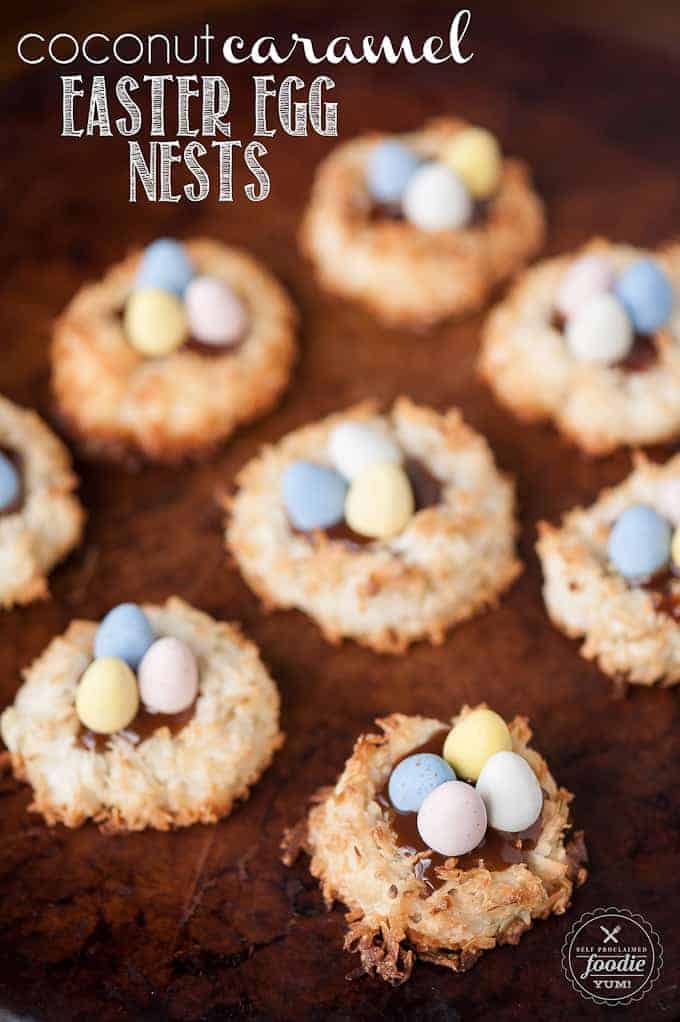 Let me just start by saying how much my kids loved these little cookies. Unlike when I was a kid and we would make a pan of brownies, divide it equally among the four of us, and devour it in minutes, we try to limit the sweets our kids eat. Trust me, just one of these cookies with the sweetened coconut, ooey gooey salted caramel sauce, and divine little candy coated chocolate eggs is enough for a small child. That being said, until they were gone, my husband and I got daily notes and drawings asking if they could pretty please eat a birds nest.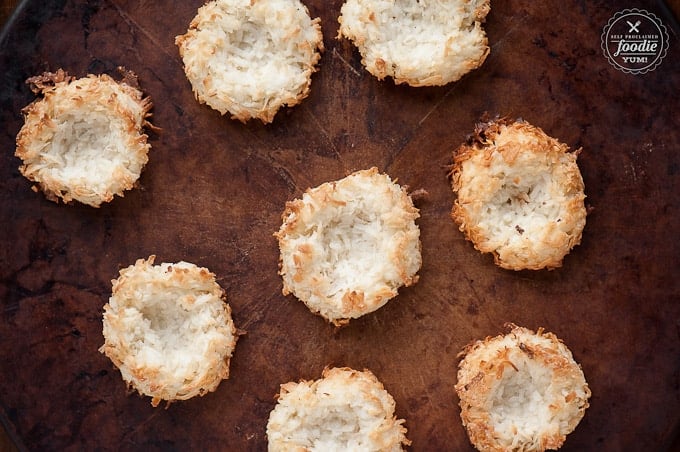 First I started with a coconut macaroon recipe that I really love. A lot of recipes out there call for sweetened condensed milk and I think that's just gross and a bit overkill for a macaroon, so I don't use it. Then I wasn't quite sure how to best make the nest shape. I experimented a bit to save you the hassle and came to the conclusion that I liked to shape them into disks, bake until they partially set, and then use a spoon to shape a well in the middle and push the sides back in. It worked beautifully.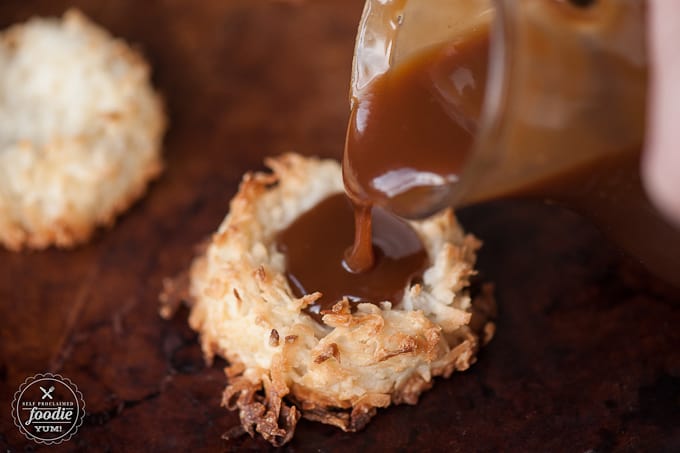 After the cookies have cooled completely, you'll want to fill those wells with salted caramel sauce. Oh boy, was this stuff worth it. You'll definitely want to make it from scratch. I sort of missed when I was filling one of the cookies. Can you spot the ugly one below? That was because I was trying to fill the cookies while also taking a photo with a very long macro lens. My arms just aren't long enough for such tasks!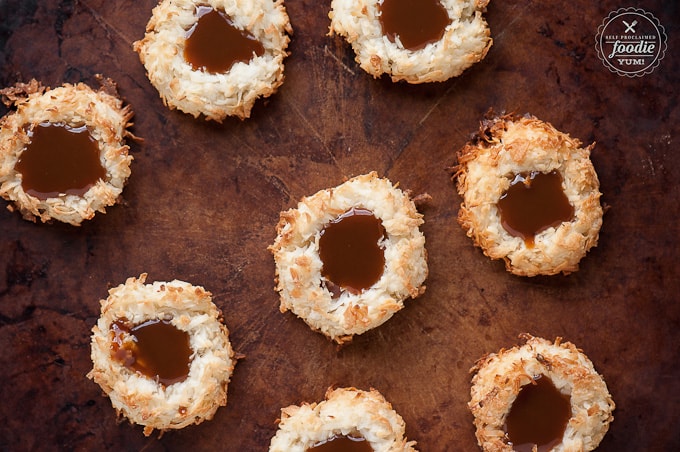 Then, you just plop those chocolate eggs right on top. It really doesn't matter which brand you use. I definitely have my favorite, but they shall rename nameless because I tend to do sponsored posts from their competitor and I like to play nice.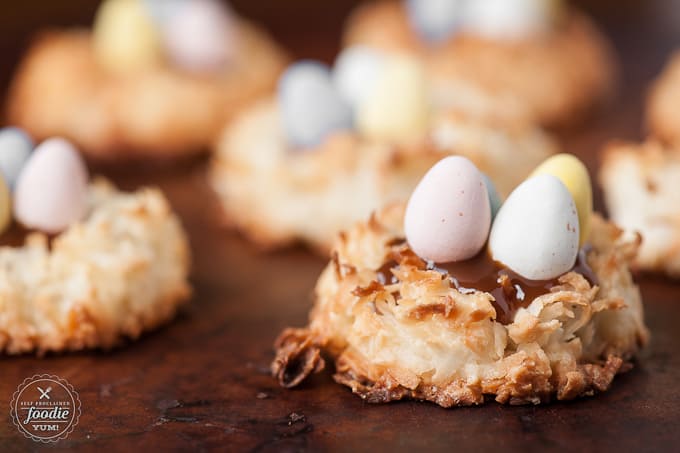 And there you have it: cute little delicious coconut caramel Easter egg nests.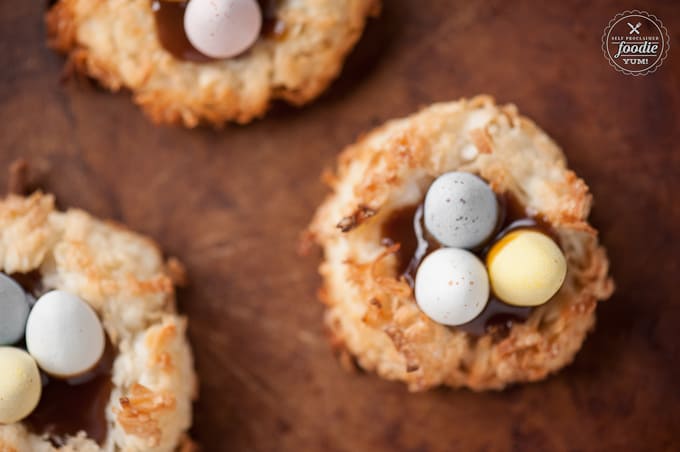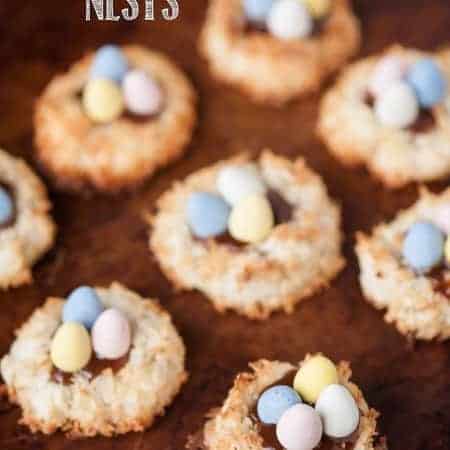 Coconut Caramel Easter Egg Nests
Coconut Caramel Easter Egg Nests made with coconut macaroons, salted caramel sauce, and chocolate candy eggs are the cutest little Easter desserts ever.
Print
Pin
Rate
Ingredients
14

ounces

sweetened, flaked coconut

1/3

cup

white sugar

6

tablespoons

all-purpose flour

1

teaspoon

baking powder

1/2

teaspoon

almond extract

1

pinch

salt

3

egg whites

room temperature

salted caramel sauce

chocolate candy eggs
Instructions
Preheat oven to 350 degrees F. Line a baking sheet with parchment paper.

In a large bowl, combine blend coconut, sugar, flour, baking powder, almond extract, and salt until combined.

Beat egg whites in a bowl of stand mixer until soft peaks form. Fold coconut mixture into egg whites until just combined.

Roll spoonfuls of coconut mixture between palms to golf ball size cookies and then flatten into a disk. Arrange on the prepared baking sheet.

Bake cookies in the preheated oven for about 10 minutes, and then open the oven and use the back of a spoon to create a well in the cookie and reshape it into a nest. Continue cooking until coconut is slightly golden and toasted, about 5-10 more minutes. Transfer to a wire rack to cool, 30 minutes.

Make some delicious

salted caramel sauce

(the recipe will make more than you need for these nests but there are lots of other things you can use it for).

Fill each well with caramel sauce and fill with 3-4 candy coated chocolate eggs.
Notes
Makes 12-16 cookies. Serving size based on one large cookie. Nutritional info does not include caramel sauce or chocolate eggs.
Nutrition
Calories:
258
kcal
|
Carbohydrates:
16
g
|
Protein:
3
g
|
Fat:
21
g
|
Saturated Fat:
19
g
|
Sodium:
28
mg
|
Potassium:
229
mg
|
Fiber:
5
g
|
Sugar:
8
g
|
Vitamin C:
1
mg
|
Calcium:
23
mg
|
Iron:
1
mg