This Salted Caramel Sauce with rich, decadent, and complex flavors is the best caramel sauce I have ever eaten, perfectly complimented by the flaked salt.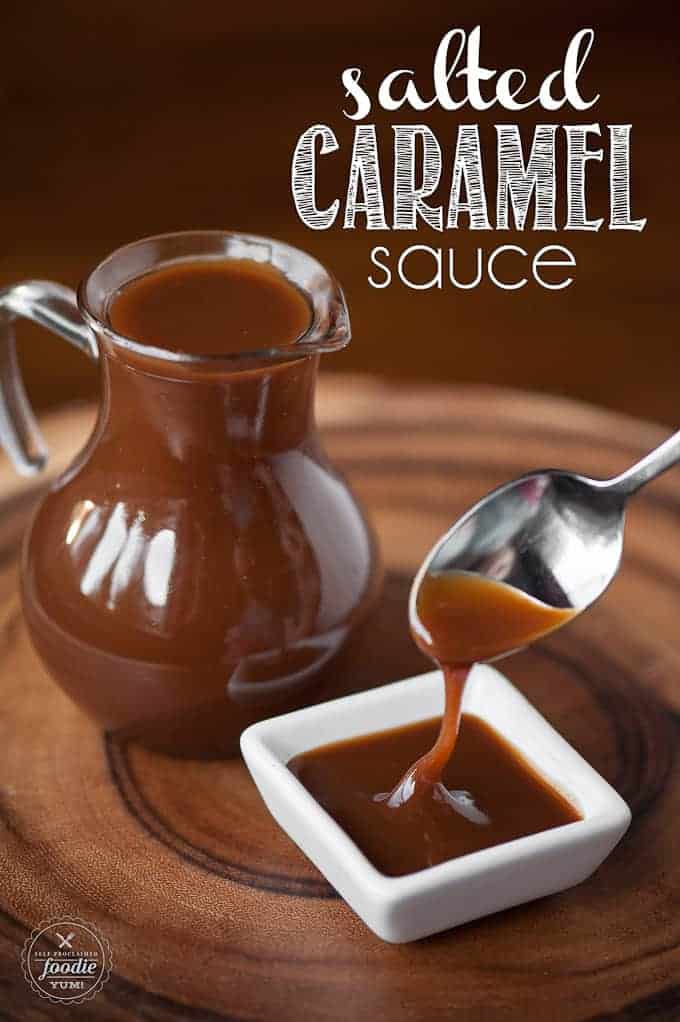 I was so excited to have finally made the perfect salted caramel sauce!  Is this hard to make? No. Was it hard for me to make? Yes, incredibly. This was actually my third, and final, attempt at making this sauce. I'll tell you why, so you can learn from my mistakes and achieve perfection the very first time.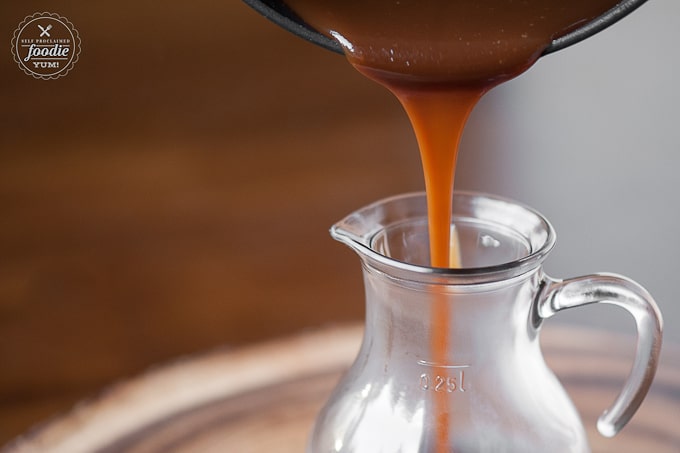 First attempt: I had looked online at various recipes. They all called for granulated sugar. Well, most of the time granulated sugar is called for in baked goods, I substitute part or all with brown sugar. I thought "all these people think their caramel sauce is good, wait till they see mine made with brown sugar!". It should be obvious at this point that I did not go to culinary school, otherwise I would have known better. No, I was never taught the valuable principles of cooking. Everything I have learned has been through trial and error. This first attempt, my friends, was one of those error moments. Brown sugar burns. Don't use it to make caramel, or if you do and it works, please tell me what you did.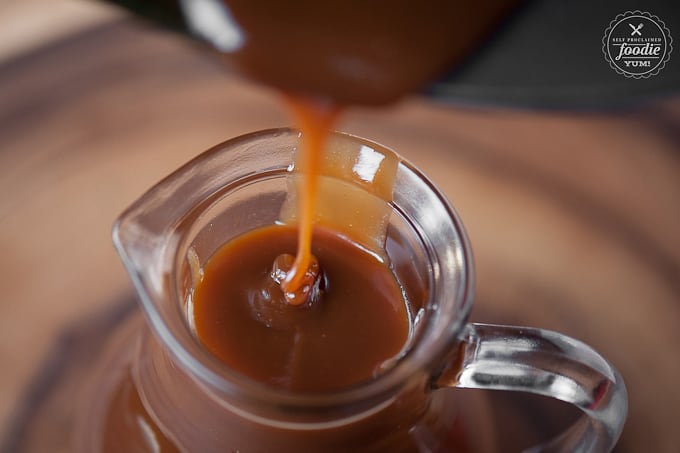 Second attempt: Boiling sugar scares the hell out of me. This fear stems from the time when my little sister and I were gluing pieces of a homemade gingerbread house together. This was well before the days when you can buy a cute one in a kit. When we were kids, we tried to glue them together with frosting. The frosting was never strong enough for our huge pieces of gingerbread. Then one year we discovered that melted sugar would work better than a hot glue gun. It sure did, but I also found out that melted sugar accidentally dripped across the back of your hand burns like a son of a bitch and has to basically harden before it peels away from your damaged skin. So yeah, boiling sugar is the stuff nightmares are made of. That, combined with the fact that I was really afraid of burning the sugar like I did in the first batch, forced me to add the cream to the sugar prematurely and the result was more like a sweetened condensed milk than a caramel.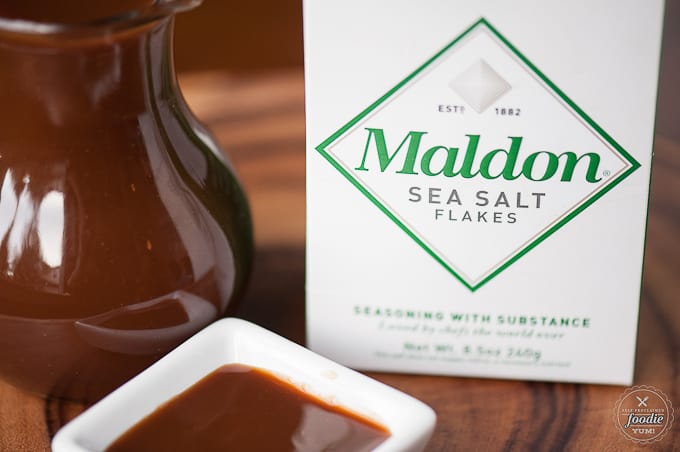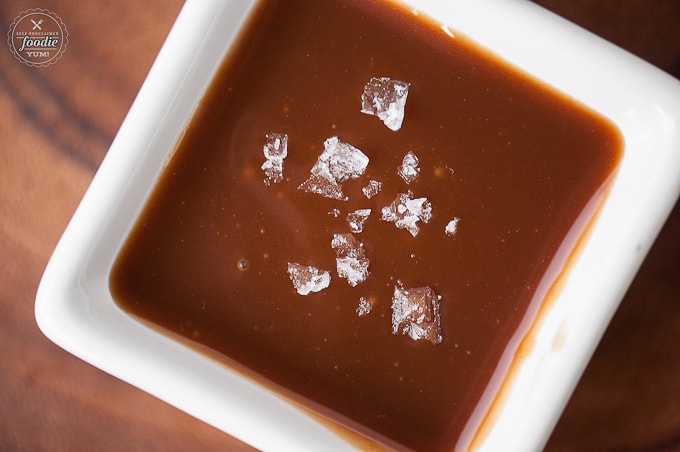 Finally, I sought the advice of my friend and baker extraordinaire, Mindy (you know, my friend who won Chopped). She is somewhat of an expert on sweet sauces. She told me to take the boiling sugar past the point where you think its done. I took her advice, and when I poured the cream in this time around I thought "oh great, I burned this batch". So not true. This batch turned out rich and delicious. The brown color of the final caramel sauce almost looked like milk chocolate. It tasted like something you'd get at See's Candy. And when you add that flaked salt? Oh. My. God. Pure heaven. You can mix the salt in or sprinkle it on top. Do whatever floats your boat. Just know that this is amazing.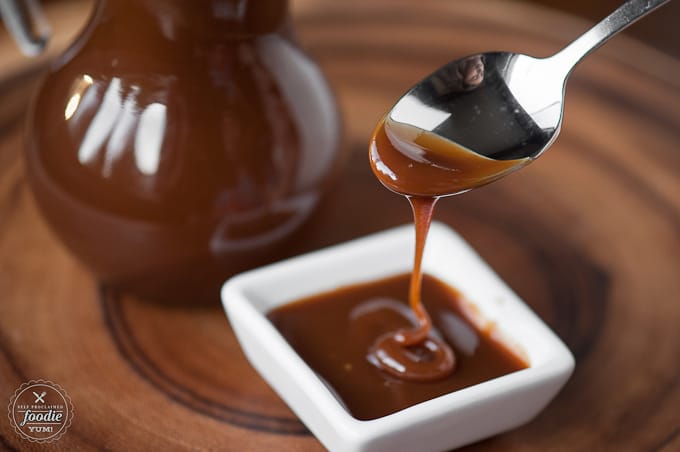 PS - my daughter did all the pouring in these photos. You can see her face in the spoon. Didn't she do a phenomenal job??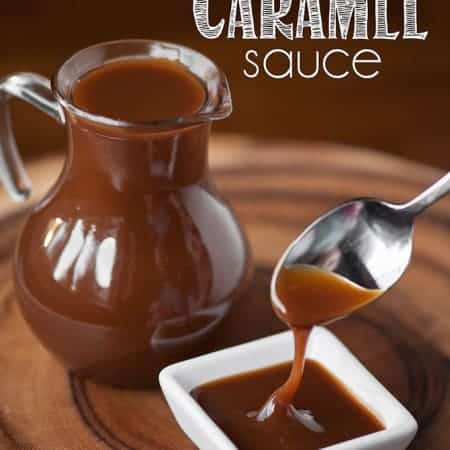 Salted Caramel Sauce
This Salted Caramel Sauce with rich, decadent, and complex flavors is the best caramel sauce I have ever eaten, perfectly complimented by the flaked salt.
Print
Pin
Rate
Hover to scale:
8
servings
Ingredients
1 1/2

cups

granulated sugar

2

teaspoons

corn syrup

1/4

cup

water - approximate amount

1

cup

heavy cream

(room temperature)

1

teaspoon

salt

(flake salt recommended, amount completely depends on taste)
Instructions
You want to use a medium to large sauce pot because the mixture boils pretty high. I used a 3 quart sauce pan and it worked perfectly.

Combine sugar, corn syrup, and water in pan. You want mixture to resemble wet sand. You can add more water if you wish, the process will just take longer because you basically cook the sugar until the water evaporates.

Set the heat to medium to dissolve the sugar, then increase the heat to high to boil it. Do not stir, but you may give the pot a gentle swirl as it boils. Cook until melted sugar has turned a bit brown in color and smells like caramel corn, but do not allow it to burn. If you aren't sure because you're cooking with a dark pan, you can dip a white spatula in to see color, but just dip a little because the sugar will harden and won't drip off the spoon back into the pan. This may take 5-15 minutes.

Once sugar is ready, very slowly pour in the heavy cream, whisking while you pour. Once all the cream has been added, cook for about a minute before removing from heat.

This caramel sauce tastes amazing with salt, especially if you use flaked, but start slowly and add according to taste. You can also hold off on adding salt until you serve.

Use on ice cream, brownies, cheesecake, in your coffee, on sliced apples, or just eat it plain!
Notes
Recipe makes about 1.5 cups
NUTRITION INFORMATION
Calories:
255
kcal
|
Carbohydrates:
40
g
|
Protein:
1
g
|
Fat:
11
g
|
Saturated Fat:
7
g
|
Cholesterol:
41
mg
|
Sodium:
304
mg
|
Potassium:
22
mg
|
Sugar:
39
g
|
Vitamin A:
437
IU
|
Vitamin C:
1
mg
|
Calcium:
19
mg