There is nothing quite like a scoop of homemade rich and creamy Extreme Vanilla Bean Ice Cream. Its the perfect dessert.
You could also go above and beyond and use this homemade ice cream in a fun ice cream cake recipe!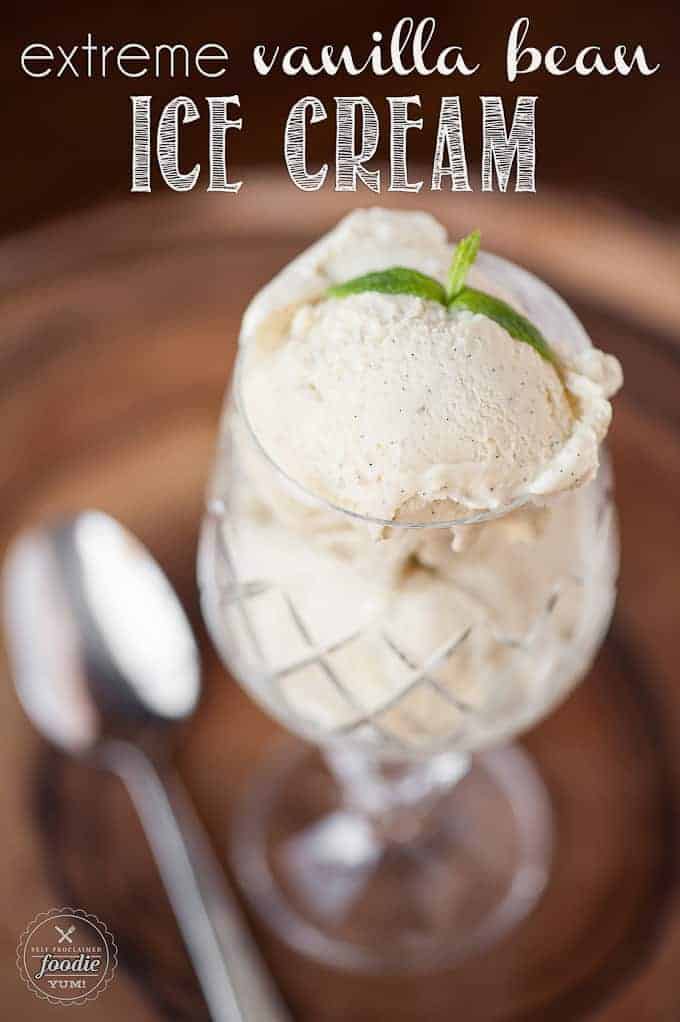 I love vanilla beans.  Allow me to say it again with more excitement: I LOVE vanilla beans!!!  If you just do a search on my blog, you'll see how much I really do love them.  If you're thinking "they're way to expensive… I can't believe the grocery stores can get away charging a few bucks for a single vanilla bean, and this crazy chick says I should put three in this ice cream?  No way."  Trust me, I wouldn't either if I didn't have a ton of vanilla beans at the ready in my pantry.  My vanilla beans are dual purpose.  I soak about 80 of them in vodka for an entire year to make my homemade vanilla extract, then I bottle up said extract and give it away as Christmas gifts and use it for my own cooking as well, then I store the 80 vanilla beans in my pantry. They stay perfectly moist and preserved because – remember – they spent a year bathing in glorious vodka.  When those are all gone after a year of making wonderous vanilla bean recipes, its time to bottle up the next batch.  And, the best part: when you buy them in bulk, they are MUCH much cheaper. So there you go!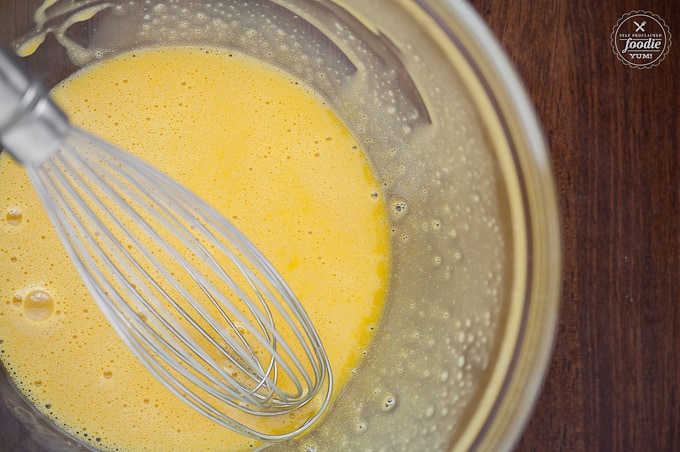 There are a lot of ways to make homemade ice cream. A lot of recipes call for just cream, half and half, milk, or some combination mixed with sugar. C'mon, now. If you're gonna go to the trouble of making homemade ice cream, don't cheat yourself. Do it the right way. And if you're wondering what the right way is, it is to use egg yolks. Don't be intimidated if you've never done this. The process is super easy.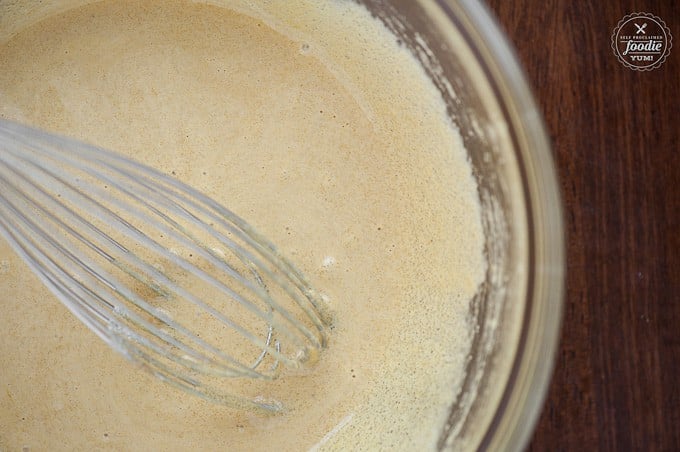 Just whisk up your egg yolks. Then whisk in the sugar. Go ahead, burn all those calories you're about to consume by whisking the hell out of it.  Then you heat up your cream and milk and, of course, vanilla beans. Then you take a spoon ful of the cream and add it to the yolk. If you just add a small amount and keep on whisking, you'll slowly raise the temperature of the eggs rather then cook them.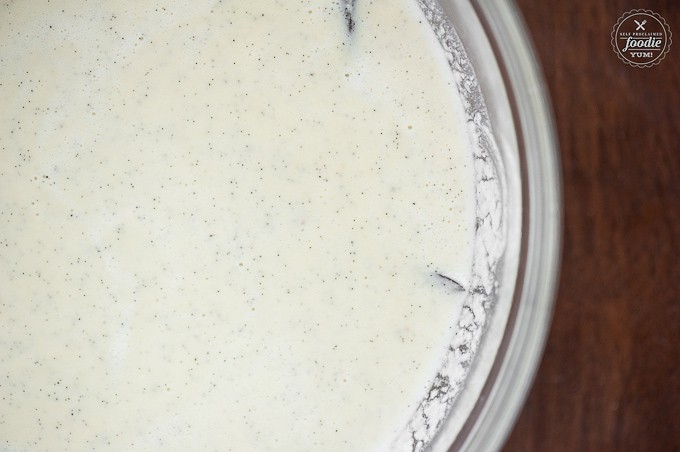 And… because I'm typing the directions when they're written below, I'll use the rest of this post to tell you how delicious this ice cream is.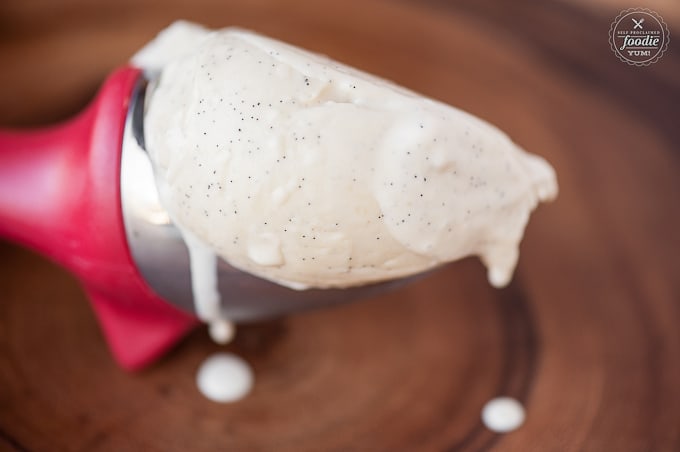 Its the best damn vanilla bean ice cream I've ever eaten. That is all.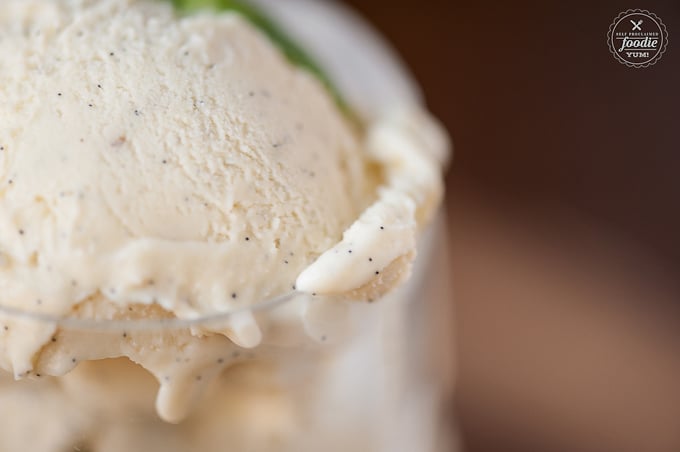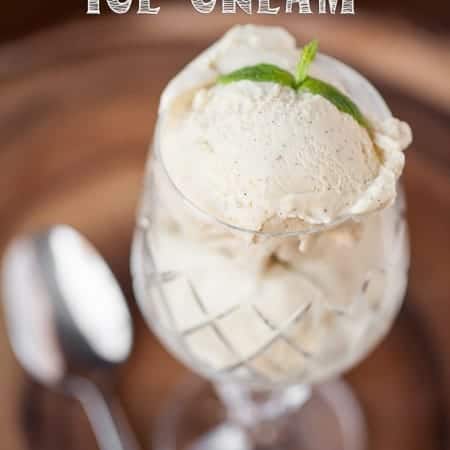 Extreme Vanilla Bean Ice Cream
There is nothing quite like a scoop of homemade rich and creamy Extreme Vanilla Bean Ice Cream. Its the perfect dessert.
Print
Pin
Rate
Ingredients
5

large egg yolks

1/2

cup

granulated sugar

1/4

cup

golden brown sugar

2

cups

half-and-half

1

cup

heavy cream

3

vanilla beans

split lengthwise
Instructions
In a large bowl, whisk together egg yolks. Add granulated and brown sugars and whisk together until lightened in color and smooth.

Pour the half and half, the heavy cream, and the vanilla beans into a medium saucepan, over medium heat. Bring the mixture just to a simmer, stirring occasionally while pressing onto the vanilla beans to extract the flavor and the seeds, and then remove the pot from the heat.

Use a ladle to transfer one spoonful at a time of the hot cream to the egg yolk mixture while whisking the entire time. Your goal is to slowly mix in the hot mixture to temper the eggs but not to cook them. Continue to slowly add the hot cream while whisking until all of it has been thoroughly combined.

Return the entire mixture to the saucepan and place over medium low heat. Continue to cook, stirring frequently, until the mixture thickens slightly and coats the back of a spoon. For me, this was more of a gut feel thing to know when it was ready, but you can definitely tell when the mixture has thickened. Do not let it get to the point where the eggs begin to cook. You should be able to touch the mixture with your finger without burning it.

Pour the mixture into a bowl and allow to sit at room temperature for 30 minutes.

Cover the bowl and refrigerate for at least four hours.

Pour into an ice cream maker and process according to the manufacturer's directions. I was able to process the entire batch at once in my Cuisinart Ice Cream Maker. This should take approximately 25 to 35 minutes. Freeze for a couple of hours to allow the ice cream to harden. Then scoop and enjoy.
Notes
Recipe makes about a quart of homemade vanilla ice cream.  Serving size based on 1/2 cup per person.
Nutrition
Calories:
296
kcal
|
Carbohydrates:
23
g
|
Protein:
4
g
|
Fat:
21
g
|
Saturated Fat:
12
g
|
Cholesterol:
185
mg
|
Sodium:
43
mg
|
Potassium:
122
mg
|
Sugar:
19
g
|
Vitamin A:
815
IU
|
Vitamin C:
0.7
mg
|
Calcium:
103
mg
|
Iron:
0.4
mg