Homemade Vanilla Pudding is an easy dessert recipe made from scratch. Old fashioned vanilla pudding can be enjoyed hot or cold!
Scroll down to see tons of photos detailing the ingredients needed as well as step-by-step instructions. The full printable recipe card is at the end.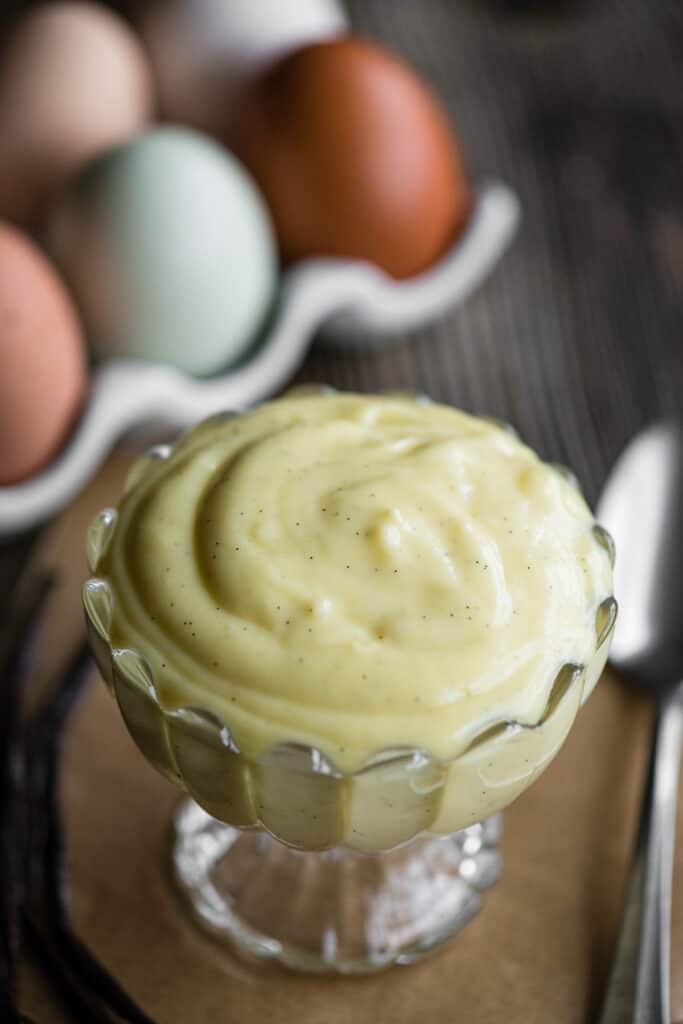 Why you'll love this recipe:
So much better from scratch! I grew up eating pudding made from a box mix. As I kid, I considered that to be homemade. It wasn't until I learned how to cook that I realized how easy it was to make vanilla pudding from scratch and how much more delicious it was!
Real vanilla bean: What really sets this recipe apart is the vanilla bean. Specks of vanilla can be seen and tasted in every bite.
Use in other recipes: While I love traditional vanilla pudding as it's own dessert, I will often make this recipe to include in a banana cream pie, banana pudding with Nilla wafers, or in a pudding poke cake.
Ingredients needed:
Exact quantities are listed in the recipe card below, but here is a summary.
Half and half – I love the creaminess half and half creates, however you can also use a mixture of milk and heavy cream
Sugar
Cornstarch – for thickening
Egg yolks – Don't discard the whites! Use them for a different recipe like angel food cake
Butter and salt – The salt can be omitted if using salted butter
Vanilla bean – Can be substituted with vanilla extract, however the bean is highly recommended for the best flavor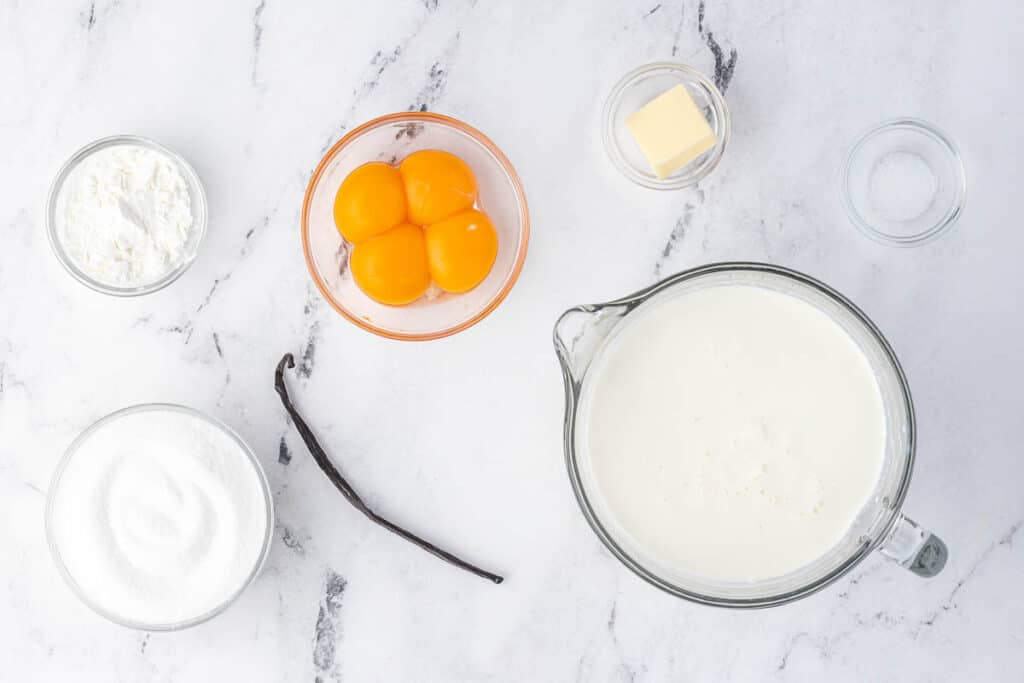 How to make vanilla pudding from scratch:
Detailed step by step instructions are listed in the recipe card below, but here is a summary.
Step 1: Scald Cream
Combine: sugar and corn starch in a sauce pan. Whisk in the half and half.
Add vanilla bean: Split vanilla bean pod lengthwise but leave it connected at one end. Use a sharp knife to scrap out the seeds and add them to the mixture along with the pod.
Heat: Place the pan on the stove and heat the mixture.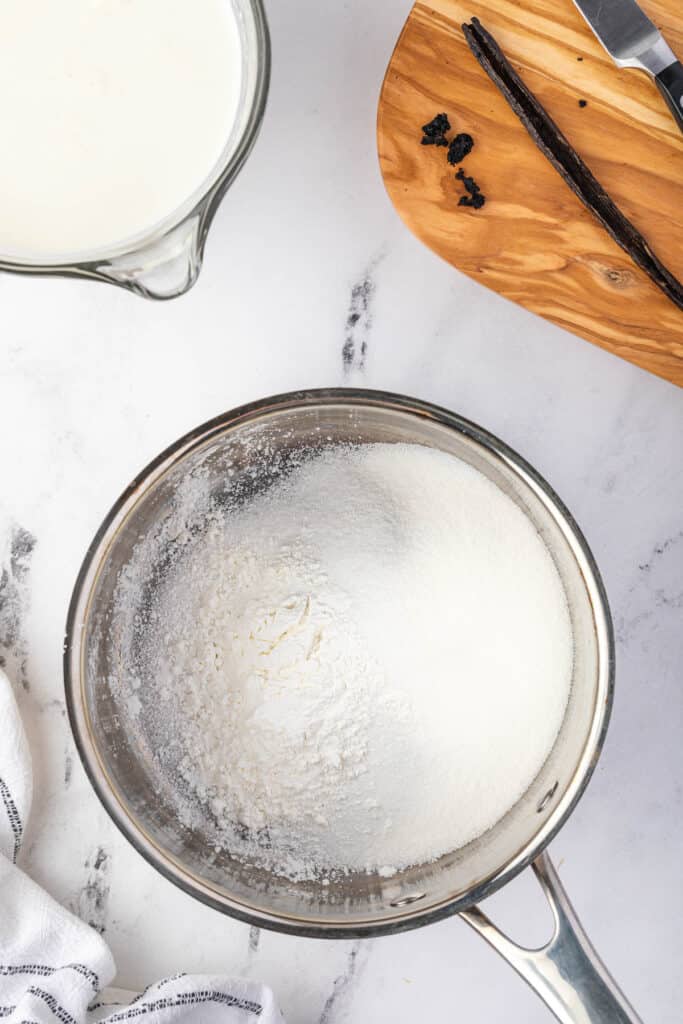 Step 2: Temper Egg
Temper the egg yolks with a small amount of the hot liquid in order to gradually raise their temperature and avoid having the egg yolks scramble. Continue until the egg yolk mixture is warm.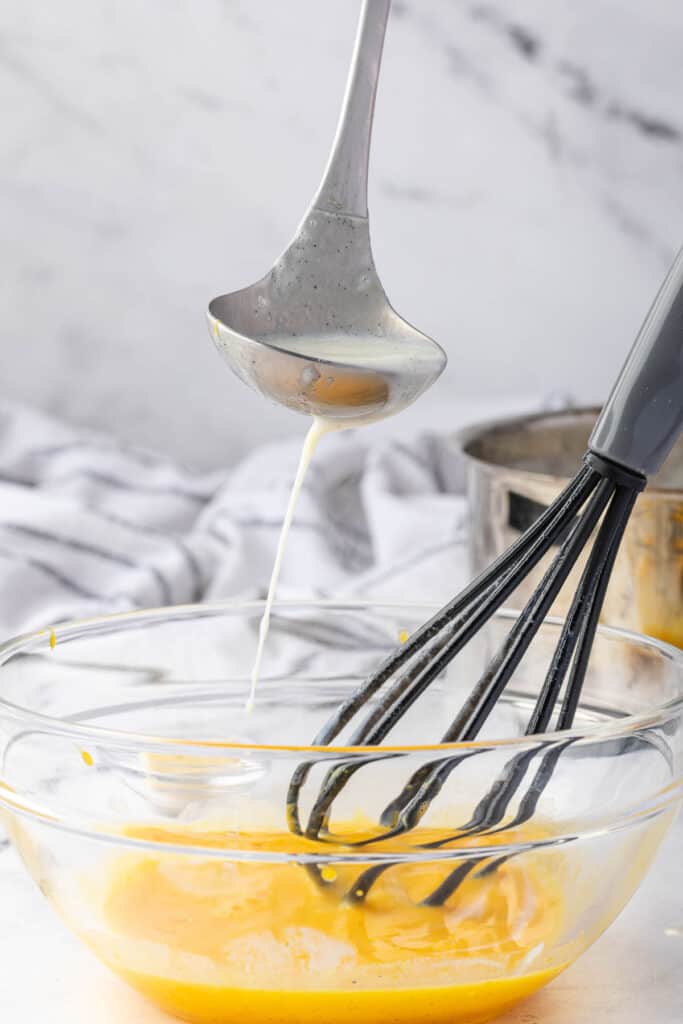 Step 3: Cook Pudding
Once the tempered egg yolks have been whisked into the hot cream mixture in the pan, stir, and gently heat until thickened. Once done, stir in the butter and salt (if using).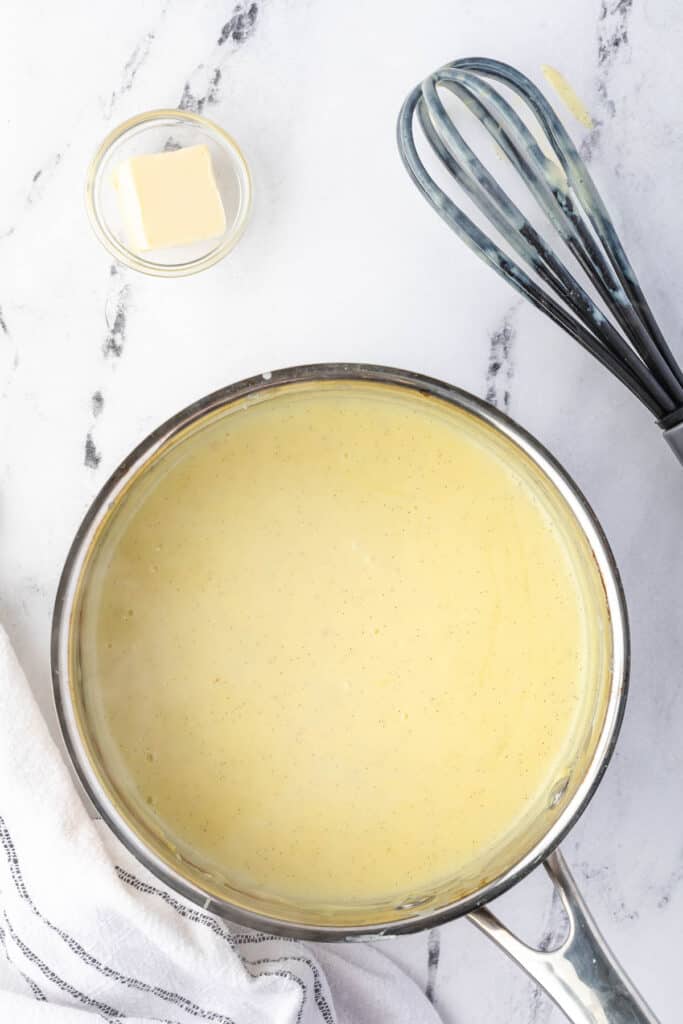 Recipe tips for best results:
Substitutions:

Half and half: substitute 3 parts whole milk, 1 part heavy cream
Vanilla bean: substitute 1 tablespoon pure vanilla extract

Storage: Store in air tight container in refrigerator and consume within 3-5 days. To prevent skin from forming, place plastic wrap directly onto the pudding surface.
Reheating: Do not reheat homemade pudding. If you want to enjoy it warm, you must eat it fresh, otherwise you should plan on eating it cold.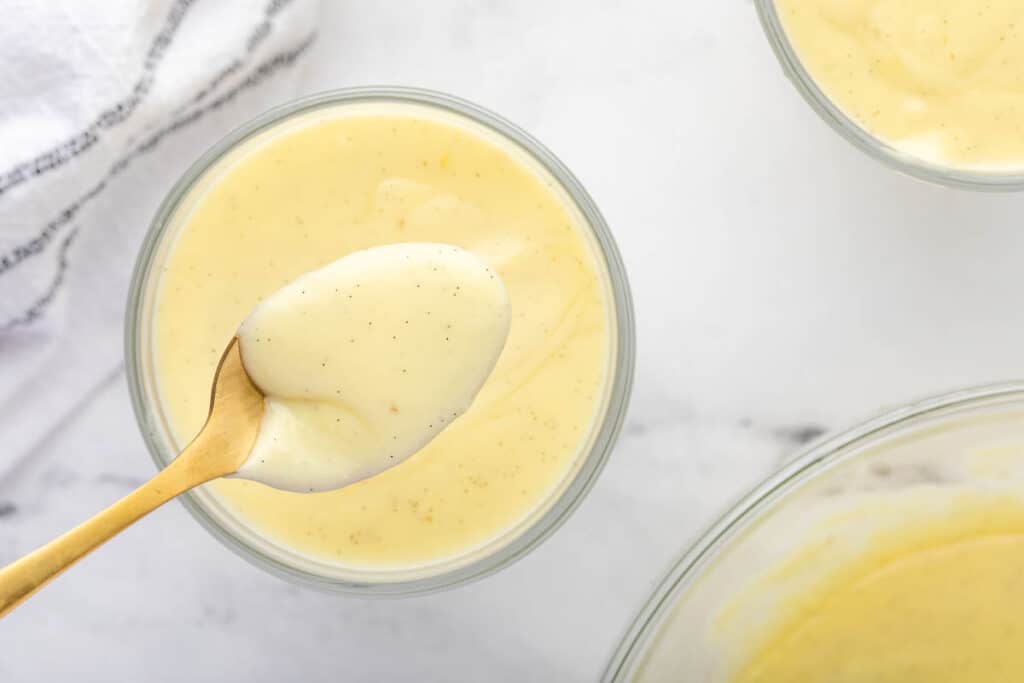 Is pudding best hot or cold?
True story: When I was pregnant with my first born, every bit of me craved a hot bowl of chocolate pudding every single night. I would make a box (from a mix… gasp!) of chocolate pudding, cover it with a layer of whipped cream, and sit in the bath and eat it. No joke. It's a wonder I didn't gain 200 pounds while pregnant.
I actually prefer to eat pudding hot as a sweet dessert after dinner, but cold pudding is just as good and makes for a great anytime treat.
How to avoid getting a skin on pudding:
The trick to avoiding a pudding skin is to either cover it with a layer of whipped cream or store it with plastic wrap directly on the surface of the pudding.
If you're not going to be eating the pudding immediately, avoid having a skin form by placing plastic wrap directly on the pudding surface.
Pudding vs. Custard:
Pudding and custards are very similar, but there are enough differences to classify them as two separate things. They are both generally sweet and egg based, but they vary in taste and texture. I'll explain what I think are the main differences:
Pudding uses a starch for thickening. In the case of my homemade vanilla pudding, I use cornstarch. With custard, the egg or the egg yolks do all the thickening.
When comparing texture, pudding tends to be more creamy. Almost a very thick liquid. Custard, on the other hand, is thicker and firmer.
As for taste and which is better, I guess that's just a matter of preference. I love pudding and could eat it every day. Custard? Not so much.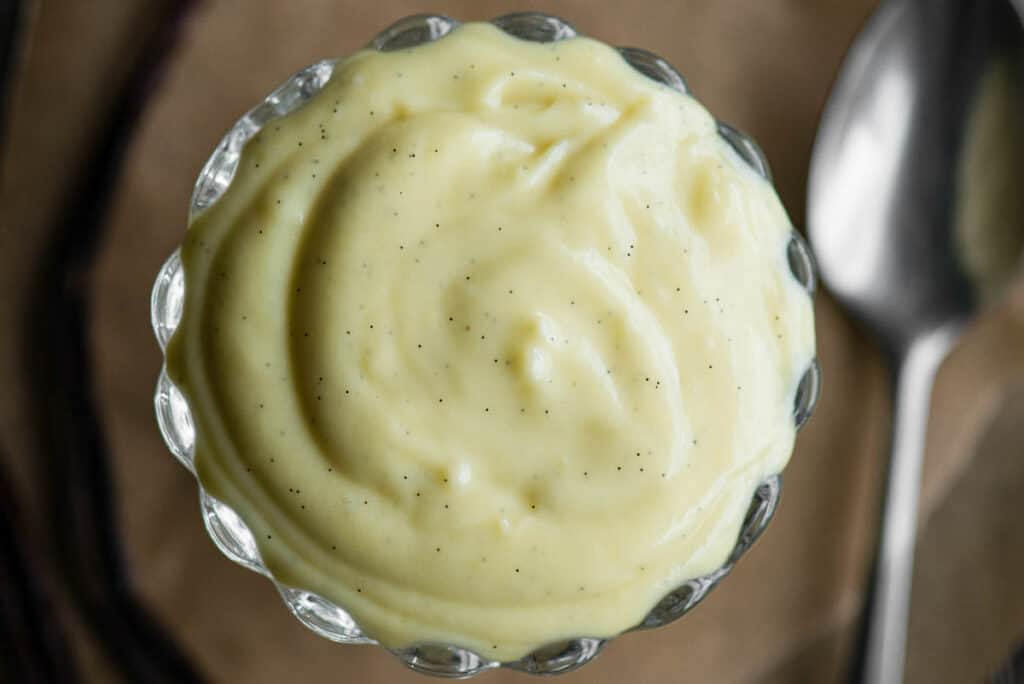 If you've made this or any other recipe on my site, let me know in the comment section how it turned out. I love hearing from my readers!
You can also follow along on PINTEREST, FACEBOOK and INSTAGRAM to see more amazing recipes to satisfy any foodie craving!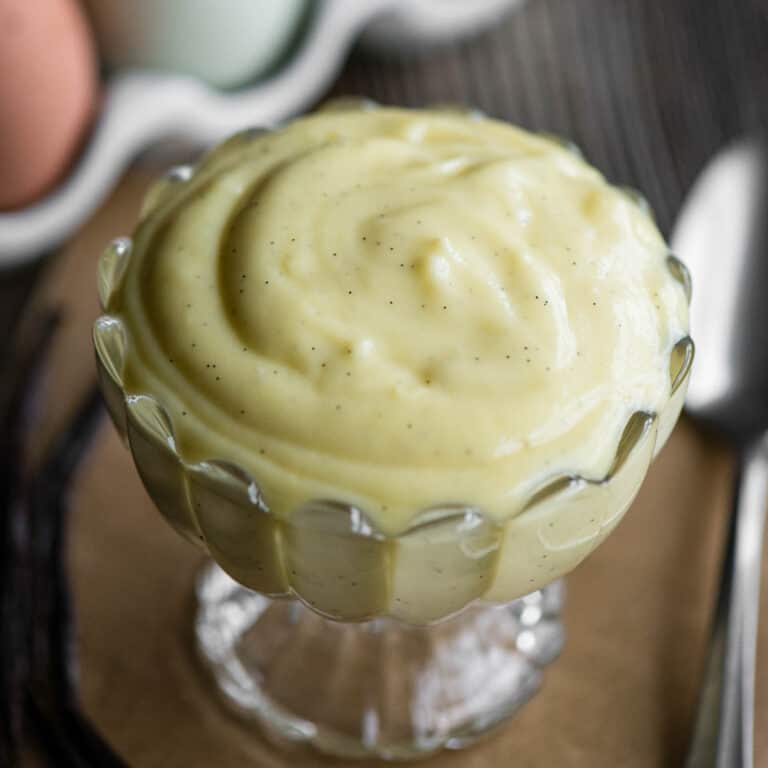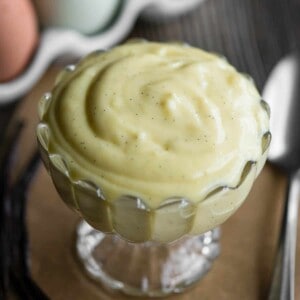 Homemade Vanilla Pudding is an easy dessert recipe made from scratch. Old fashioned vanilla pudding can be enjoyed hot or cold!
Instructions
Heat cream mixture: Combine sugar and cornstarch in medium saucepan. Stir in half and half. Scrape vanilla bean and add scrapings plus pod to mixture. Cook over medium heat, stirring frequently until mixture is thick and bubbly and starts to stick to the bottom. This should take about 5-10 minutes.

Temper egg yolks: Add egg yolks to medium-sized bowl. Slowly add one ladle of hot cream mixture to egg yolks while whisking rapidly. Continue to ladle hot mixture into egg yolks until at least one cup of hot mixture has been added. Then, pour warm tempered egg yolk mixture into hot half and half mixture on the stove, whisking constantly.

Cook pudding: Allow mixture to come to a gentle boil, then reduce heat to low. Continue to stir and allow to cook until thickened, about 2-5 more minutes. Remove from heat and stir in butter and salt.

Serve: Transfer pudding to a glass container and cover with plastic wrap. To avoid having a skin form, place plastic wrap right on top of pudding surface. Vanilla bean pod can remain in pudding mixture until ready to serve. Serve warm or cold!
Notes
Makes about 4 cups. Serving size based on 1/2 cup.
Nutrition
Calories:
265
kcal
,
Carbohydrates:
31
g
,
Protein:
4
g
,
Fat:
14
g
,
Saturated Fat:
8
g
,
Cholesterol:
135
mg
,
Sodium:
127
mg
,
Potassium:
127
mg
,
Sugar:
25
g
,
Vitamin A:
495
IU
,
Vitamin C:
0.8
mg
,
Calcium:
107
mg
,
Iron:
0.3
mg
Nutrition information is automatically calculated, so should only be used as an approximation.
This recipe was originally published in October 2018 and has been updated with helpful information, ingredient and process photos, as well as recipe tips. Don't worry – the recipe hasn't changed!