Homemade Vanilla Pudding is an easy dessert recipe made from scratch. Old fashioned vanilla pudding can be enjoyed hot or cold!
Real vanilla bean and egg yolks are the secret ingredients to a perfect homemade vanilla pudding. This quick and easy dessert recipe can even be used in other desserts like Classic Banana Pudding, Banana Cream Pie, and different kinds of cakes. If you're a real fan of pudding desserts, you'll definitely want to make my Bourbon Raisin Caramel Pecan Rice Pudding.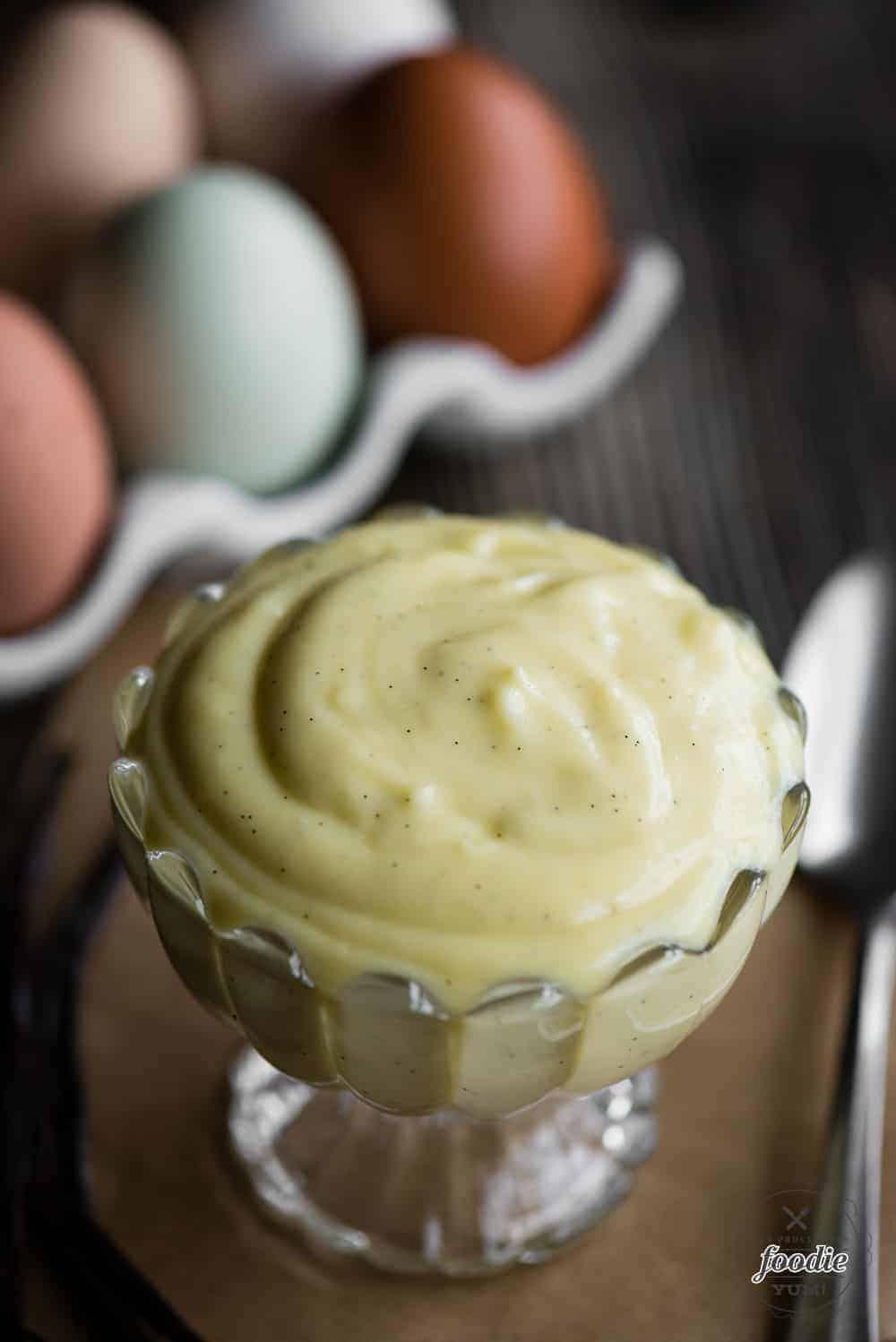 I have a few homemade recipes that I truly love. For example, there's dried pasta you get from the store and then there's homemade pasta. No comparison, right? Same difference with Homemade Vanilla Pudding. You can certainly make pudding from a box, but once you make your own homemade pudding from scratch, you'll never go back.
How to make it:
To make my homemade vanilla pudding recipe, you'll start by combining sugar and corn starch in a sauce pan and then adding in some half and half. For my non-US readers, you could substitute 3 parts whole milk, 1 part heavy cream for the half and half.
I don't just add pure vanilla extract to my vanilla pudding recipe. I much prefer to use a whole vanilla bean, wear the seeds have been scraped out and added. Then, I drop the remaining pod into the mixture and keep it in the pudding until we eat it.
This sugar, corn starch, half and half and vanilla bean mixture is heated until it gets thick and bubbly. Next you'll need to add the egg yolks, but you must temper them with a small amount of the hot liquid in order to gradually raise their temperature and avoid having your egg yolks scramble. You'll add the tempered egg yolks to the mixture and gently heat until thickened. Once removed from heat, you'll add in some butter because... well, who doesn't love some butter?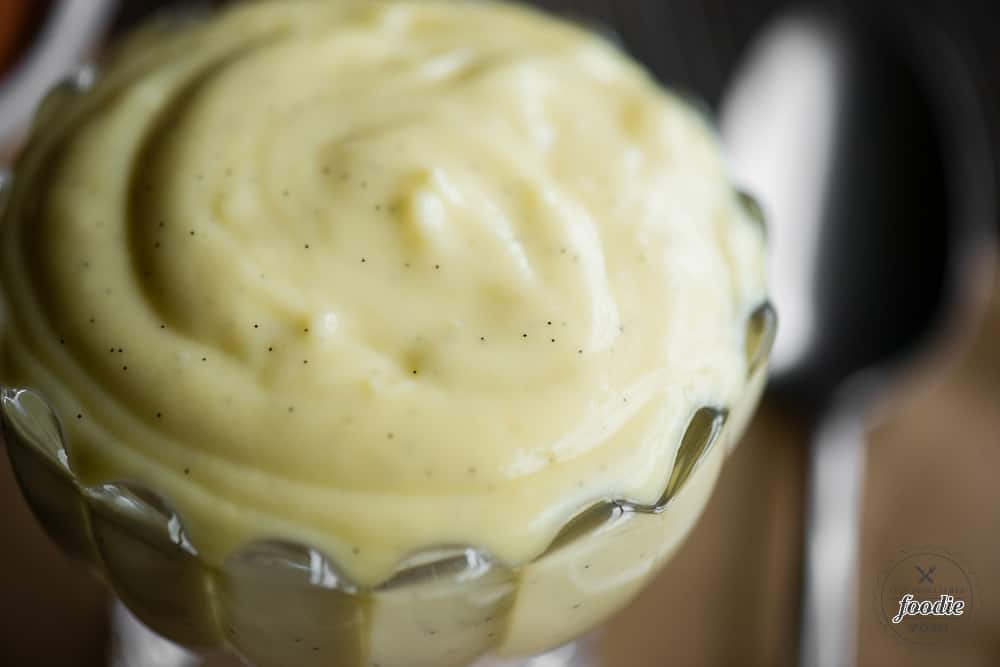 Is pudding best hot or cold?
True story: When I was pregnant with my first born, every bit of me craved a hot bowl of chocolate pudding every single night. I would make a box (from a mix... gasp!) of chocolate pudding, cover it with a layer of whipped cream, and sit in the bath and eat it. No joke. It's a wonder I didn't gain 200 pounds while pregnant.
I actually prefer to eat pudding hot as a sweet dessert after dinner, but cold pudding is just as good and makes for a great anytime treat.
How to avoid getting a skin on pudding:
I don't exactly even know what the pudding skin is or why it forms, but I hate it. That chewy goopy texture has no place on pudding. Especially homemade pudding.
The trick to avoiding a pudding skin is to either cover it with a layer of whipped cream or store it with plastic wrap directly on the surface of the pudding. Unless you're pregnant and craving the calories, covering an already sweet homemade pudding with whipped cream is only asking for trouble. So, if you're not going to be eating the pudding immediately, avoid having a skin form by placing plastic wrap directly on the pudding surface.
Is vanilla pudding and custard the same?
Pudding and custards are very similar, indeed, but there are enough differences to classify them as two separate things. They are both generally sweet and egg based, but they vary in taste and texture. I'll explain what I think are the main differences:
Pudding uses a startch for thickening. In the case of my homemade vanilla pudding, I use corn starch. With custard, the egg or the egg yolks do all the thickening.
When comparing texture, pudding tends to be more creamy. Almost a very thick liquid. Custard, on the other hand, is thicker and firmer.
As for taste and which is better, I guess that's just a matter of preference. I love pudding and could eat it every day. Custard? Not so much.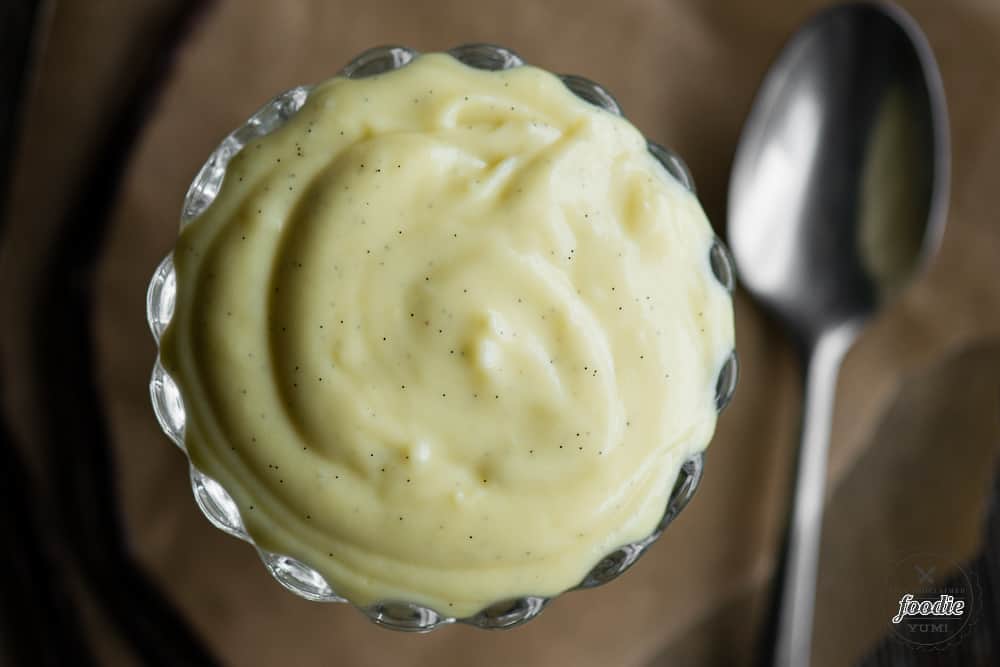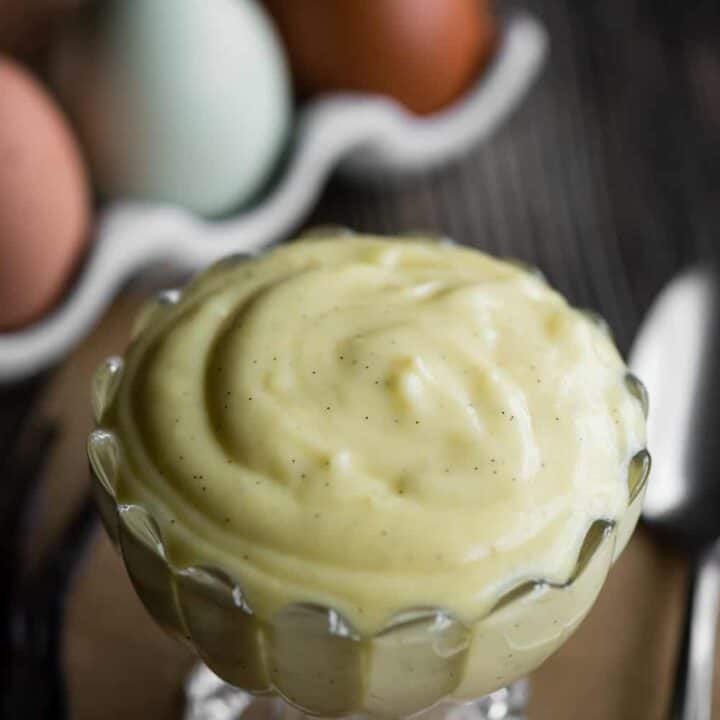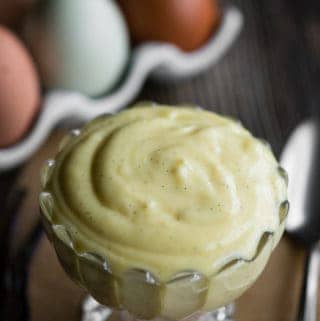 Homemade Vanilla Pudding
Homemade Vanilla Pudding is an easy dessert recipe made from scratch. Old fashioned vanilla pudding can be enjoyed hot or cold!
Print
Pin
Rate
Hover to scale:
8
servings
Ingredients
1

cup

granulated sugar

2

tablespoon

corn starch

3

cups

half and half

1

vanilla bean

(split lengthwise)

4

egg yolks

(lightly beaten)

1

tablespoon

butter

(unsalted)

¼

teaspoon

sea salt

(omit if using salted butter)
Instructions
Combine sugar and cornstarch in medium sauce pan. Stir in half and half. Scrape vanilla bean and add scrapings plus pod to mixture. Cook over medium heat, stirring frequently, until mixture is thick and bubbly and starts to stick to the bottom. This should take about 5-10 minutes.

Add egg yolks to medium sized bowl. Slowly add one ladle of hot cream mixture to egg yolks while whisking rapidly. Continue to ladle hot mixture into egg yolks until at least one cup of hot mixture has been added. Then, pour warm egg yolk mixture into hot half and half mixture on the stove, whisking constantly.

Allow mixture to come to a gentle boil, then reduce heat to low. Continue to stir and allow to cook until thickened, about 2-5 more minutes.

Remove from heat and stir in butter.

Transfer pudding to a glass container and cover with plastic wrap. To avoid having a skin form, place plastic wrap right on top of pudding surface. Serve warm or cold!
Notes
Makes about 4 cups. Serving size based on ½ cup.
NUTRITION INFORMATION
Calories:
265
kcal
|
Carbohydrates:
31
g
|
Protein:
4
g
|
Fat:
14
g
|
Saturated Fat:
8
g
|
Cholesterol:
135
mg
|
Sodium:
127
mg
|
Potassium:
127
mg
|
Sugar:
25
g
|
Vitamin A:
495
IU
|
Vitamin C:
0.8
mg
|
Calcium:
107
mg
|
Iron:
0.3
mg