Banana Bread Brownies are the perfect combination of a moist banana bread swirled with a dense chocolate brownie. Banana brownies are a must make dessert!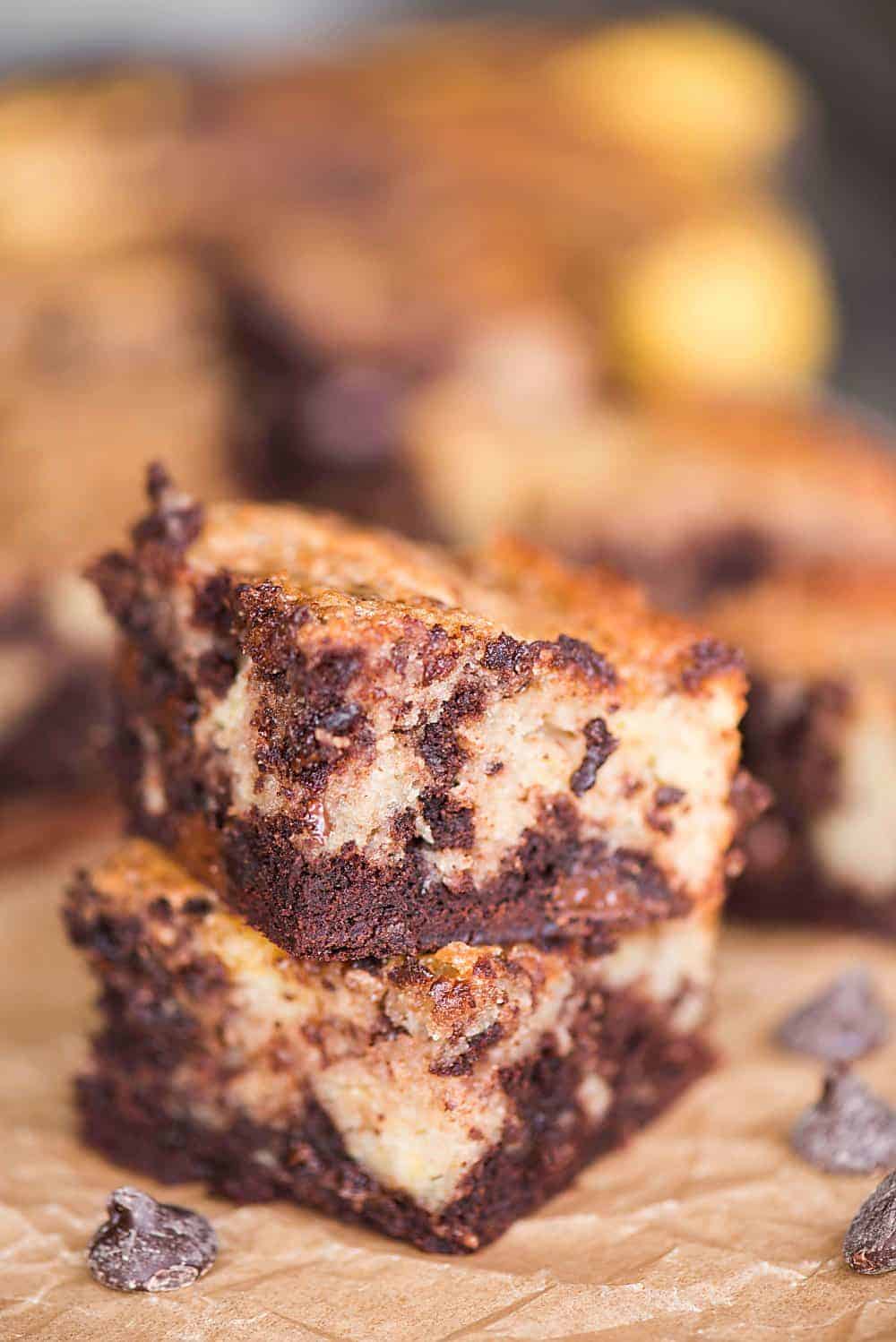 Banana bread brownies are unique. Go ahead and do a search for banana bread brownies and see what pops up. I mostly see recipes for things that look more like banana bars than desserts that resemble brownies. To me, if you're going to call something a brownie, it must have two things: a) chocolate and b) a brownie texture. These banana brownies have both!
I absolute love my pumpkin swirl brownies. I make them every fall. That recipe basically pairs a very thick, dense, chocolate layer with a pumpkin puree brownie batter (minus the chocolate layer). Those two layers get swirled together and baked to perfection. The result is an incredibly moist and flavorful dessert. I used that same exact recipe to make these banana bread brownies, but I just swapped the pumpkin puree and spices for mashed banana. Our house always seems to have overly ripe bananas laying around. If it's the same in your household, you'll want to save this banana brownie recipe to make over and over again!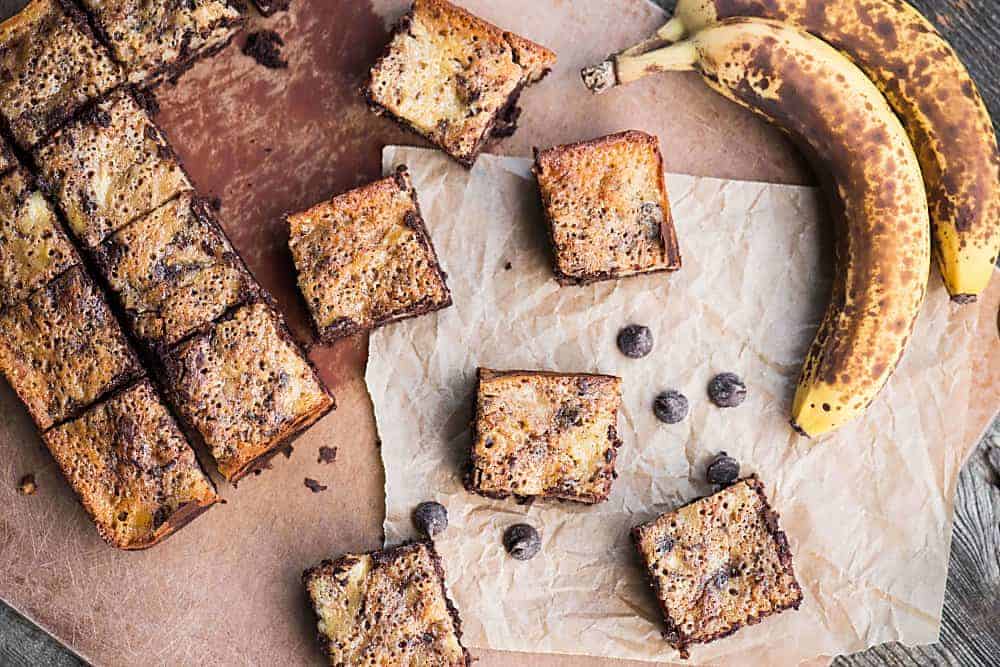 How to make the perfect Banana Bread Brownies:
I explain in the banana bread brownie recipe below the steps to make these awesome brownies, but here are some tips to make them perfect!
Any time you bake with bananas, you'll want to choose ones that are very ripe. My preference is to use bananas that have an equal amount of yellow and brown.
Here's another ripe banana tip for you: before you peel the banana, give it gentle but firm squeezes up and down until the entire fruit it mush. Then, when you peel it the entire banana will still stay whole but will already be perfectly mashed for your banana brownie batter.
Always use parchment paper when you make these banana bread brownies. It's not necessary, but it makes it oh-so-easy to lift them out of the pan for easy cutting.
The chocolate portion of the batter is very thick. You may even need to use your hands to spread it evenly across the bottom of the pan.
If your chocolate brownie portion is too thick to squeeze on through a plastic bag, just use a spoon to throw globs on top of the banana batter. Then use a butter knife to swirl it all together. I've made this banana brownie recipe many times and it always seems to turn out perfectly.
I highly recommend storing these banana bread brownies in the freezer in an air tight freezer bag. It prevents me from eating the entire pan in one sitting and because the banana brownies stay so incredibly moist, you can eat them straight out of the freezer because they're soft!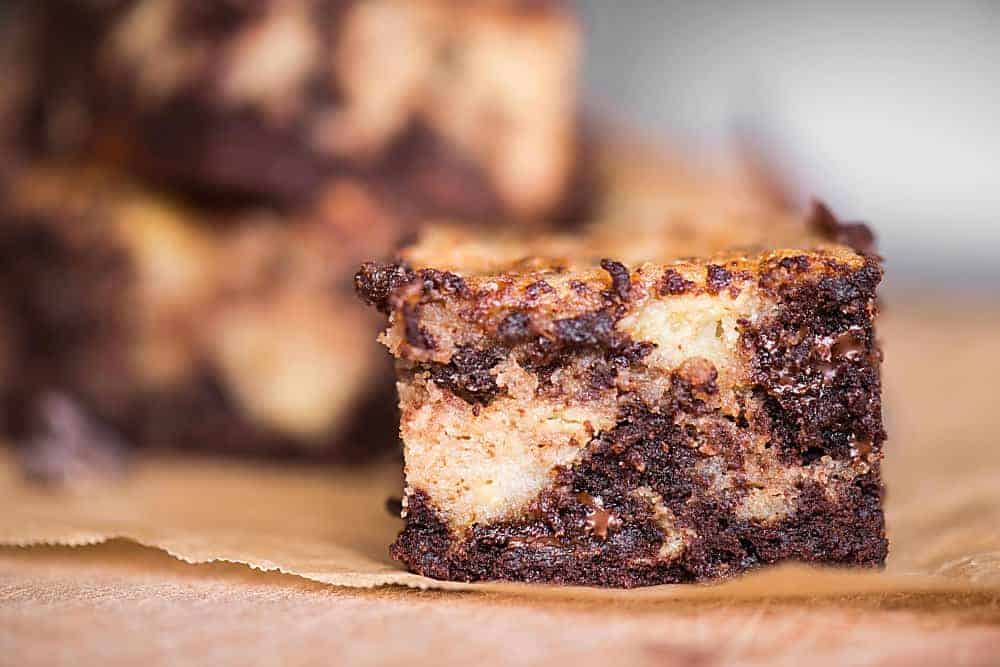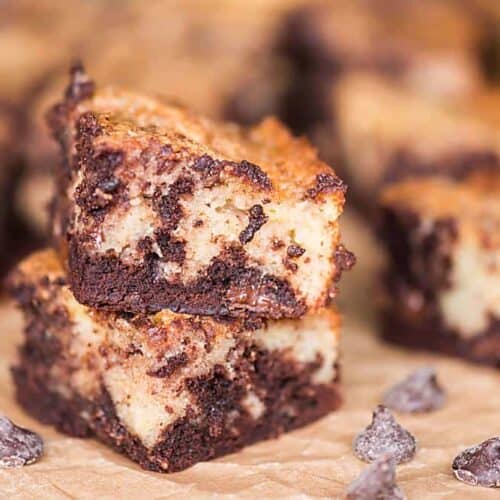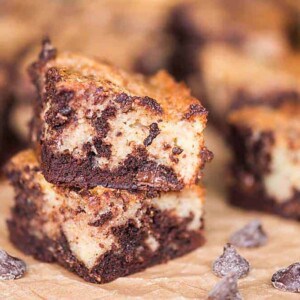 Banana Bread Brownies are the perfect combination of a moist banana bread swirled with a dense chocolate brownie. Banana brownies are a must make dessert!

Instructions
Preheat oven to 350°F. Line with parchment or grease an 8×8 inch baking pan.

Combine dry ingredients: Stir the flour, baking powder, and salt together in a bowl.

Brown butter: In a medium sauce pot over medium heat, melt butter. Continue to cook while it foams and whisk constantly until it browns and you see some brown specks at the bottom and it starts to smell a bit toasted. Remove from heat.

Mix base ingredients: Once the butter cools a bit, add the sugar and vanilla extract. Next, beat in the eggs one at a time with a spoon. Gradually add the dry ingredients and stir the batter until it's evenly moistened. Divide the batter in half into two separate bowls.

Mix the brownie portion: Add the cocoa powder and chocolate chips to one of the bowls and stir until combined. This mixture will be very thick.

Mix the banana bread portion: In the second bowl of batter, stir in the mashed banana.

Prepare banana bread brownies: Spread 1/2 of the chocolate batter into the bottom of the prepared baking pan, and follow with all of the banana batter. For the remaining chocolate batter, you can either spoon it on top or you can put it in a plastic bag, snip off the corner, and squeeze it onto the banana batter in lines. Use a butter knife or a spatula to swirl the two batters together to create a marbled appearance.

Bake: Place the baking dish in the preheated oven and bake until the brownies begin to pull away from the sides of the pan, and a toothpick inserted into the center comes out clean, about 40 minutes. Cool them in the pan, cut into squares, and serve.
Nutrition
Calories:
204
kcal
,
Carbohydrates:
32
g
,
Protein:
2
g
,
Fat:
8
g
,
Saturated Fat:
4
g
,
Cholesterol:
46
mg
,
Sodium:
140
mg
,
Potassium:
121
mg
,
Fiber:
1
g
,
Sugar:
24
g
,
Vitamin A:
245
IU
,
Vitamin C:
1.2
mg
,
Calcium:
23
mg
,
Iron:
0.9
mg
Nutrition information is automatically calculated, so should only be used as an approximation.
Love banana bread recipes?
You'll definitely want to try these: