Brown Butter Blondies are a sweet and chewy dessert bar. Think of them as vanilla brownies.
This blondie recipe cooks a vanilla bean and walnut pieces in butter until the browned butter becomes nutty and delicious. Brown sugar makes them chewy and perfectly sweet. These brown butter brownies will satisfy any craving!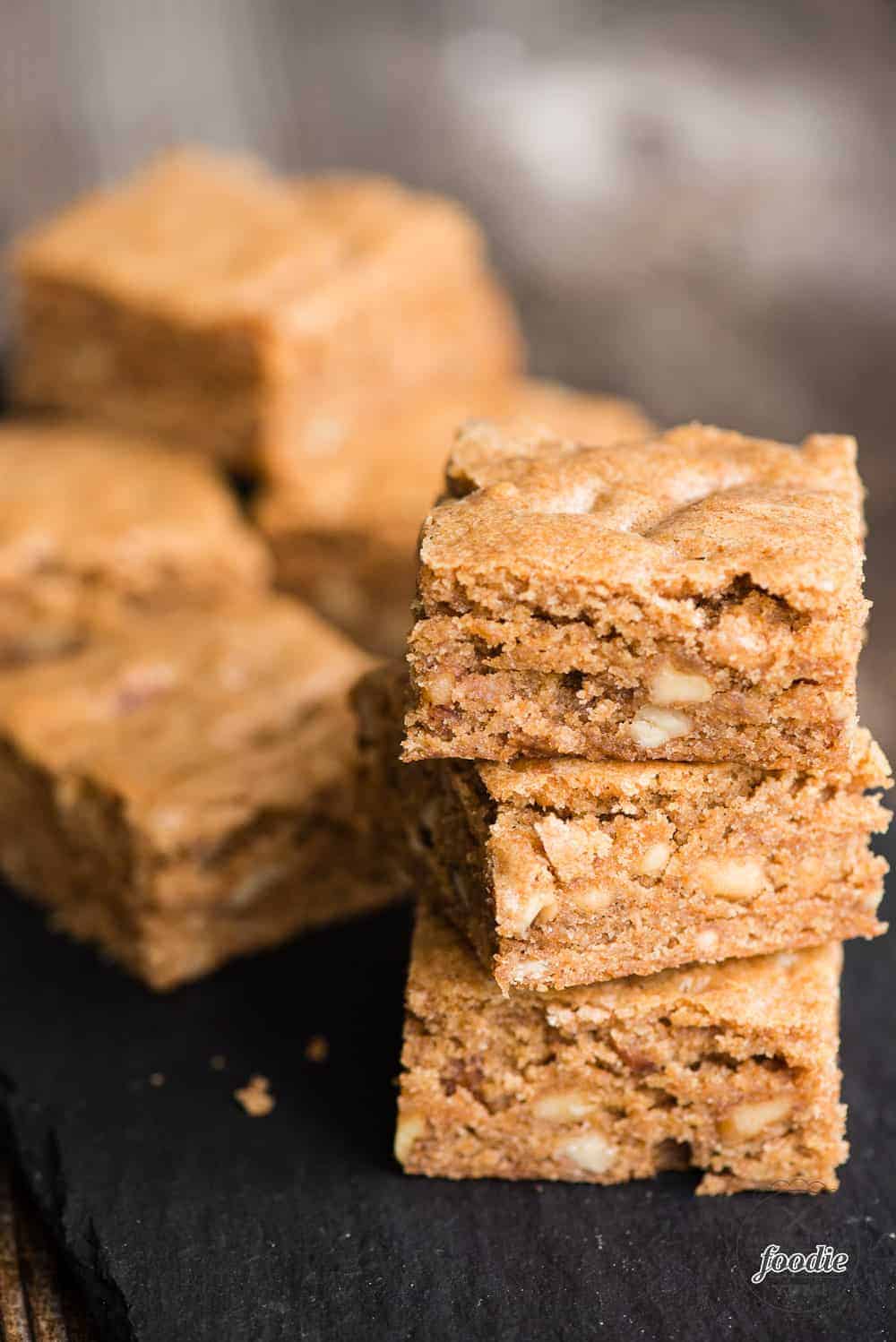 BROWN BUTTER BLONDIES
Pin it to your DESSERT BOARD to SAVE it for later!
Follow Self Proclaimed Foodie on Pinterest for more great recipes!
Brown Butter Blondies are my new favorite dessert bar. I've eaten my fair share of brownies in my lifetime. When I was a kid, we'd make a batch of brownies and divide the pan into quarters so that my mom, two sisters and I, would all devour equal amounts of brownies. I have no shame.
It's funny how you can take an awesome recipe like my brown butter brownies, make a few tweaks, and come up with something entirely different! Yet, they are equally naughty.
What is a blondie, exactly?
A blondie (also known as a blonde brownie) is a rich, sweet, and chewy dessert bar. It resembles the traditional chocolate brownie, but it's basically a vanilla brownie.
One other notable change from a basic brownie, in addition to replacing the cocoa powder with vanilla, is the use of brown sugar. The brown sugar gives blondies a rich, chewy texture.
The main ingredients that make up blondies are flour, brown sugar, butter, eggs, baking powder, and vanilla. With any great dessert bar, you can also add walnuts or pecans.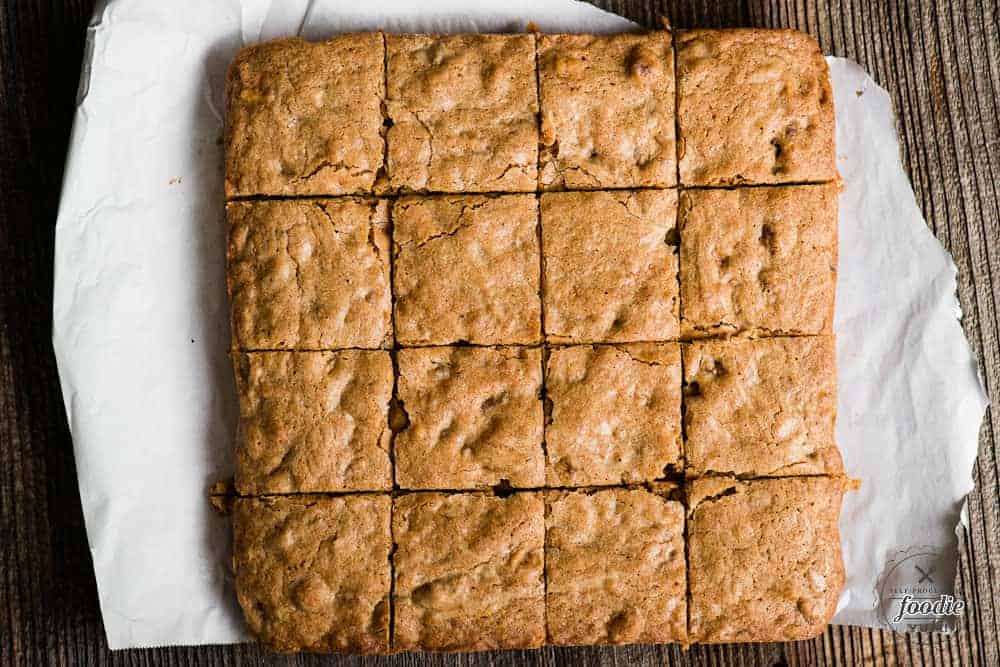 This is no ordinary blondie recipe. They are brown butter blondies. If you've never cooked with brown butter, you should start.
MY OTHER RECIPES
What is brown butter?
Brown butter is formally known as Beurre noisette. It is a type of warm sauce used in French cuisine. Brown butter can accompany savory foods including winter vegetables, pasta, fish, egg dishes, and chicken. It is also used in making French pastry and can be used in a variety of desserts. Brown butter is known for its rich, deep brown color, and the nutty scent and flavor, that occurs from the heating process.
How to brown butter:
Browning butter is super easy. It takes only a few minutes to make.
Start with a good quality pan. I highly recommend using a stainless steel or enameled cast iron. Basically, you'll want something with a light bottom so that you can see the color of the browned butter.
You'll get more even heating if the butter is cut into chunks. If you put in a large chunk, like an entire cube, it will take longer to melt.
I highly recommend using a high quality butter. Pasture raised is always best. I used Kerrygold when I made these blondies. Admittedly, I would have preferred to use cheap butter because Kerrygold ain't cheap, but it was all I had. I'm glad I ran out of the cheap stuff because these were outstanding!
Heat the butter on the stove over medium heat. Swirl the pan occasionally to ensure even heating. The butter will melt, then foam, then the brown butter magic will happen.
Once you see the dark bits starting to form and sink to the bottom, keep swirling and take care not to let it burn. Continue to cook until that wonderful nutty smell happens. Then remove it from the heat.
I put my split vanilla bean and raw walnuts in the butter while it browned just to add to the magic.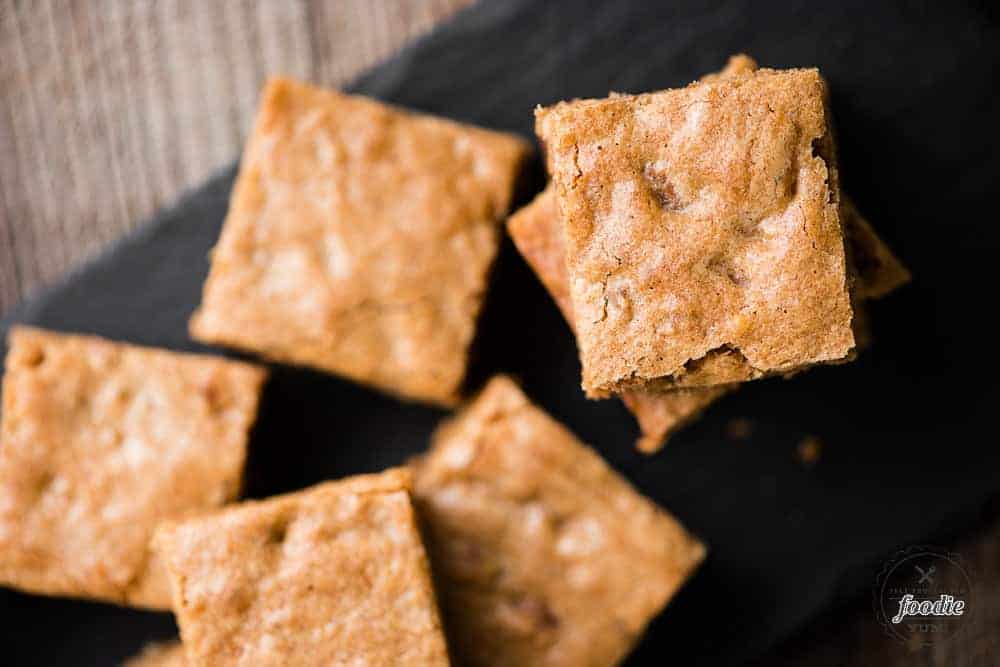 What else can you make with brown butter?
Well, you can tell how much I love brown butter by the amount of recipes I've made with it! I already mentioned my super popular brown butter brownies, but here are a few more ideas. Both savory and sweet recipes included!
Ingredients
10 tablespoons unsalted butter
1 cup raw walnuts
1 whole vanilla bean, split lengthwise
1/2 teaspoon salt
1 1/4 cups brown sugar
2 eggs, room temperature, slightly beaten
1 tablespoon vanilla extract
1 1/4 cups all-purpose flour
1/2 teaspoon baking powder
Directions
Preheat oven to 325F. Line a 8x8x2 metal pan with parchment foil paper.
Over medium heat, melt butter with walnuts and vanilla bean. Stir frequently as it continues to bubble. When the amount of bubbles subsides, there are small brown specs, and it smells like nutty caramel, remove pan from heat.
Add sugar and salt to combine.
After mixture has cooled in pot 4-5 minutes, slowly pour in eggs, stirring constantly until well combined.
Add vanilla, stir to combine.
Add flour and baking powder, stir to combine.
Remove vanilla bean, scraping out as much of the inside as possible and adding to the batter.
Pour the batter into the prepared pan and bake 25 minutes. Enjoy!