Homemade Lemon Bars, also known as Lemon Squares, are a super sweet and tart bar cookie.
The base is a rich and delicious lemon shortbread. The top is a creamy and heavenly lemon custard layer. The ration of lemon to shortbread is perfect. This is the best lemon bar recipe you will find!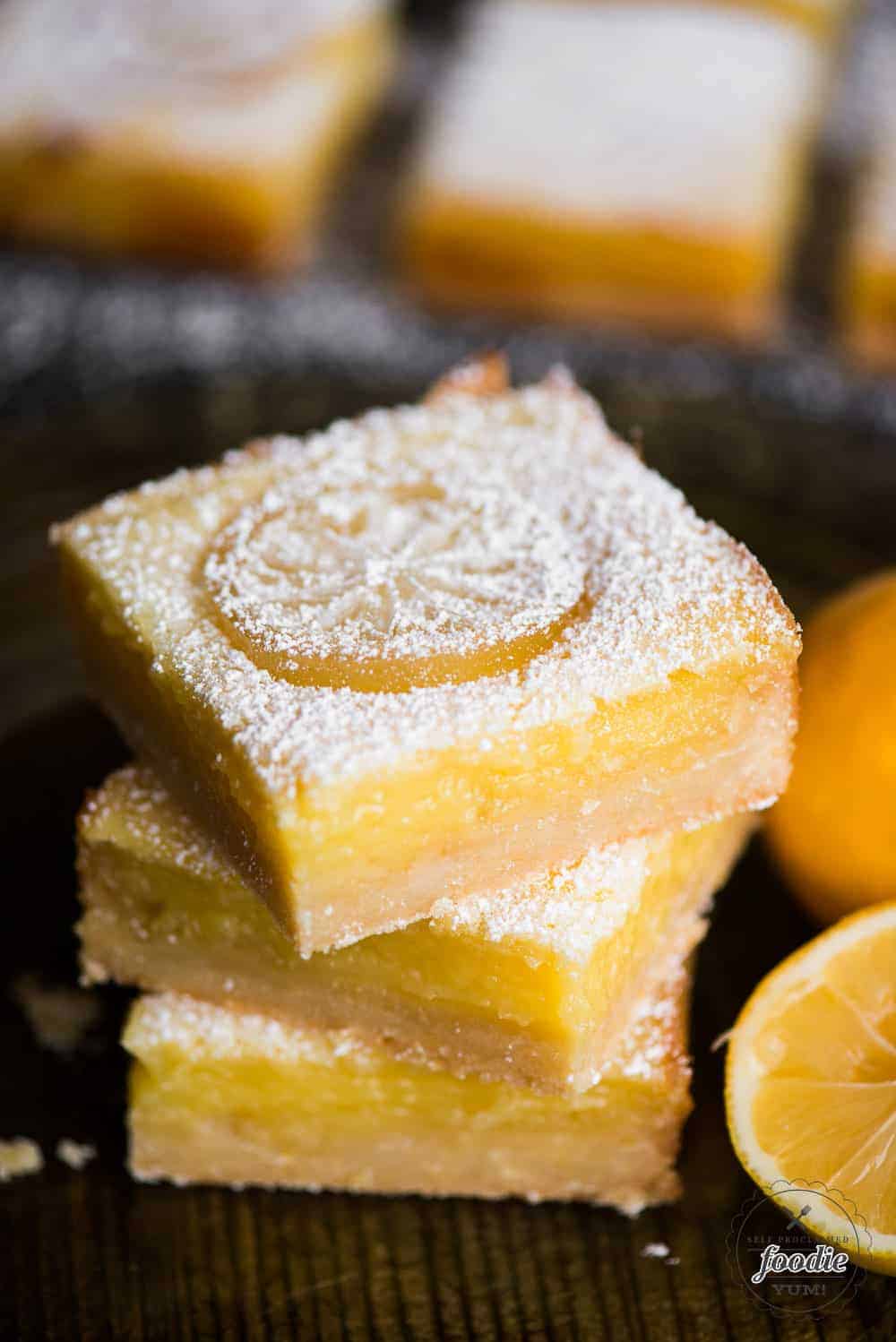 Lemon bars are glorious. Let me rephrase. These lemon bars are glorious. I am a lemon square snob to the core. In my day, I have judged many lemon squares. I would consider most of them too sweet. If not too sweet, then there was too much shortbread and not enough of the lemon layer. Also, I have tasted lemon squares that were more thick and dry than creamy and smooth.
These homemade lemon bars, my friends, are the best lemon bars I've ever tasted.
How to make lemon bars:
These are really easy lemon bars to make. This recipe consists of two parts: the shortbread crust and the lemon layer.
To make a perfectly sweet yet light and flaky shortbread crust, you must start with room temperature butter that gets whipped until light and fluffy. Then you add in the sugar and beat the mixture until it is well mixed. Finally you'll add the flour and the lemon zest and mix just until all of the flour appears to be somewhat coated with the butter.
Parchment paper is your friend with this lemon square recipe. By using parchment, or a foil lined parchment like I use, you can easily lift the finished bars out of the pan and transfer to a cutting board for easy cutting.
Bake the crust until it just starts to turn golden brown. For me, this took 20 minutes.
While the crust bakes, you can mix together the lemon layer ingredients. Easy peasy.  Pro tip: zest your lemon before you juice it.
Some recipes recommend letting the crust cool before adding the lemon layer, but I can't see why that step is necessary. I pour the tart lemon custard layer right on top of the hot crust.
Sweetened and dried lemon slices added during the final minutes of cooking make these delicious lemon bars even prettier, but they are a nice to have and not a necessary ingredient.
A dusting of powdered sugar is a must.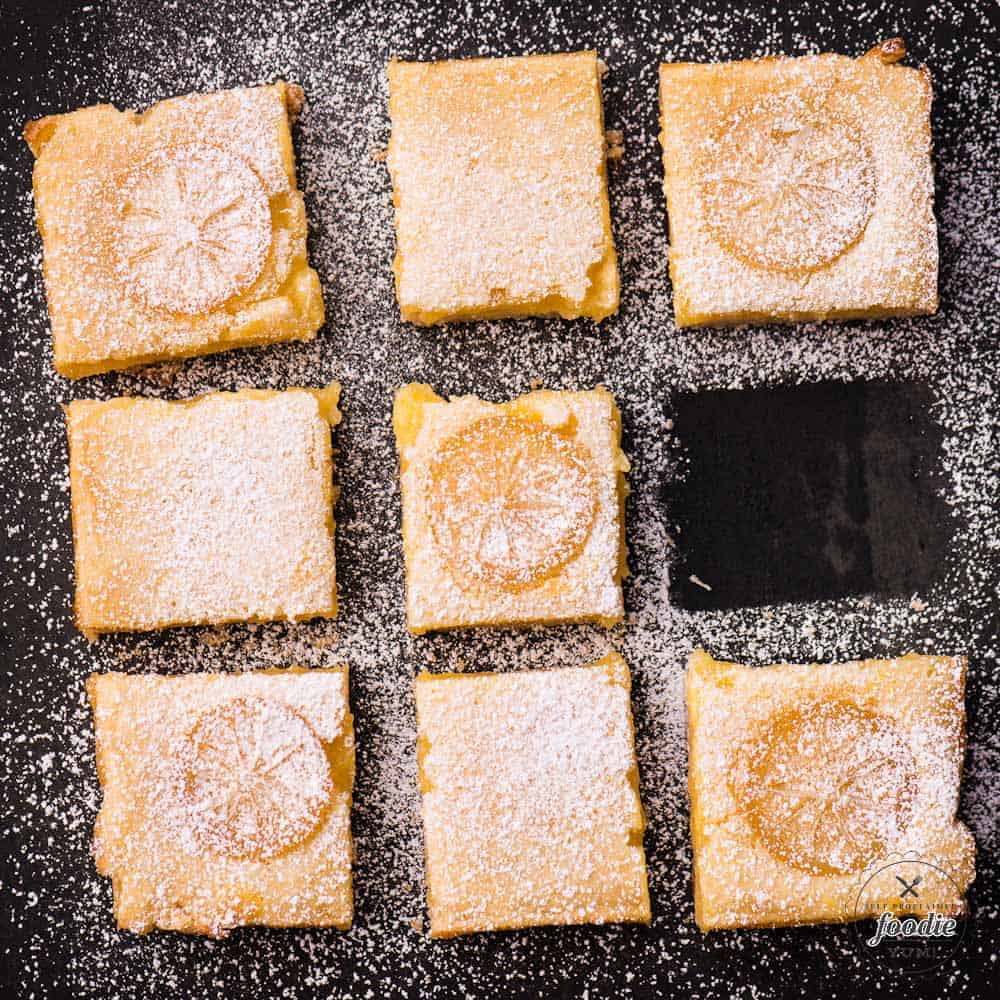 Why are these the best lemon bars?
You will consider this recipe the best lemon bar recipe if the following things appeal to you. These lemon bars are definitely more on the tart side. There is definitely a sweetness to them, but the sour punch hits you first. Sort of like a Lemon Head candy, only a million times better.
Also, I structured the recipe so that they would cook perfectly in a 9x9 inch square baking dish. There are a lot of recipes out there that call for a 9x13 inch baking dish. Those recipes always seem to produce lemon bars that aren't as thick as these. My preference is for thick, tall lemon bars.
Finally, these easy lemon bars have a thicker layer of lemon than shortbread. This was intentional because I really wanted the lemon layer to shine. I even added the lemon zest to the short bread crust to ensure every last morsel was overflowing with lip smacking make-your-mouth-pucker lemon flavor.
Want to know how to make them even better?
As if that's even possible... Well, I used standard lemons. Those big ones you buy at Costco. But homemade lemon bars are even better when made with Meyer Lemons. That's what I used in the photos next to the lemon bars. Meyer lemons are less acidic, slightly sweeter, and their zest is more aromatic. Overall they're better, however they aren't available year round and they tend to cost more.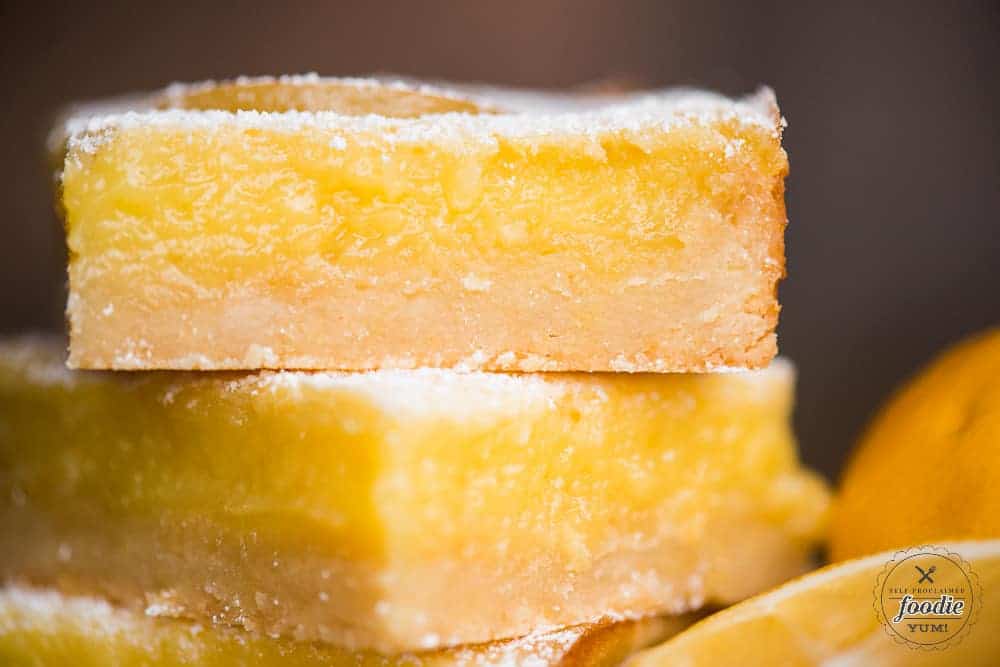 Can't get enough citrus? Try some of my favorite lemon recipes:
Kitchen tools used to make these delicious homemade lemon bars:
Citrus Squeezer: These are the best ways to quickly get all of the juice out of a lemon, lime or orange without the seeds!
Microplane zester: If you don't already have this handy little tool in your kitchen, you need to order it now. Nothing works better to scrape the zest off of oranges, lemons, or limes. It will change the way you cook!
9" baking dish: Another kitchen must have. From brownies to cakes, every kitchen should have one.
Glass nesting bowls: Every good recipe requires a good set of stackable nesting bowls. This is the set I bought and I love them! Well made, great price, sturdy - perfect!
Silicone spatula: Any time you're working with a batter, you'll need a good quality scraper. These are the ones I use because they do the job right and don't leave a nasty silicone taste when I like the batter off at the end!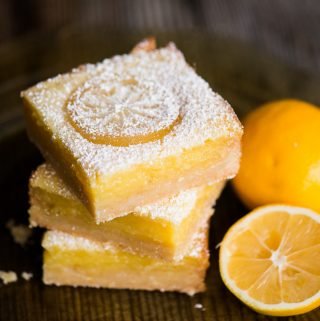 Homemade Lemon Bars
Homemade Lemon Bars, also known as Lemon Squares, are a super sweet and tart bar cookie. The base is a rich and delicious lemon shortbread. The top is a creamy and heavenly lemon custard layer. The ration of lemon to shortbread is perfect. This is the best lemon bar recipe you will find!

Print
Pin
Rate
Hover to scale:
16
servings
Ingredients
Shortbread crust:
3/4

cup

12 tablespoons butter, softened

3/8

cup

granulated sugar

1 1/2

cups

all purpose flour

zest from one lemon
Lemon layer
1 1/2

cups

granulated sugar

1/3

cup

all purpose flour

4

eggs

(beaten)

2/3

cup

fresh squeezed lemon juice

sweetened dried lemon slices

(optional)

powdered sugar for dusting
Instructions
Preheat oven to 350 degrees F.

In a medium bowl or your stand mixer with the paddle attachment, cream butter until light and fluffy. Add the sugar and beat until well blended. Add flour and lemon zest and blend just until a crumb mixture forms. Press into the bottom of an ungreased parchment lined 9x9 inch pan.

Bake shortbread for 20 minutes in the preheated oven, or until firm and golden.

While the crust is cooking, whisk together the remaining 1 1/2 cups sugar and 1/4 cup flour in a separate bowl. Whisk in the eggs and lemon juice. Pour over the baked crust.

Bake for an additional 20-25 minutes. If adding sweetened dried lemon slices, press them into the top a few minutes before the baking is complete. Remove from oven and allow bars to cool to room temperature. Transfer to the refrigerator and allow bars to chill. The bars will firm up as they cool. Remove from pan and cut into nine 3-inch squares for large lemon bars or 16 smaller 2-inch squares.
Notes
serving size is one 2-inch bar
NUTRITION INFORMATION
Calories:
237
kcal
|
Carbohydrates:
35
g
|
Protein:
2
g
|
Fat:
9
g
|
Saturated Fat:
5
g
|
Cholesterol:
63
mg
|
Sodium:
92
mg
|
Potassium:
43
mg
|
Sugar:
23
g
|
Vitamin A:
325
IU
|
Vitamin C:
4
mg
|
Calcium:
10
mg
|
Iron:
0.9
mg