Lemon curd is easily made from scratch from fresh lemons, butter, sugar, and egg yolks.
The intense citrus flavor in lemon curd is irresistible. This tart dessert spread can be used as a tangy ingredient in sweets, baked good, or breakfast. Once you make your own, you'll never go back to store bought!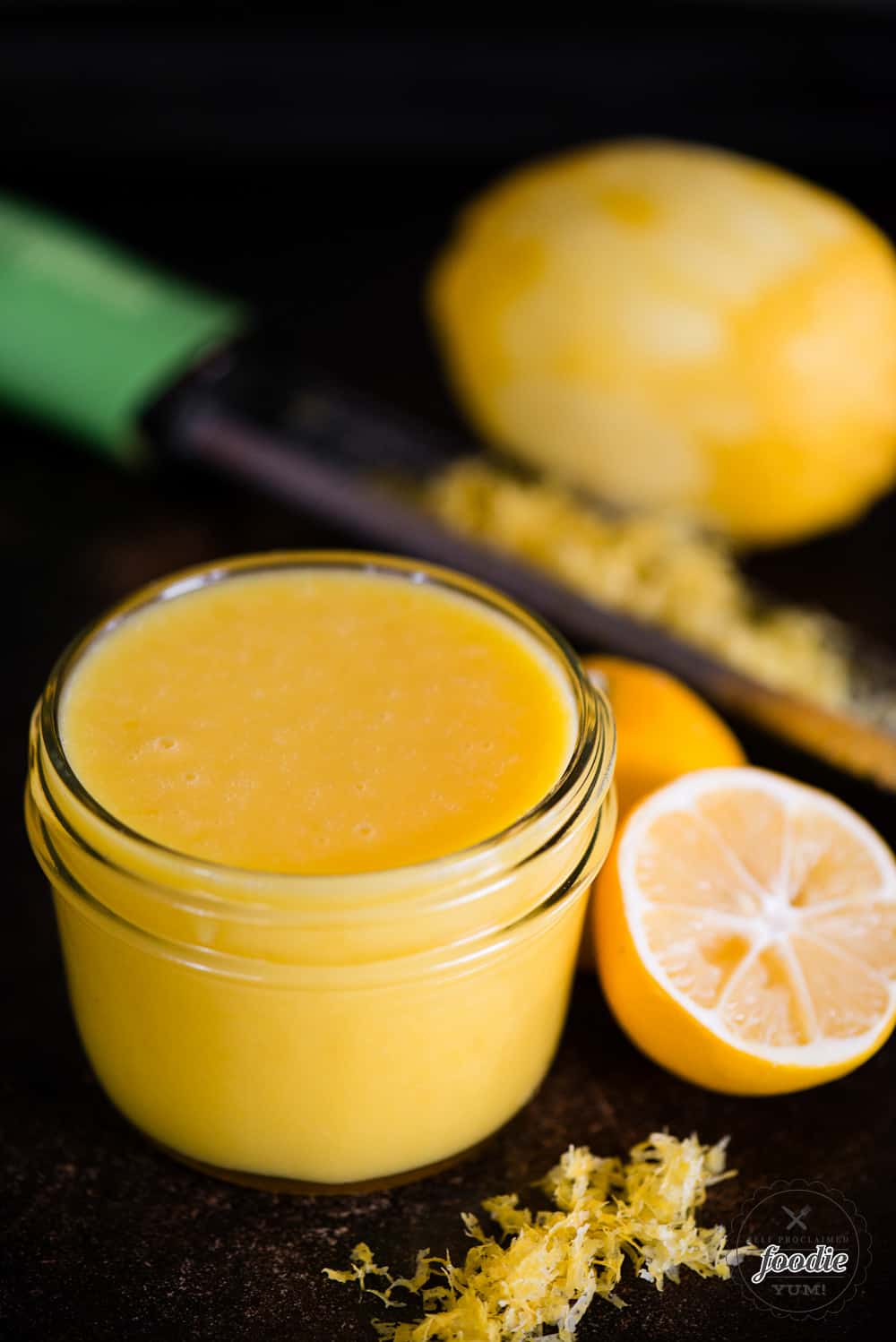 MY OTHER RECIPES
Lemon curd, especially the homemade kind, makes my mouth pucker! The mere thought of this tangy and tart treat gets me salivating. This time of year, when local produce is scares, our family eats a lot of citrus. There are few fruits better than the mighty lemon. One cannot argue that it really packs a punch. So if intense flavor is what you're looking for, this recipe is for you.
What is lemon curd?
Lemon curd is a citrus dessert spread or topping that is made from fresh lemon zest and juice, sugar, butter and egg yolks. The ingredients are gently cooked together over heat and then allowed to cool. The final result is a smooth, luscious, intensely flavored lemon treat.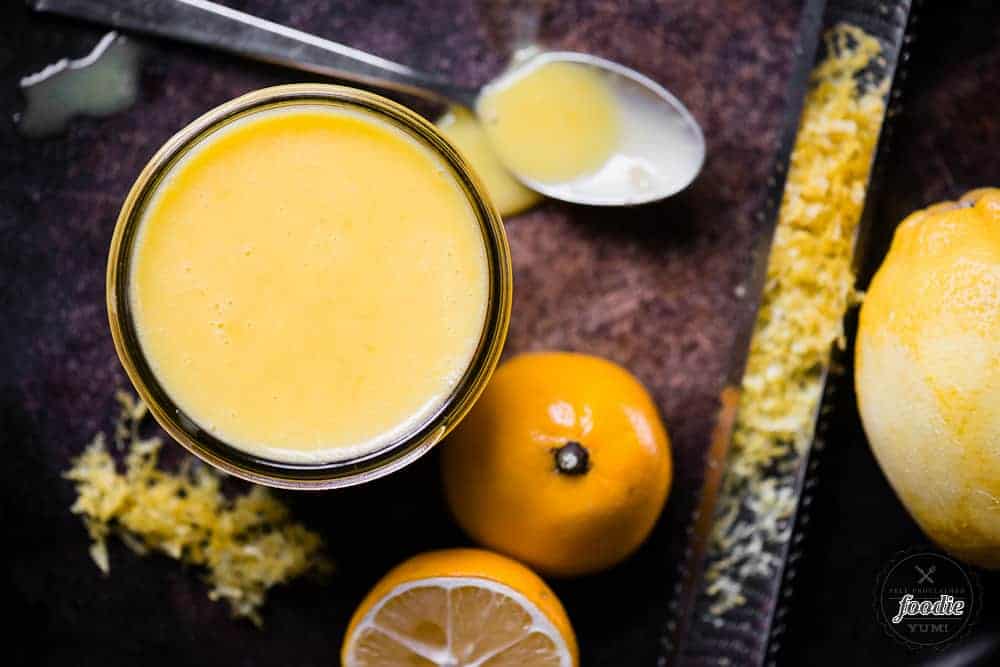 What makes lemon curd thick?
Similar to a pudding or custard, this recipe is made with egg yolks. It's the egg yolks that make it thick and creamy. I've seen many recipes that call for the whole egg, but I decided to only use the yolk because I knew it would produce the richest, most flavorful lemon curd.
The lemon curd gets thick when you cook it. You must be careful to be gentle with the heat which is why I recommend using a double boiler. Any time you're cooking eggs on the stove top, they can curdle if you increase the temperature too rapidly or you don't whisk it enough. I stopped cooking my lemon curd when it got to 170 degrees F because I like it on the thinner side. If you prefer it to be thicker, just continue cooking until it reaches 180 degrees F. You can also add an additional egg yolk if you want it thicker.
Either way, lemon curd will never reach the thickness of a pudding, but it should thicken if you cook it  properly.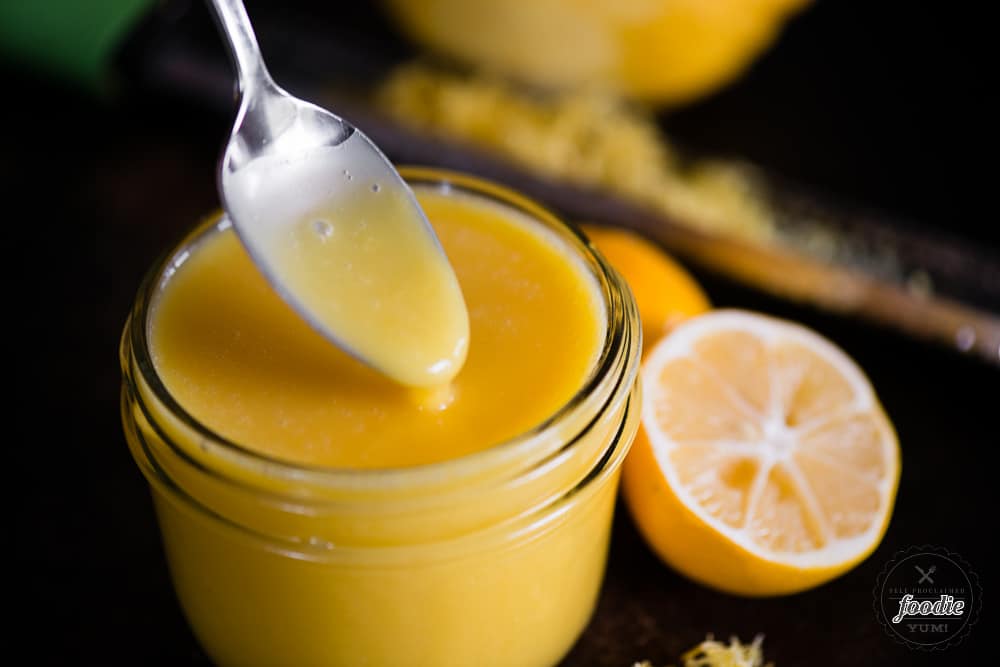 What to make with lemon curd?
You've made your own delicious homemade lemon curd. Now you need to know what to do with it. Here are some great ideas:
Cut up strawberries, kiwi, pineapple, banana, and raspberries and toss in a spoonful of the lemon curd. The result will be some Damn Good Fruit Salad. Not only will the curd sweeten it with a tart tang, but the acid in the lemon will keep the fruit looking fresh.
Transform that lemon curd into lemon meringue pie (recipe coming soon). All I did was thicken my lemon curd with some corn starch and it created the perfect filling for this citrus classic.
Use lemon curd on top of vanilla ice cream. A little goes a long way here.
How about ditching the syrup and topping your pancakes with lemon curd and warm berries. Mercy.
Replace the chocolate in s'mores with your homemade lemon curd. Take it to the next level by also making your own homemade marshmallows. It will taste like a heavenly lemon meringue pie, without the work or the dirty dishes.
Ingredients
1/2 cup (1 cube) butter, softened
1 cup granulated sugar
zest from 3 lemons
5 large egg yolks
3/4 cup fresh lemon juice
Directions
Using a stand mixer, cream the butter until smooth and fluffy. Beat in the sugar and lemon zest and blend until smooth, scraping sides down half way through.
On low speed, add the egg yolks one at a time. Then add the lemon juice. Mix until combined.
Add about 1/2 inch of water to a pan and set a non-reactive metal bowl on top. You want a double boiler set up so that the steam from the water cooks the lemon curd; not direct heat.
Add the lemon mixture to the bowl and heat the water so that it boils, whisking the lemon mixture the entire time. Be sure to use an instant read thermometer. The curd should thicken around 170 degrees F, after about 10 minutes of cooking and whisking, and this will yield lemon curd that is on the thinner side. If you want your lemon curd to be a bit thicker and less runny, bring the temperature up to 180 degrees F before removing from the heat, still constantly whisking.
Remove the curd from the heat, transfer to a glass container, cover the surface of the curd with plastic wrap so that a skin doesn't form, and refrigerate until cool.
Store in an airtight container in the refrigerator for about a week or so. Alternatively, you can freeze lemon curd and thaw in the refrigerator before using.