Sour Cream Banana Nut Bread is a super moist banana bread recipe with a crunchy sweet topping.
Put those ripe bananas on your counter to good use and make a batch of this not-so-healthy banana nut bread.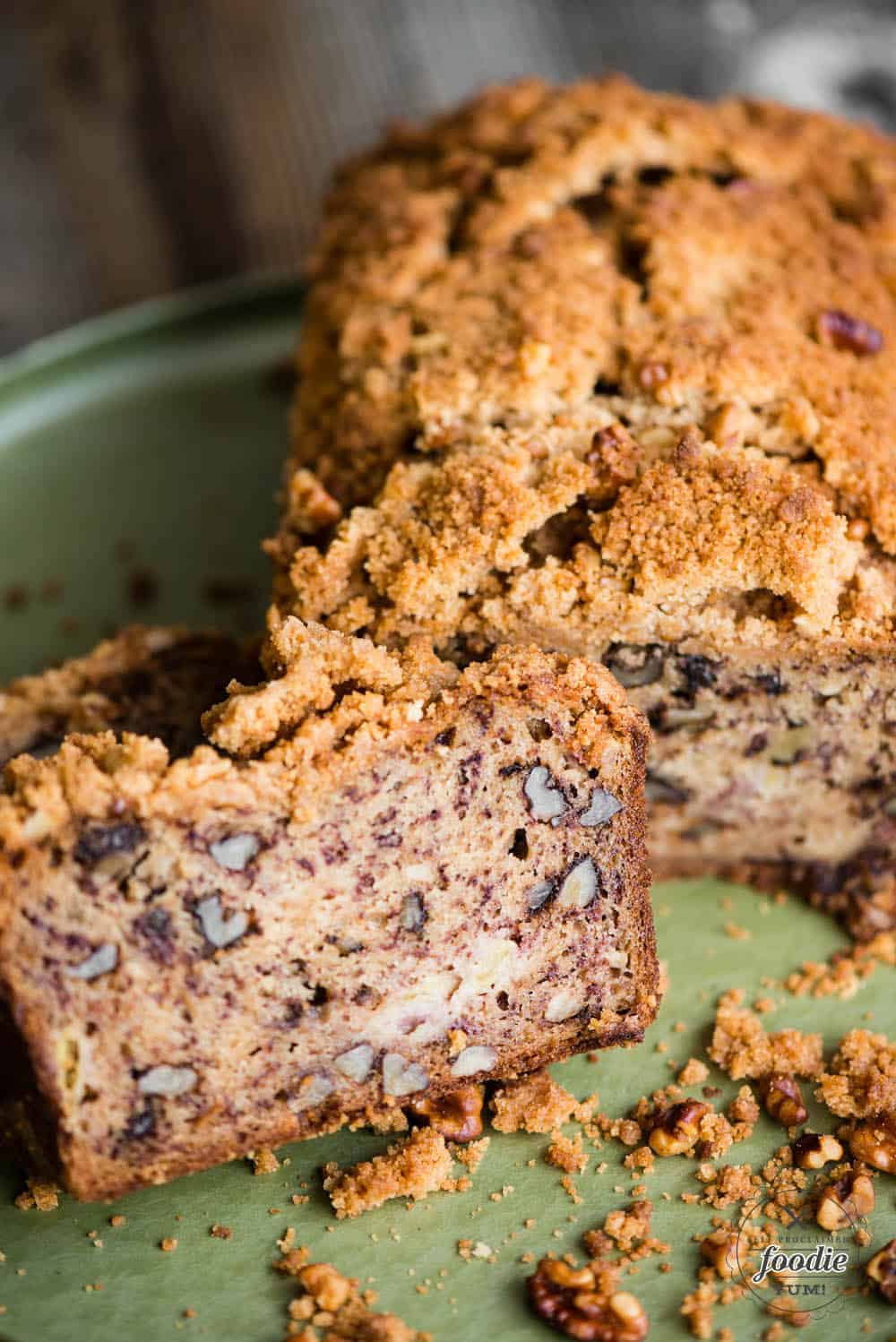 Banana Bread with Sour Cream and nuts is better than plain old banana bread. In fact, I would be willing to go out on a limb and say that this recipe is better than your favorite go-to banana walnut bread recipe.
This is the best banana nut bread recipe.
Allow me to explain why:
This recipe creates super moist banana bread. I think the sour cream has something to do with it.
This banana nut bread has a sweet and crunchy topping. Think of how much you love coffee cake. Delicious, right?
There are tons of nuts and loads of smashed ripe banana in this recipe. That means tons of flavor and great texture. So good.
How do you know when a banana is ripe?
Well, when you're baking, I find the ideal banana is mostly yellow and just starting to brown.
You can tell when a banana is ripe based on it's color.
Green bananas that are not yet ripe not only lack in sweetness, but their texture is too firm to easily mash.
Some people think that if a recipe calls for ripe bananas, they must be completely brown on the outside. I beg to differ. If a banana tastes good to eat, then it's perfect to include in your recipe.
Ingredients used in this recipe:
One of the things I love most about banana bread is that I almost always have everything I need in my pantry and refrigerator.
Butter - make sure it's nice and soft
Granulated sugar and golden brown sugar - I find using both instead of one or the other yields the best results
Eggs - I always have them at room temperature when baking
Large ripe bananas - my ideal banana bread banana is yellow with lots of dark brown spots
Vanilla - make sure you use pure vanilla extract and not immitation
Sour cream - not lowfat
All-purpose flour - go for the unbleached stuff
Baking soda - make sure it's reasonably fresh when you use it for cooking
Cinnamon - I almost always replace with Pumpkin Pie spice when I bake
Salt - every sweet recipe needs salt
Walnuts - when I bake, I always use raw (not dry roasted) nuts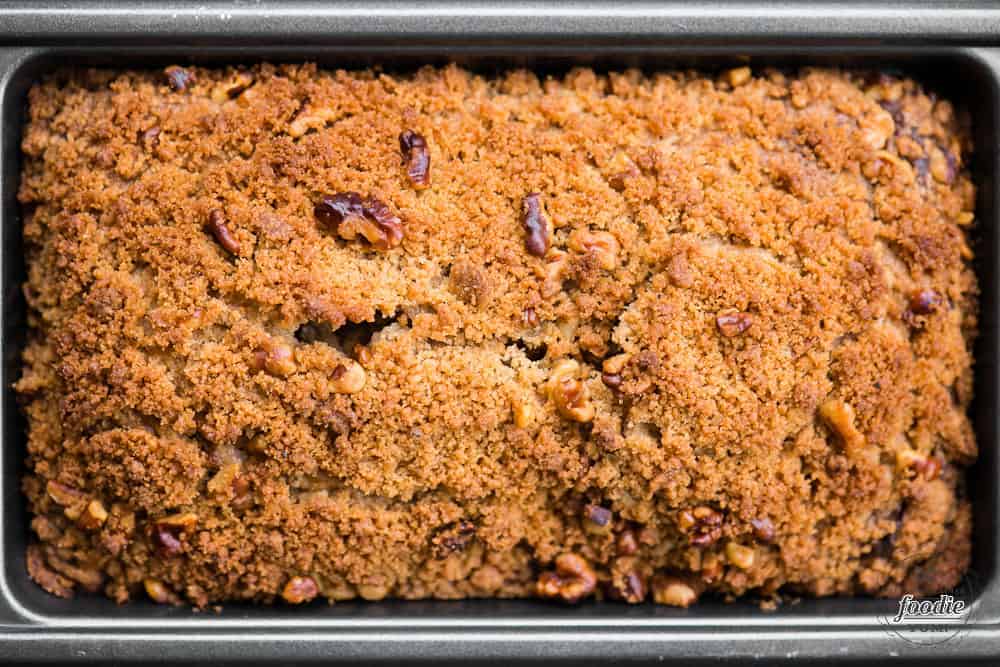 Is banana nut bread good for you?
Sorry folks, not this version. I mean, there are bananas and nuts in this recipe, but I think it would be an extreme stretch to call this a healthy banana bread recipe. But, I will say that it tastes outstanding.
Because there is sugar in both the bread and the topping, I would almost venture to say that it resembles a banana bread cake. Not even sure if that's a real thing. But you get my drift. How many ways can I tell you how delicious it is?
What Nuts go well with bananas?
I think the easier question to answer is what nuts don't go well with banana bread, because I think you can pair just about any kind of nut with a good banana bread. The obvious choice for many is to use walnuts. You can't go wrong there. Next up would be pecans. Pecans, especially raw, add a fantastic chew to your bite.
Other than walnuts and pecans, I've paired macadamia nuts with bananas and it was fantastic. I mean, they're both from the tropics, right? I also bake a lot with hazelnuts and think they would pair beautifully with bananas.
The choices are endless, really.
How do you make banana bread moist?
There's truly nothing worse than a dry, heavy, dense banana bread. Okay, okay. I'm sure there are worse things in the world. But if you can have a moist banana nut bread verses a dry one, the choice would be clear, right?
There are several ways to accomplish a moist banana bread.
First, lots of bananas. Any time I follow a recipe that calls for ripe bananas, I usually end up putting however many I have on my counter into the mix. That amount is usually more than what the recipe calls for. The more banana I add, the moister the recipe becomes.
I also highly recommend using bananas that are still mostly yellow and just starting to brown. Once they go all brown, I find that they get too sweet and mushy. There's definitely a happy medium.
Sour cream definitely makes any kind of quick bread moist. That's why I wanted to make this sour cream banana nut bread.
I also find that any recipe has to have enough oil and/or apple sauce to give it enough moisture.

What else can you make with ripe bananas?
I have a ton of banana bread recipes on my site, but I'd love to share even more banana recipes with you.
Whether you enjoy it for breakfast with a hot cup of coffee and some fruit salad or as a late afternoon snack, you will love it!
Kitchen tools used:
Glass nesting bowls: Every good recipe requires a good set of stackable nesting bowls. This is the set I bought and I love them! Well made, great price, sturdy - perfect!
Bread pans: I love that these come in a two pack because if a recipe says that it only makes one loaf, I usually double it (like I did the second time I made this recipe!
Stand mixer: This is a kitchen must-have. I use mine almost any time I bake. It's one of the few appliances I will allow to always remain on the counter rather than be put away.
Silicone spatula: Any time you're working with a batter, you'll need a good quality scraper. These are the ones I use because they do the job right and don't leave a nasty silicone taste when I like the batter off at the end!
Pan lining paper: Anytime I make a baked good that I will want to take out of the pan and slice or cut, I almost always use this foil parchment pan liner.
Since we always seem to have ripe bananas on the counter, I'm always looking for inspiration. What are your favorite banana recipes?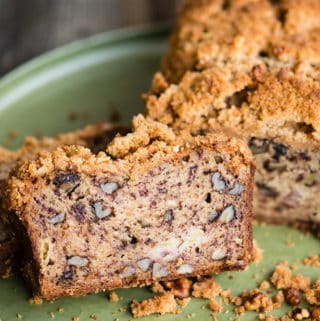 Sour Cream Banana Nut Bread
Sour Cream Banana Nut Bread is a super moist banana bread recipe with a crunchy sweet topping. Put those ripe bananas on your counter to good use and make a batch of this not-so-healthy banana nut bread. Whether you enjoy it for breakfast with a hot cup of coffee or as a late afternoon snack, you will love it!
Print
Pin
Rate
Hover to scale:
12
servings
Ingredients
Banana bread:
1/2

cup

butter

(softened)

1/4

cup

granulated sugar

1/4

cup

golden brown sugar

2

eggs

(slightly beaten)

3

large ripe bananas

(mashed)

1

teaspoon

vanilla

1/2

cup

sour cream

1 1/2

cups

flour

1

teaspoon

baking soda

1

teaspoon

cinnamon

1/2

teaspoon

salt

1

cup

walnut pieces
Topping:
1/2

cup

brown sugar

1/2

cup

flour

1/4

cup

butter

(softened)

1

teaspoon

cinnamon

1/3

cup

chopped walnuts
Instructions
Preheat oven to 350 degrees F. Line a loaf pan with parchment paper or heavily grease with butter.

To make the bread:In a large bowl, cream together butter and sugars. Add eggs, bananas, vanilla and sour cream. Mix until well combined.

In a small bowl, combine flour, baking soda, cinnamon, and salt. Add large spoonfuls of the dry ingredients to the wet and stir just enough to fully incorporate all of the ingredients. Fold in the walnuts.
To make the topping:
Mix together the topping ingredients into a small bowl. Mix well to combine.

Pour batter into prepared pan. Drop crumb mixture over surface of batter. Cook in preheated oven for about 60 minutes or until a toothpick inserted into the middle comes out clean.
Notes
Makes 1 standard sized loaf
You may use two mini loaf pans in place of a single standard size loaf pan if you wish. Cooking time will be reduced, so remove from oven when center is cooked.
If you have a lot of ripe bananas, you may want to double or triple this recipe.
This banana bread freezes well. Just slice, wrap tightly with plastic wrap, and freeze until ready to eat. For longer storage you may also want to use freezer paper to keep it from getting freezer burn.
NUTRITION INFORMATION
Calories:
387
kcal
|
Carbohydrates:
42
g
|
Protein:
5
g
|
Fat:
22
g
|
Saturated Fat:
9
g
|
Cholesterol:
62
mg
|
Sodium:
312
mg
|
Potassium:
227
mg
|
Fiber:
2
g
|
Sugar:
21
g
|
Vitamin A:
475
IU
|
Vitamin C:
2.8
mg
|
Calcium:
49
mg
|
Iron:
1.7
mg
This post was originally created in February 2018 and has been updated with additional information and cooking tips for your reading pleasure!