Challah Bread is a delicious, braided, yeast enriched egg bread.
It's fantastic in french toast breakfast recipes too. Much like homemade dinner rolls, it's worth the time and effort!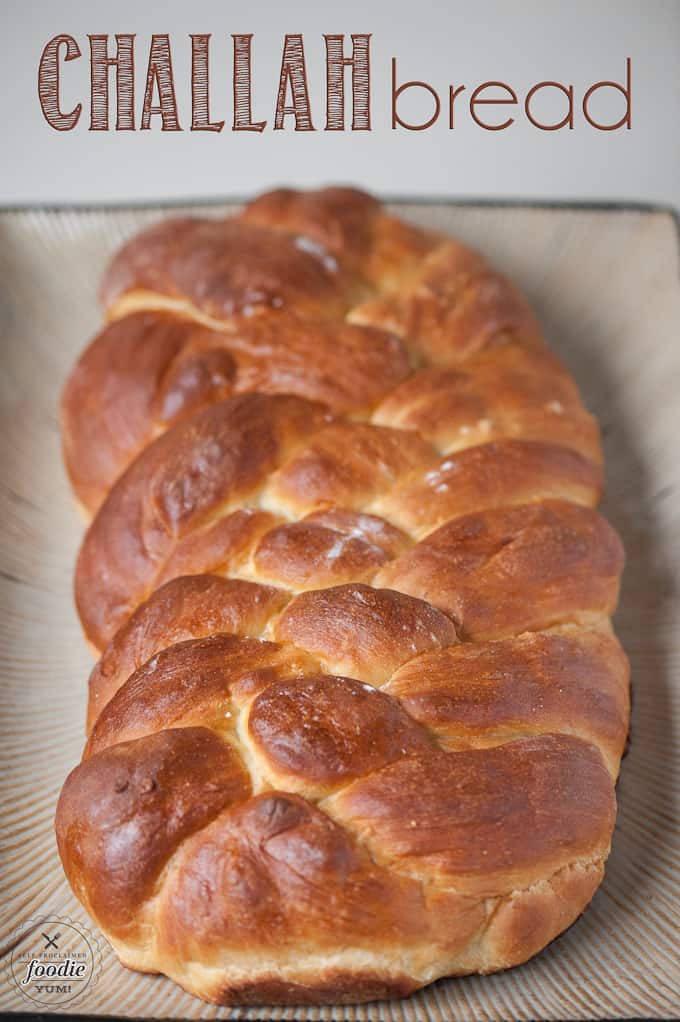 There is something about making homemade bread that I find completely soothing. Much like pressure washing my driveway, it's a time consuming but incredibly satisfying task. I tend to make homemade yeast bread, the kind that requires kneading and rising and punching and more rising, when I am most stressed in life and my to-do list shouldn't allow anything close to making homemade bread.
The truth of the matter is, bread like this really doesn't take much time from you actively working on it. It does require a lot of time, but most of that is when it rises. Plus, braiding six pieces of dough together is mighty satisfying.
I had never made Challah bread before and was relatively impressed with myself. A six-piece braid really isn't all that complicated but you might be able to see that as I got more confident in the braiding process, the braid got a little tighter as I made my way down. I might just try doing this with my daughter's hair if I can get another pair of hands in there to help.
How to pronounce Challah:
My brother-in-law is Jewish and he and my sister always make fun of me for the what I pronounce Challah. Rightfully so, because I pronounced it as I read it with the "cha".
The C is silent, so it sounds more like Hal-lah with the accent on the first syllable.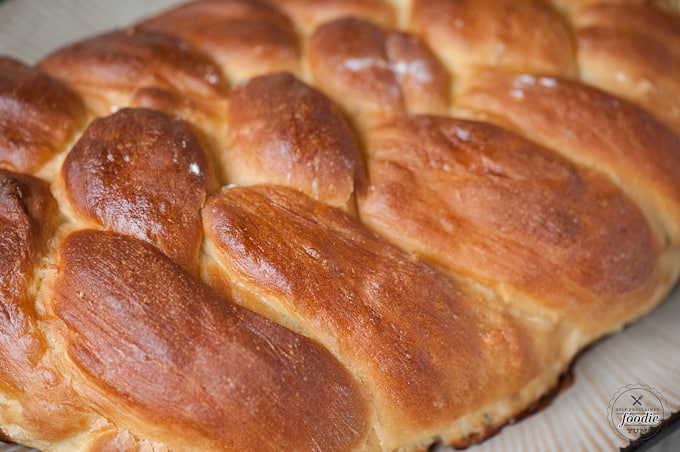 Challah and Brioche are two very similar breads in taste. They are both sweet and soft which makes them both outstanding for French toast recipes.
How do you make Challah bread?
To start making this braided bread, you need to sprinkle your yeast in a small bowl of water and let it dissolve. Then in your mixer you will mix together the flour and salt before adding the honey, eggs, egg yolk, and oil. This should all combine together to form a shaggy dough. After adding the yeast mixture to the egg slurry, you will then mix until it is all combined.
Next, you will need to knead the dough until it is a smooth ball. You will need to put the dough in an oiled bowl and cover it with plastic wrap before placing it in a warm place to allow the dough to rise to double its size. Afterwards, you will need to punch the dough, which is my favorite part personally! Afterwards, you will divide up the dough and braid it together before baking.
The final baked loaf should come out deeply browned and simply delicious!
There's nothing quite like the aroma of fresh baked bread, and challah is fantastic when shared around the dinner table, sliced up and served as toast with breakfast, or when made into a french toast casserole. You should definitely try making a loaf this season!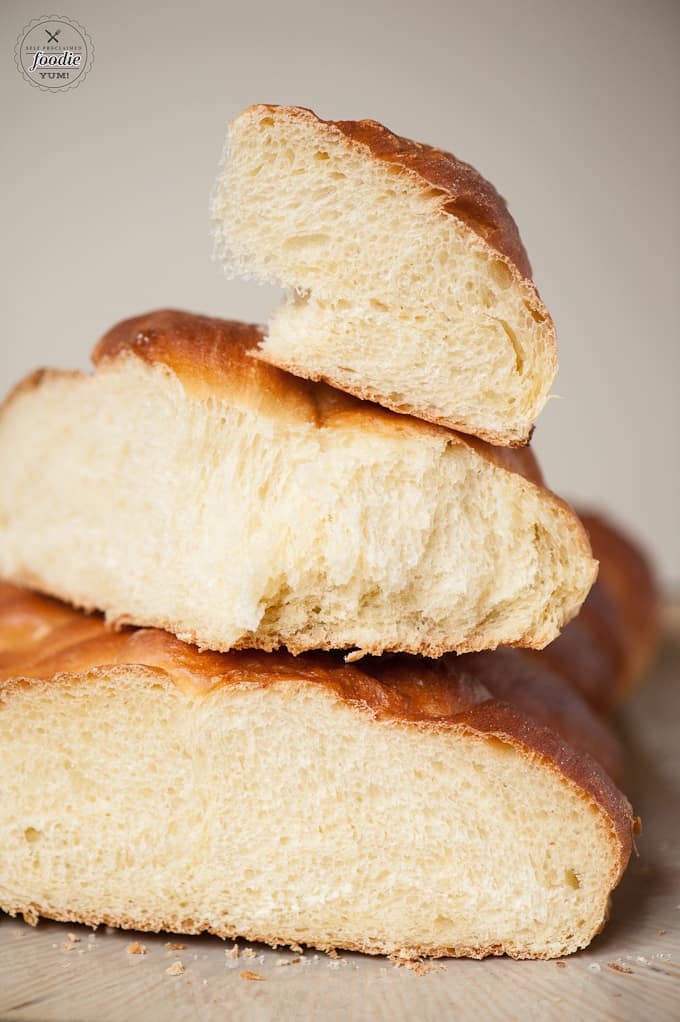 Love homemade bread recipes?
You'll have to try:
Full Recipe Instructions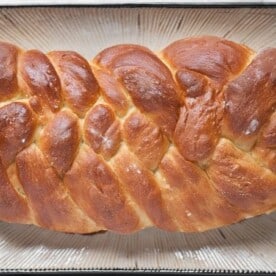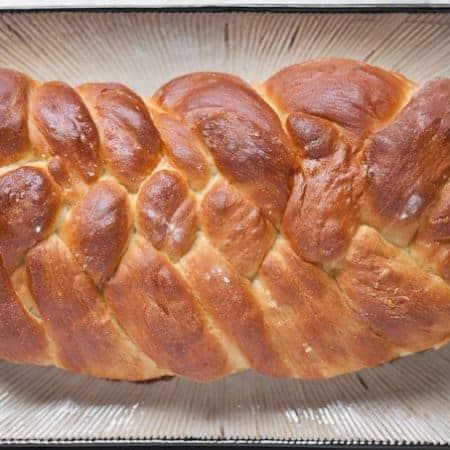 Challah Bread
Challah Bread is a delicious yeast enriched egg bread that holds significant religious meaning. Enjoy it during Hanukkah or family Sunday dinner.
Print
Pin
Rate
CLICK TO PLAY RECIPE VIDEO
Add to Collection
Go to Collections
Instructions
Sprinkle the yeast over the water in a small bowl. Swirl gently to dissolve. If a thin frothy layer does not form, your yeast might no longer be active.

In the bowl of your stand mixer, mix together 4 cups of the flour and the salt.

Add the honey, eggs, yolk, and oil and mix with a spoon to form a shaggy dough. Pour the yeast mixture over the egg slurry and mix until combined.

Using the dough hook attachment, knead the dough on low speed for 6 to 8 minutes. If the dough seems very sticky or does not create a smooth ball that pulls away from the sides of the bowl, add flour a spoonful at a time until it is just in between sticky and dry. Stop kneading the dough when it is soft, smooth, and holds a ball-shape.

Place the dough in an oiled bowl, cover with plastic wrap, and place somewhere warm. My house is always cold so I like to preheat the oven to 200 degrees F, turn it off, and crack the door. I allow the dough to rise in the warm oven. Let the dough rise until doubled in size, 1 to 2 hours depending on how warm the environment is. Punch the dough (this is the best part!).

Divide the dough into six equal pieces. I did this by weighing the dough, dividing by six, and ensuring each piece was roughly the same size. Roll each of the six pieces to equal lengths, 12-15 inches long. They will try to shrink back so give them the occasional pull. Make them a bit smaller on the ends.

To braid the dough, squeeze the ends together on one side. Spread out all six ropes. Always starting from the rope on the far right side, pull it over two strands, under the third, and then over the last two strands. Reposition all of the dough ropes such that you can repeat this pattern, again using the rope that's on the far right hand side. Repeat this weave until the entire loaf has formed and then sqeeze the ends together to seal. Tuck both ends on both sides of loaf underneath. You can either freeze the dough at this point or continue below to cook.

Line a baking sheet with parchment and transfer the loaf on top. Dust the loaf with a little flour and loosely cover it with plastic wrap or a clean dishcloth. Place the pan somewhere warm and away from drafts and allow it rise until about an hour.

Preheat oven to 350°F. Mix the remaining egg white with about a tablespoon of water and gently brush the entire surface of the loaf, taking care not to deflate.

Bake for 25 to 35 minutes, rotating the pan halfway through cooking, until the loaf is deeply browned in color.

Allow the loaf to cool on a cooling rack until just barely warm. Store in air tight container.
NUTRITION INFORMATION
Calories:
189
kcal
|
Carbohydrates:
31
g
|
Protein:
5
g
|
Fat:
4
g
|
Saturated Fat:
3
g
|
Cholesterol:
37
mg
|
Sodium:
302
mg
|
Potassium:
57
mg
|
Fiber:
1
g
|
Sugar:
4
g
|
Vitamin A:
55
IU
|
Calcium:
11
mg
|
Iron:
1.8
mg
This post was originally created in December 2016 and has been updated with more fun facts and tidbits for your reading pleasure.
You may also want to try my Baked Challah French Toast - its a fantastic overnight breakfast casserole!