Berry Bread Pudding, made with your favorite berries and soft bread, is an easy to prepare dessert that is incredibly rich and decadent.
If you love homemade bread pudding, you'll also want to try my Classic Bread Pudding with Vanilla Caramel Sauce, Fruit Jam Bread Pudding, or my Lemon Blueberry Bread Pudding.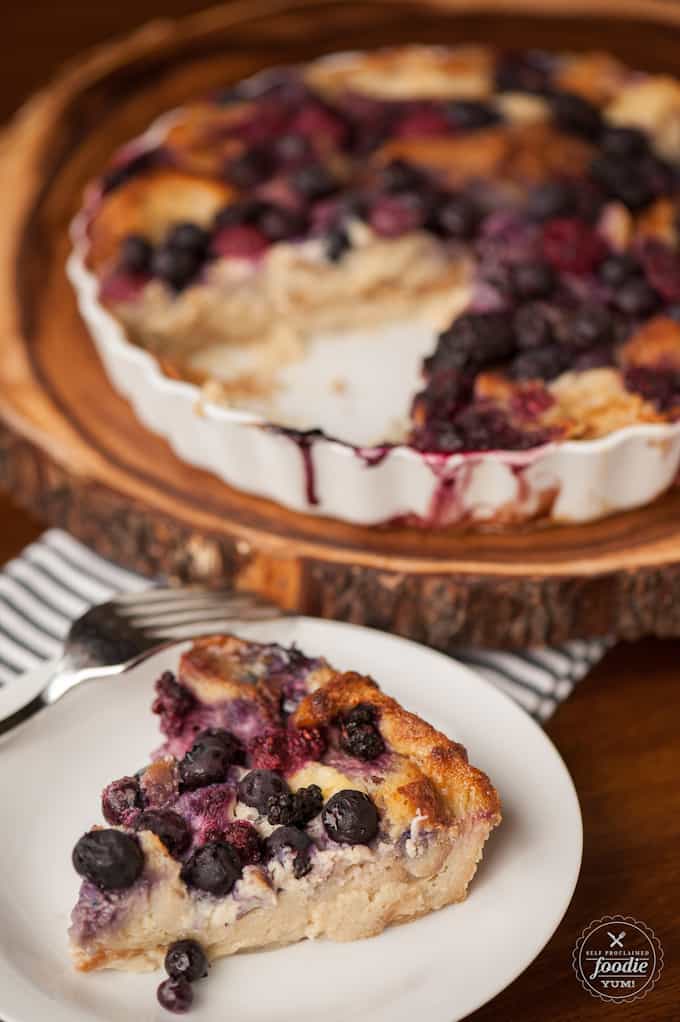 This recipe more than good. Its heavenly. Its so good that I'm going to say its every synonym to delicious: delectable, mouthwatering, appetizing, tasty, flavorful, toothsome, palatable, succulent, luscious, scrumptious, delish, yummy, finger-licking, nummy, lip-smacking, melt-in-your-mouth. Yeah. Those words just about cover it.
How do you make bread pudding with berries?
This bread pudding recipe is super easy. In fact, bread pudding made from scratch is one of the easiest desserts you can make.
You only need a few ingredients which include bread, eggs, sugar, pure vanilla extract, milk and frozen berries. I highly recommend using frozen berries versus fresh for this bread pudding recipe because they actually hold up better during the cooking process. This means you don't have to wait until summer to enjoy this amazing dessert and you might save those fresh berries for recipes like Fresh Blueberry Pie and Fresh Strawberry Pie.
To make this berry bread pudding, you simply combine all of the liquid ingredients and toss the bread in the liquid. You'll transfer this liquid to a baking dish, top with the frozen berries, cover and bake to perfection.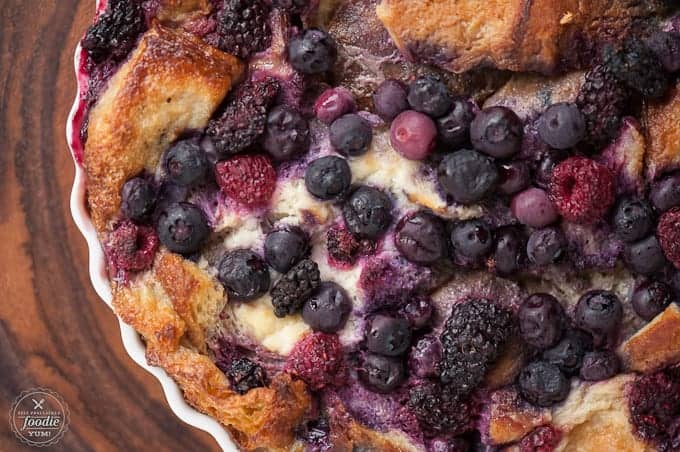 What does this bread pudding recipe taste like?
The words out of my mouth as soon as I took my first bite? "Oh my god. That tastes like creme brulee". But no one could actually understand my words because I was pretty much stuffing my face.
Even though bread pudding has basically the same ingredients as french toast, it doesn't exactly taste like it because the quantities and ratios are completely different.
The eggs, milk, sugar and vanilla combine to create a delicate creamy custard that simply becomes one with the sweet fluffy bread. Bread pudding is extremely decadent.
What kind of bread is used for bread pudding?
My favorite kind of bread to make bread pudding is brioche, but there are other varieties that work well. Challah and croissants both work extrememly well too. I haven't made bread pudding with Hawaiian Sweet Rolls yet, but that would be amazing as well.
I love making bread pudding with leftover bread, but I'll only do it with a thick sliced chewy type bread, not a crispy or thick crusted bread. That's just personal preference.
When deciding what bread to use when making bread pudding, go for something that is sweet and soft but still has a bit of a chew.
Funny story. One time I was making coffee cake and messed up by adding the topping into the batter instead of saving it for the top. I just threw it all in a 9×13 baking dish, cooked it, and stuck it in the freezer for later. I then decided to make a bread pudding out of it. Lesson learned: bread pudding should be made with bread, not cake. Don't do it.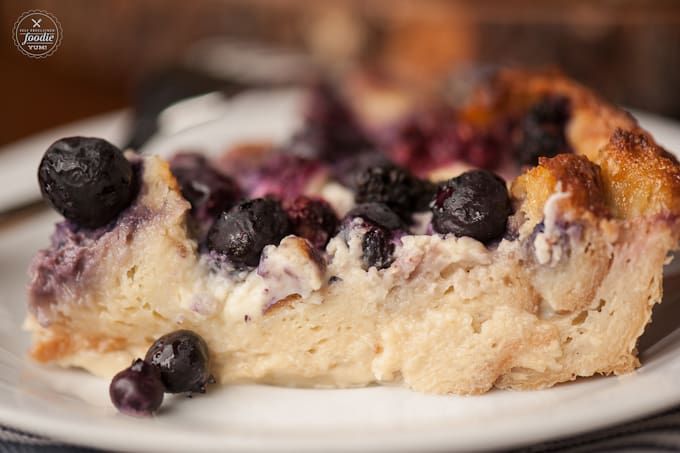 But is bread pudding a dessert?
Typically people consider bread pudding a dessert. But, because I equally enjoy a slice of this berry bread pudding in the morning with my morning coffee, I would personally categorize it as a not healthy breakfast treat too. You know, like monkey bread!
No matter what time you enjoy homemade bread pudding, only a few bites of this sweet and decadent treat will leave you satisfied!
So, if you're looking for a recipe that will make people moan and groan, you've found it.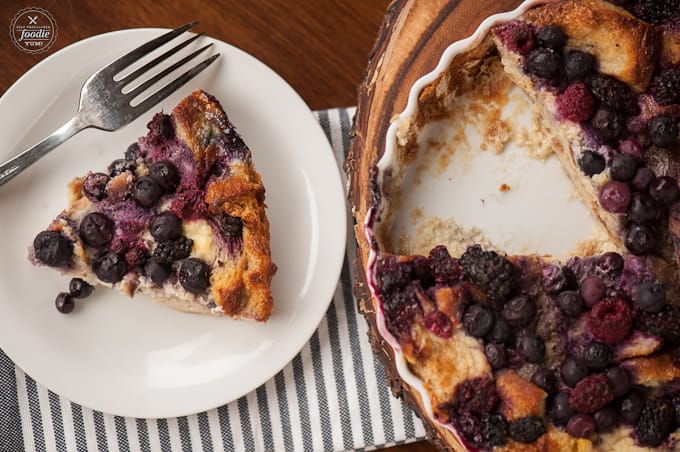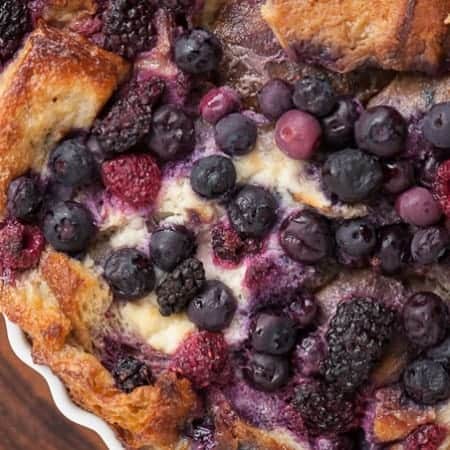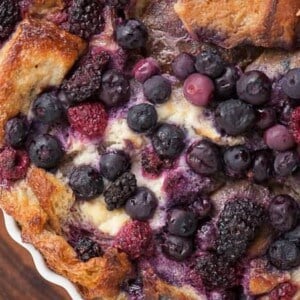 Berry Bread Pudding, made with your favorite berries and soft bread, is an easy to prepare dessert that is incredibly rich and decadent.
Ingredients
8

oz

Brioche

see note

3

eggs

1/3

cup

sugar

1

Tablespoon

Vanilla Extract

1 1⁄4

cups

Milk

see note

1 1⁄2

cups

berries

see note
Instructions
Chop the bread or pastries into approximately 1 inch cubes, set aside.

In a medium mixing bowl, combine the egg, sugar, milk, and vanilla, & gently whisk together.

Toss the bread cubes into the liquid mixture until fully moistened.

Transfer the bread pudding base into a round or square baking dish or cake pan (approximately 8-­9 inches, metal, glass, or ceramic is fine.)

Top the bread pudding base with your frozen berry blend. Frozen berries do work better than fresh, they hold up better to the longer bake time.

Cover baking dish with aluminum foil and bake at 350 degrees for 40 minutes, turn the pan and remove the foil half­way through the bake time.

Serve warm or chilled, with whipped cream, ice cream, clotted cream, fruit sauces, or just as is!
Notes
Bread: instead of brioche you can use aprox. 2 large pastries or 3 slices Sweet Bread: brioche, challah, croissant are best
Milk: whole or evaporated is preferred, but others can be substituted
Berries: frozen recommended, I used 1 part raspberry, 2 parts marionberry, and 3 parts blueberry
Nutrition
Calories:
239
kcal
,
Carbohydrates:
29
g
,
Protein:
7
g
,
Fat:
10
g
,
Saturated Fat:
5
g
,
Cholesterol:
115
mg
,
Sodium:
179
mg
,
Potassium:
124
mg
,
Fiber:
1
g
,
Sugar:
14
g
,
Vitamin A:
450
IU
,
Vitamin C:
1
mg
,
Calcium:
97
mg
,
Iron:
0.6
mg
Nutrition information is automatically calculated, so should only be used as an approximation.
This post was originally created in March 2016 and has been updated with more fun facts and tidbits for your reading pleasure.