Berry Bread Pudding is made from just a few ingredients and is an easy to prepare dessert that is incredibly rich and decadent.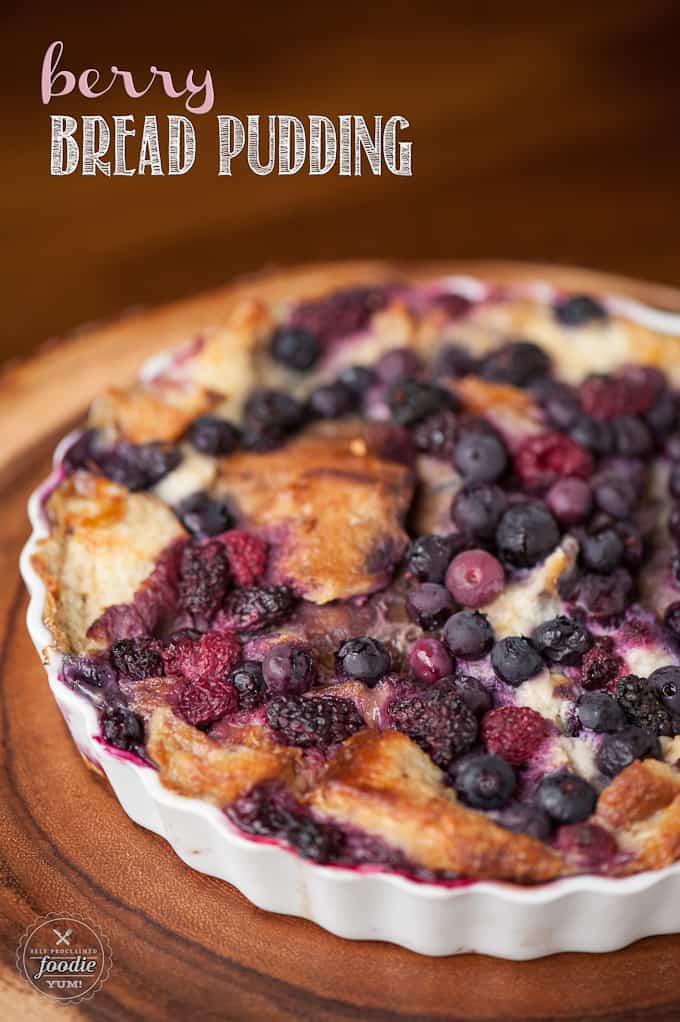 MY OTHER RECIPES
This recipe comes to you straight from Mindy of Decadent Creations, so you know its good. Its more than good. Its heavenly. Its so good that I'm going to say its every synonym to delicious:  delectable, mouthwatering, appetizing, tasty, flavorful, toothsome, palatable, succulent, luscious, scrumptious, delish, yummy, finger-licking, nummy, lip-smacking, melt-in-your-mouth.  Yeah. Those words just about cover it.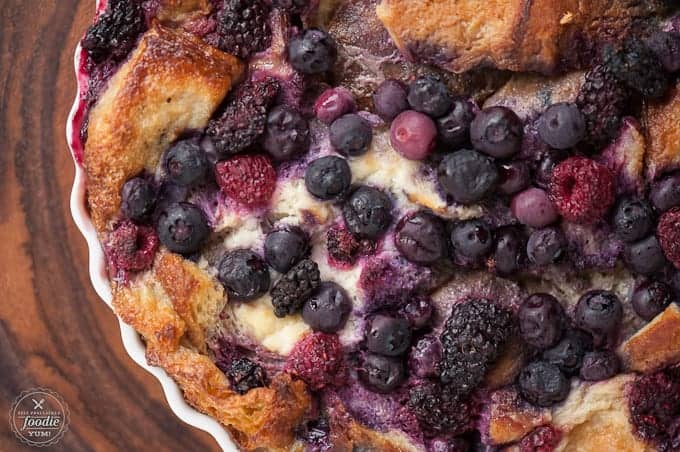 The words out of my mouth as soon as I took my first bite? "Oh my god. That tastes like creme brulee".  But no one could actually understand my words because I was pretty much stuffing my face.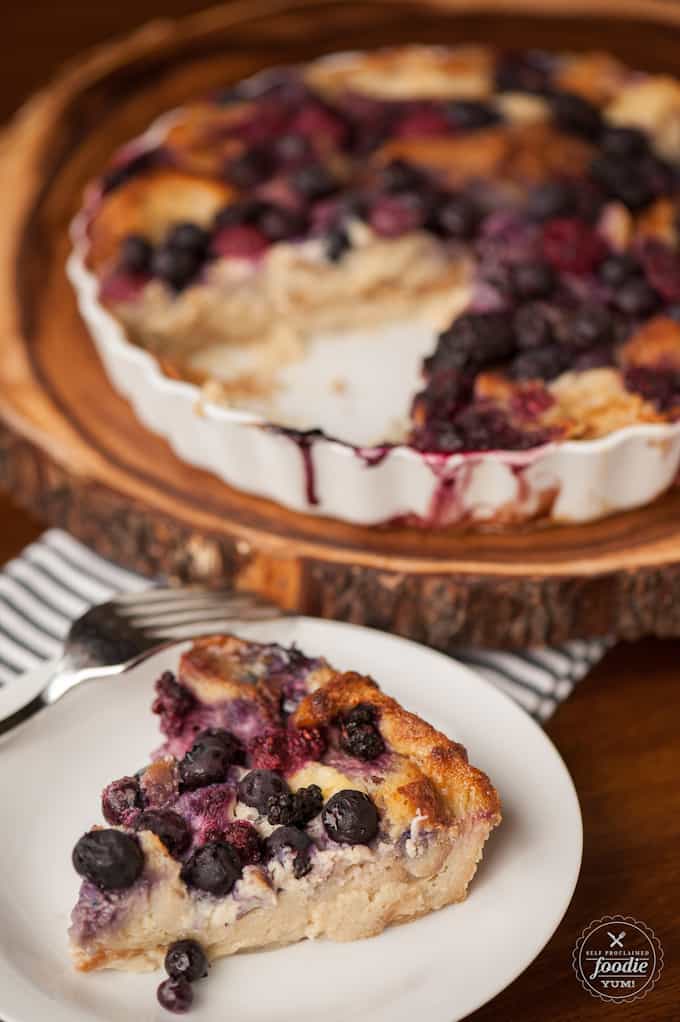 The recipe itself is super easy. You only need a few ingredients and frozen berries actually hold up better than fresh which means you don't have to wait until summer to enjoy this amazing dessert.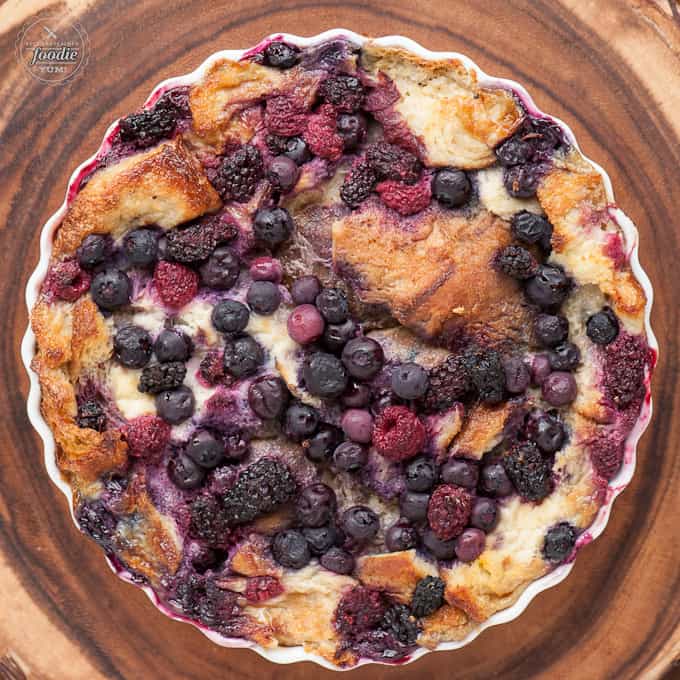 But is it a dessert?  Because I can see myself really enjoying this in the morning with my coffee. Probably because I did enjoy this in the morning with my coffee.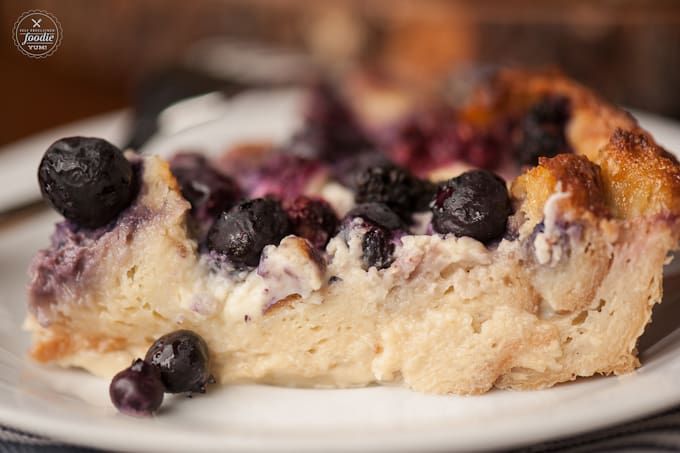 So, if you're looking for a recipe that will make people moan and groan, you've found it.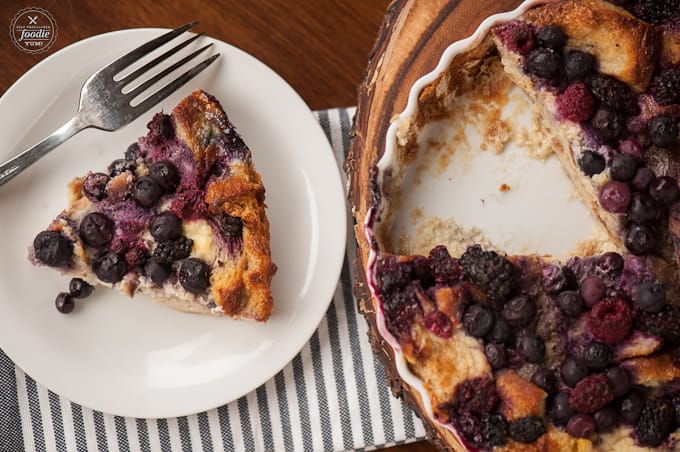 This recipe uses pure vanilla extract. Did you know you can make your own homemade vanilla extract? It makes the perfect gift too. Watch how in the video below.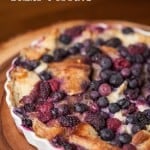 Berry Bread Pudding
Berry Bread Pudding is made from just a few ingredients and is an easy to prepare dessert that is incredibly rich and decadent.
Ingredients
1

⁄2 lb.

aprox. 2 large pastries or 3 slices Sweet Bread: brioche, challah, croissant are best

3

eggs

1/3

cup

sugar

1

Tablespoon

Vanilla Extract

1 1

⁄4 cup Milk

whole or evaporated is preferred, but others can be substituted

1 1

⁄2 cups of frozen berries (1 part raspberry

2 parts marionberry, and 3 parts blueberry is Mindy's

favorite blend

but go nuts with your own variety!)
Instructions
Chop the bread or pastries into approximately 1 inch cubes, set aside.

In a medium mixing bowl, combine the egg, sugar, milk, and vanilla, & gently whisk together.

Toss the bread cubes into the liquid mixture until fully moistened.

Transfer the bread pudding base into a round or square baking dish or cake pan (approximately 8-­9 inches, metal, glass, or ceramic is fine.)

Top the bread pudding base with your frozen berry blend. Frozen berries do work better than fresh, they hold up better to the longer bake time.

Cover baking dish with aluminum foil and bake at 350 degrees for 40 minutes, turn the pan and

remove the foil half­way through the bake time.

Serve warm or chilled, with whipped cream, ice cream, clotted cream, fruit sauces, or just as is!
Nutrition Facts
Berry Bread Pudding
Amount Per Serving
Calories 182
Calories from Fat 72
% Daily Value*
Total Fat 8g 12%
Cholesterol 109mg 36%
Sodium 153mg 6%
Potassium 22mg 1%
Total Carbohydrates 21g 7%
Protein 5g 10%
* Percent Daily Values are based on a 2000 calorie diet.