These super softy and tasty Cornmeal Yeast Rolls can be served as dinner rolls or you can use them as perfect buns for burgers, pulled pork, or sliders.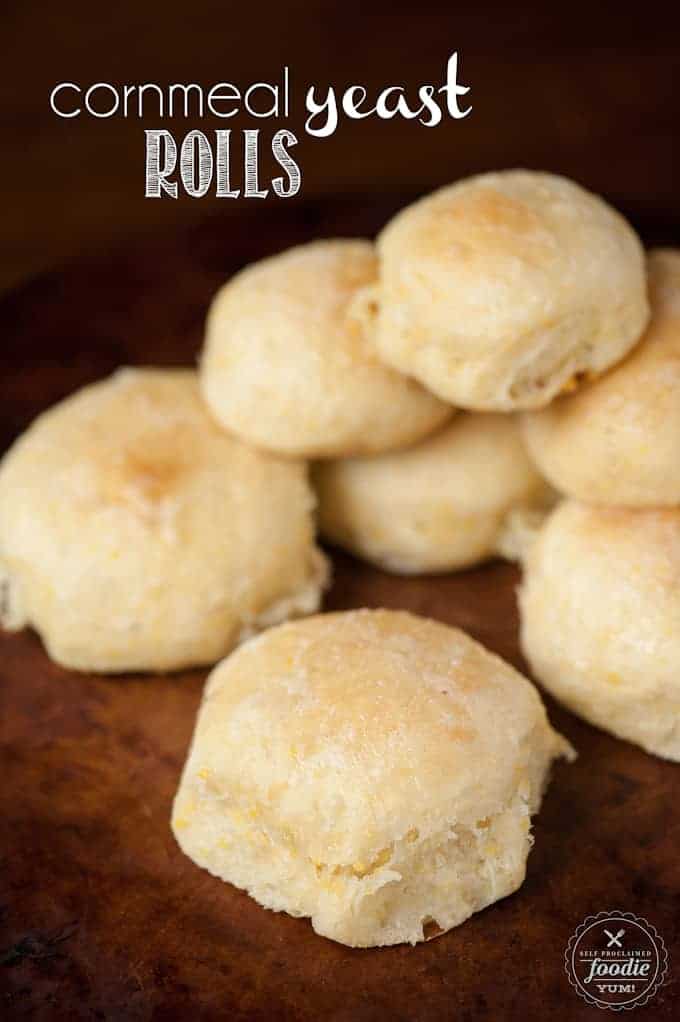 Yep, these cornmeal yeast rolls were super delicious. I made them to be used for slider buns, but they would have been perfect as huge hamburger buns because they held together so well or equally as well as dinner rolls simply because they were the perfect combination of chewy and soft.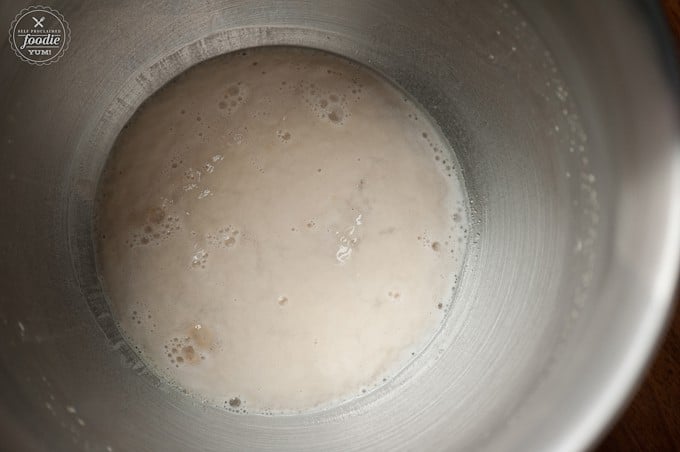 As the title of this recipe indicates, these are yeast rolls. I specified that in the title because there are recipes that don't call for yeast. Sure, these recipes typically take more time to make because you knead the dough and let it rise, but that's why its so fun! I get so terrified every time I make a biscuit or pie dough because I have to be so careful with my mixing so as to not over work the dough in order for it to turn out light and flaky. Not yeast dough. You have to squeeze and push and pull the dough in order to make it soft and fluffy. I showed a picture of my yeast proofing in the photo above because the first pack of yeast that I opened didn't foam at all so I tossed it. I wasn't sure if it was user error or bad yeast. I tried a whole new pack from a different set and I got creamy foamy yeast. That's what you want.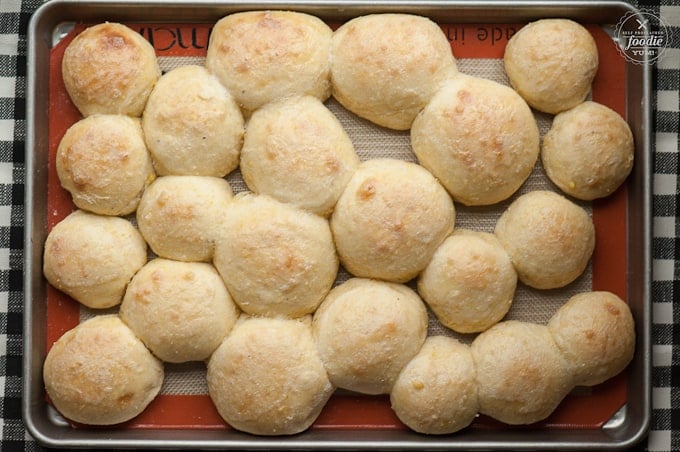 I also took a photo of all the rolls on the baking sheet to show you that you don't have to be perfect. I'm normally a super freak when it comes to cutting things to be the exact same size. For whatever reason, I just grabbed balls of dough and went to town. As you can see, some turned out big and some turned out little. This ended up being perfect for us because I used the little ones for sliders and we just ate the big ones warmed up with preserves whenever we felt like it.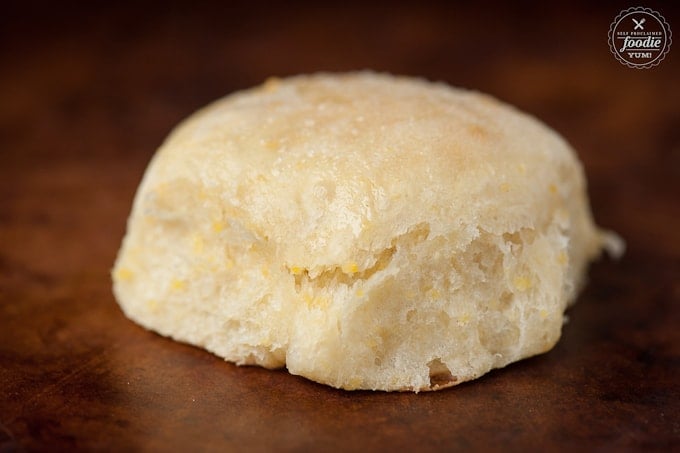 This was actually my second attempt at making cornmeal yeast rolls.  A couple of months ago I tried making some without cooking the cornmeal in some butter and milk first and the result was a pretty dense roll that had crunchy cornmeal. As in the kind of cornmeal that might break your tooth if you aren't careful.  Not these rolls. No way. When you cook that cornmeal down with butter and milk, sugar and salt, you'll have to fight the urge to grab a big spoon and just start eating that warm wonderfulness right then and there. This is the secret to light and fluffy and perfectly flavorful cornmeal rolls.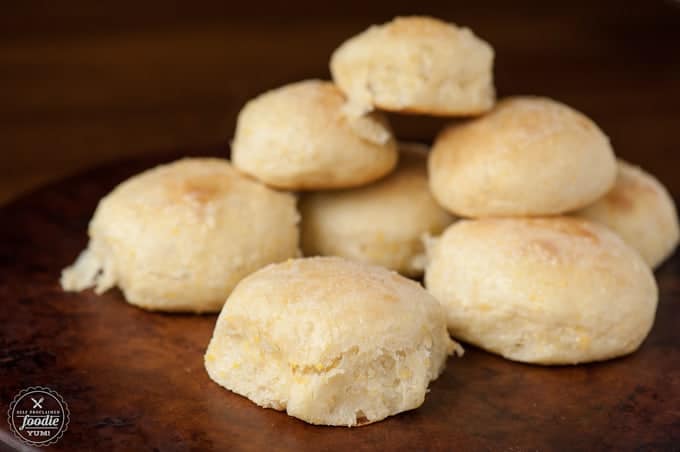 As soon as I took them out of the oven, I rubbed some butter on each of their piping hot tops. Oh man, that was good.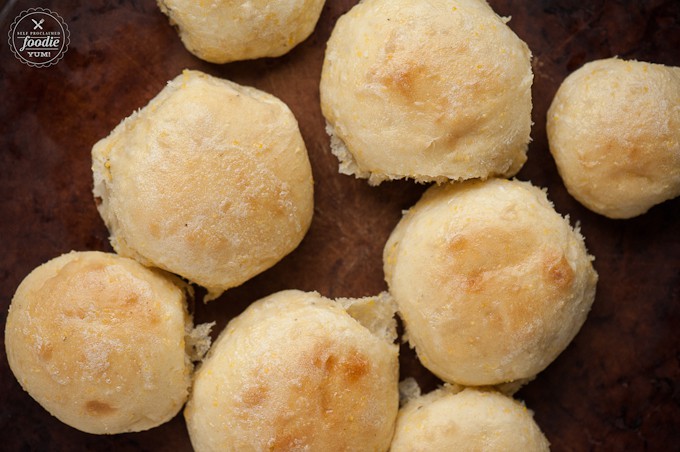 See all those cute little specs of cornmeal?  Now just imagine how good these would taste with some pulled pork with some bbq baked beans, coleslaw, collard greens, and potato salad on the side. YUM!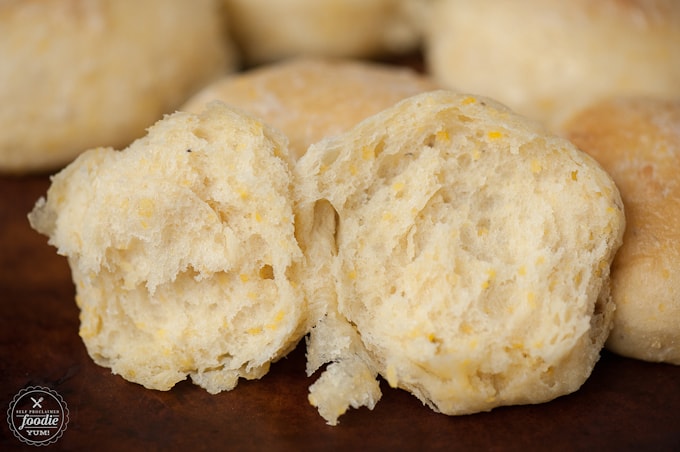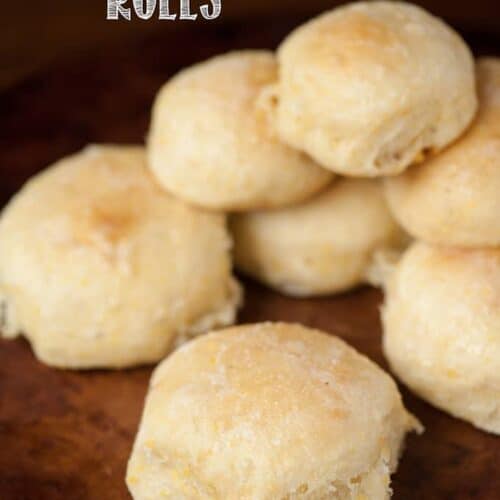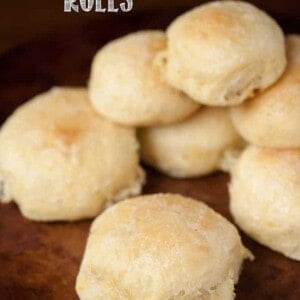 These super softy and tasty Cornmeal Yeast Rolls can be served as dinner rolls or you can use them as perfect buns for burgers, pulled pork, or sliders.
Instructions
In a medium saucepan over medium heat, combine milk, cornmeal, cube of cold butter, sugar and salt. Stir together and cook about 5 minutes. Remove from heat and allow to cool. Mixture will thicken as it cools.

In the bowl of your stand mixer, add active dry yeast, 1/2 cup warm water (110 degrees F), and 1 teaspoon sugar and allow to get foamy, about 10 minutes. Combine cornmeal mixture, yeast, and 2 well-beaten eggs. Add 3 cups flour and mix to make a soft dough. Add one more additional cup of flour and knead on speed 2-4 for 5 minutes. Place dough in bowl that has been greased with olive oil. Cover loosely with plastic wrap and allow to rise for one hour in warm room.

Preheat the oven to 375 degrees F.

Punch down dough and place on a very well floured surface. Work in as much flour as needed to be able to handle dough without it sticking to your hands. Cut into 16 equal sized pieces. Tuck corners under each piece of dough to create a nice dome top and set on a large parchment or silpat lined baking sheet.

Bake rolls in preheated oven for 12 to 15 minutes. Rub tops with butter as soon as you remove them from the oven.

Serve warm as dinner rolls or allow to cool and use as buns (8 large) or slider buns (16).
Nutrition
Calories:
235
kcal
,
Carbohydrates:
32
g
,
Protein:
7
g
,
Fat:
9
g
,
Saturated Fat:
5
g
,
Cholesterol:
39
mg
,
Sodium:
314
mg
,
Potassium:
109
mg
,
Fiber:
2
g
,
Sugar:
5
g
,
Vitamin A:
256
IU
,
Calcium:
44
mg
,
Iron:
1
mg
Nutrition information is automatically calculated, so should only be used as an approximation.