Put those ripe bananas to excellent use and make this easy, rich and sinful Banana Upside Down Cake. Its the perfect dessert for any occasion.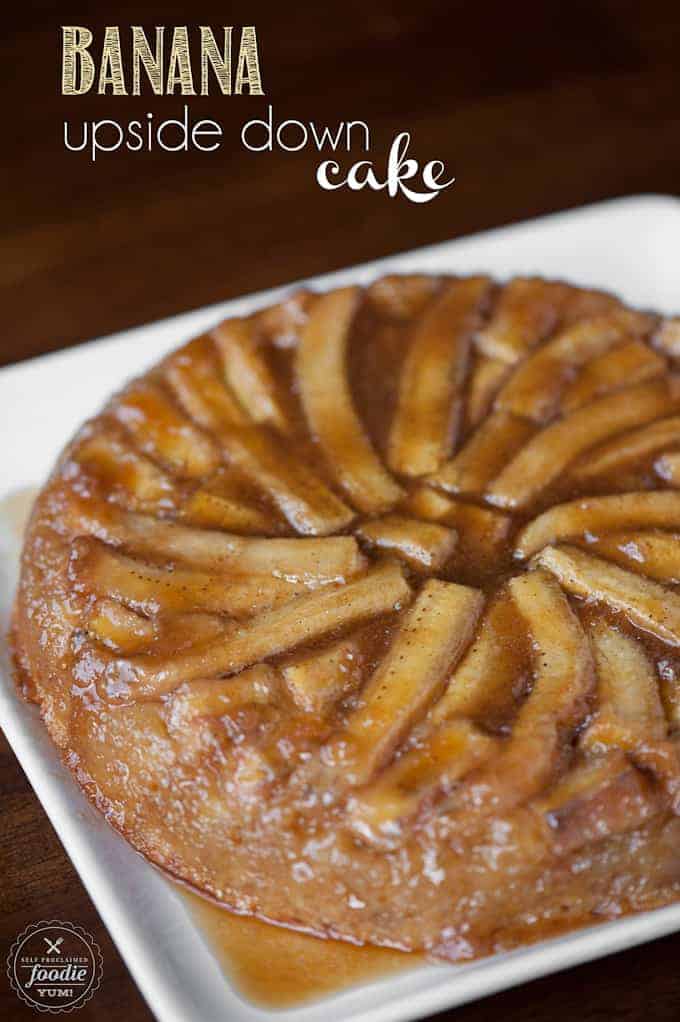 Mercy. This dessert was heaven. I'm sure each slice has like 1000 calories, but this is the kind of cake I would run around the track 10 times for. Its that good.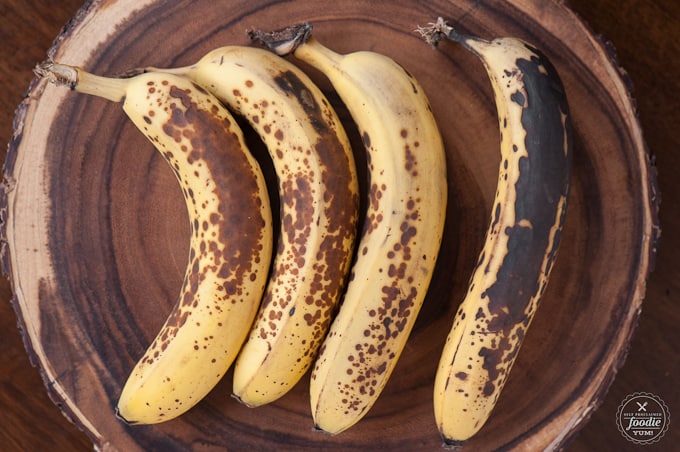 We've had a surplus of ripe bananas in our house lately. We used to go through bananas like they were going out of business. They were the perfect snack on the go. But, for some reason, my family hasn't been eating them lately, then they turn ripe, then I transform them into banana cupcakes or banana bars or banana muffins or banana french toast (you get the idea), then I go to the store to buy another bunch thinking we'll go back to just eating plain bananas only for the entire vicious cycle to start all over again. This time I had four ripe bananas. I took the ripest one and mashed it up. The remaining three were sliced up for the top (or bottom?) of this cake.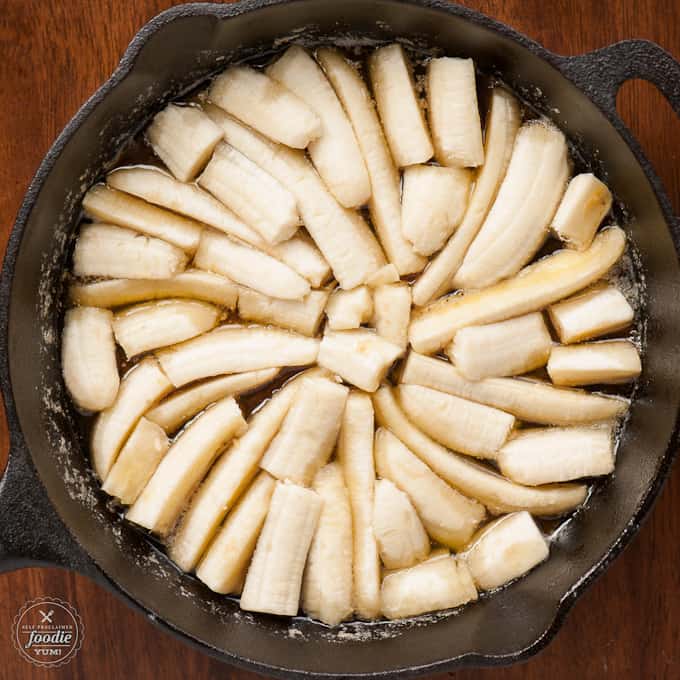 After I melted the butter and sprinkled in the brown sugar, I made a pinwheel type pattern with the bananas filling in the gaps with smaller pieces. You can place them however you'd like. go crazy.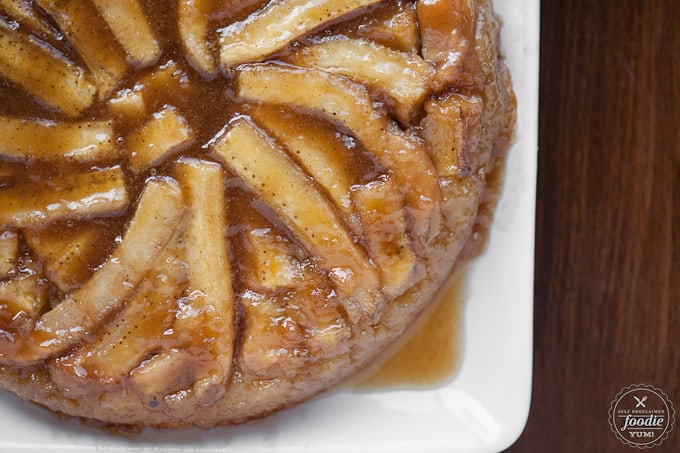 The cake itself is very similar to a pancake - only sweeter. After you take this bad boy out of the oven and let it cool a wee bit, just place a plate over the cast iron skillet and flip it over. If I can do it, you can do it, although that process always scares the heck out of me.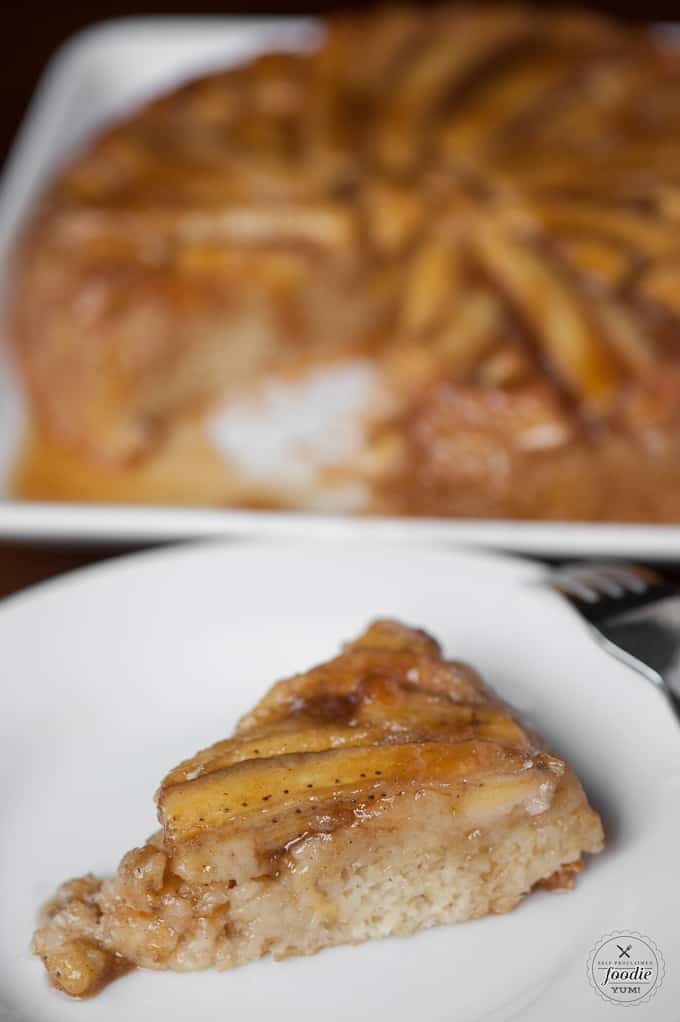 The result? Oh my god. First of all, how can you go wrong with a ton of melted butter and brown sugar. All of that just seeps into the cake. The entire thing is so insanely moist and delicious and the flavor is incredible.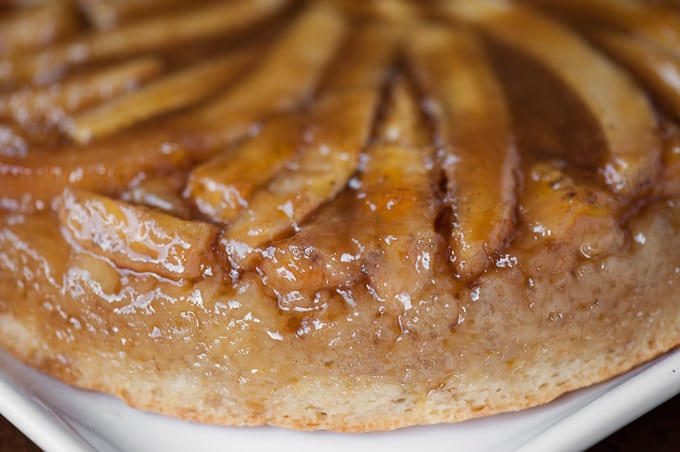 This is one of those desserts that's just dangerous. I mean, its really easy to make, inverting any baked good is fun, and you feel like the size of the slice isn't too big so you're compelled to eat another. And another. And another. So good. Next time you have some ripe bananas begging to be transformed into something wonderful, you'll know what to make.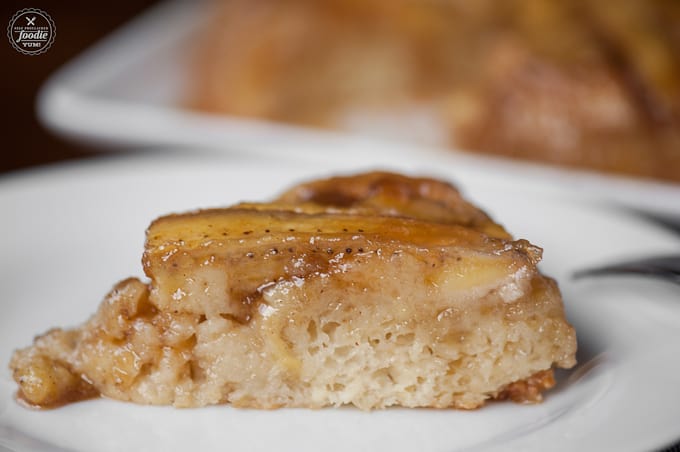 This recipe uses pure vanilla extract. Did you know you can make your own homemade vanilla extract? It makes the perfect gift too. Watch how in the video below.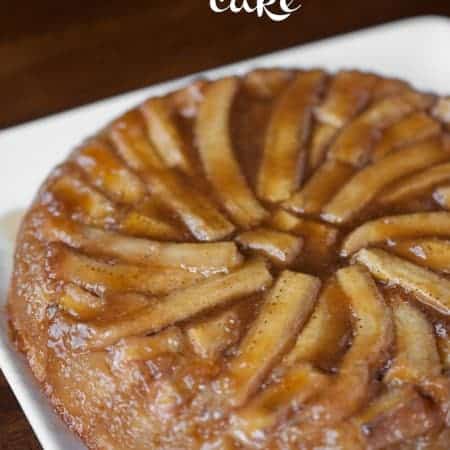 Banana Upside Down Cake
Put those ripe bananas to excellent use and make this easy, rich and sinful Banana Upside Down Cake. Its the perfect dessert for any occasion.
Print
Pin
Rate
Ingredients
1/2

cup

unsalted butter

(1 stick)

3/4

cup

light brown sugar

(packed)

4

medium sized ripe bananas

1

cup

all purpose flour

3/4

cup

granulated sugar

2

teaspoons

baking powder

pinch

salt

(optional and to taste)

1

large egg

3/4

cup

buttermilk

1

tablespoon

vanilla extract
Instructions
Preheat oven to 350 degrees F.

Using a 9 inch cast iron skillet, melt butter over medium heat until bubbly. Sprinkle brown sugar evenly over melted butter. Do not stir, but allow to sit over heat for just a minute until it starts to dissolve. Remove from heat.

Take the ripest banana and set aside - it will be mashed up and mixed into the cake batter. For the remaining three bananas, peel, cut in half, and then quarter each half lengthwise. Gently place these banana spears in a circular pattern in the butter and brown sugar mixture.

To make the cake batter, combine the flour, sugar, baking powder, and salt in a medium sized bowl. Set aside.

Separately, mix together egg, buttermilk, vanilla, and mashed banana. Add this wet mixture to the dry mixture and stir just to combine. Do not overmix - this will be very similar to pancake batter.

Pour over banana pieces taking care not to change their position.

Bake in preheated oven until golden brown, about 40 minutes. Remove from oven and allow to cool slightly before inverting onto plate.

Store in airtight container. Best if eaten within 1-2 days because bananas will brown over time.
NUTRITION INFORMATION
Calories:
389
kcal
|
Carbohydrates:
66
g
|
Protein:
3
g
|
Fat:
13
g
|
Saturated Fat:
7
g
|
Cholesterol:
53
mg
|
Sodium:
40
mg
|
Potassium:
394
mg
|
Fiber:
1
g
|
Sugar:
47
g
|
Vitamin A:
460
IU
|
Vitamin C:
5.1
mg
|
Calcium:
98
mg
|
Iron:
1.2
mg