This recipe first appeared over at Real Housemoms where I'm a contributor.
Banana Cream Pie, with ripe bananas, homemade vanilla pudding, and a Nilla Wafer crust, is a true American classic when it comes to desserts.
Each bite is a flavor explosion full of different textures that will send you right back to your youth. This is the best homemade Banana Cream Pie recipe you will find!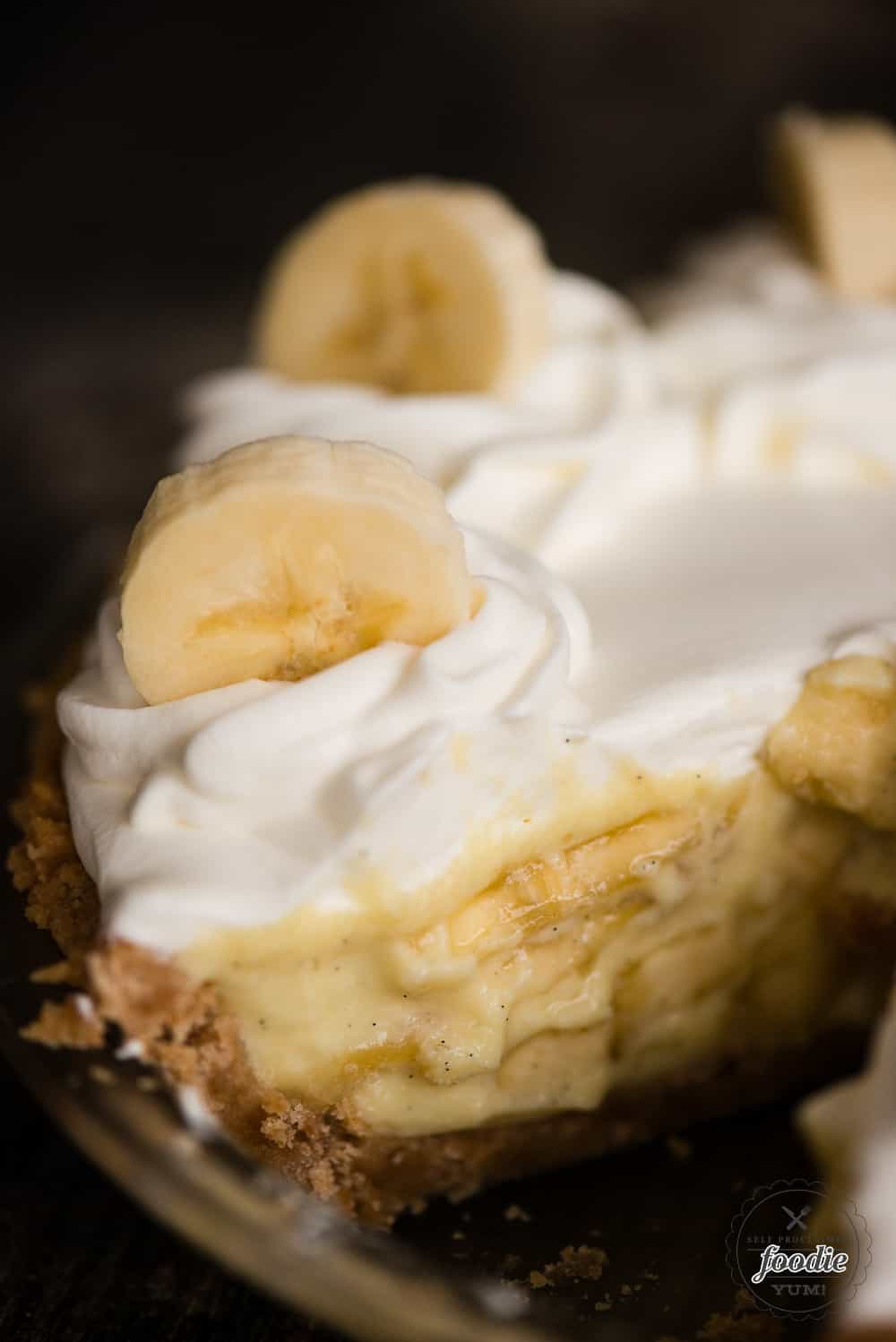 This post may contain affiliate links. That means that I will earn a teeny tiny (seriously, it's ridiculously small) commission on anything that you buy, at no added cost to you. By supporting me this way, I can deliver more delicious recipes! Read my disclosure policy here.
BANANA CREAM PIE
Pin it to your DESSERT BOARD to SAVE it for later!
Follow Self Proclaimed Foodie on Pinterest for more great recipes!
Banana Cream Pie is one of those desserts that is good any time of year. Any good pie starts with the crust. You could easily use an all butter pie crust for this pie, but nothing quite compliments bananas like Nilla wafers, right? Then comes the filling. It would be easier to use a boxed pudding mix, but homemade pudding is worth the effort. The flavor is unbeatable! Then there's the topping, a luscious and slightly sweetened whipped cream to finish off this heavenly pie! You can go with a semi-homemade easy banana cream pie, or put in a little extra TLC for a banana cream pie recipe no one will forget!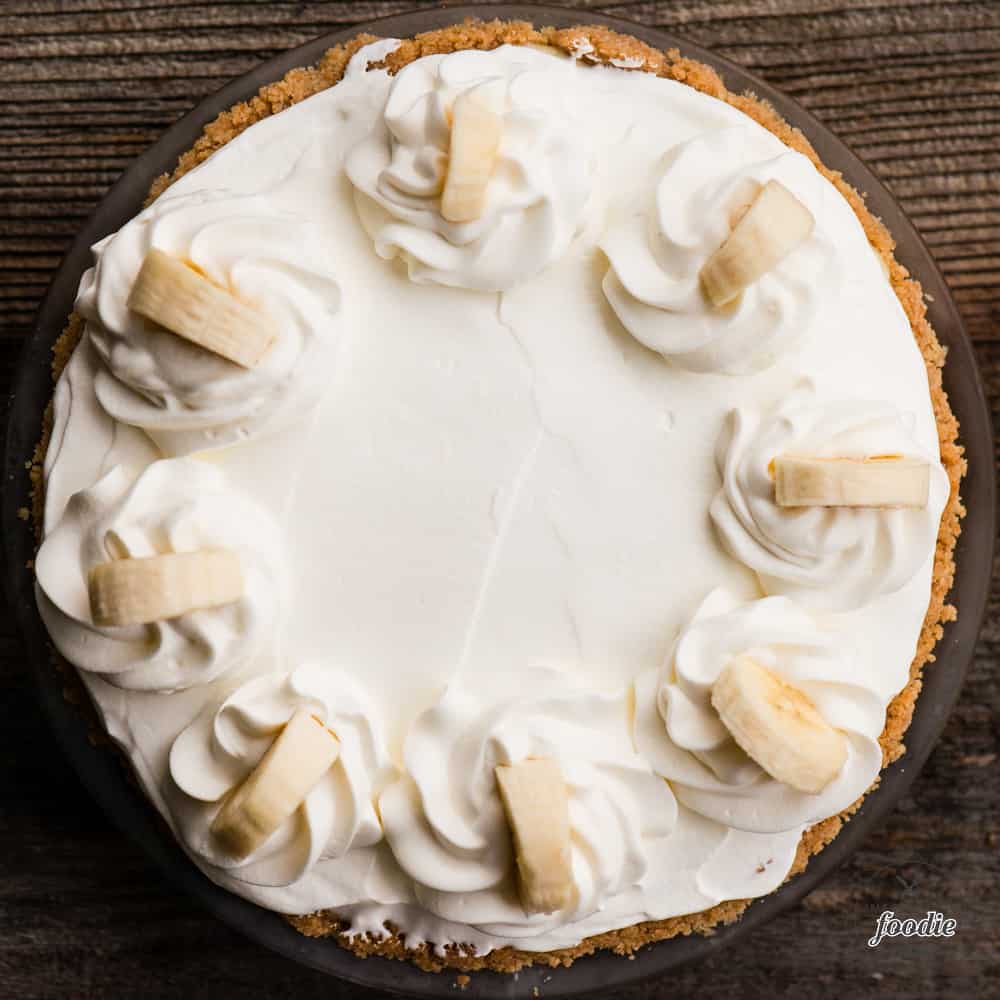 HOW TO MAKE BANANA CREAM PIE
Use a food processor to transform the Nilla wafer cookies into crumbs. You could also crush them in a resealable plastic bag, but if you're willing to give your food processor a quick rinse when you're done, it's the easiest method.
Don't use bananas that are overly ripe. This pie is so creamy that you don't want the bananas to be mushy. Your best bet is to find yellow bananas that are just starting to brown. Save those overly ripe bananas for a different dessert where the bananas get mashed like some decadent banana bread brownies.
Take care not to overheat the vanilla pudding. This is the part of the recipe that takes the most attention. The trick with a homemade pudding is to bring the temperature up gradually, always whisk to avoid lumps, and to temper the eggs. All of this is explained in the recipe.
A thin layer of plastic wrap over the pudding will prevent a skin from forming while the pie chills.
Finally, using a stand mixer with the whisk attachment is the easiest way to make the sweetened whipped cream. If you wanted to make a little extra for tomorrow's coffee, I won't judge.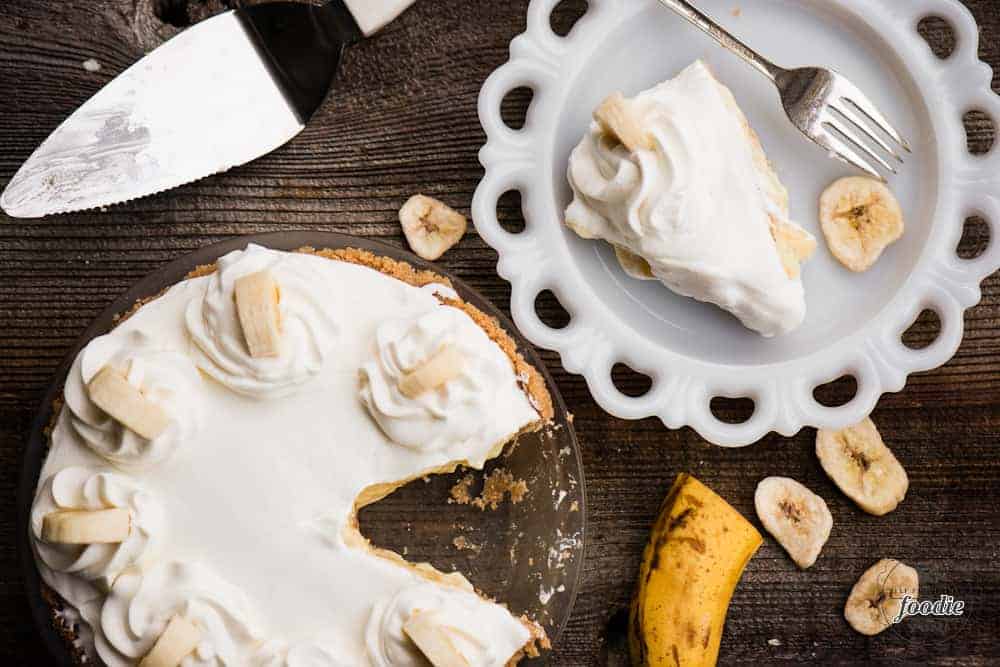 Banana cream pie not only presents beautifully, but it's one of those desserts that will put a huge smile on anyone's face who enjoyed it in their youth. It may seem kind of complicated to make because there is a crust, filling, and topping after all. But, if you take your time with the pudding, it's really an easy dessert to put together.
Want more delicious pie recipes?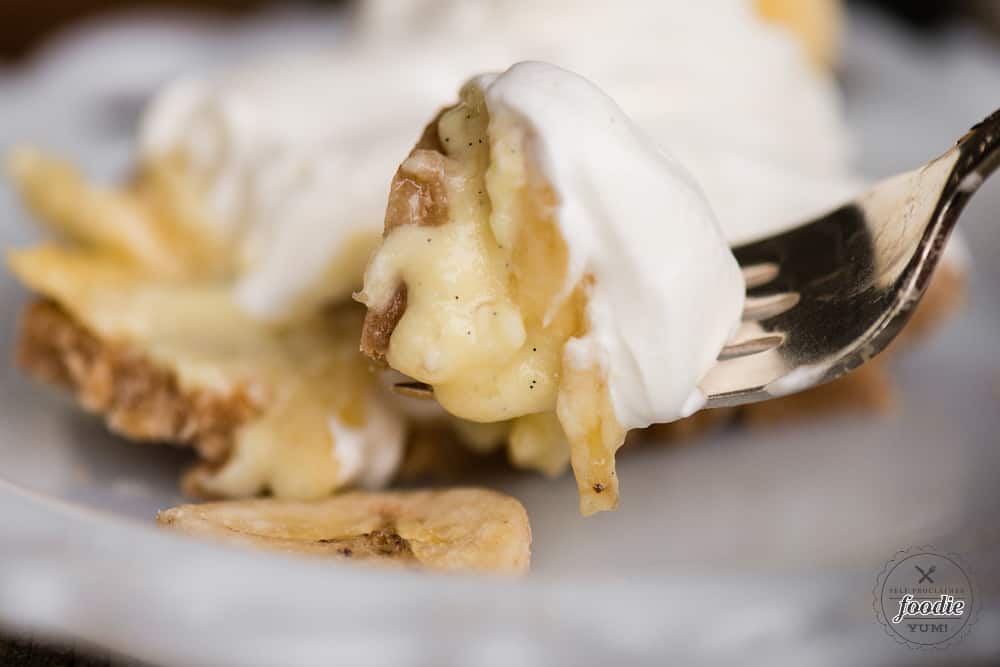 Tools used to make this Banana Cream Pie recipe
Food Processor: Slice, chop, and grate anything you need with this food processor. I've had this model for years and use it all the time. It's a great workhorse in my kitchen and I'd recommend it to anyone!
Saucepan: This is my favorite saucepan. It gets used in my kitchen every day.
Pie Plate: A good pie plate is a kitchen essential for any home baker. I really like this plate! It's a little deeper than your standard pie plate and has a lip that makes decorative edges easy.
Stand Mixer: I don't know what I'd do without my stand mixer. I use it for just about everything…and I mean everything! Cakes, cookies, mashed potatoes, and shredding chicken!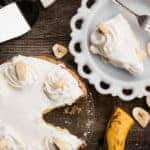 Banana Cream Pie
Banana Cream Pie, with ripe bananas, homemade vanilla pudding, and a Nilla Wafer crust, is a true American classic when it comes to desserts. Each bite is a flavor explosion full of different textures that will send you right back to your youth. This is the best homemade Banana Cream Pie recipe you will find!
Ingredients
Crust:
3/4

cups

Nilla wafer crumbs

6 ounces Nilla wafers

8

tablespoons

melted butter
Filling:
1

cup

granulated sugar

2

tablespoons

corn starch

1/4

teaspoon

salt

3

cups

half and half

4

egg yolks

slightly beaten

1

vanilla bean

split lengthwise (optional but highly recommended)

1

tablespoons

butter

3-4

bananas

sliced
Instructions
To make the crust, combine Nilla wafer crumbs and melted butter in small bowl. Press into an 9-inch pie dish. Bake in a 350 degree oven for 5 minutes. Allow to cool on wire rack.

To make the filling, you will make a vanilla pudding on the cooktop. Combine sugar and cornstarch in medium sauce pan. Stir in half and half. Scrape vanilla bean and add scrapings plus until pod to mixture. Cook over medium heat, stirring frequently, until mixture is thick and bubbly and starts to stick to the bottom. This should take about 5-10 minutes.

Add egg yolks to medium sized bowl. Slowly add one ladle of hot cream mixture to egg yolks while whisking rapidly. Continue to ladle hot mixture into egg yolks until at least one cup of hot mixture has been added. Then, pour warm egg yolk mixture into hot half and half mixture on the stove, whisking constantly. Allow mixture to come to a gentle boil, then reduce heat to low. Continue to stir and allow to cook until thickened, about 2-5 more minutes. Remove from heat and stir in butter. Remove vanilla bean (but be sure to scrape out as many of the seeds as possible first) and discard pod.

Slice bananas and add to cookie crust. Fill until the top of the bananas are level with the top of the crust.

Top with warm pudding, tilting pie dish as necessary to fully distribute the pudding to coat the bananas. There might be excess pudding. Just fill as much as possible without spilling. Cover with plastic wrap allowing the plastic wrap to rest directly onto the pudding to prevent skin from forming and refrigerate at least an hour.

Remove pie from refrigerator and top with stabilized whipped cream. You can spread it on, pipe it on, or both. Top with additional banana slices or banana chips. Keep pie in the refrigerator until ready to serve.

Best if enjoyed on the same day. Bananas will brown and get mushy as time passes.
Recipe Notes
Recipe for making your own stabilized whipped cream: https://selfproclaimedfoodie.com/stabilized-whipped-cream
Nutrition Facts
Banana Cream Pie
Amount Per Serving
Calories 321
Calories from Fat 180
% Daily Value*
Total Fat 20g 31%
Cholesterol 115mg 38%
Sodium 179mg 7%
Potassium 207mg 6%
Total Carbohydrates 33g 11%
Protein 3g 6%
* Percent Daily Values are based on a 2000 calorie diet.