This old fashioned dairy free Homemade Coconut Pudding made with coconut milk and cream is the perfect dessert because it is so creamy rich and delicious.
If you love this recipe, you will certainly love my Coconut Pudding Poke Cake and my Coconut Ice Cream.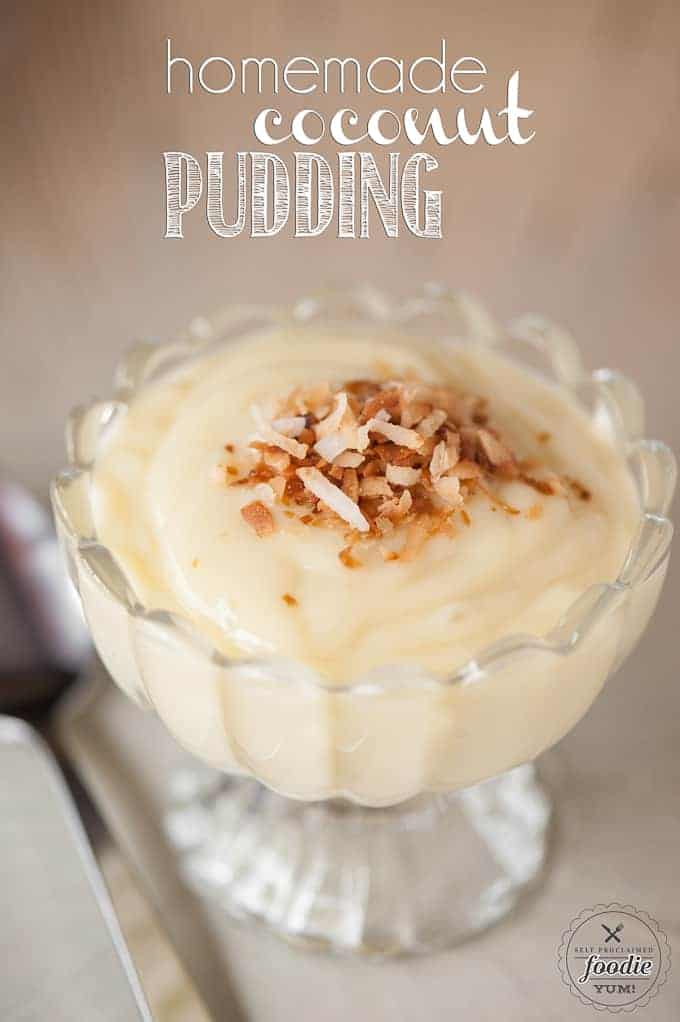 I love all things coconut. Coconut milk. Coconut cream. Coconut water. Coconut oil. Always have. Always will. Its one of my favorite things to put in smoothies. I love using it in boozy drinks. It makes cookies and desserts and ice cream amazing. Needless to say, I use coconut in the kitchen all the time. Why do I love coconut so much?  Let me tell you just a few:
There is nothing that compares to the taste. You can't argue with me on that.
I was born in Hawaii, so my love of coconut is basically encoded into my genetic makeup. Or something like that.
Pacific Islanders believe that it is the cure for all illness, and a coconut palm tree is known as "The Tree of Life." Coconut oil is thought to possess healing properties above and beyond that of any other dietary oils.
Eating coconuts are excellent for one's immunity. They are antiviral, antifungal, antibacterial, and anti-parasitic. Nature's miracle? Perhaps.
You can consume coconut in any of its various forms, whether it be raw coconut, coconut oil, coconut milk, coconut butter, coconut water, etc. Any food product that allows me to talk like Bubba from Forest Gump makes me smile.
Coconuts are a delicious and nutritious source of fiber, vitamins, minerals, and amino acids. They have tons of calcium, potassium, and magnesium, as well as plenty of electrolytes. In fact, coconut water is known to have the same electrolyte levels as human plasma, and has even been used for plasma transfusions! Say what?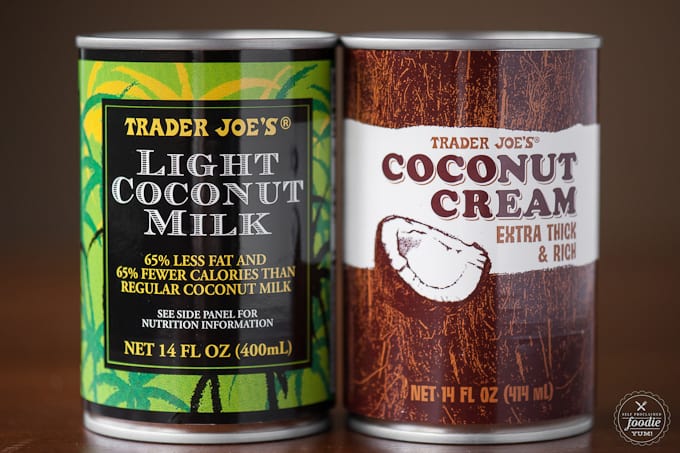 Growing up, I thought the only way to make pudding was to combine the powder from the box with milk, cook, and serve. I seriously didn't think you could make it from scratch. I lived on pudding when I was pregnant with my oldest kid. No joke – every single night I would make an entire box of hot chocolate pudding and eat it in the bath. I can't believe I only gained 40 pounds that pregnancy! Only recently have I started making pudding the old fashioned way. Making pudding is the same as making custard or making ice cream. Its basically mixing heated milk with eggs and sugar. For this pudding, I used coconut milk with some coconut cream in place of regular cow's milk. May all my dairy free and lactose intolerant friends rejoice! I had to add in some corn starch and flour to ensure it would thicken up properly, but you can't tell in the finished pudding.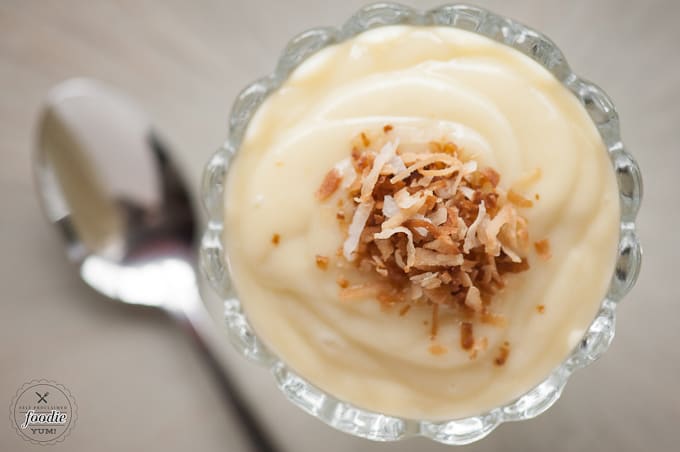 The toasted sweetened coconut flakes are totally optional but highly recommended, not just for the nutty taste, but for the added texture. YUM!!!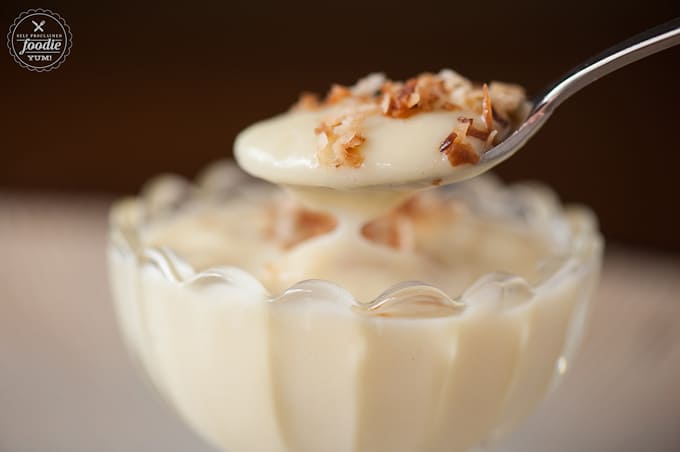 This post was originally created a couple years ago, but the recipe has been so popular that I decided to film it and re-publish in case you hadn't seen it yet. If anyone notices I forgot to include the coconut rum, you get extra bonus points.  I did add it and filmed it, but I forgot to include it in my final edit. Whoopsie!
Watch me make this delicious homemade coconut pudding in the recipe video below: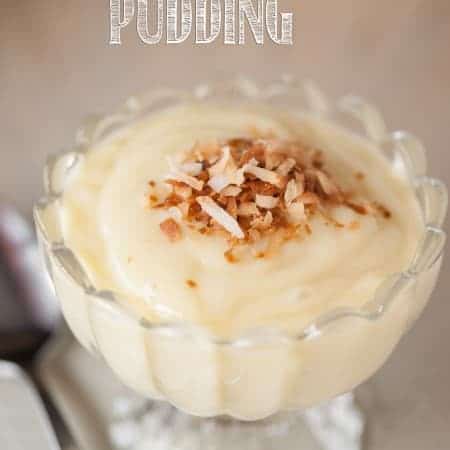 Homemade Coconut Pudding
This old fashioned Homemade Coconut Pudding made with coconut milk and coconut cream is the perfect dessert because it is so creamy rich and delicious.
Print
Pin
Rate
RECIPE VIDEO WILL AUTOPLAY
Ingredients
1/3

cup

sugar

2

egg yolks

1

14 ounce can lite coconut milk (I use Trader Joe's)

2

tablespoons

coconut cream

(again, Trader Joe's)

2

tablespoon

flour

1

tablespoons

cornstarch

Pinch

of salt

1

teaspoon

coconut rum

(can substitute with vanilla if desired)

1/2

cup

sweetened coconut flakes

(optional)
Instructions
Combine sugar and egg yolks in the bowl of a stand mixer. Use the whisk attachment to combine until light and fluffy, about 5 minutes on medium high speed, while stopping the mixer every coupld of minutes to scrape the bowl.

While eggs and sugar and mixing, combine coconut milk and coconut cream in saucepan. Heat on low just until the liquid starts to scald and you see steam. Remove pan from heat.

Add flour and cornstarch to egg mixture and whisk until well combined, stopping the mixer and scraping as needed.

With the mixer running on low speed, add a small amount of the hot coconut milk to the egg mixture and combine well to temper the egg. Once it is well mixed, add a little more milk, mix, and repeat until all of the milk has been added. Transfer the entire mixture from the bowl back to the pot and heat on medium low heat, whisking frequently, until thickened, about 5-10 minutes. Stir in coconut rum.

To toast your coconut, add it to a large pan and cook over low heat, stirring frequently, until golden brown. Once the coconut starts to brown, stir more frequently to avoid burning.

Serve pudding warm or cold. You can either mix the toasted coconut in with the pudding or you can serve it on top.
NUTRITION INFORMATION
Calories:
382
kcal
|
Carbohydrates:
55
g
|
Protein:
4
g
|
Fat:
16
g
|
Saturated Fat:
11
g
|
Cholesterol:
195
mg
|
Sodium:
71
mg
|
Potassium:
145
mg
|
Fiber:
2
g
|
Sugar:
41
g
|
Vitamin A:
260
IU
|
Vitamin C:
0.4
mg
|
Calcium:
23
mg
|
Iron:
1.5
mg