Classic banana pudding is a combination of vanilla pudding, fresh bananas, and Nilla Wafer cookies. This homemade banana pudding recipe is the best!
Banana pudding is a dessert recipe I've been enjoying since I was a kid. It really does not get much more easy or satisfying than combining pudding with cookies and sliced banana. What sets this banana pudding recipe apart is the homemade vanilla pudding. YUM!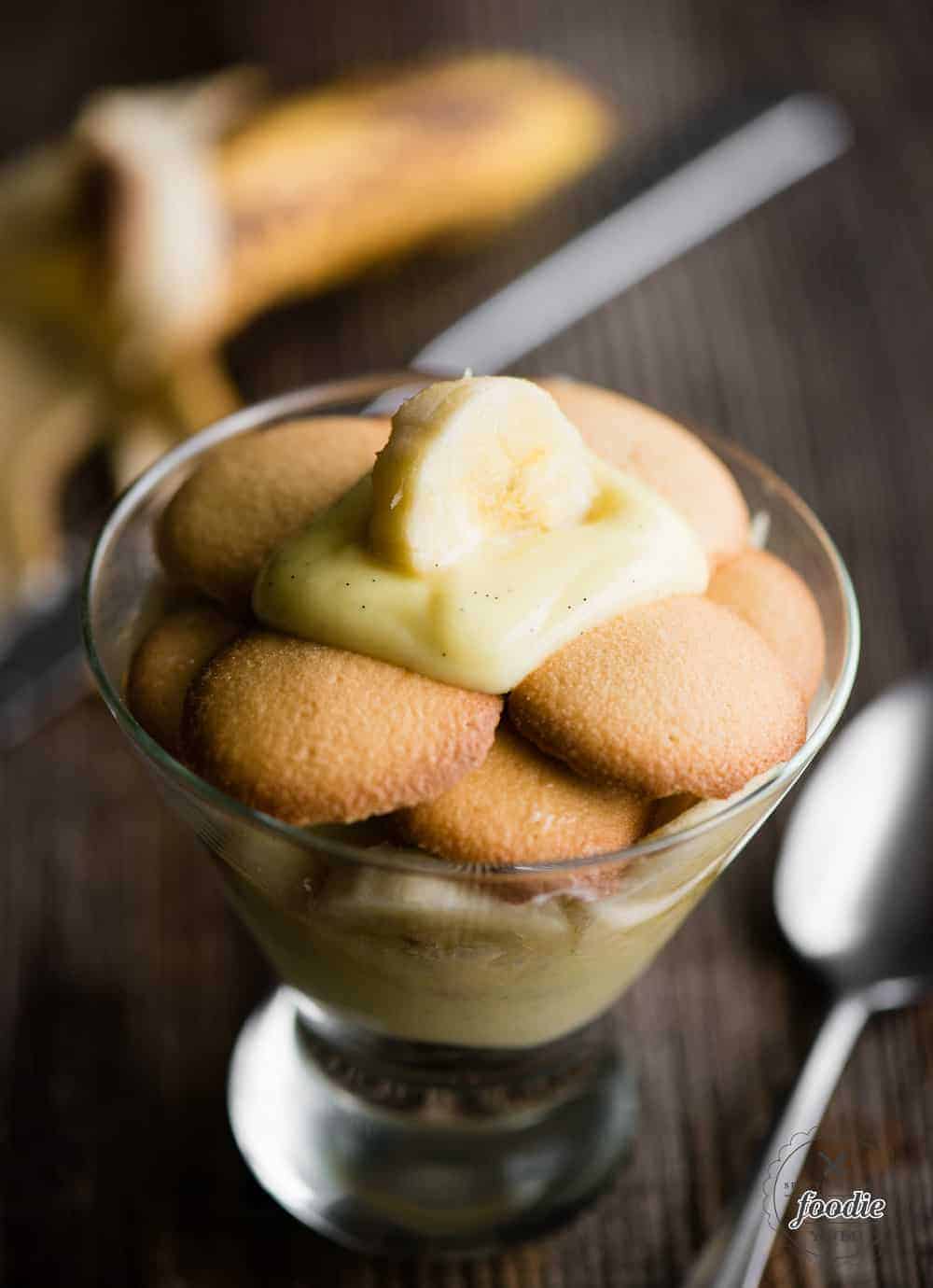 This Classic Banana Pudding Recipe isn't rocket science. In fact, I've been debating for months whether I should even put it on my blog. Can you even call dumping three ingredients into a dish a recipe?
I mostly just wanted to share how I make banana pudding. I've seen countless recipes that use cool whip, sweetened condensed milk, and/or instant pudding mix. My classic easy Southern banana pudding recipe avoids all that. My homemade vanilla pudding is so darn delcious, it takes this banana pudding to the next level!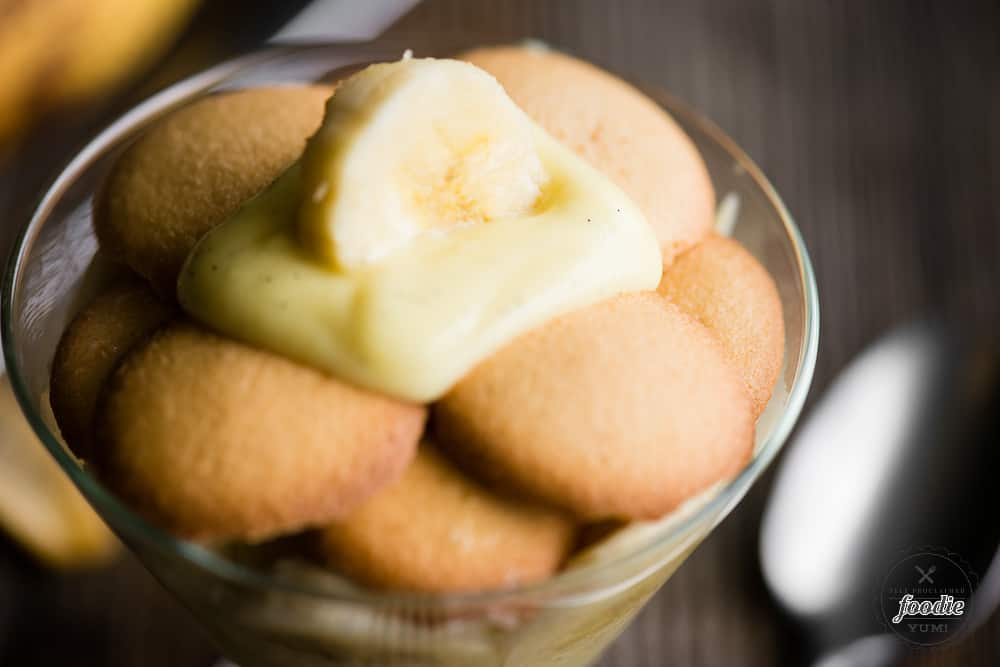 How to make banana pudding:
Banana pudding is simply made by layering freshly sliced bananas, Nilla Wafer cookies, and vanilla pudding.
To make banana pudding as a casserole, simply layer all of these ingredients in a large casserole dish. I recommend you serve this easy banana pudding dessert right away. That way you will keep the cookies crisp, will prevent a skin from forming on the pudding, and you will prevent the bananas from browning.
You can, of course, prepare this Nilla Wafer banana pudding recipe ahead of time. If you do this, just be sure the top layer is completely Nilla Wafers. They will get soggy, but they will prevent your pudding and bananas from getting gross.
My favorite way, however, is to layer all of the ingredients in a small glass and enjoy an individual serving whenever the craving strikes!
Other favorite banana recipes: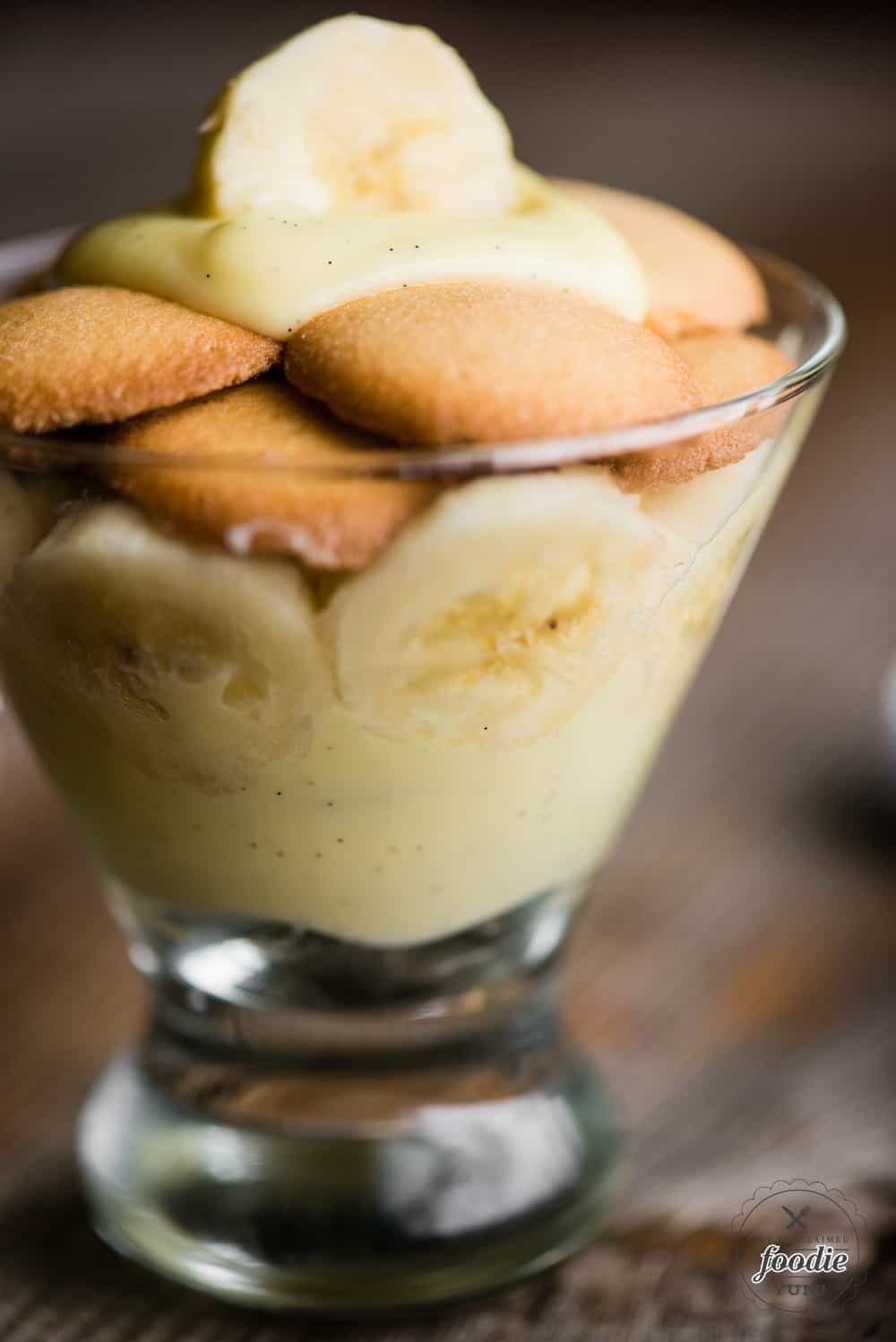 Full Recipe Instructions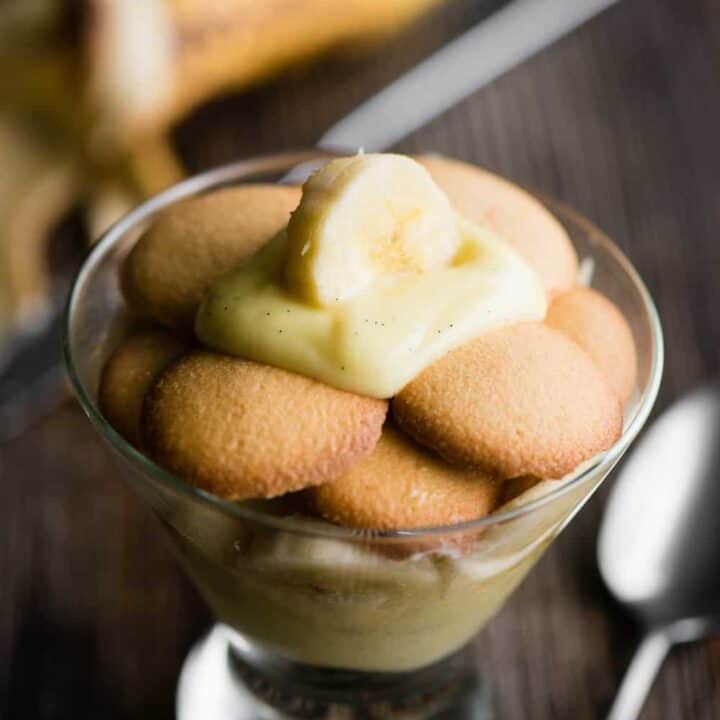 Ingredients
4

cups

homemade vanilla pudding

(see full recipe below)

4

cups

vanilla wafer cookies

3

bananas

(ripe, sliced into ¼ inch rounds)
Instructions
In a large casserole dish, layer vanilla pudding with cookies and banana slices. This can be done with warm or cold pudding. If served immediately, cookies will still have crunch. If not served immediately, ensure top layer is pudding and cover directly with plastic wrap to avoid having a pudding skin developed.
Notes
Recipe time is based on banana pudding recipe assembly. Does not include time it takes to make homemade vanilla pudding.
NUTRITION INFORMATION
Calories:
335
kcal
|
Carbohydrates:
60
g
|
Protein:
2
g
|
Fat:
9
g
|
Saturated Fat:
3
g
|
Sodium:
291
mg
|
Potassium:
204
mg
|
Fiber:
1
g
|
Sugar:
31
g
|
Vitamin A:
30
IU
|
Vitamin C:
3.9
mg
|
Calcium:
2
mg
|
Iron:
0.1
mg
Full Recipe Instructions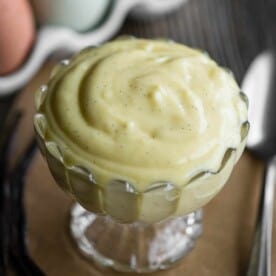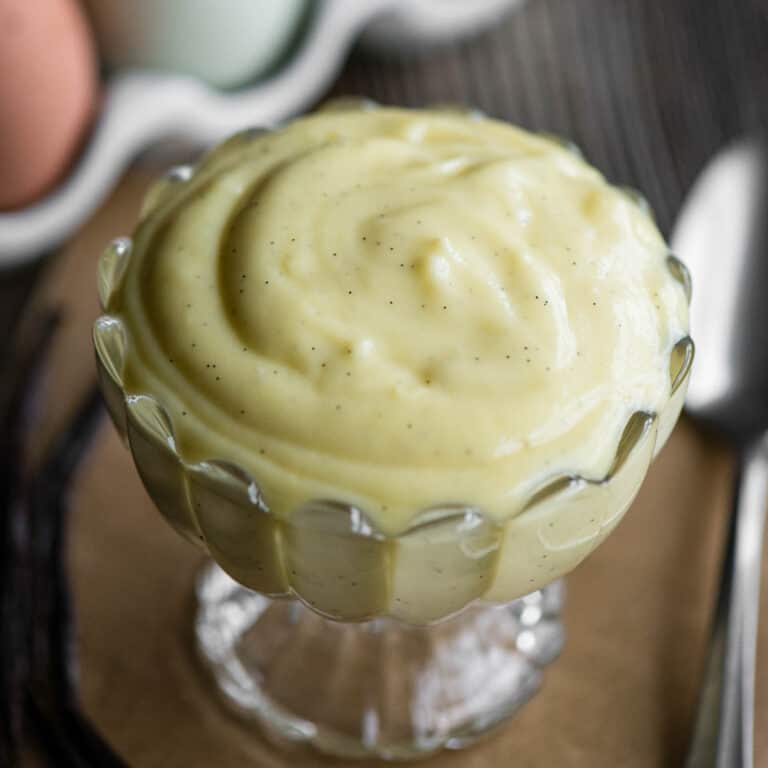 Instructions
Heat cream mixture: Combine sugar and cornstarch in medium saucepan. Stir in half and half. Scrape vanilla bean and add scrapings plus pod to mixture. Cook over medium heat, stirring frequently until mixture is thick and bubbly and starts to stick to the bottom. This should take about 5-10 minutes.

Temper egg yolks: Add egg yolks to medium-sized bowl. Slowly add one ladle of hot cream mixture to egg yolks while whisking rapidly. Continue to ladle hot mixture into egg yolks until at least one cup of hot mixture has been added. Then, pour warm tempered egg yolk mixture into hot half and half mixture on the stove, whisking constantly.

Cook pudding: Allow mixture to come to a gentle boil, then reduce heat to low. Continue to stir and allow to cook until thickened, about 2-5 more minutes. Remove from heat and stir in butter and salt.

Serve: Transfer pudding to a glass container and cover with plastic wrap. To avoid having a skin form, place plastic wrap right on top of pudding surface. Vanilla bean pod can remain in pudding mixture until ready to serve. Serve warm or cold!
Notes
Makes about 4 cups. Serving size based on ½ cup.
NUTRITION INFORMATION
Calories:
265
kcal
|
Carbohydrates:
31
g
|
Protein:
4
g
|
Fat:
14
g
|
Saturated Fat:
8
g
|
Cholesterol:
135
mg
|
Sodium:
127
mg
|
Potassium:
127
mg
|
Sugar:
25
g
|
Vitamin A:
495
IU
|
Vitamin C:
0.8
mg
|
Calcium:
107
mg
|
Iron:
0.3
mg