Coconut Ice Cream, made the old fashioned way with toasted coconut, heavy cream, coconut cream & coconut milk, is rich, creamy, and perfectly sweet.
This recipe teaches you how to make homemade ice cream the classic way with an egg yolk based custard. The result is the most delicious coconut ice cream you've ever had!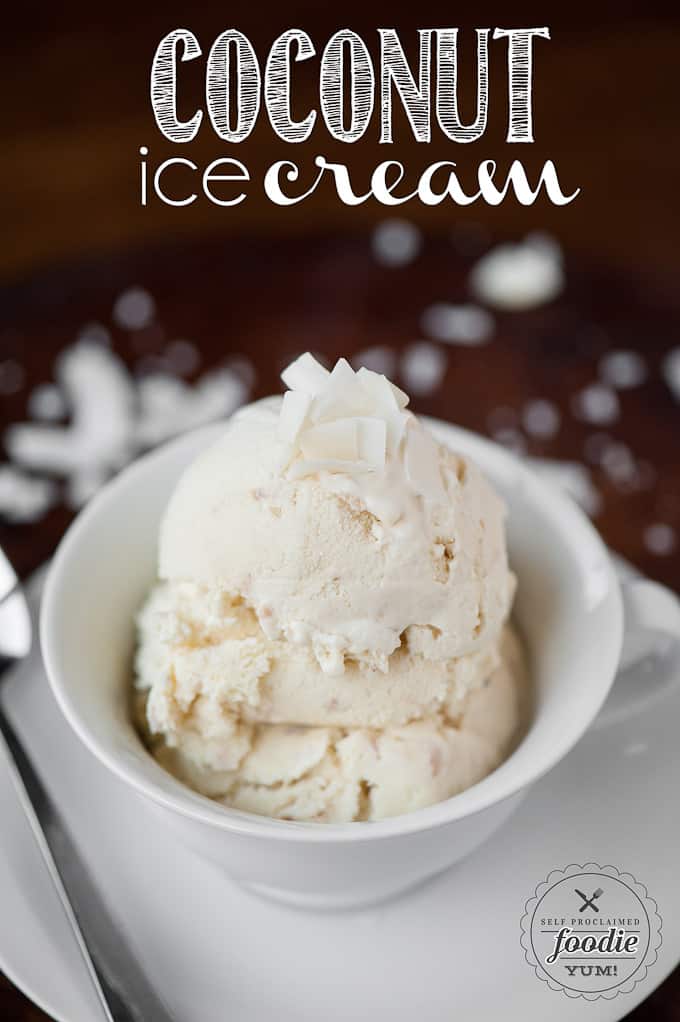 Why this recipe is so good:
Homemade old fashioned Coconut Ice Cream is GOOD. The photos don't do this recipe justice.
If you look online for a coconut ice cream recipe, it's really hard to find a real ice cream recipe. They're all vegan or paleo. I'm all for that and have even made a vegan and paleo recipe from time to time, but I wanted ice cream. You know, the real stuff made with sugar, heavy cream, and egg yolks.
So I had to get creative.
How to make homemade coconut ice cream:
I started this recipe off by toasting some sweetened coconut in my sauce pan. Be careful here - you want it to get evenly golden brown and not burnt.
Then, I added half and half, heavy cream, coconut cream, and coconut milk. I wasn't sure if I should go heavy and do all cream or light and go all milk, so I split the difference and used all four (and it was perfect).
If you don't like the little bits of coconut in your ice cream, you can certainly strain them out of the heated milk/cream mixture before whisking it in with the egg/sugar mixture... but if you aren't a coconut lover, why would you be making this ice cream in the first place?
I like to chill the hot custard mixture over an ice bath before refrigerating it. Take my advice here - Don't put too much ice water in the bottom bowl. When the ice melts, the volume increases, and if you have too much it will spill over. Learn from my mistakes, friends.
The final result is a super creamy, coconut-y, perfectly sweetened ice cream that your entire family will love.
There's a secret to getting super soft and creamy homemade ice cream.
At first, my husband didn't like this coconut ice cream. Wanna know why?
He scooped it fresh out of the freezer and dug in.
You can do that with store bought ice creams, but in my opinion, homemade ice creams need a good 10-15 minutes to sit on the counter and soften before serving. Trust me on this one. Its worth the wait.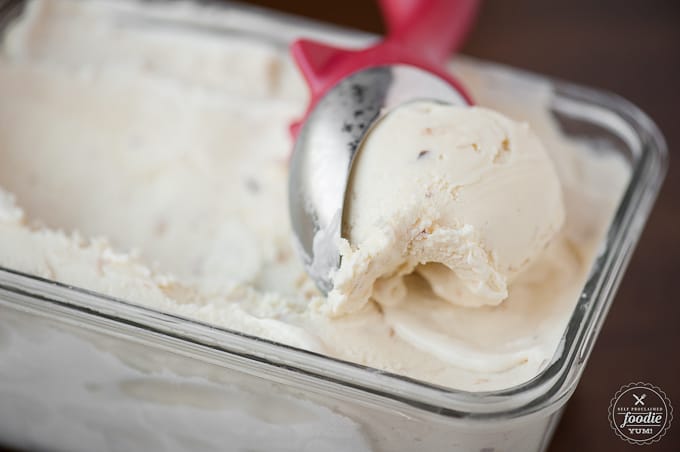 Love making homemade ice cream?
Here are some of my favorite recipes:
Kitchen tools used:
Ice cream maker - I have this one, however I'm in the market for a new one. If I find something better, I'll come back and update my post!
Every cook needs a good whisk, and you can't make a custard based ice cream without one.
Since this recipe requires heating on the stove, you'll need a good sauce pan to cook the base.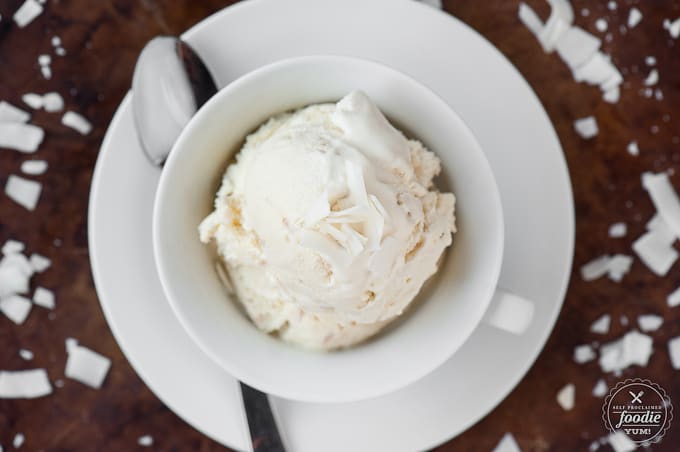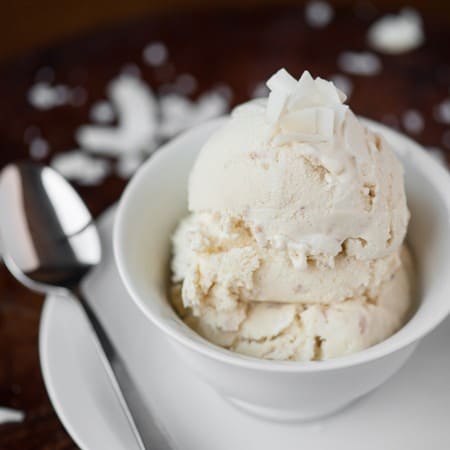 Coconut Ice Cream
This delicious and creamy Coconut Ice Cream is made the old fashioned way with toasted coconut and both heavy cream as well as coconut cream & coconut milk.
Print
Pin
Rate
Ingredients
6

egg yolks

3/4

cup

sugar

1

cup

loosely packed sweetened shredded coconut

1

cup

half-and-half

1

cup

heavy cream

1

cup

light coconut milk

(canned)

14

ounce

can coconut cream
Instructions
In a large bowl, whisk together the egg yolks and the sugar until light and fluffy. Set aside.

Add the coconut to a medium sized heavy saucepan and set over medium-high heat. Stir the coconut until it begins to brown, about 7 minutes, but do not allow to burn. Add the half and half, heavy cream, coconut milk, and coconut cream and bring to a simmer. You want to scald the mixture without it coming to a boil. Just before it starts to boil, turn the heat off.

Slowly pour the hot coconut milk mixture into the yolk mixture, starting with a small amout at first, whisking constantly. Once you've added enough to warm the egg mixture, add a little more, always whisking, until everything has been combined and well mixed. Then pour the mixture back into the pan.

Set over medium-low heat and cook, stirring slowly and continuously, until the custard thickens. You know its done if you can wipe your finger across a coated spatula and it leaves a trail. This takes about 5 minutes. Do not allow the custard to boil.

Pour the custard into a clean bowl and place over an ice bath to cool while occasionally stirring to mix the hot with the cool. Refrigerate the custard until cold, at least 1 hour.

Transfer the custard to an ice cream maker and freeze according to the manufacturer's instructions. Make sure your container has been frozen at least over night prior to starting. I have a Cuisinart and had to make the ice cream in two batches, one right after the other, and the mixing process took about 30-45 minutes per batch. Transfer the ice cream to a container, cover and freeze until firm, at least 4 hours. Makes about 1 quart.
NUTRITION INFORMATION
Calories:
668
kcal
|
Carbohydrates:
41
g
|
Protein:
7
g
|
Fat:
54
g
|
Saturated Fat:
41
g
|
Cholesterol:
264
mg
|
Sodium:
113
mg
|
Potassium:
367
mg
|
Fiber:
2
g
|
Sugar:
31
g
|
Vitamin A:
985
IU
|
Vitamin C:
2.5
mg
|
Calcium:
101
mg
|
Iron:
2.3
mg
This post was originally created in March 2015 and has been updated with more fun facts and tidbits for your reading pleasure.