These Toasted Macadamia Coconut Cookies with a white chocolate drizzle cook perfectly every time and are full of nutty flavor.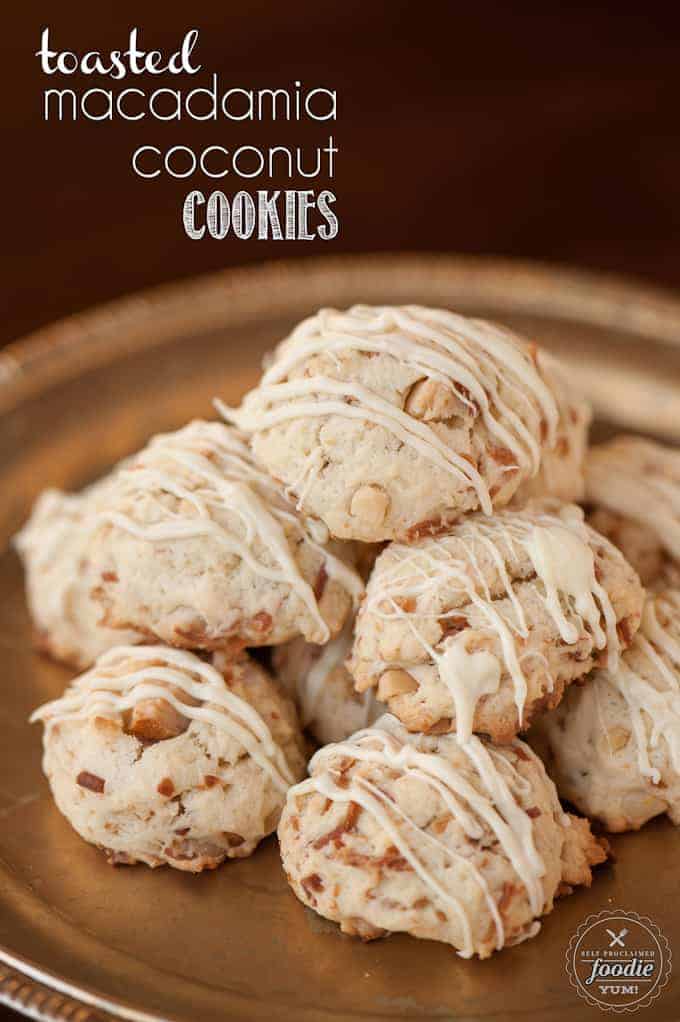 Welcome to Day 4 of my 12 Days of Holiday Treats series!

Today I'm sharing an amazing recipe that has become part of my annual holiday tradition of making a bunch of different kinds of Christmas cookies so that I can pack them off and ship them to family. My kids have grown up knowing this as tradition in our house and I hope that they will carry it on as they get older. The foundation of any good sugar cookie is a good flour. All ingredients need to be of high quality to have an outstanding final product, but having an amazing flour in a sugar cookie-type recipe can make all the difference in the world.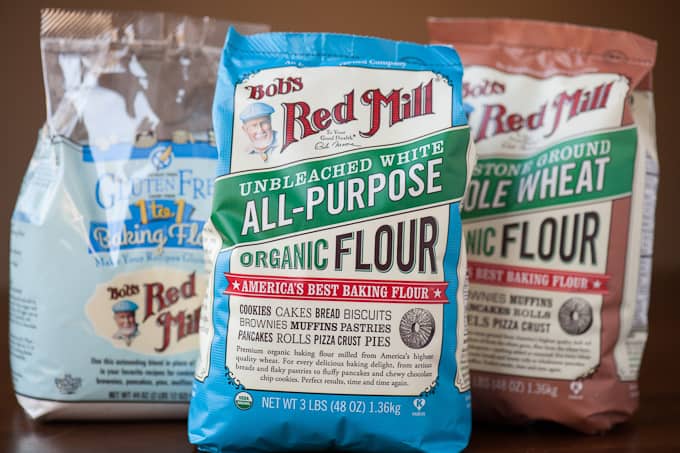 I actually had my choice of three different kinds of Bob's Red Mill flours to choose from, but I ended up going with the all-purpose organic flour for this particular recipe. Here's a bit more info about these three flours:
Organic Whole Wheat Flour:

Bob's Red Mill Organic Whole Wheat Flour is stone ground from organic hard red wheat and has all of the nutritious bran and germ still intact. Nothing is lost in the process of grinding the flour.
Whole Wheat Flour is a robust, full-flavored flour containing vitamins, minerals and protein.
Whole Wheat Flour is ideal for bread baking and can be combined with all purpose flour for a nutritious twist on your favorite baked goods.

Organic Unbleached All Purpose White Flour

Organic Unbleached White Flour is freshly milled from Organic hard red wheat. Both the bran and the germ have been removed leaving the endosperm that is made into white flour. It is not enriched with any additives.
This is the same high protein flour used by professional bakers and produces high, well-textured loaves of bread equally as well as it produces light, airy baked goods.
This kitchen staple is incredibly versatile and perfect for all of your baking needs.

Gluten Free 1-to-1 Baking Flour

It is perfectly formulated for baked goods with terrific taste and texture – no additional specialty ingredients or custom recipes required.
This flour combines finely ground brown rice flour, sweet white rice flour, whole grain sorghum flour, potato starch, and tapioca flour with a touch of xanthan gum—just enough xanthan gum to create chewy cookies and springy muffins.
The protein in the sorghum flour helps give baked goods an almost wheat-like texture and aids in browning, for those times you need a perfectly golden brown chocolate chip cookie. Use this blend for cookies, cakes, and brownies.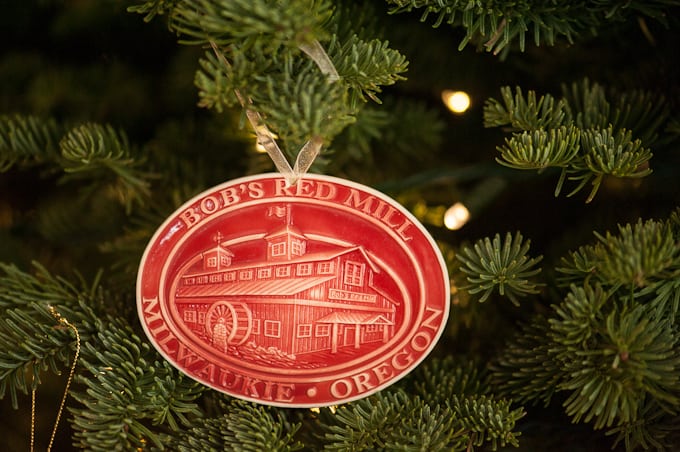 I can't begin to tell you how much my family and I love Bob's Red Mill and their products. I even have my own Bob's Red Mill Chritmas ornament hanging on my beautiful Noble Fir tree. We consider ourselves fortunate to have them located right here in the Pacific NW and we frequently enjoy dining at the Mill. Bob is always in the upstairs dining area ready to greet his happy customers with a genuine smile on his face. Right now they are offering a monthly coupon offer for you to enjoy some extra savings on their awesome products!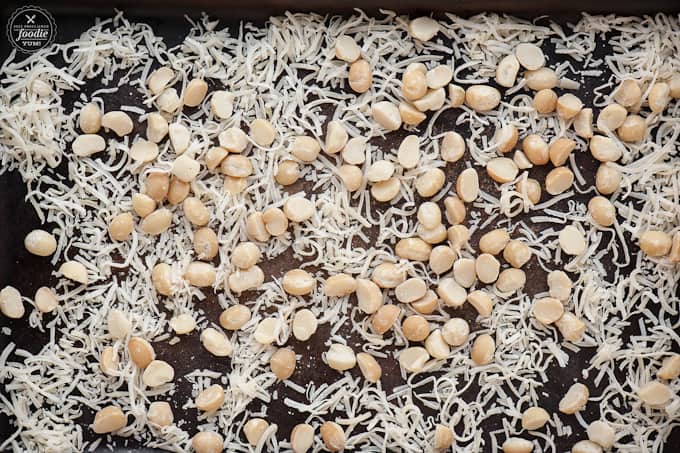 This recipe starts with macadamia nuts and sweetened coconut. Toasting them in the oven is easy and makes them even more delicious.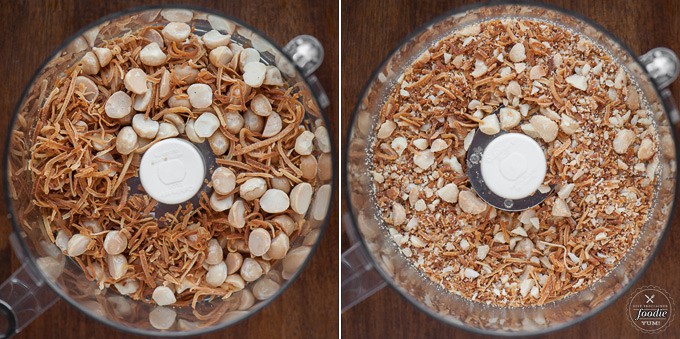 As much as I love macadamia nuts, I didn't want them to be that big, so I pulsed them through the food processor until they were the perfect size for me. The dough in this cookie is my go to sugar cookie. It works perfectly.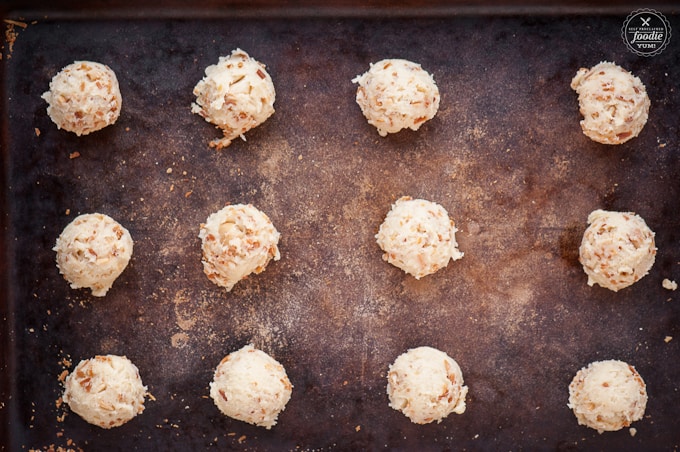 I love these cookies because they don't spread that much and you end up with these wonderful ball shaped cookies. I'm usually not a huge fan of white chocolate, but for whatever reason, it is the perfect addition to these treats.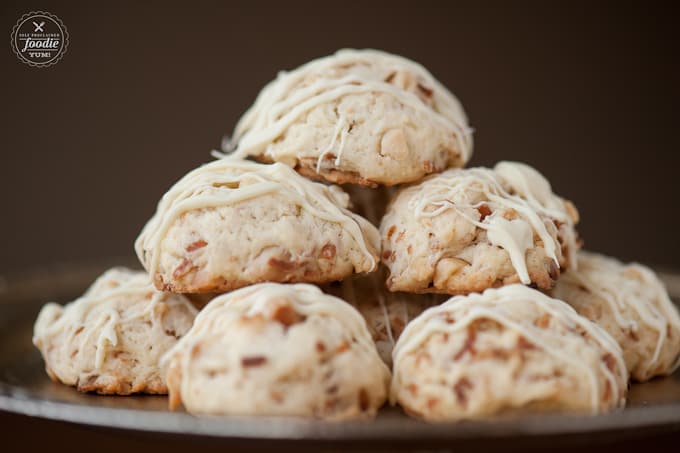 Best of all, these cookies keep really well so they made perfect additions to my holiday cookie boxes that I shipped out to family. I've gotten loads of comments that people really loved this nutty cookie, and I'm confident you will too!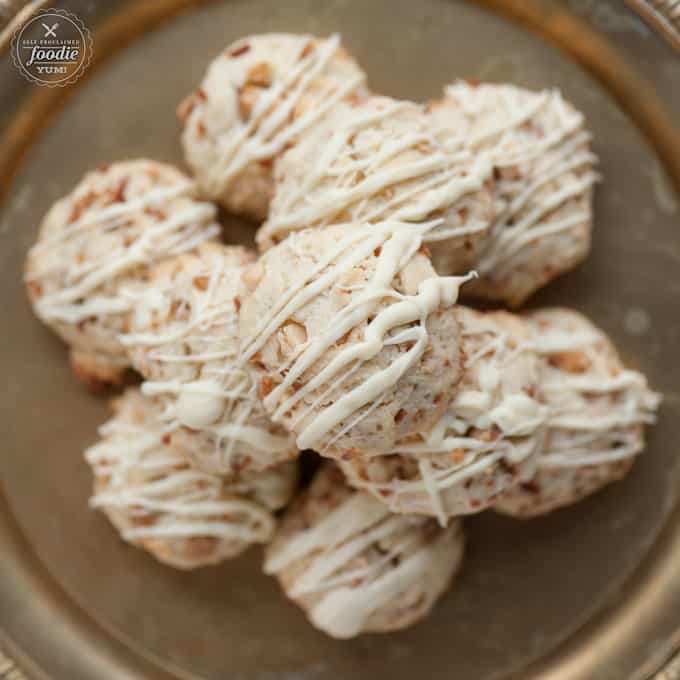 This recipe uses pure vanilla extract. Did you know you can make your own homemade vanilla extract? It makes the perfect gift too. Watch how in the video below.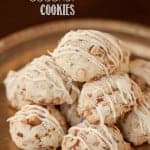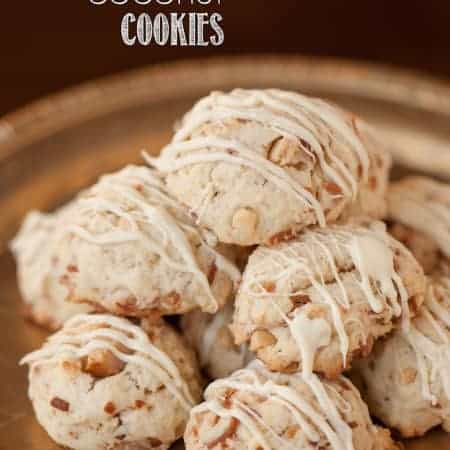 Macadamia Coconut Cookie
These Toasted Macadamia Coconut Cookies with a white chocolate drizzle cook perfectly every time and are full of nutty flavor.
Ingredients
double quantities for cookies:

3

cups

all purpose Bob's Red Mill flour

1

teaspoon

baking powder

1/2

teaspoon

salt

1

cup

2 cubes unsalted butter, room temperature

1/2

cup

+ 4 tablespoons sugar

2

eggs

2

tablespoons

milk

2

teaspoons

vanilla extract

1

cup

sweetened coconut

1

cup

macadamia nuts

1/2

cup

white choc chips
Instructions
Portion the dry ingredients in a bowl, set aside.

Portion the wet ingredients (egg, vanilla and milk) in another bowl, set aside.

Cream the butter and sugar in your mixer on a medium speed. Add the wet ingredients to the butter mixture in three stages. Mix until fully incorporated for each stage. When the last of the wet is incorporated, turn the mixer off.

Add the dry ingredients all at once. Mix on speed 1 just until the dough starts coming together. Give it a 5 second flash on a medium-high speed, to insure the mixture is homogeneous.

Toast macadamia nuts and sweetened coconut in 375 degree F oven for 10-15 min, stirring halfway through. Pulse through food processor to roughly chop. Mix into cookie dough.

Drop cookie dough by tablespoonfuls onto ungreased cookie sheet. Bake for 15 to 16 minutes in 375 degree F oven or until edges are light golden brown. Remove from oven and cool 1 minute.

Melt white chocolate chips in microwave in 1 minute intervals at 50% power, stirring each time, until smooth. Drizzle over cookies.

Store in airtight container.
I was selected for this opportunity as a member of Clever Girls and the content and opinions expressed here are all my own.