Toasted Coconut Cookies are simple yet elegant treats that combine the nutty flavors of toasted coconut with the richness of dark chocolate.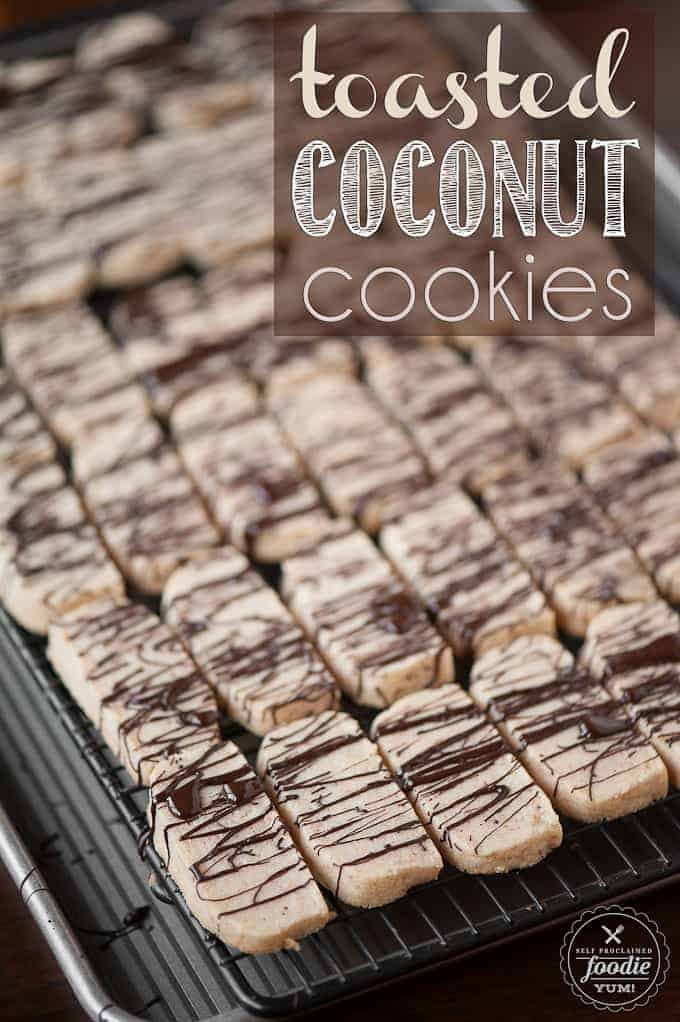 Hello!  And welcome to Day 9 of 

This, my friends, is toasted sweetened coconut. I love it. Its sweet, its dry, its pretty. It makes me happy. You know I'm weird like that. These toasted coconut cookies are fantastic because they take this golden delicious toasted coconut and grind it up as fine as sugar before you bake it. Why is this awesome? Because you get all that toasted coconut flavor and texture without choking on it. Not choking on a cookie is a good thing.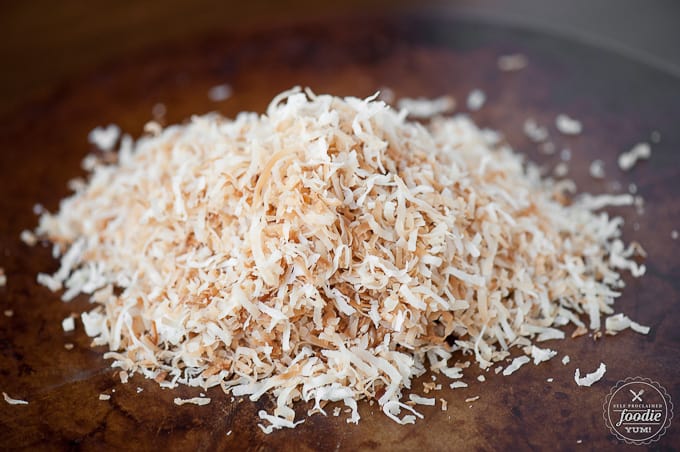 My next favorite part about this cookie is drizzling the dark chocolate over all of them. Over the years I've done this differently – I've dipped the cookies in chocolate, I've poured the chocolate on, I've put the melted chocolate in a plastic bag and squirted it on out of a small cut corner of the bag. Dipping my rubber spatula in the melted chocolate and waving it over the cookies creates my favorite look, albeit the messiest.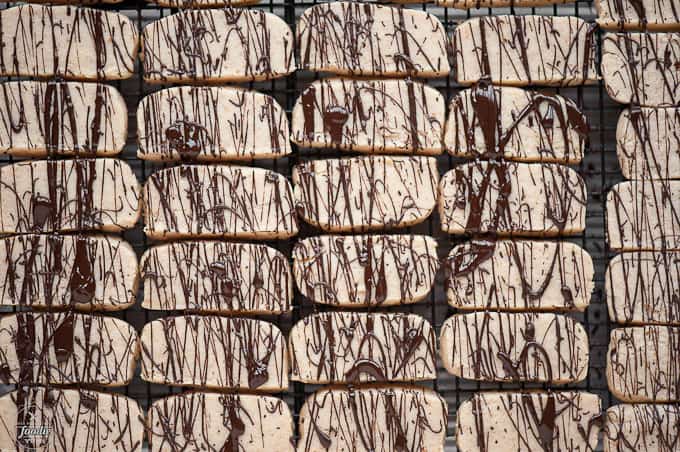 These cookies turn out so pretty. The light cookie in contrast to the stripes of dark chocolate really plays to my senses.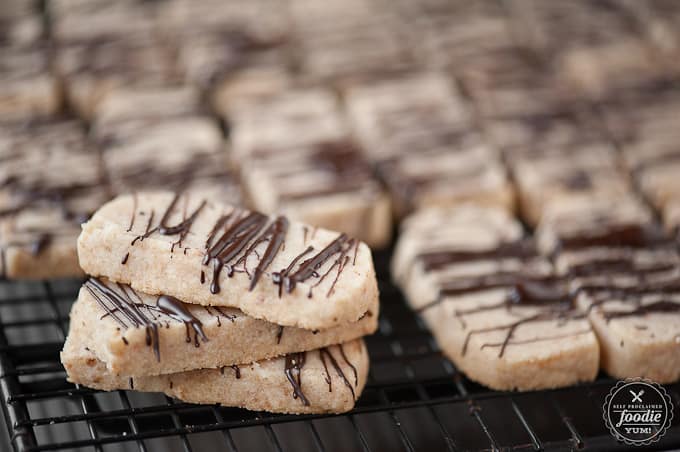 But obviously the most important sense that matters is taste and these definitely pass the test.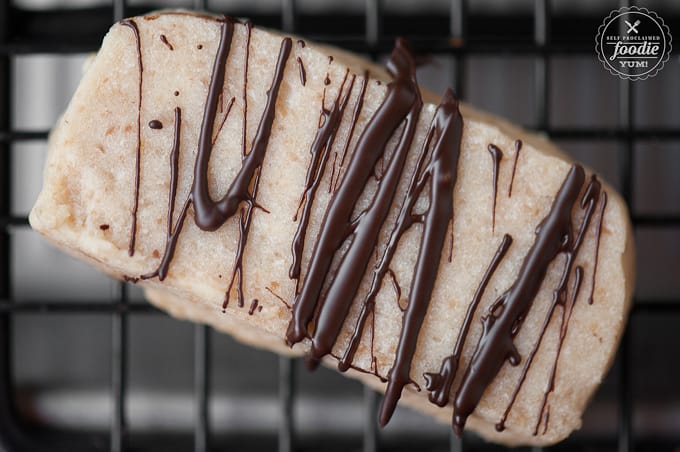 To see all of 2014's holiday treats, click the links below: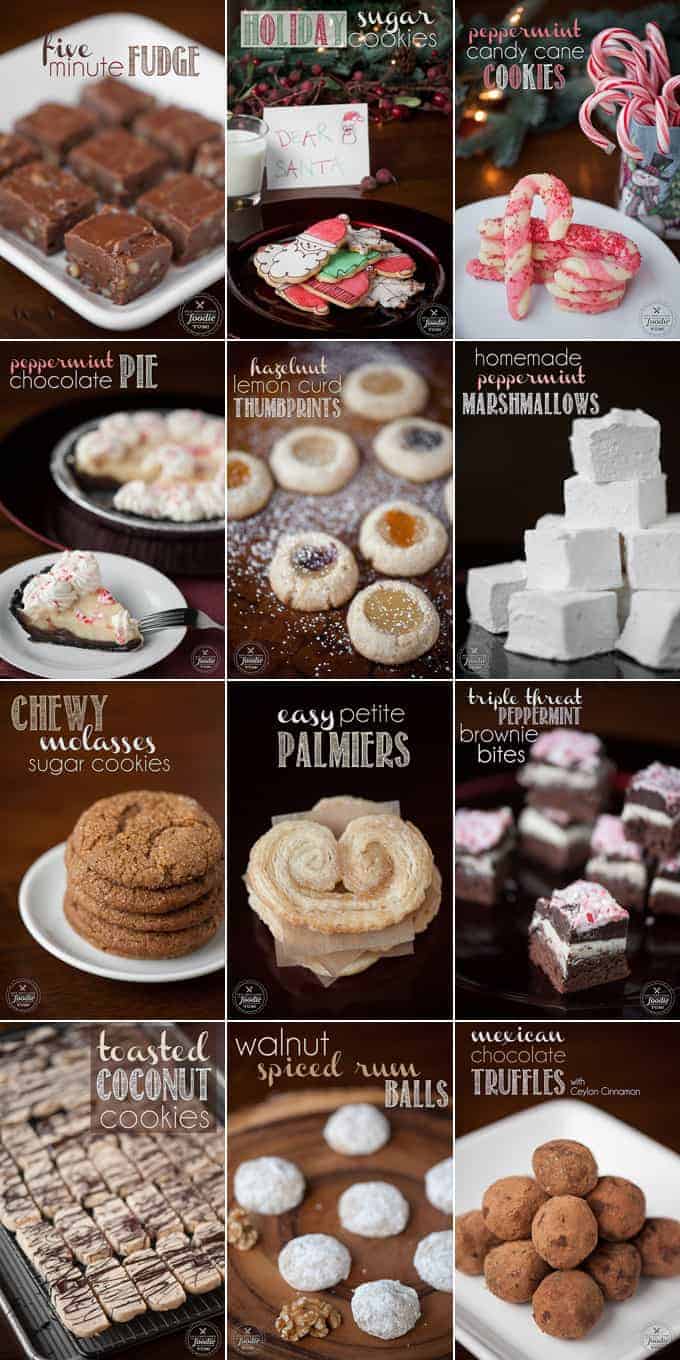 Five Minute Fudge | Holiday Sugar Cookies | Peppermint Candy Cane Cookies
Peppermint Chocolate Pie | Hazelnut Lemon Curd Thumbprints | Homemade Peppermint Marshmallows
Chewy Molasses Sugar Cookies | Easy Petite Palmiers | Triple Threat Peppermint Brownie Bites
Toasted Coconut Cookies | Walnut Spiced Rum Balls | Mexican Chocolate Truffles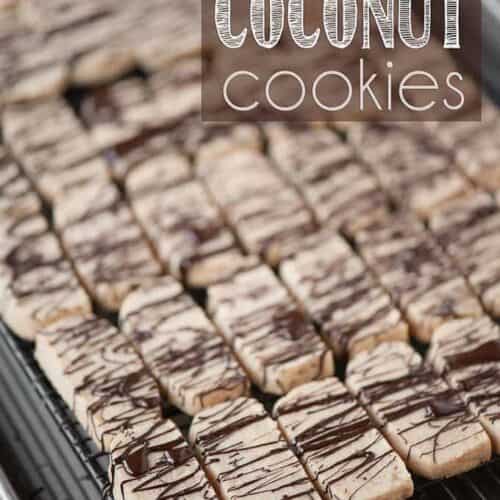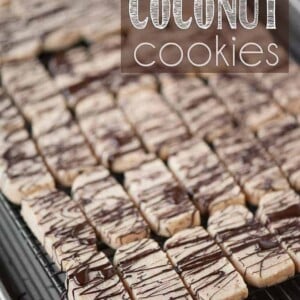 Toasted Coconut Cookies are simple yet elegant treats that combine the nutty flavors of toasted coconut with the richness of dark chocolate.
Instructions
Preheat oven to 350 degrees F. Spread coconut into thin layer on a baking sheet. Toast in preheated oven for 15 minutes, stirring every few minutes to ensure it browns evenly and the coconut does not burn. Allow to cool completely.

In a food processor, process toasted coconut, sugar, and salt until it is finely ground, about 30 seconds. Add the butter, egg yolk, and vanilla and process another 20-30 seconds until smooth and creamy. Scrape the sides, add the flour, and pulse 5-10 times until a ball forms. Do not over mix once the flour has been added.

Lay out a long piece of plastic wrap. Shape the dough into a rectangular log so that its about 2 inches wide and 1 inch tall. Once I get the general shape, I wrap tightly with plastic wrap and then I use two long boxes (one foil box and one plastic wrap box) to press down on the top and push the sides in to make a nice uniform rectangle shape. Slide that rectangle dough log onto your plastic wrap box for easy transport and slide it into the refrigerator where it must chill at least 2 hours.

Preheat oven to 350 degrees F. Prepare baking sheets with parchment paper or a silpat.

Slice cold dough into 1/4 inch thick slices and arrange on the baking sheets. They won't spread much if the dough is cold so you can space them about an inch apart. Bake until just slightly golden brown on the bottom, 10-12 minutes. Then allow cookies to remain on baking sheet another 10 minutes before you transfer them to a cooling rack to fully cool. Repeat until all cookies have been cooked.

For the chocolate drizzle, melt in pot over very low heat or in the microwave on 50% power. When fully melted, you can dip a rubber spatula in the chocolate and then wave it back and forth over the cookies to get a nice thin line. Continue dipping and waving until all the cookies have the right amount of chocolate - only you can be the judge of that. They look best if you don't change direction with the waving (I speak from experience). This step will make a mess so set your cookies in the center of your counter top, not on your carpet. 🙂

Once chocolate hardens, store in air tight container.
Nutrition
Calories:
95
kcal
,
Carbohydrates:
9
g
,
Protein:
1
g
,
Fat:
6
g
,
Saturated Fat:
4
g
,
Cholesterol:
14
mg
,
Sodium:
31
mg
,
Potassium:
39
mg
,
Fiber:
1
g
,
Sugar:
5
g
,
Vitamin A:
104
IU
,
Vitamin C:
1
mg
,
Calcium:
5
mg
,
Iron:
1
mg
Nutrition information is automatically calculated, so should only be used as an approximation.