Five Minute Microwave Fudge is a quick and sinfully delicious homemade fudge recipe. This easy fudge will become a holiday favorite!
Even Jimmy Fallon talked about it on The Tonight Show!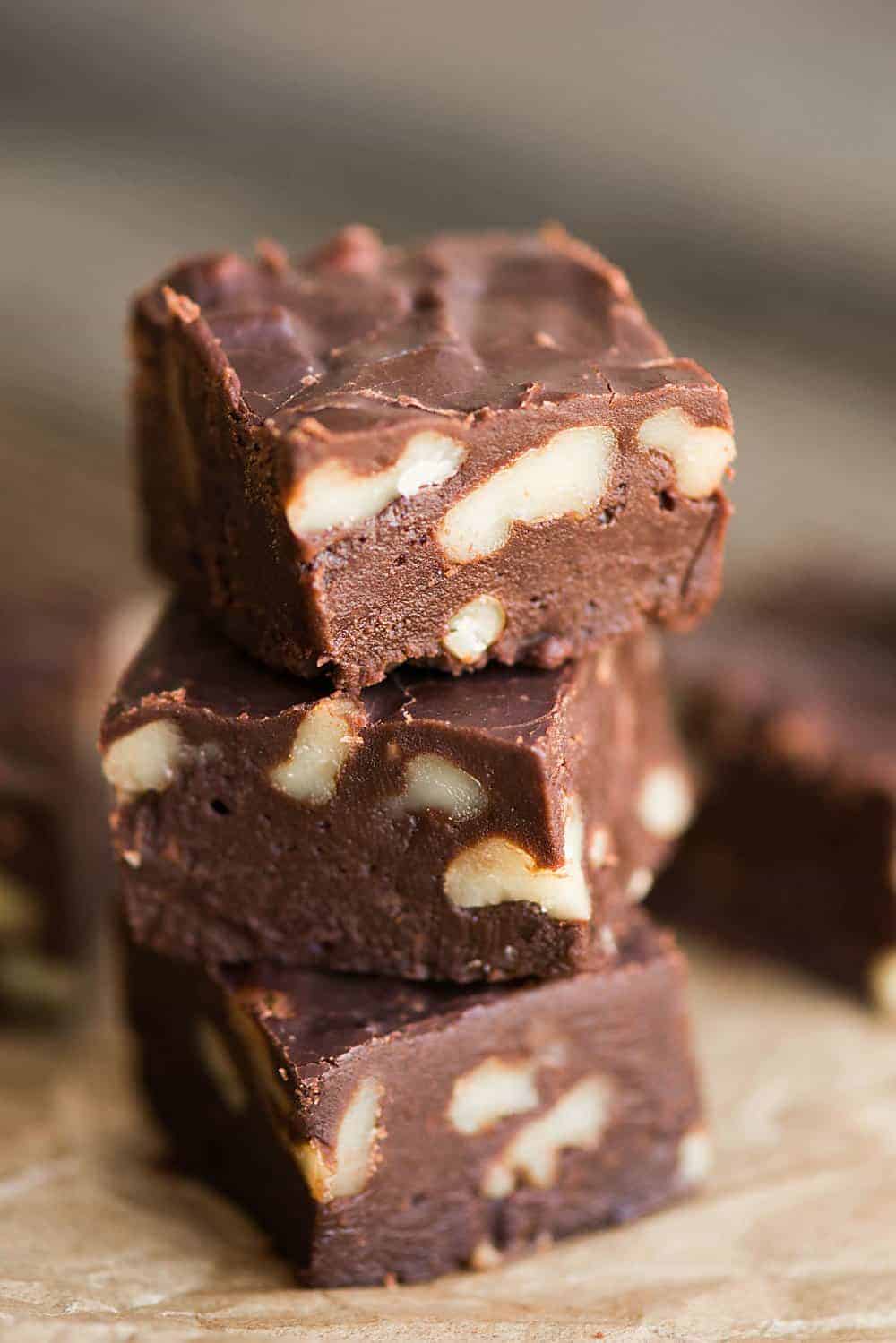 EASY MICROWAVE FUDGE RECIPE
Five Minute Microwave Fudge is a holiday treat I make for Christmas every year. This fudge recipe is about as easy and as naughty as Granny's Monkey Bread, which also gets made every year during the holidays.
I've been making and eating this easy fudge recipe my entire adult life. It is exactly how my grandma made it which makes this homemade fudge taste especially delicious.
When I make an abundance of holiday treats like cookies and cakes each year, this quick and easy microwave fudge recipe is always the best.
This recipe redeems the entire holiday baking process because it yields a ton, people love it, and it's downright quick and simple. The biggest problem I have with this fudge recipe is the inability to keep it out of my mouth.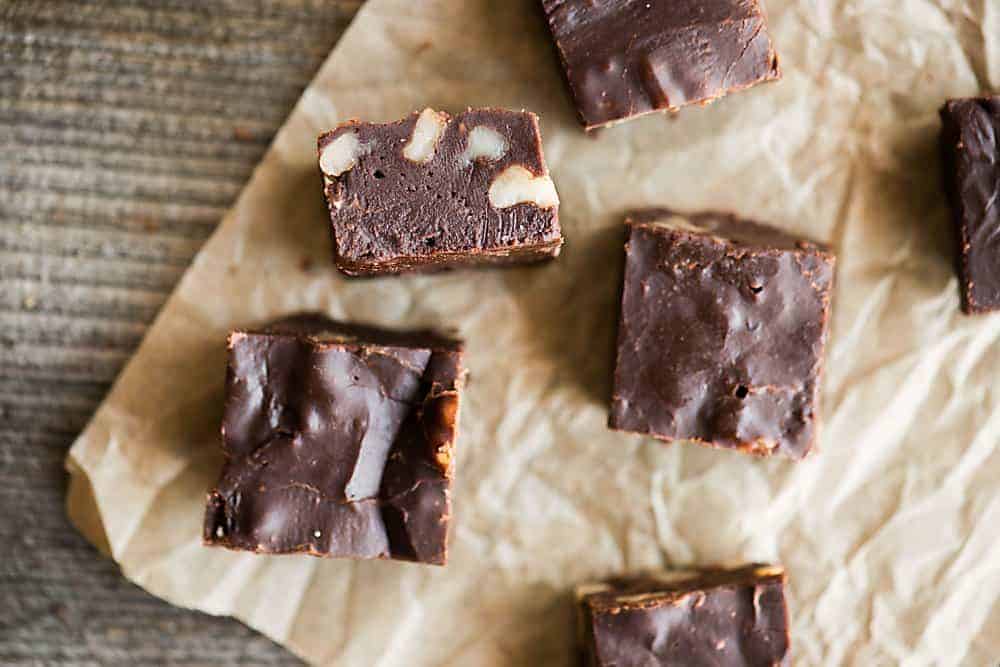 Who gets my homemade fudge?
I make Christmas cookies every year. Then, I package them up and send them off to my family. Who are the lucky recipients of this microwave fudge?  I have a waiting list of about 27 people, but the folks who always get them are
my grandpa - he made it to the prime age of 98 years old and had a bigger sweet tooth than anyone I've ever seen, but since he passed the cookies still get sent to his address for my aunt and her friends to enjoy
my dad - who tells me every year he shouldn't have them, and I know he shouldn't, but I send them anyway
my sister - who always gives me honest critique and ranks the cookies, candies, and fudge recipes in preferred order, yet 100% of them never fail to be eaten
my stepson - who is a proud young Marine and now a Sheriff and burns like 16,750 calories a day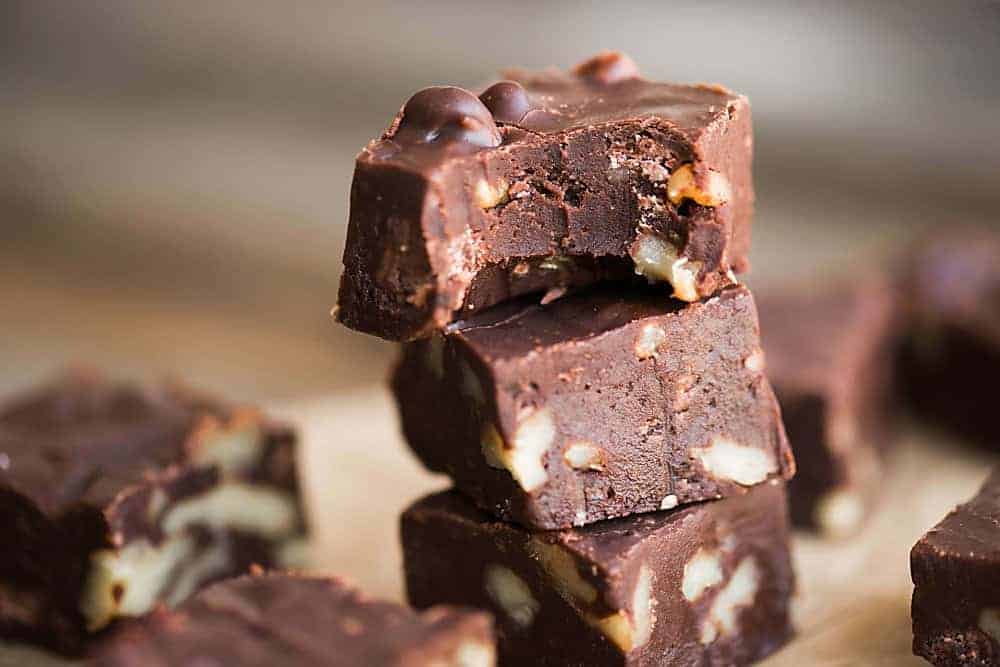 How to make fudge:
If you're making microwave fudge, the trick is to put all of the ingredients into the bowl without mixing them and then microwave on high until everything has melted. Once done, be sure to stir quickly and get it in your baking sheet as this fudge recipe will begin to set immediately.
For all fudge recipes that call for confectioners' sugar, sifting your sugars will help you avoid lumps
If making homemade fudge the old fashioned way on the stove where an exact temperature is needed, be sure to use a good thermometer and not allow the temperature to deviate from the target
Does it really take five minutes to make this fudge recipe?
Well, I suppose that depends on how quick you are with a spoon.
Did I time myself?  No.
Did I think Five Minute Fudge was a catchy title?  Yes.
Is it in any way, shape, or form healthy?  Nope.
Should you make this fudge and will everyone love it?  Duh.
Everyone loves this fudge recipe.
Jimmy Fallon even poked fun at it on The Tonight Show. I love Jimmy Fallon and am absolutely thrilled that he mentioned my recipe. That moment will definitely live on as one of my highlights!
I, too, think its hilarious that Pinterest added my prep time and my cooking time to give a total of 9 min. Pinterest obviously doesn't understand how efficient I am in the kitchen and that my prep time and cooking time usually happen simultaneously!
Kitchen tools used to make my Five Minute Microwave Fudge:
Glass nesting bowls
: Every good recipe requires a good set of stackable nesting bowls. This is the set I bought and I love them! Well made, great price, sturdy - perfect!
Spatula
: One can never have too many good quality silcone spatulas, and this one is my favorite. It's a great size, has the perfect firmness, and doesn't leave a nasty silcone taste on your food.
Flexible Measuring Cups - My sister and I first found these at a cooking class and we thought they were just the best invention. Any time you are measuring and/or pouring liquid, these are simply the best to have on hand. They make a great gift for your favorite cook, too!
Baking Sheet - I've been using this one for years. I love that it's made in the USA, the sides are high enough to keep anything from spilling over, and it's warp resistant.
Watch the recipe video for Five Minute Microwave Fudge below: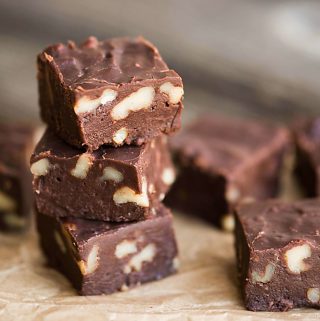 Five Minute Microwave Fudge
Microwave Fudge is a fast, easy, and sinfully delicious way to make homemade fudge in just five minutes. This fudge recipe will become a family favorite!
Print
Pin
Rate
RECIPE VIDEO WILL AUTOPLAY
Hover to scale:
80
servings
Ingredients
32

ounce

bag powdered sugar

(about 8 cups, unsifted)

1

cup

unsweetened cocoa powder

(unsifted)

1

cup

unsalted butter

(2 sticks)

1/2

cup

milk

1 1/2

cups

raw walnuts

2

tablespoons

vanilla
Instructions
Line a baking sheet or casserole dish with foil.

In a large bowl, combine powdered sugar and cocoa powder and stir until they seem reasonably well mixed. If the mixture seems like there are small clumps, you may sift it after its been measured.

Pour milk over sugar mixture but do no mix. Place cubes of butter on top. Microwave on high power 3-4 minutes until the butter has almost completely melted.

Immediately remove mixture from microwave and stir well until very well combined. You need to work fast because you want to spread the mixture while its still hot, but you want every spec of sugar to be well incorporated.

Once chocolate mixture is thoroughly mixed, stir in walnuts and vanilla.

Immediately pour warm fudge into prepared dish and spread to desired thickness. I only used about 60% of the surface of my baking sheet and made a 10x10 inch square with my fudge. It will only spread as far as you want, so make it as thick as you'd like the individual pieces to be.

Allow to fully set at room temperature. Our house is always freezing, so it didn't take much time. If you live in a warm house, it may take several hours or even a bit of refrigeration.

Lift foil out of dish and transfer fudge to a cutting board. Use a sharp knife to cut squares.

Store in airtight container.
Notes
Makes 80 small pieces, serving size is once piece
NUTRITION INFORMATION
Calories:
83
kcal
|
Carbohydrates:
12
g
|
Fat:
3
g
|
Saturated Fat:
1
g
|
Cholesterol:
6
mg
|
Sodium:
1
mg
|
Potassium:
29
mg
|
Sugar:
11
g
|
Vitamin A:
75
IU
|
Calcium:
6
mg
|
Iron:
0.2
mg
I originally posted this fudge recipe back in 2014 but updated the photos.