Buckeye Balls are a classic no bake peanut butter ball dipped in chocolate.
I'll tell you how to make buckeyes and why they're perfect for the holidays!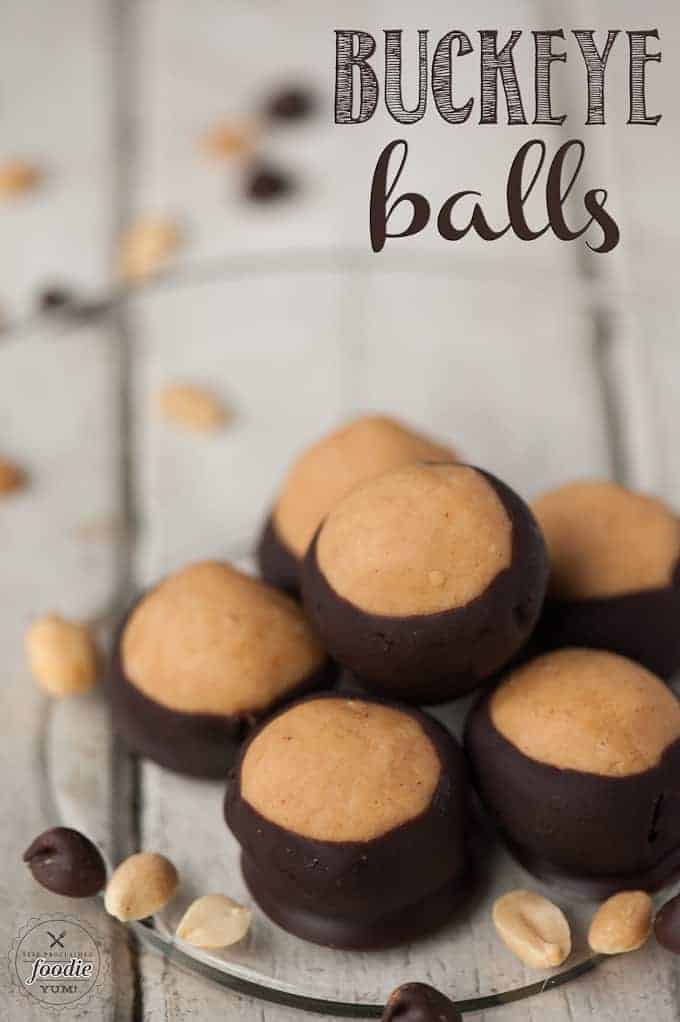 Buckeye Balls are one of the best desserts because it combines two of the greatest flavors together: peanut butter and chocolate. Peanut butter buckeyes are about as simple as it gets. Just a few ingredients and clean hands create these tasty little no bake peanut butter balls that are great to set out during a holiday party or to include in a cookie tin. If you're looking for other holiday treat inspiration, be sure to scroll all the way down to see so many of my Christmas recipes from the past few years.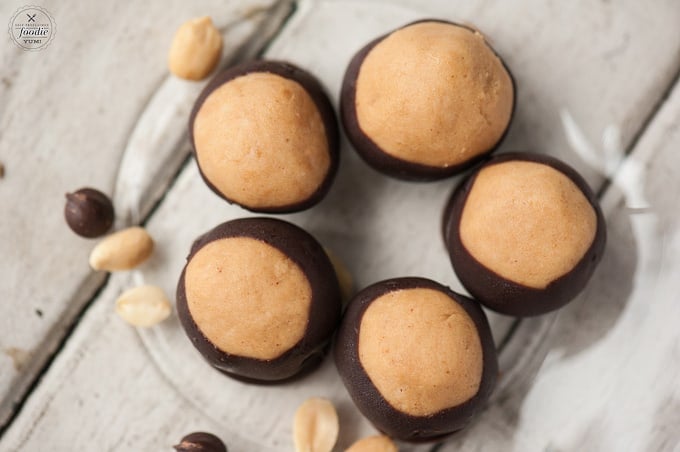 Why are they called Buckeye Balls?
Named for their resemblance to the nut of the Ohio buckeye tree, the state tree of Ohio, this candy is particularly popular in Ohio and neighboring states.
A buckeye, for those who need explanation, looks somewhat like a bloated chestnut.
A woman who married a rabid Ohio State fan in 1964, whose idea of fun was sitting in the rain and snow watching football games, was the person who created these no bake peanut butter balls dipped in chocolate.
Did you know... The National Peanut Board estimates it takes about 540 peanuts to make a 12-ounce jar of peanut butter. That's approximately 45 peanuts per ounce of peanut butter. If your family buys peanut butter in those large 40-ounce mega-jars, each one of those jars takes a whopping 1,800 peanuts to make! That's your fun fact for the day! As you well know, I make a lot of food. Like, a lot. So much that my family rarely even goes out to eat. That's why I found it especially funny when the first time I had heard of Buckeye Balls was when my sister-in-law told me that she made them. I guess they're wildly popular and I'm not really sharing anything original today - just my version. Funny, because we used to eat something like this when we were kids. We called it "peanut butter in a cup" and it was basically peanut butter mixed with an obscene amount of sugar. Basically, buckeye balls without the chocolate. We used to put sugar on everything (cereal, grapefruit - you name it). That probably explains my serious addiction I've been trying to kick for the last three and a half decades. Anyway, these peanut-y treats took me back to my youth and who wouldn't love peanut butter buckeyes?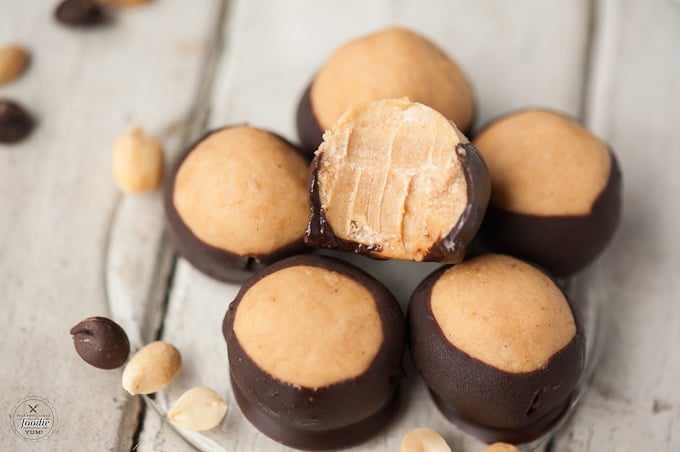 How to make Buckeyes?
Watch me and my son make these Buckeye Balls in the video below. This is definitely one of those recipes you can have your kids help with, even if you're an overbearing kitchen control freak like myself. Let them have fun and then you can fix their odd shaped creations once they go wash their hands!
Be sure to add the confectioners' sugar slowly so that you get the proper texture. You want it to be firm enough to form a ball, but not too thick that it crumbles.
Crunchy or smooth peanut butter will work when making buckeye peanut butter balls
If you're wondering how to roll, a nice layer of butter on the palms of your hands prevents sticking
Adding butter to the chocolate makes it softer and easier to work with. Be sure to heat it slowly at half power and stir frequently to allow for even melting
How to store buckeye balls? If they last long enough to have leftovers, you can store them in an airtight container at room temperature for about a week or in the freezer for a couple months.
Kitchen tools used to make these Buckeye Balls:
Baking Sheet: I've been using this one for years. I love that it's made in the USA, the sides are high enough to keep anything from spilling over, and it's warp resistant.
Cookie Scoop - I recommend the 3-pack because you just never know how big your craving is gonna be!
Glass nesting bowls: Every good recipe requires a good set of stackable nesting bowls. This is the set I bought and I love them! Well made, great price, sturdy - perfect!
Watch the recipe video of me making these delicious Buckeye Balls below!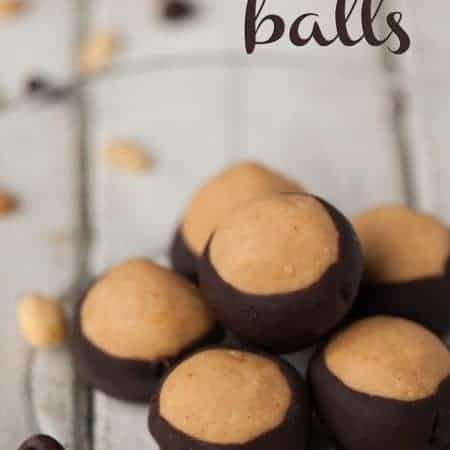 Buckeye Balls
Buckeye Balls are a classic no bake peanut butter ball dipped in chocolate. I'll tell you how to make buckeyes and why they're perfect for the holidays!
Print
Pin
Rate
RECIPE VIDEO WILL AUTOPLAY
Hover to scale:
40
Buckeye balls
Ingredients
filling:
1 1/2

cups

12 ounce jar peanut butter

1/2

cup

unsalted butter, softened

((1 cube))

1

teaspoon

pure vanilla extract

3

cups

confectioners sugar
chocolate shell:
9

ounces

semi sweet chocolate chips

3

tablespoons

butter
Instructions
In a large bowl, mix together peanut butter, butter, and vanilla until completely smooth.

One cup at a time, add powdered sugar. Start by mixing with a spoon and then mix with hands to form a thick dough. For the last cup of powdered sugar, be sure to add it slowly one heaping spoonful at a time until you reach your desired consistency.

Shape tablespoon sized balls and roll them smooth in between your hands. Set on parchment lined baking sheet. Refrigerate for two hours for freeze for at least 15 minutes.

In a medium sized bowl, combine chocolate and remaining butter and microwave at half power in one minute increments, stirring each time, until everything has melted and is completely smooth.

Dip each peanut butter ball in the chocolate. You make use one or two toothpicks to help and then just smooth over any holes the toothpick leaves in the ball. Return the dipped peanut butter balls back to the parchment lined sheet and allow to set.

Store in an airtight container in the refrigerator or freeze until you devour them.
NUTRITION INFORMATION
Calories:
156
kcal
|
Carbohydrates:
14
g
|
Protein:
2
g
|
Fat:
10
g
|
Saturated Fat:
4
g
|
Cholesterol:
8
mg
|
Sodium:
53
mg
|
Potassium:
98
mg
|
Fiber:
1
g
|
Sugar:
12
g
|
Vitamin A:
100
IU
|
Calcium:
9
mg
|
Iron:
0.6
mg
To see all of 2014's holiday treats, click the links below: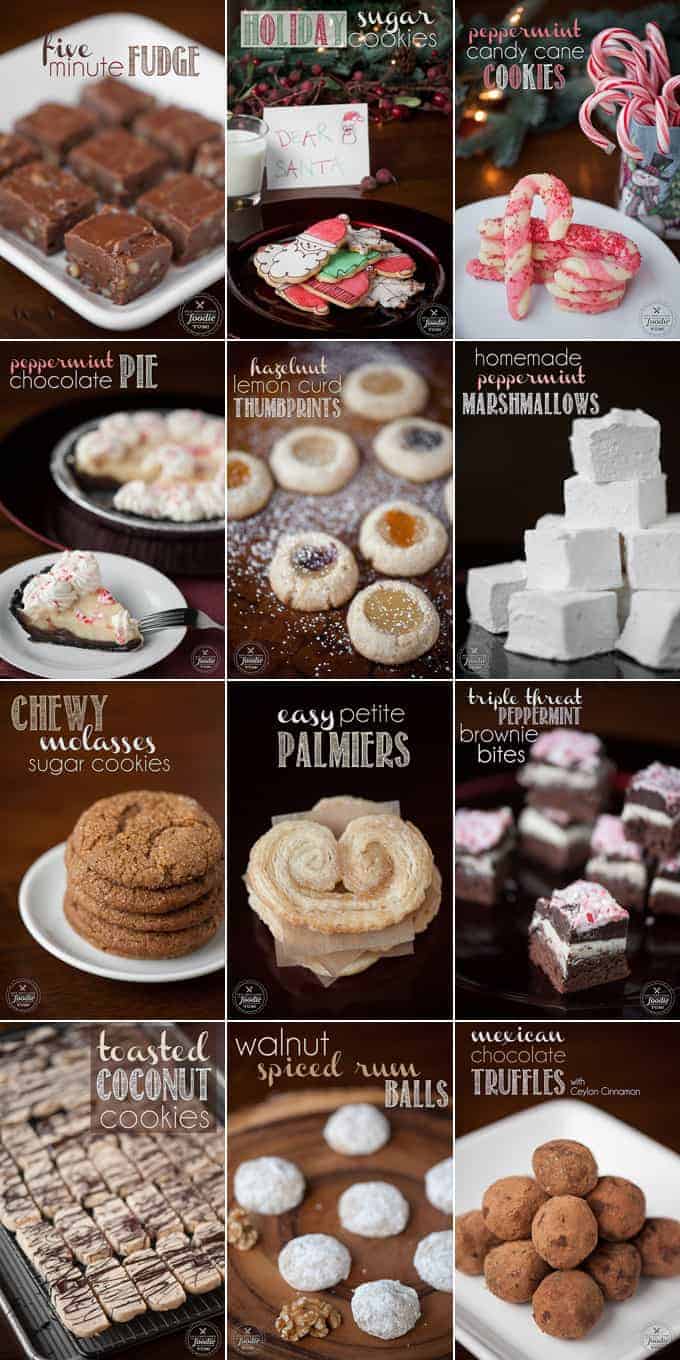 Five Minute Fudge | Holiday Sugar Cookies | Peppermint Candy Cane Cookies
Peppermint Chocolate Pie | Hazelnut Lemon Curd Thumbprints | Homemade Peppermint Marshmallows
Chewy Molasses Sugar Cookies | Easy Petite Palmiers | Triple Threat Peppermint Brownie Bites
Toasted Coconut Cookies | Walnut Spiced Rum Balls | Mexican Chocolate Truffles
To see all of 2015's holiday treats, click the links below: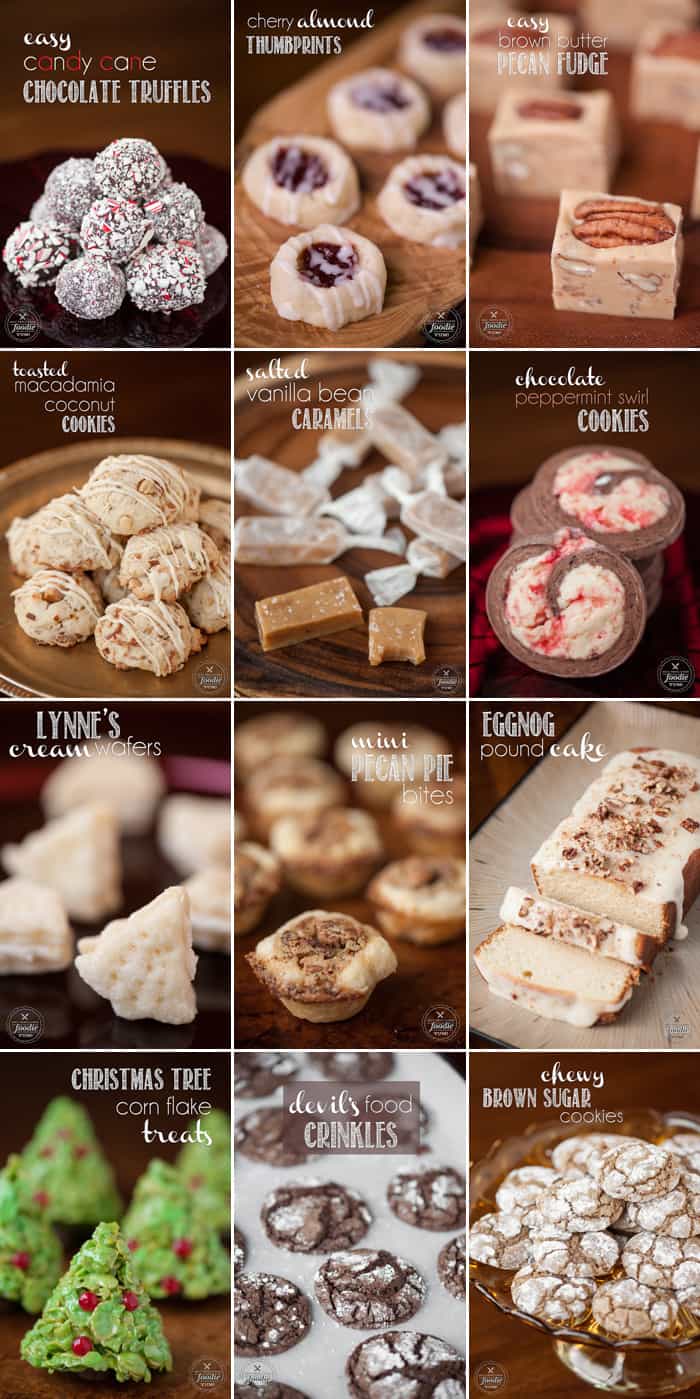 Easy Candy Cane Chocolate Truffles |  Cherry Almond Thumbprints  | Easy Brown Butter Pecan Fudge
Toasted Macadamia Nut Cookies  |  Salted Vanilla Bean Caramels  |  Chocolate Peppermint Swirl Cookies
Lynne's Cream Wafers  |  Mini Pecan Pie Bites  |  Eggnog Poundcake
Christmas Tree Corn Flake Treats  |  Devil's Food Crinkles  |  Chewy Brown Sugar Cookies