Apple Upside Down Cake is a delicious homemade cake recipe made in a cast iron skillet with both fresh apples and applesauce and a cinnamon spice glaze.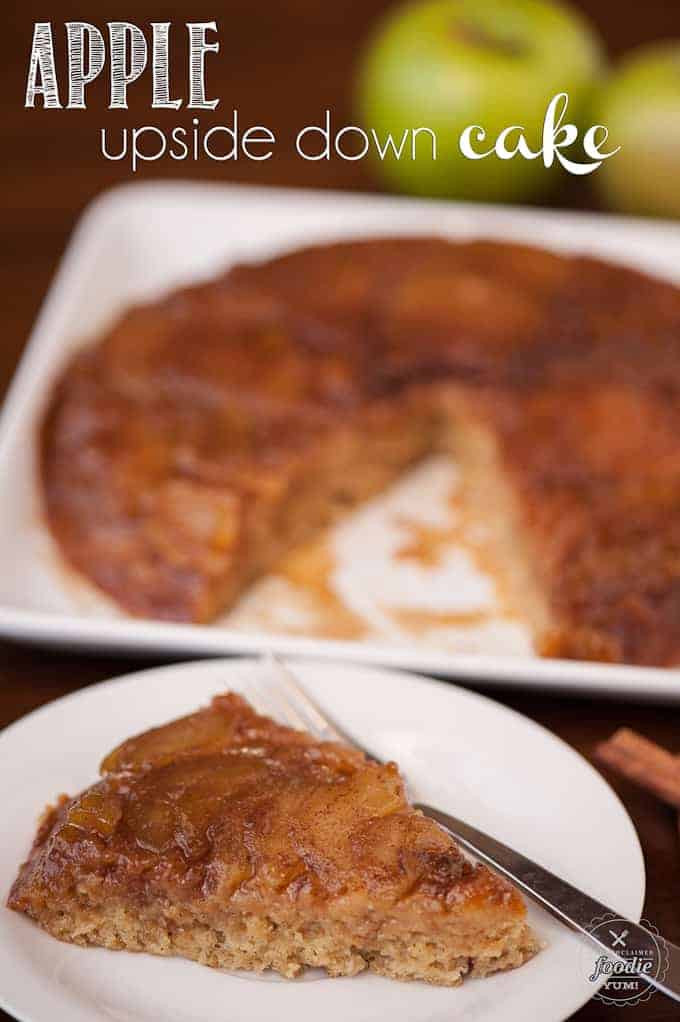 Nothing says fall like a warm spiced apple dessert. Much like my Apple Brown Betty and my Applesauce Cake with Brown Butter Frosting, this easy dessert recipe is sure to be a favorite!
Upside down cake is one of my favorite desserts.
Why should pineapple claim all the glory when you can turn just about any fruit into an upside down cake. Banana? Sure. Cranberry? Why not. Apple? Most certainly.
I'll link to all my other upside down cake recipes at the bottom of this post.
What makes this cake so amazing:
A good upside down cake made from scratch starts with butter, a lot of butter, and sugar.
I prefer to use brown sugar because it just tastes so darn delicious.
The reason I say you can make any kind of upside down cake that your heart desires is because with just a few tricks, you can alter this recipe to incorporate any fruit you'd like.
The only question you need to answer is if that particular fruit goes well with buttery sugar. I would imagine the answer would be yes 99% of the time.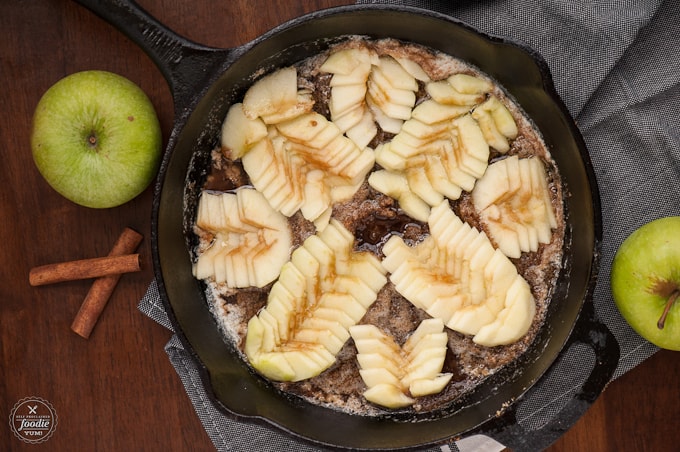 How to make this recipe:
You can certainly make your upside down cake in any kind of a baking dish, but I think cast iron is the best for this type of recipe. Plus, it's the perfect baking pan to move from the stove top to the oven.
This cake starts by melting butter in your cast iron pan on the stove and then sprinkling brown sugar on top and letting it cook for a minute. We're off to a good start, yes?
Next you'll place your peeled and sliced apples on this mixture. You can just dump them on, but I prefer to make a pretty pattern.
You'll mix the cake batter in a bowl by hand. It will be very similar in consistency to pancake batter. Carefully pour the cake batter over the apples and bake the cake in your preheated oven for about 40 minutes.
The trick to successfully inverting your upside down cake is to let it cool slightly but flip it while the cake is still warm. I'll set my plate on top of the skillet, hold tight, and flip quickly!
How to adapt this recipe with other fruit:
The only other needed tweaks to change this recipe up for other fruits would obviously be to swap out the gorgeous apples on the bottom with your fruit of choice. You would also need to replace the apple sauce in the batter with some kind of puree or mash of your preferred fruit in the batter.
But wait a minute… why am I telling you how to make this recipe with fruit other than apple?
There are very few fruits that can compare to apple when baked into a sweet dessert, especially right at the start of fall.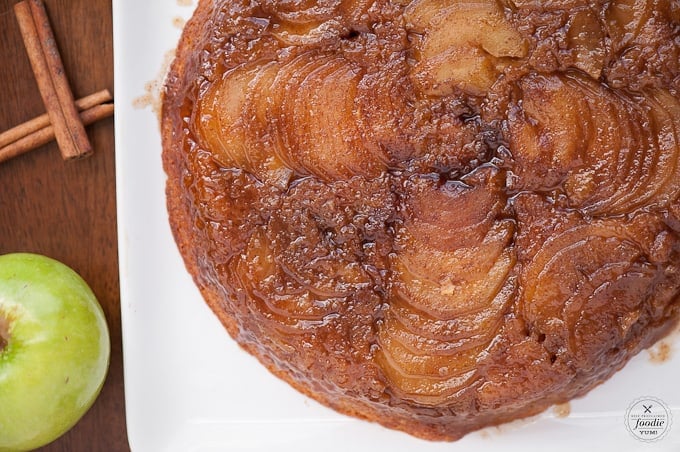 Best type of apples to use:
You can use any apple you prefer, but when baking, and especially when baking with copious amounts of sugar, I prefer the tried and true extra tart Granny Smith apple.
Their texture always holds up well to baking and the flavor can't be beat.
You will love this upside down cake because it is not only insanely tasty but it really does represent everything you love about the fall season!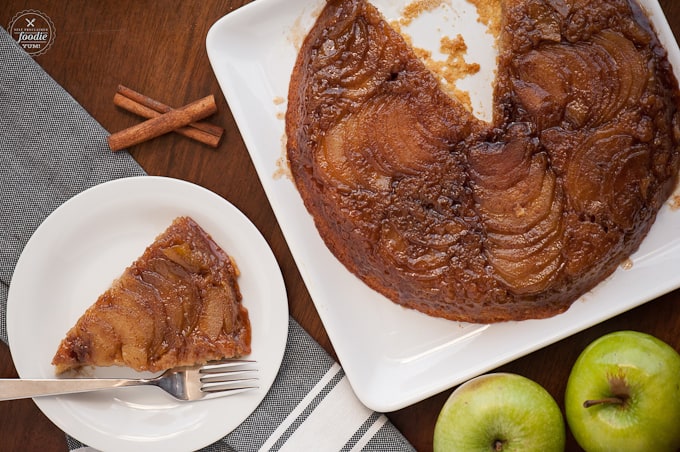 Love upside down cake recipes?
You'll definitely want to try my: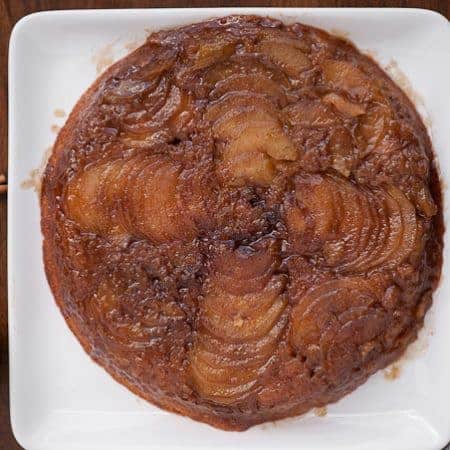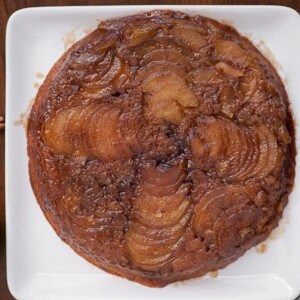 Apple Upside Down Cake is a delicious homemade cake recipe made in a cast iron skillet with both fresh apples and applesauce and a cinnamon spice glaze.
Instructions
Preheat oven to 350°F.

Using a 9" cast iron skillet, melt butter over medium heat until bubbly. Sprinkle brown sugar evenly over melted butter. Do not stir, but allow to sit over heat for just a minute until it starts to dissolve. Remove from heat.

Peel the apples, cut them in half, and remove the seeds and stem portion. Set them face down on a cutting board and cut the halves into thin slices while maintaining the original shape. Gently place these apple slices in a circular spoke pattern in the butter and brown sugar mixture.

To make the cake batter, combine the flour, sugar, baking powder, cinnamon, and salt in a medium sized bowl. Set aside.

Separately, mix together egg, buttermilk, vanilla, and applesauce. Add this wet mixture to the dry mixture and stir just to combine. Do not over mix – this will be very similar to pancake batter.

Pour over apple pieces taking care not to change their position.

Bake in preheated oven until golden brown, about 40 minutes. Remove from oven and allow to cool slightly before inverting onto plate.
Notes
Recipe makes one cake.
Store in airtight container.
Best if eaten within 1-2 days as apples will brown over time.
Nutrition
Calories:
238.1
kcal
,
Carbohydrates:
38.75
g
,
Protein:
2.19
g
,
Fat:
8.66
g
,
Saturated Fat:
5.28
g
,
Cholesterol:
35.63
mg
,
Sodium:
30.5
mg
,
Potassium:
147.61
mg
,
Fiber:
0.89
g
,
Sugar:
29.44
g
,
Vitamin A:
290
IU
,
Vitamin C:
0.88
mg
,
Calcium:
66.11
mg
,
Iron:
0.74
mg
Nutrition information is automatically calculated, so should only be used as an approximation.
This recipe was originally published in September 2016 but was updated in October of 2019 for your reading pleasure.