Homemade applesauce made from the best apples and vanilla beans is an easy recipe! This simple crockpot applesauce recipe is also healthy since there is no sugar added.
This recipe is so delicious, it will knock your socks off. Plus its so sweet, you won't believe it was made without sugar.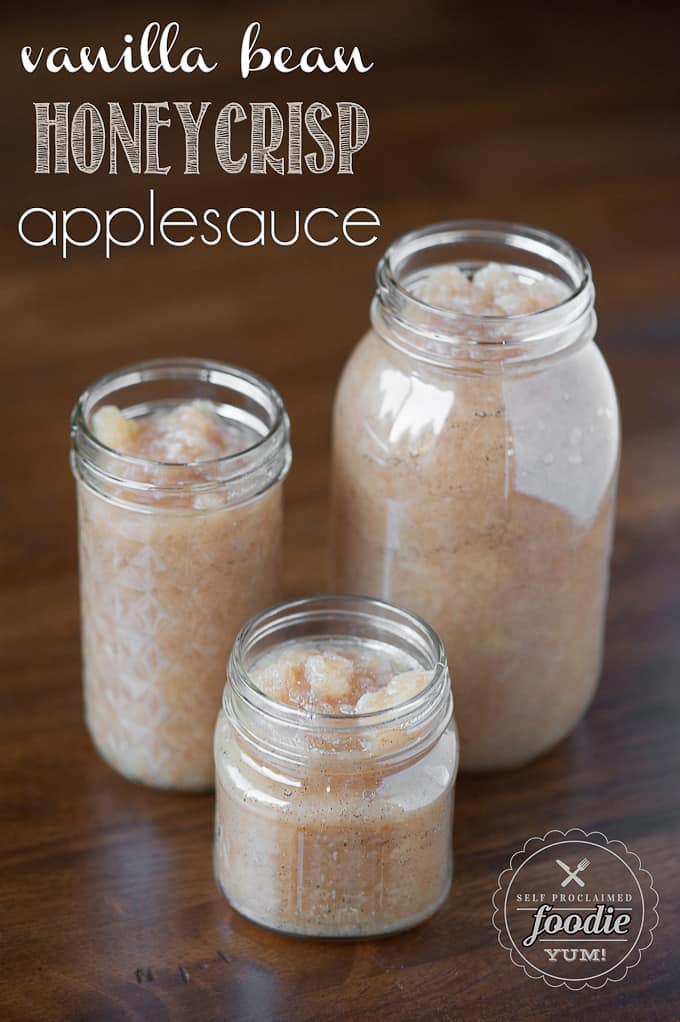 Nothing says fall like homemade applesauce. This recipe was the result of when I bought a pretty big (I think it was around 30 pounds) box of freshly picked organic honeycrisp apples at my farmer's market.
I especially love this recipe because it's only made from a few wholesome ingredients and it's really easy to make. Plus, it's something I feel good about serving my family.
Best apples to use:
The key components to making this wonderful applesauce are:
Good quality apples. I only make my homemade applesauce with freshly picked organic honeycrisp apples. I'm super particular when it comes to my apples and proud of it! They are crisp, juicy, sweet and tart, which is why no sugar is required. Take my advice on this one.
I've never put sugar in my applesauce. I just make sure that I start with a delicious apple and not sugar is needed.
My two most favorite apples in the world are Pink Ladies and Honeycrisps.
Lucky for me, the honeycrisps are in their peak season late summer and the pink ladies are in the stores in the early spring, making for year round happiness for me.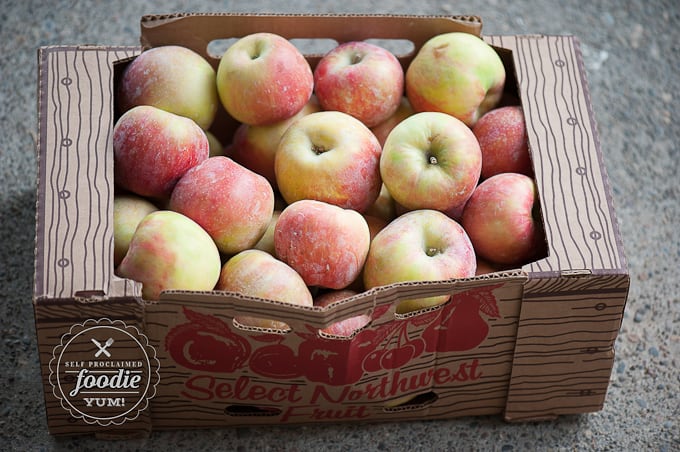 Ingredients needed:
In addition to the apples, you only need the following:
Vanilla beans. Its one of my top ten most favorite things in the world and you'll never see my pantry without them. That's a promise. The price of vanilla beans has skyrocketed since I first made this homemade applesauce, but I still think they're worth it.
Cinnamon sticks. I love the flavor of cinnamon but I don't always want the over powering flavor of powdered cinnamon. I think using a cinnamon stick in this recipe not only flavors your applesauce perfectly, but it doesn't change the beautiful light color of the apples.
Lemon juice. It keeps your apples tart, adds a bit of acid in case you want to can for later, and keeps your apples from turning brown from oxidation.
How to make this recipe:
You can certainly make this applesauce on the stove top or in an Instant Pot with a few minor tweaks to the recipe.
I personally like to use the slow cooker to make my homemade applesauce because no water is necessary, thus making the flavor the best it can be. Plus, your entire kitchen will smell like heaven.
First step is to peel, core, and cut your apples thin. I've made applesauce without peeling the apples before, and although the skin adds to the flavor, I don't like it in the applesauce.
Combine the apples with the vanilla bean, lemon juice and cinnamon sticks in the Slow cooker. Give them a stir, cover, and cook on high for four hours.
All you'll need to do is give it a stir when its done and you'll have perfect applesauce. BAM!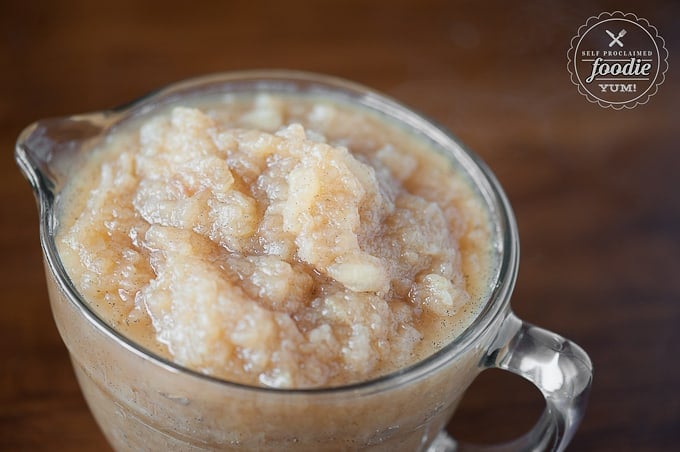 Canning applesauce:
I filled up all different sizes of mason jars when I can using a water bath canning set simply because I like the way it looks.
If you plan on canning your homemade applesauce, just add the hot applesauce to sterile glass mason jars and leave just under an inch of head space at the top of the jar.
Attach a brand new lid and ring and place in a simmering water bath so that there is at least an inch of water covering the jars.
I let my jars of applesauce soak in the gentle simmer, covered, for about twenty minutes. Then, I carefully transfer them to the counter and you can hear the seals pop within a few minutes.
Once canned, your applesauce will last for several months, if not more, on the shelf.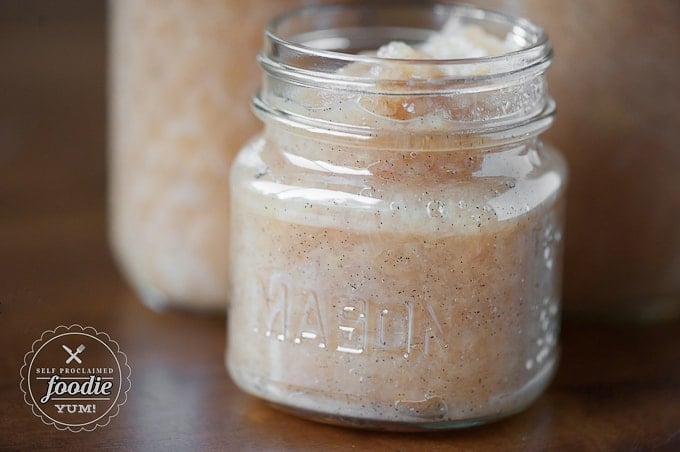 Vanilla Bean Honeycrisp Applesauce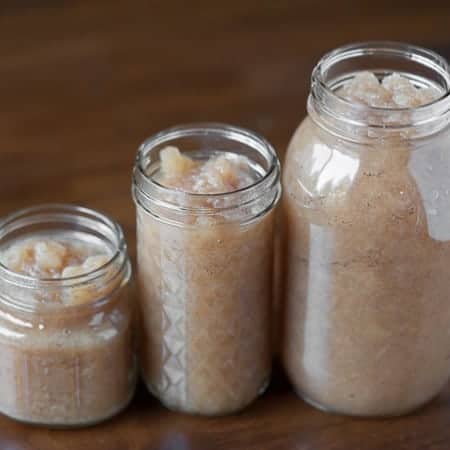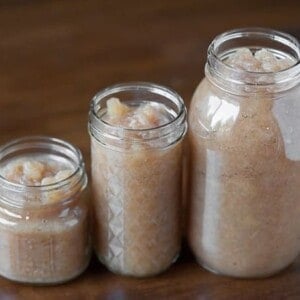 This Vanilla Bean Honeycrisp Applesauce recipe is so delicious, it will knock your socks off. Plus its so sweet, you won't believe it was made without sugar.
Ingredients
5

large

honeycrisp apples

peeled, cored and thinly sliced

1

lemon
Instructions
Put apple slices in large slow cooker.

Juice lemon, pour over apples, and toss to coat.

Add cinnamon stick to slow cooker.

Split vanilla bean and scrap seeds with knife. Add bean pod and scraped seeds to slow cooker.

Cover and cook on high for 4 hours. There should be no need to add water. When done, stir with large spoon to achieve desired consistency. Discard vanilla bean pod.
Notes
Can in water bath for 20 minutes for long term storage or store in refrigerator in airtight container up to 2 weeks.
Recipe can easily be increased based on volume of slow cooker.
Nutrition
Calories:
131
kcal
,
Carbohydrates:
34
g
,
Sodium:
2
mg
,
Potassium:
280
mg
,
Fiber:
6
g
,
Sugar:
24
g
,
Vitamin A:
125
IU
,
Vitamin C:
24.8
mg
,
Calcium:
29
mg
,
Iron:
0.5
mg
Nutrition information is automatically calculated, so should only be used as an approximation.
This recipe was originally published in September 2014 and was most recently updated in September 2019.
Related recipes:
Since I always make more than enough applesauce, I always enjoy incorporating it into other recipes. Here are some of the best recipes to make with applesauce: