This Vanilla Bean Honeycrisp Applesauce recipe is so delicious, it will knock your socks off. Plus its so sweet, you won't believe it was made without sugar.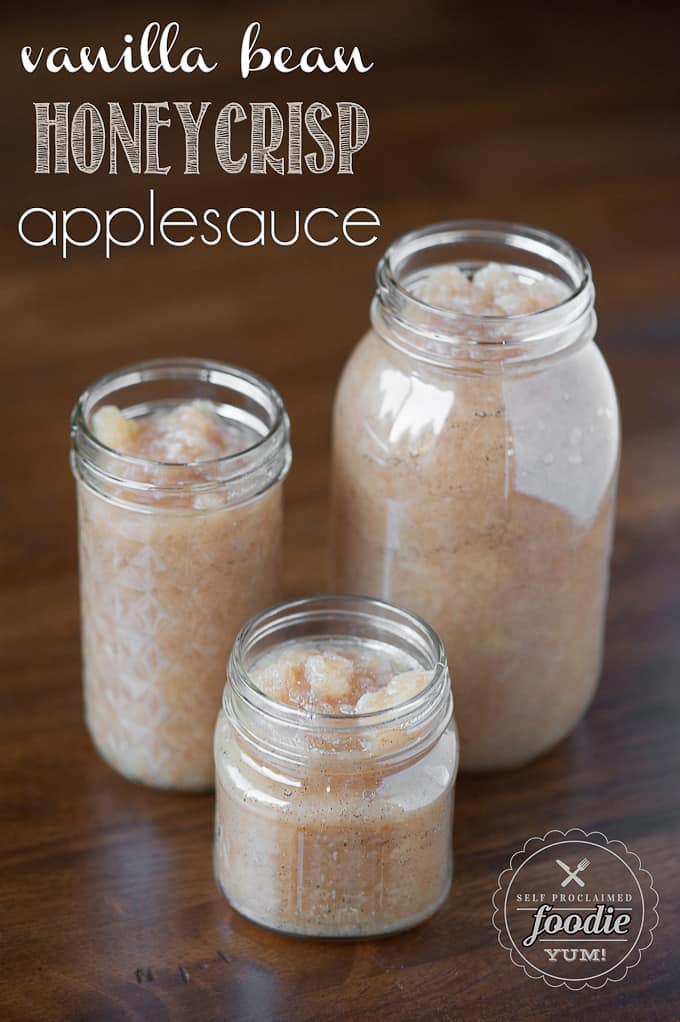 Nothing says fall like homemade applesauce.  I bought a pretty big (I think it was around 30 pounds) box of freshly picked organic honeycrisp apples at my farmer's market.  The guy who always helps me at the booth couldn't believe I was buying it on top of all my other produce.  I go a little crazy in the summer time because I just can't get enough.  Food is a priority in our household.  In addition to many more gorgeous jars of applesauce than what is pictured above, I also used some of the applesauce to make applesauce muffins that the kids gobbled up and the parents grabbed on the go, a rich and decadent apple compote vanilla bean cheesecake, and I even made some maple bourbon apple cider from a batch of applesauce that I cooked too long!
The key components to making this wonderful applesauce are:
Good quality apples.  I only make my applesauce with freshly picked organic honeycrisp apples.  I'm particular like that and proud of it!  They are crisp, juicy, sweet and tart.  Take my advice on this one.
Vanilla beans.  Its one of my top ten most favorite things in the world and you'll never see my pantry without them.  That's a promise.
Cinnamon sticks.  I love the flavor of cinnamon but I don't always want the over powering flavor of powdered cinnamon.  I think using a cinnamon stick in this recipe not only flavors your applesauce perfectly, but it doesn't change the beautiful light color of the apples.
Lemon juice.  It keeps your apples tart, adds a bit of acid in case you want to can for later, and keeps your apples from turning brown from oxidation.
Slow cooker.  Set it and forget it folks.  If you cut your apples thin, all you'll need to do is give it a stir when its done and you'll have perfect applesauce.  BAM!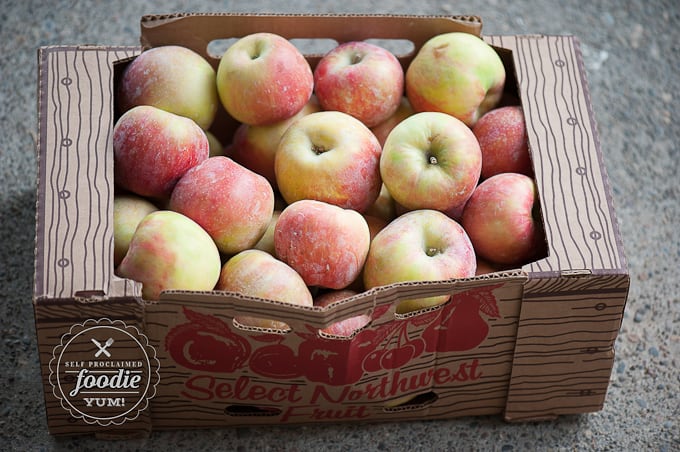 Anyway, we brought these beauties home and I got to work.  I've never put sugar in my applesauce.  I just make sure that I start with a delicious apple and not sugar is needed.  My two most favorite apples in the world are Pink Ladies and Honeycrisps.  Lucky for me, the honeycrisps are in their peak season late summer and the pink ladies are in the stores in the early spring, making for year round happiness for me.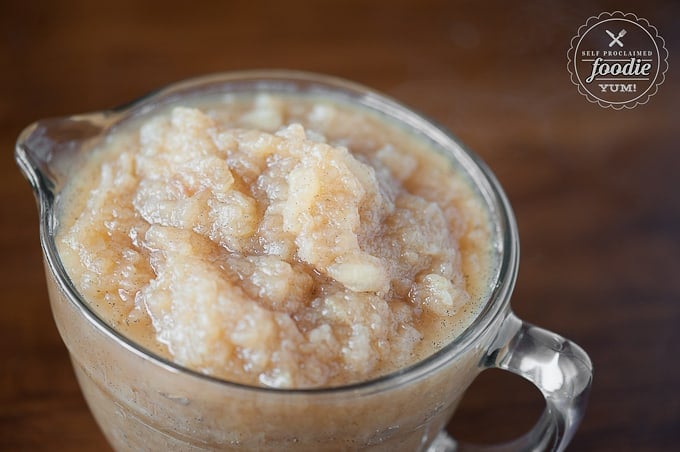 I have a never ending supply of vanilla beans in my house because I make a huge batch of homemade vanilla extract.  Once I take the vanilla extract out of the jar to give away as holiday gifts, I continue to use the vanilla beans year round.  You should try it!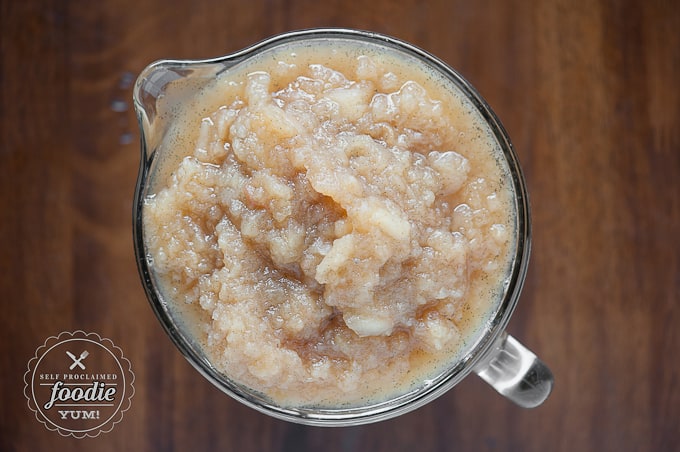 I filled up all different sizes of mason jars when I can using a water bath canning set
 simply because I like the way it looks.  I gave this jar below to Javier, my favorite Farmer's Market employee, who always sells me this wonderful produce and always gives my kids a piece of fruit to munch on while walking around the market.  The next week he told me the applesauce didn't last in his house – he and his son devoured it in just a few minutes.  He said his son even got a straw to slurp up the bits in the corner of the jar.  That's my kind of kid.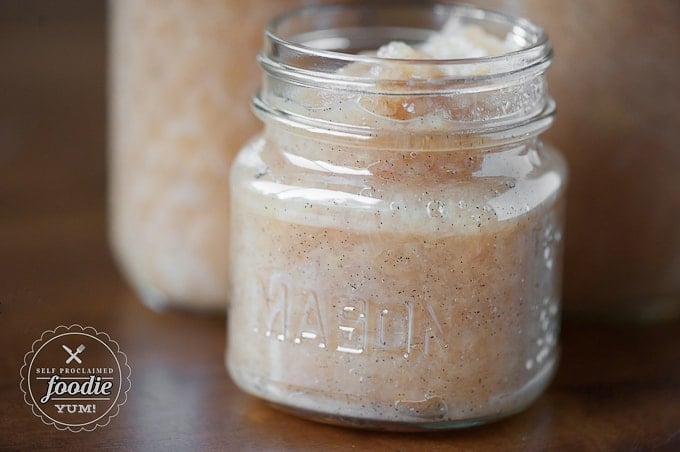 You see those little black dots in that photo below?  That's what I call taste bud heaven, or in other words, vanilla bean seeds.  YUM!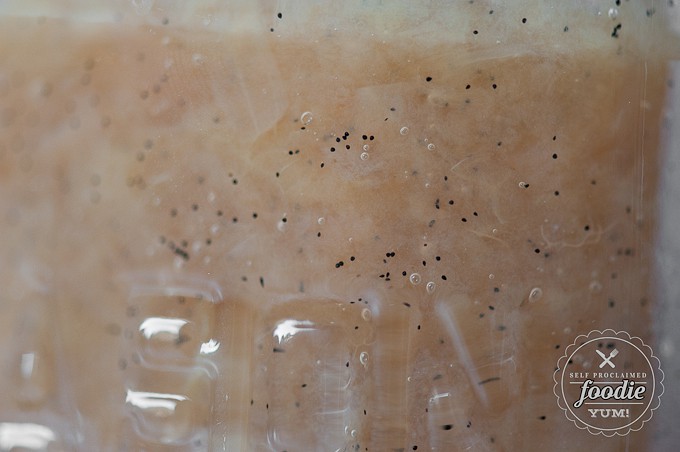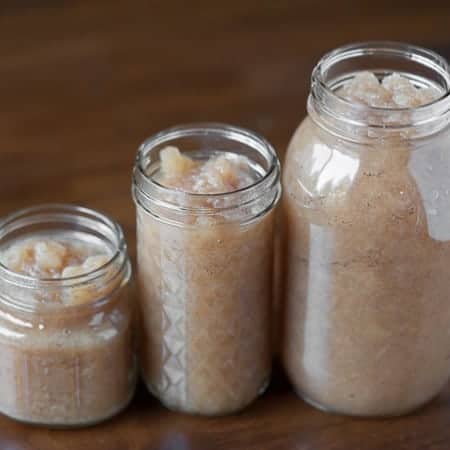 Vanilla Bean Honeycrisp Applesauce
This Vanilla Bean Honeycrisp Applesauce recipe is so delicious, it will knock your socks off. Plus its so sweet, you won't believe it was made without sugar.
Print
Pin
Rate
Total Time:
4
hours
20
minutes
Ingredients
5

large honeycrisp apples

peeled, cored and thinly sliced

1

lemon

1

cinnamon stick

1

vanilla bean
Instructions
Put apple slices in large slow cooker.

Juice lemon, pour over apples, and toss to coat.

Add cinnamon stick to slow cooker.

Split vanilla bean and scrap seeds with knife. Add bean pod and scraped seeds to slow cooker.

Cover and cook on high for 4 hours. There should be no need to add water. When done, stir with large spoon to achieve desired consistency.

Can in water bath for storage or store in refrigerator in airtight container up to 2 weeks.
Nutrition
Calories:
131
kcal
|
Carbohydrates:
34
g
|
Sodium:
2
mg
|
Potassium:
280
mg
|
Fiber:
6
g
|
Sugar:
24
g
|
Vitamin A:
125
IU
|
Vitamin C:
24.8
mg
|
Calcium:
29
mg
|
Iron:
0.5
mg