Serve up this sweet homemade Upside Down Cranberry Coffee Cake with a hot cup of freshly brewed BUNN coffeemaker coffee for the perfect breakfast this holiday season.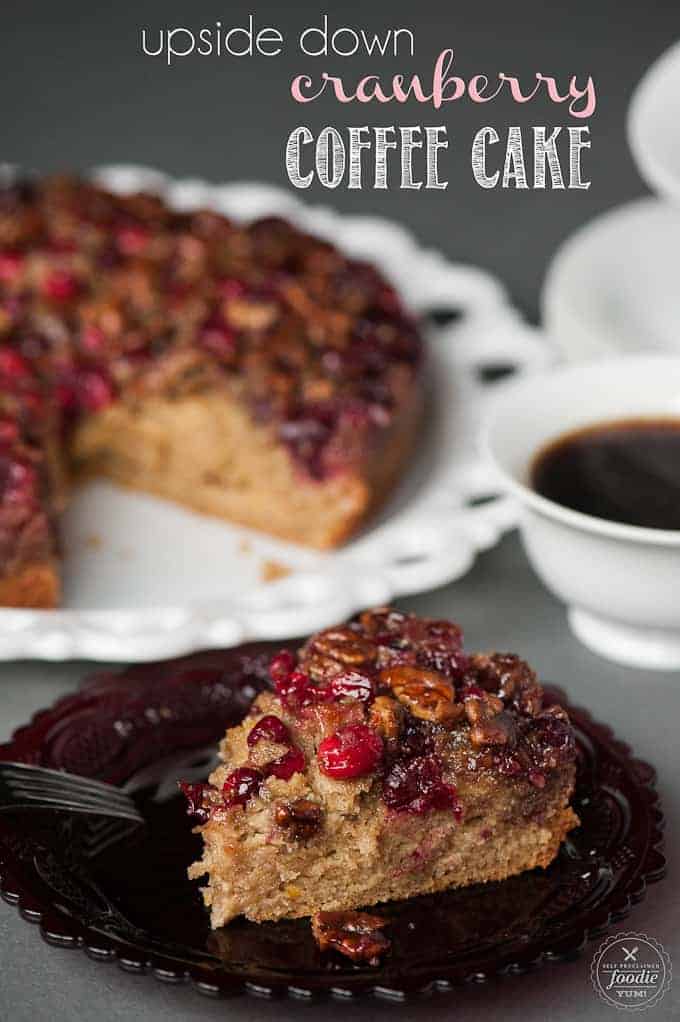 MY OTHER RECIPES
I went a little crazy with the photos in this post. Why, you ask? Well, because I just got a brand new coffee maker!  And its not just any coffee maker, its the BUNN HB Coffeemaker!  There was nothing wrong with my last coffee maker. That is, actually, I didn't think there was anything wrong with it until I drank my first cup of freshly brewed coffee that my new BUNN made. What a difference!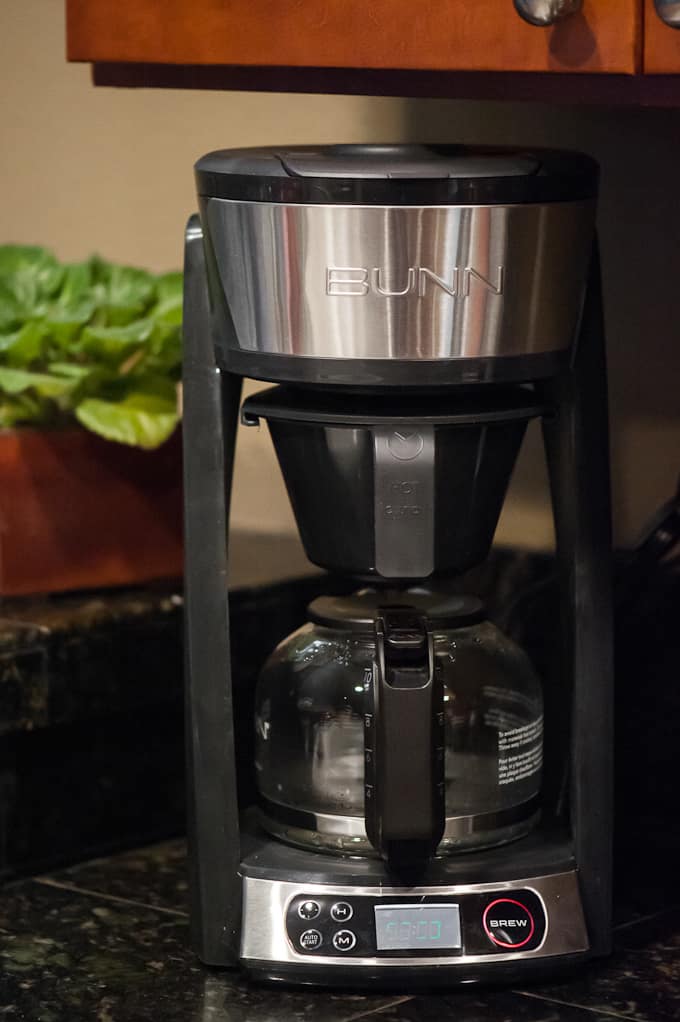 You see, this BUNN HB Coffeemaker lets you find your inner barista and creates a perfect, smooth tasting cup of coffee.  The BUNN HB Coffeemaker brews to professional standards every single time. I wanted to understand why this coffee maker is so unique so I went to the website which explains why the BUNN HB Coffeemaker is not your typical coffeemaker.
Most typical drip coffeemakers heat the water at an inconsistent temperature and then slowly "burp" or "spit" the water over the grounds. The result is often bitter tasting coffee.
What makes this 10-cup programmable coffeemaker unique is the professional grade Heat & Release Technology™ in the brewer uses a digital thermometer to precisely measure water temperature to the ideal brewing temperature (between 197.6º F and 204.8º F). Only once the water has reached the ideal temperature is it then released over the grounds. The commercial style, lime-tolerant 6-stream sprayhead is designed to shower the grounds for maximum turbulence- the effective interaction of hot water and coffee grounds. The coffeemaker maintains the ideal contact time between the water and coffee grounds for proper extraction.
It's unique brewing process has qualified it to meet the Specialty Coffee Association of America's (SCAA) professional standards and only 10 coffeemakers have received this distinction. The BUNN Coffeemaker has beautiful design features including curved lines, a free hanging funnel, and stainless steel accents for a modern aesthetic.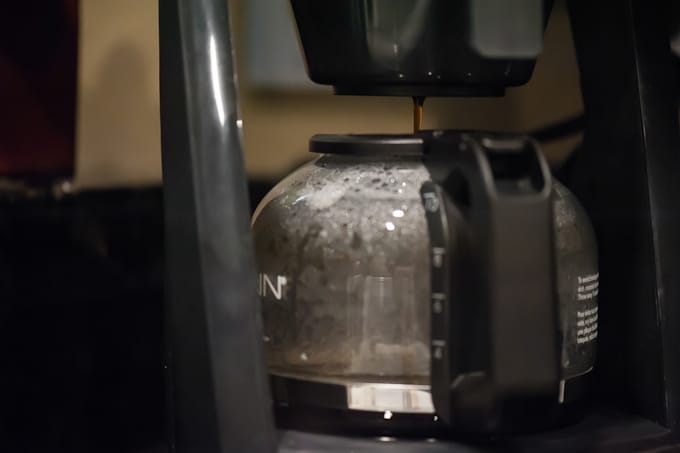 So, basically, you get to bring professional brewed coffee right to your kitchen with BUNN because it effortlessly creates a perfect cup of coffee just like your favorites brewed your local coffeehouse, restaurant or café.
I was so excited about getting my new coffee maker that I wanted to make a sweet treat to go with it and my husband suggested coffee cake. Normally, his suggestions can be pretty far out there, but sometimes he picks a real winner. Yes – coffee cake. Why didn't I think of that? Of course, I had to put my own spin on it plus I had to use up the extra cranberries in my refrigerator, so that's how we ended up with Upside Down Cranberry Coffee Cake.
I couldn't wait to try my first cup of coffee brewed in my new BUNN Coffeemaker. I had already had my first cup of coffee from the old coffeemaker at 3:30am this morning (don't ask – long story) so I was able to compare apples to apples. Or, I suppose I could say coffee to coffee.  I used the same exact kind of coffee and drank it the same way – with a splash of half and half. WOW – what a difference. I kid you not, the difference in temperature, quality and taste was incredibly noticable. Even my husband, who normally can't even tell if we're eating chicken or beef for dinner, was able to notice that the coffee brewed in our new BUNN was remarkably better.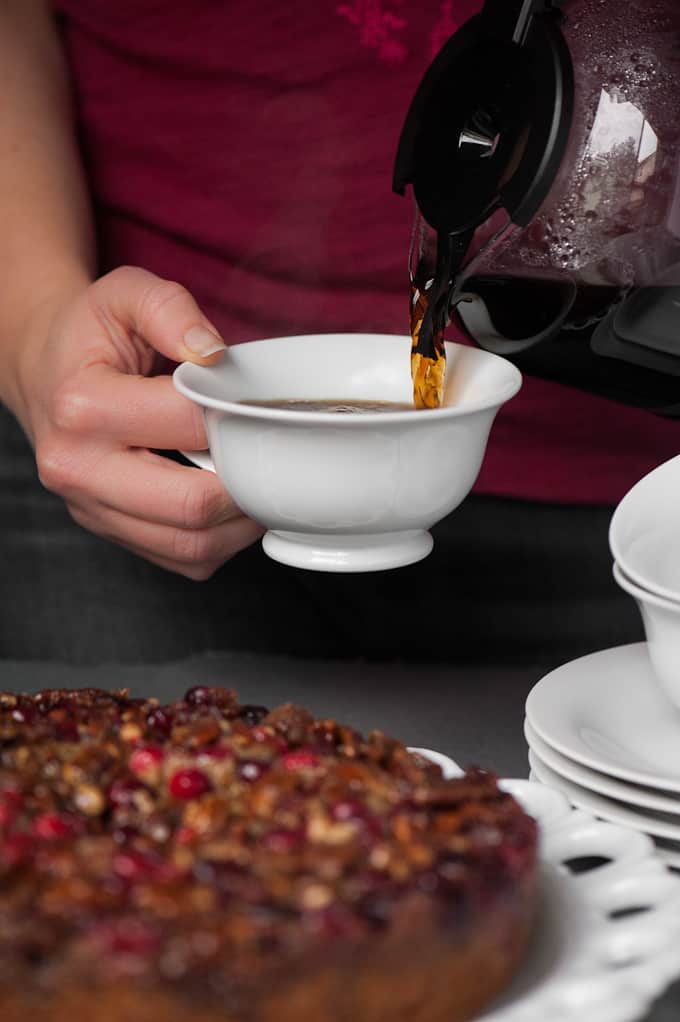 Can you imagine how good this would be on Thanksgiving morning? Or on Christmas morning? Or on Sunday morning? Or right now?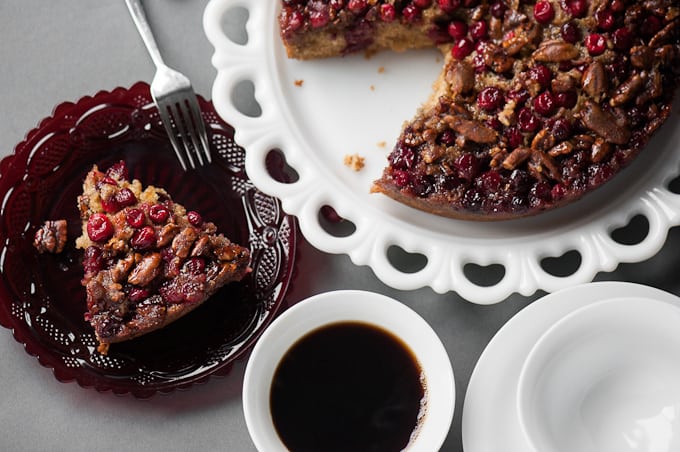 And you simply can't have coffee cake without an excellent cup of coffee, right? Right.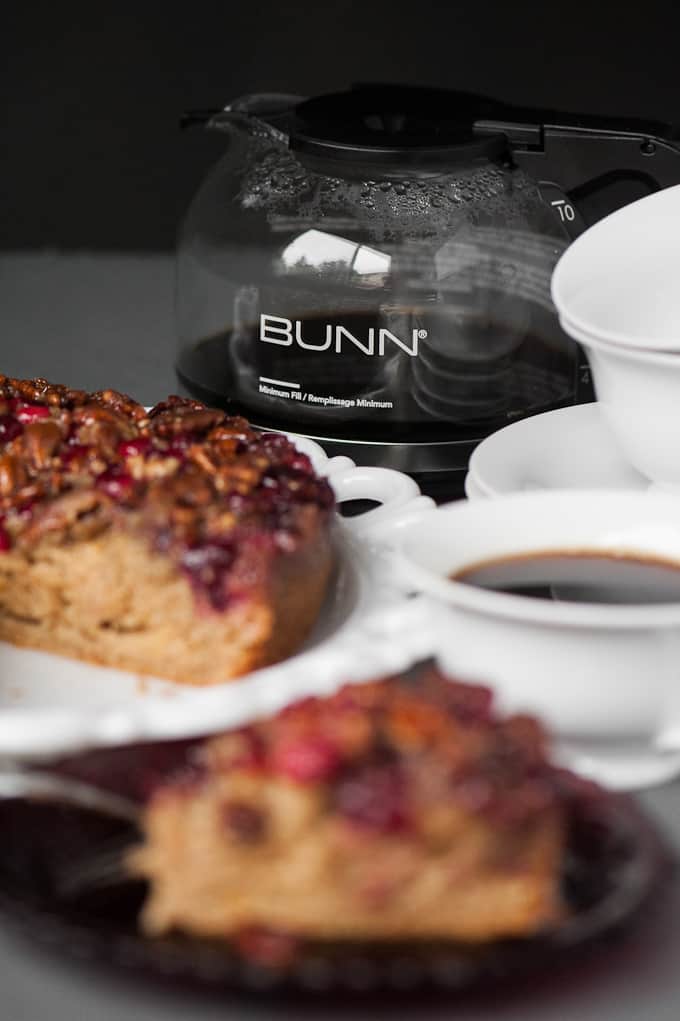 Treat yourself or someone you really care about to a new BUNN HB Coffeemaker. You can order one at Williams Sonoma. While you're doing a little online shopping at one of my favorite stores, keep in mind that I love to cook (hint hint).
This recipe uses pure vanilla extract. Did you know you can make your own homemade vanilla extract? It makes the perfect gift too. Watch how in the video below.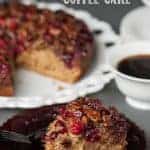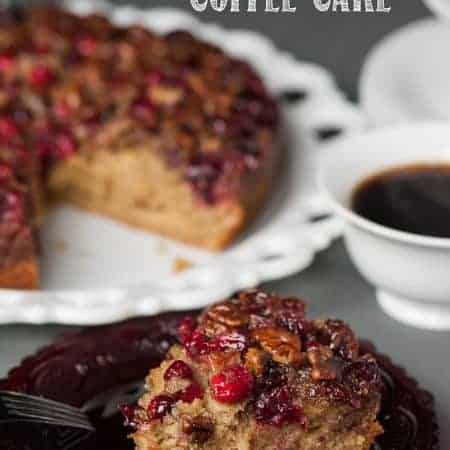 Upside Down Cranberry Coffee Cake
Serve up this sweet homemade Upside Down Cranberry Coffee Cake with a hot cup of freshly brewed coffee for the perfect breakfast this holiday season.
Total Time
1
hour
20
minutes
Ingredients
Topping:
2/3

cup

packed brown sugar

1/2

cup

1 cube butter

2

cups

about 8 ounces fresh cranberries

3/4

cup

chopped pecans

1

tablespoon

orange zest
Cake:
1/2

cup

butter

room temperature

3/4

cup

white sugar

2

eggs

1

teaspoon

vanilla extract

1

cup

sour cream

1 1/2

cups

all-purpose flour

1

tablespoon

orange zest

1 1/2

teaspoons

ground cinnamon or pumpkin pie spice

1 1/2

teaspoons

baking powder

1

teaspoon

baking soda

1/4

teaspoon

salt
Instructions
Preheat oven to 350 degrees F. Wrap the outside of a 9 inch springform pan with aluminum foil to prevent leaking. Sift together the flour, orange zest, baking powder, baking soda, cinnamon and salt. Set aside.

In a saucepan over medium heat, combine brown sugar and 1/2 cup butter. Bring to a boil, then add cranberries, pecans, and orange zest, stir, and pour into bottom of springform pan. Do not overcook the sugar mixture.

In a large bowl, cream together the butter and 3/4 cup sugar until light and fluffy. Beat in the eggs one at a time, then stir in the vanilla. Beat in the flour mixture alternately with the sour cream. Pour batter into prepared pan.

Bake in the preheated oven for 60 minutes, or until a toothpick inserted into the center of the cake comes out clean. Cool in pan for 10 minutes, then invert onto serving platter and carefully remove pan. Serve warm.