Carolina Mustard Barbecue Sauce is the easiest homemade BBQ sauce recipe you'll find! This mustard BBQ sauce is so easy to make, spicy, & flavorful!
All you need to do is mix the ingredients together and wait for the flavors to develop. Use this BBQ sauce to smother your ribs, burgers, chicken, and more!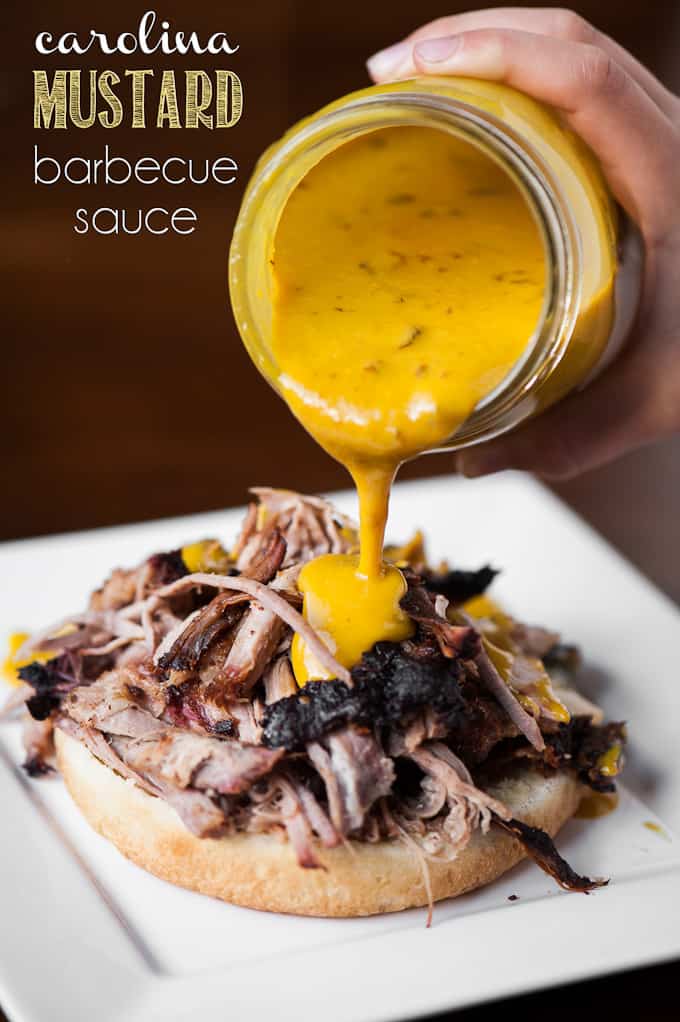 Carolina Mustard Barbecue Sauce is simply amazing on barbecue ribs, pulled pork, grilled chicken - you name it. There are so many fantastic side dishes that would go well this mustard BBQ sauce and your favorite grilled meat. I usually make up some of my Grandma's potato salad and some angel hair cole slaw.  YUM!
Being the food lover that I am, the second the sun starts to shine and I can feel its warmth on my skin, all I want to do is fire up the grill. My husband and kids are all burger, hot dog, and grilled sandwich monsters. If I used that grill every single night to cook our dinner, they would be happy campers.
Where is mustard based BBQ sauce from?
Part of South Carolina is known for its yellow barbecue sauces made primarily of yellow mustard, vinegar, sugar and spices. This sauce is most common in a belt from Columbia to Charleston, an area settled by many Germans.
I, admittedly, have never been to South Carolina, but I've had several readers tell me that my BBQ sauce is quite authentic. I hope you like it too!
What is the secret to tasty BBQ?
The first step to an outstanding barbecued meal is flavorful, good quality meat that is cooked to perfection.
The second, and arguably just as important, step is to serve it up with an outstanding barbecue sauce, and this is one of the best BBQ sauce recipes out there.
I'll tell you how to make mustard based BBQ sauce, and the process is so easy it will blow your mind. I knew I was going to grill up some pulled pork on the smoker and wanted to make an outstanding Carolina BBQ sauce that was equally as tasty.
How to make Carolina BBQ Sauce:
The cast of characters are shown below - mustard (of course... you can't have Carolina BBQ sauce without it), apple cider vinegar, honey, brown sugar, garlic powder - but I put a few more key ingredients in to really kick up the flavor.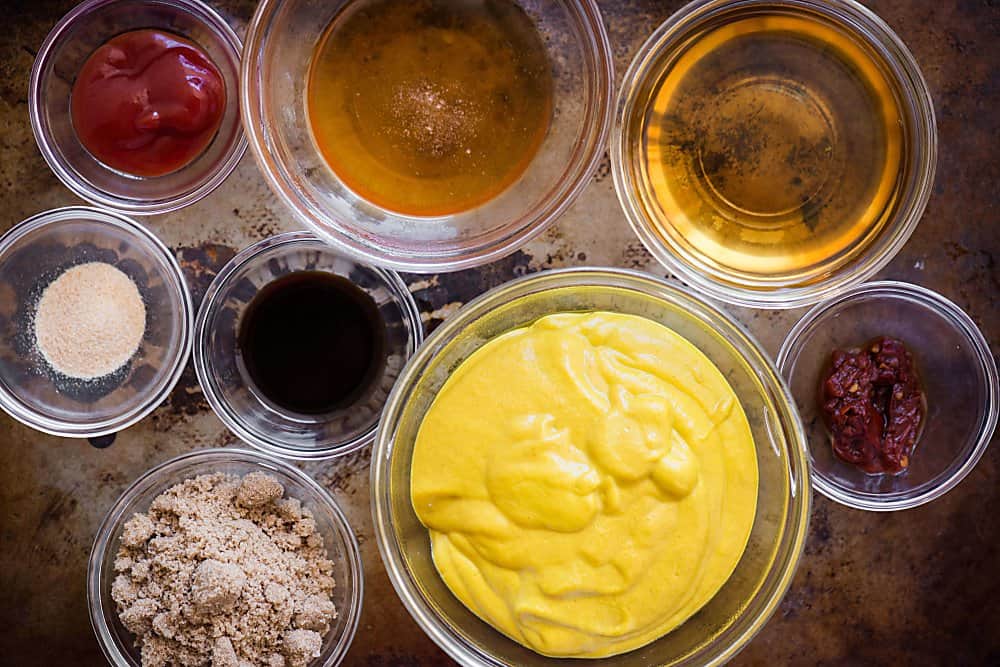 All you have to do is throw all the ingredients in an airtight container, give it a good stir to mix everything up, and then let your Caroline BBQ sauce chill in the refrigerator overnight to really let the flavors combine.
This mustard BBQ sauce literally takes only a few minutes to throw together.
When you're ready to serve up the Carolina mustard barbecue sauce, just warm it up on the stove and smother that grilled meat. Mercy. No slaving over the stove for this recipe like you do with other barbecue sauce that you cook on the stove.
The best ingredients to use when making Mustard BBQ Sauce:
Wanna know what the secret ingredients are and are too impatient to scroll all the way down to the recipe?
Okay, okay, I'll tell you.
Throw in some ketchup (because its almost wrong to eat mustard without ketchup), some Worcestershire sauce, and... get ready for it... chipotle peppers in adobo sauce.
The final Carolina barbecue sauce has just the right amount of spice to match up with the tang. I know, its weird to use a barbecue sauce that isn't red. Once you taste this mustard BBQ sauce, however, you may never go back.
More BBQ sauce recipe ideas:
Whiskey BBQ sauce - this is one that you cook on the stove but it is oh-so worth it. I'm not a fan of whiskey, but the alcohol cooks off and all that's left is the flavor!  Be sure to make a lot of this one and then preserve it by canning a bunch of jars.
Kansas City style barbecue sauce - thick, sweet, and tangy tomato mixture that sticks to your fingers as much as it sticks to the grilled ribs. YUM.
Eastern Carolina Vinegar Sauce - he spicy tang of vinegar sauce complements smokey barbecue
Cherry Barbecue Sauce - Complex and full-bodied, this sauce is ready to take on just about anything you have on the grill or smoker. The cherries add a deep fruitiness that gets well embedded. It's noticeable, yet a little hard to discern at the same time. This BBQ sauce is the perfect choice during the summer months.
Stout Barbecue Sauce - You must cook this one awhile to get the liquid to evaporate, and in doing so the flavor profile of the beer undoubtedly changes, and while that chocolaty robustness of the stout remains, the bitterness really amps up.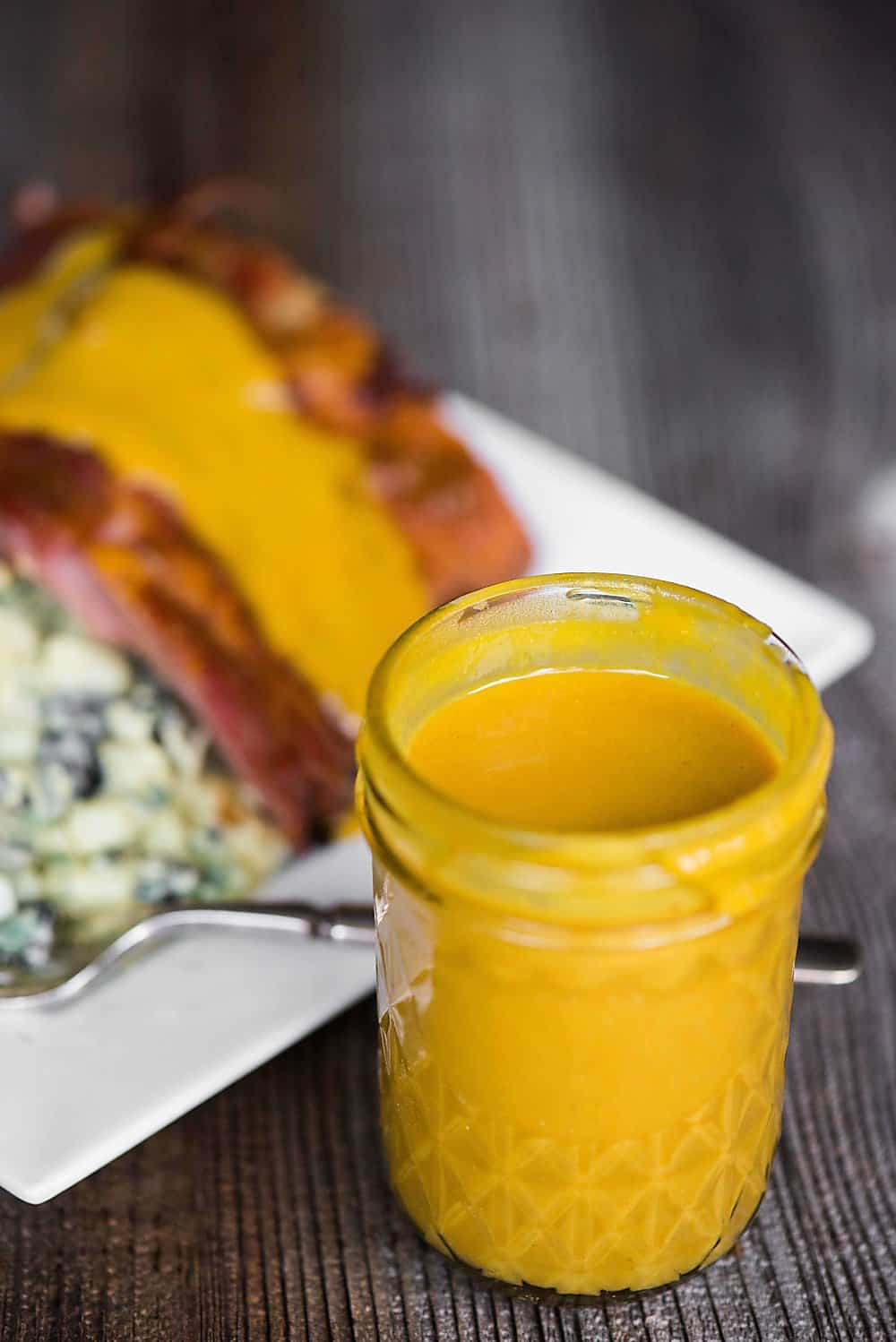 Kitchen tools used:
Flexible Measuring Cups - My sister and I first found these at a cooking class and we thought they were just the best invention. Any time you are measuring and/or pouring liquid, these are simply the best to have on hand. They make a great gift for your favorite cook, too!
Measuring Spoons: There are about a million of these out there to choose from, but these have been my favorite. They are stackable and magnetic so you don't have to deal with that annoying ring.
Step by step video below!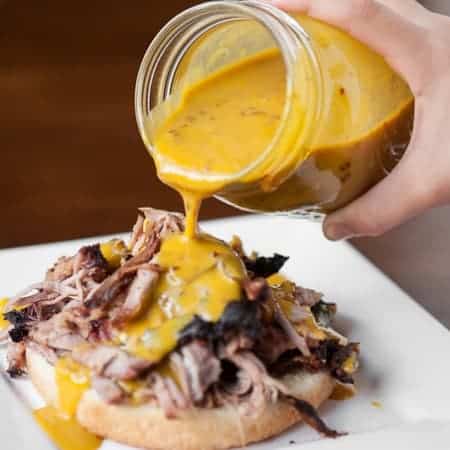 Carolina Mustard Barbecue Sauce Recipe
Carolina Mustard Barbecue Sauce is the easiest homemade BBQ sauce recipe you'll find! This mustard BBQ sauce is so easy to make, spicy, & flavorful!
Print
Pin
Rate
RECIPE VIDEO WILL AUTOPLAY
Hover to scale:
12
servings
Ingredients
1

cup

yellow mustard

1/4

cup

honey

1/4

cup

light brown sugar

1/2

cup

apple cider vinegar

1

tablespoon

chipotle pepper in adobo

(minced)

1

tablespoon

ketchup

2

teaspoons

Worchestershire sauce

1

teaspoon

garlic powder

ground black pepper to taste
Instructions
Mix all ingredients well.

For best results, refrigerate in an airtight container overnight to allow the flavors to develop.

To serve, warm in a pot over very low heat and use on grilled meats like pulled pork or chicken.
NUTRITION INFORMATION
Calories:
57
kcal
|
Carbohydrates:
12
g
|
Protein:
1
g
|
Sodium:
269
mg
|
Potassium:
52
mg
|
Sugar:
10
g
|
Vitamin A:
40
IU
|
Vitamin C:
0.4
mg
|
Calcium:
16
mg
|
Iron:
0.4
mg
This post was originally created in April 2015 and has been updated with more fun facts and tidbits for your reading pleasure.